Watch the Big Brother 13 live feeds on your Android and iOS devices. Sign-up for the 3 Day Free Trial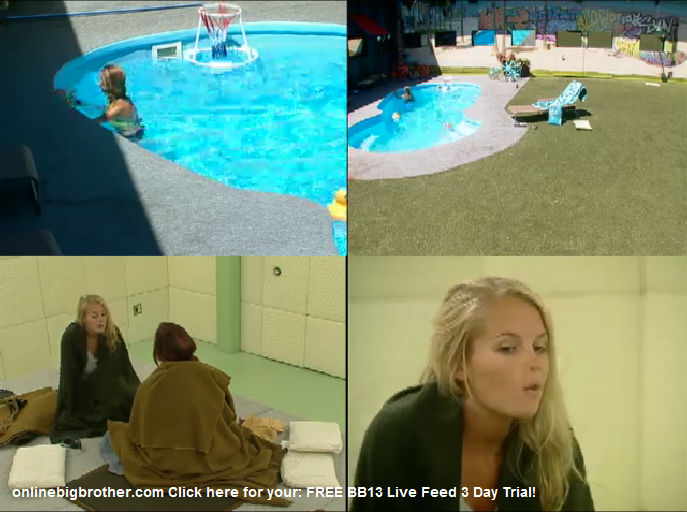 If you like this site and want to help us keep it running please consider donating, Your donations go directly to paying the server and bandwidth fees. Donate Link
1:40pm Rachel says that she doesn't think Adam would nominate you. Jordan says she doesn't think he would win HOH anyways. Rachel and Jordan agree they need to talk to him and make him feel comfortable. Rachel says that if we go to the final two there are more newbies in the jury house than vets. Adam joins them in the havenot room. Rachel and Jordan tell him that they are going over everything. Adam says that he doesn't envy them. Jordan asks if Adam has a final two deal with Kalia? Adam pauses and says …did she present it to me … yes. Rachel says thank you for not lying to us. Adam explains that he felt really really bad how everything went down. Jordan talks about how Dani said that Adam was in on the plan. Adam says that knowing about a plan and being a part of a plan are two totally different things. Jordan says that she knows him and Rachel haven't talked a lot of game.. Adam says he knows and doesn't know why.. Jordan says that when Porsche one HOH he came to talk to them and that Shelly didn't. Jordan says that he have helped you a lot in this game and if we help you again …then you really owe us. Jordan says just be honest … if you was to work with them ..then just tell us. Adam says that before the vote for Jeff happened they came to me and I said no.
FLASHBACK – Don't miss all the drama!
Superpass – 3 Day FREE Trial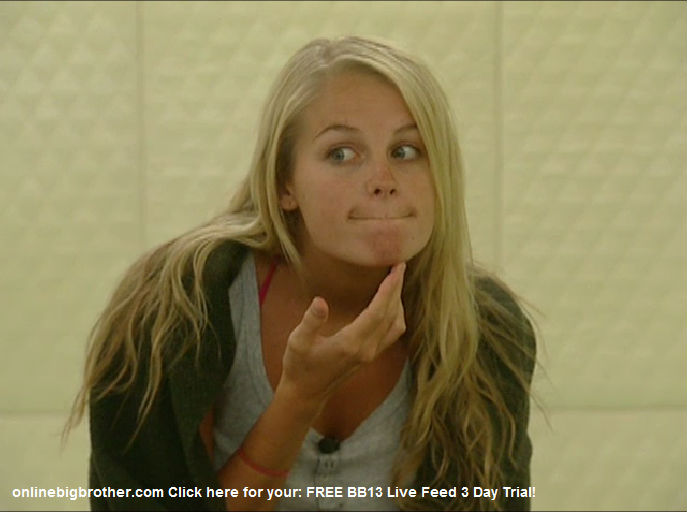 1:55pm Jordan tells not to repeat this but Kalia came to us to make a final four deal with us and to get rid of who ever we don't keep this week. Jordan says I don't know if that is honest or what. Adam says that there is a lot of bullshit going around in this house. Adam says that his hands are being pulled in all directions. Jordan says that Shelly said to us that she will throw the next HOH. Adam says will she throw it or just suck at it. Jordan says that we cannot let Porsche or Kalia get to final two deal. Adam says that what makes him mad is that he doesn't even know how it got to them that he had a final tow deal with Kalia. Rachel says that Shelly just told us. Adam says that Shelly shouldn't have even known ..and that maybe it was just them trying to see if they could trust me to see if I talked about it. Rachel tells Adam that Shelly said you never had a deal with her. Adam says that we didn't really. They ask Adam what his hesitation to work with them. Adam says that he worked so hard to get here …and that all they had to do was answer a phone to get back here. Jordan asks do you want them to win … with Kalia sleeping all day and Porsche walking around wearing the HOH key all day.
2pm – 2:20pm Rachel tells Adam wouldn't you rather fight to the end with the best players. Adam says that what hurt him is that there is no trust there between him and Kalia. Adam says that all he knows is that if he wins HOH next matter because then he can't play the next one. Rachel says that doesn't matter ..all that matters is the POV … the HOH just guarantees you are safe.. the POV keeps you here. Jordan, Rachel and Adam shake on that if they keep him…he is 100% safe with them. Adam talks about how pissed off he is that Kalia has spread his final tow deal with her around the house. Jordan tells Adam that we will not flip on you. Rachel looks at Adam and says that it looks like you don't trust us. Adam says no …I do ..I trust you. Jordan tells Adam that he needs to help them win. Rachel says that if I don't win I am going home because I am the biggest target. Adam says that the hardest thing is knowing who to trust and that's all it comes down to… Adam says that he trusted them and they have now screwed him. Adam says that he is putting his trust in Rachel and Jordan now. Adam says that he wanted to fight and know that he earned the spot to be at the end. Rachel says that Shelly told them that Kalia thinks she made the biggest game move. Adam disagrees and says that we still have yet to make the biggest game move yet. Adam says that he is still going to walk around with his head down. Adam says that they have always been honest with him and that he sees the signs and all signs point here. They tell Adam to still be friends with them or whatever because it will look better that way. Adam wants them to shock Shelly on Thursday. Adam thanks them and leaves…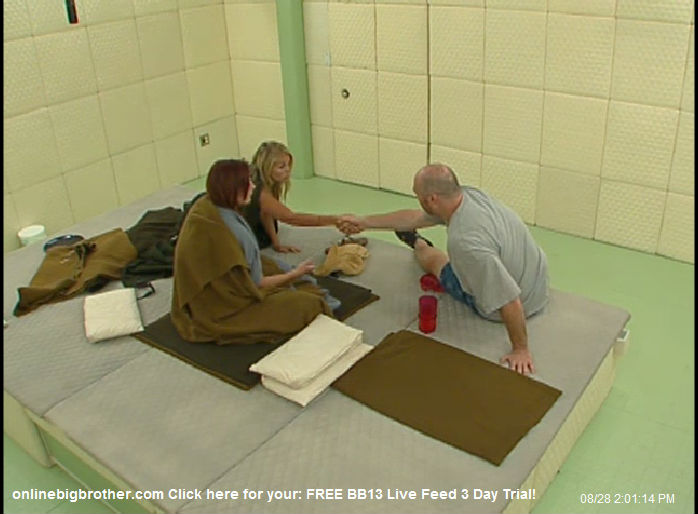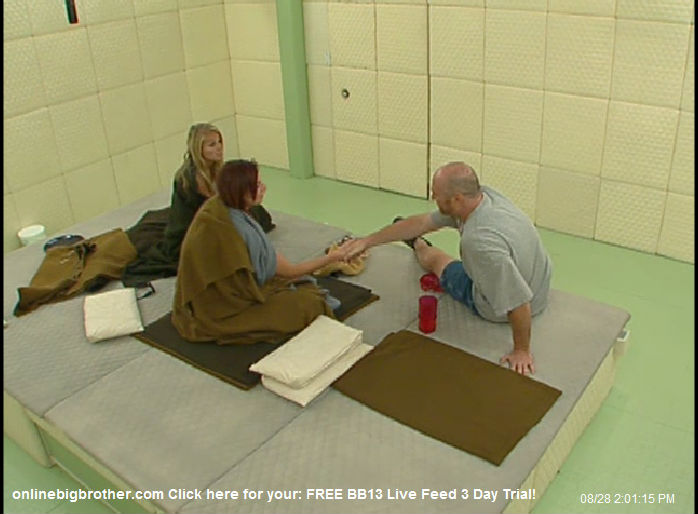 WATCH all DRAMA unfold LIVE on SuperPass! Live Feed – FREE 3 Day TRIAL
2:30pm – 2:40pm Jordan asks Rachel if she feels good? Rachel says yeah. Jordan says yeah a lot better. They talk about honest Adam was and that Shelly couldn't even look him in the eye. They talk about how Kalia blabbed her deal with Adam to Shelly and that they can't trust her. Jordan tells Rachel that she cant turn on me for Porsche. Rachel says OMG are you kidding me!? I wouldn't!! Jordan says that with Shelly they didn't feel good but with Adam she did. Rachel says yeah and I would never turn on you for Porsche. Meanwhile Adam heads out into the backyard and Shelly asks him what he has been doing? Adam says eating … Shelly asks all this time?? Adam says yeah ..cooking and eating. Adam starts talking about how Dani was talking about a celebrity cheering for her …and that would be insane to have a celebrity cheer for him. Adam heads back inside to lie down. Back in the HaveNot room Rachel and Jordan continue to talk about how they need to trust someone and that their best shot is with Adam. The conversation turns to trying to think about what the upcoming competitions will be like. Jordan and Rachel talk about how they won't say anything to anyone … Rachel says that it is obvious they are making deals to get rid of us. Rachel and Jordan start studying the events of the house. Rachel and Jordan talk about how much better they feel after talking all of this out with Adam. Rachel heads outside …and Jordan goes to the kitchen..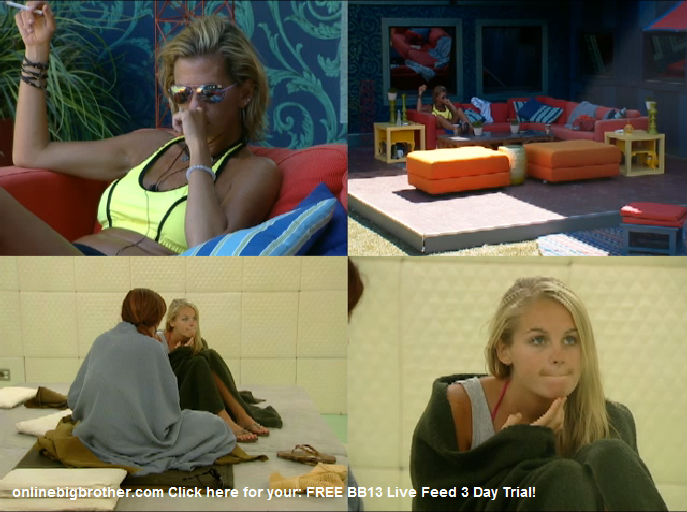 Big Brother 13 Live Feed Image Gallery
Follow: @BigBspoilers and @Dawgsbigbrother on Twitter for recent crazed out spoilers. Theres also our Facebook page.
Big Brother 13 Spoilers POLL CAST your VOTE!


Share it YO!!
Tweet