Watch the Big Brother 13 live feeds on your Android and iOS devices. Sign-up for the 3 Day Free Trial
11:45am – 12:20pm Big Brother puts the houseguests on an outdoor lock down. Adam is laying out by the pool, while Jordan is in it swimming. Adam tells Jordan that he gave Rachel a pep talk this morning about keeping her head up. Jordan asks what Adam is thinking. Adam says he is just thinking about how crazy this game is… Jordan tells Adam that she is embarrassed about the way she acted on Thursday. Jordan asks him if he expected that of her. Adam says that the game does crazy things to you …and no one understands just what its like … he says that the people that are really close to her will understand and listen to her explanations of why she acted the way she did. Adam talks about hopefully we can look back and laugh about our time in this house. Adam says that he is similar to Jordan in that they both try and play inside the house how they would outside the house. Jordan tells Adam that she thinks she has helped him a lot in the game…and that if he doesn't work with us …then that is like a slap in the face.. Jordan says that Rachel and I know we have to win on Thursday… and that if you don't work with us …then you will be all on your own. Adam agrees.. Jordan says that you only want to work with us because we won the veto.. Adam says no ..no ..we should talk when we can be more private and I don't need to whisper. Jordan says okay…
WATCH all DRAMA unfold LIVE on SuperPass! FREE 3 Day TRIAL
12:25pm Shelly, Porsche and Rachel play cards over on the backyard couch. Jordan is now laying beside the pool, while Adam lays in the lounger. Jordan joins Adam on a lounger beside him. They talk about his girlfriend Fara.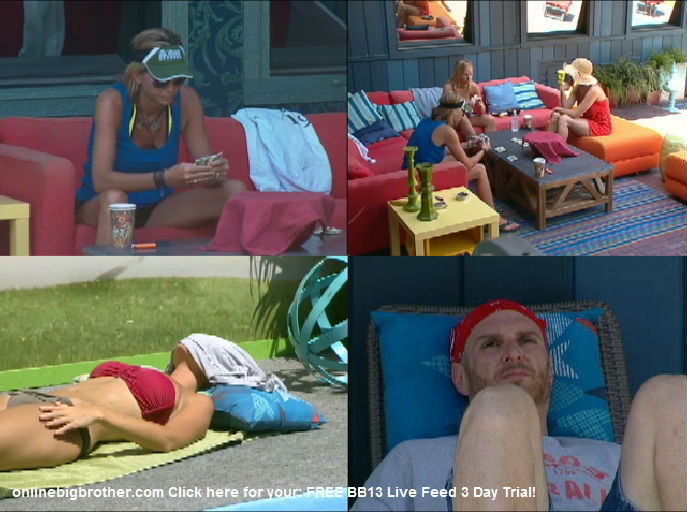 Adam says that he thinks it sucks that he has to go against Shelly and he doesn't want to bash the person he is going against. Porsche tells Adam to please not make any deals with them or it will not be votes in the jury house. Adam knows that Shelly will offer them the world. He will have to offer them something. Adam says UUhhh.. Porsche says I know that is hard because it means breaking deals. Porsche says that we think we are stronger than them. Adam says I know.. Porsche says just please just don't make it so we are fighting against two again next week. Adam says that he is still going to need to say thinks to them. Adam tells Porsche that he wants to work with her to stay in the game. Porsche tells him he has to win HOH to show he can do something and that if he makes a deal with them he is gone. Adam says that he is in a tough spot because he doesn't want to turn on Jordan but he gets it. Porsche tells Adam that her main allies were Brendon then Dani and she's having to rebuild. Adam says it's funny that she a 23 year old is giving a 40 year old advice. Porsche says that it's not advice they have just been living the same experience.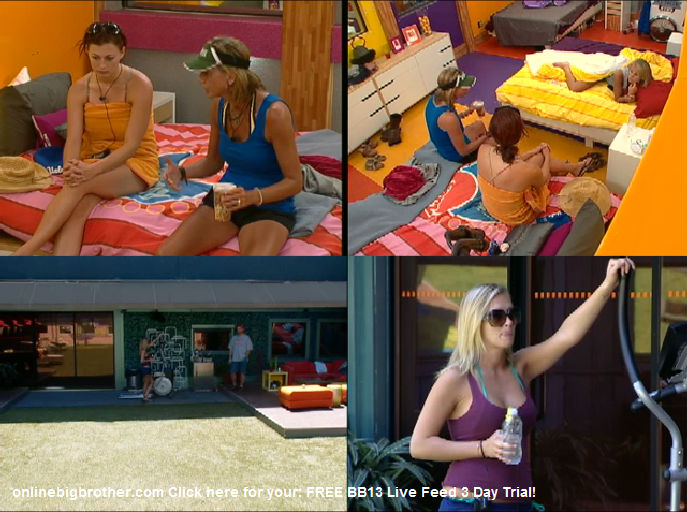 12:45pm Shelly is talking to Rachel and Jordan about trying to work with them and that she will do anything to get their votes. Shelly says that she will swear on her family and her daughter… Shelly tells them that she won't swear on the bible …she will not go out of the game with them thinking she is the biggest piece of shit. Shelly says that she knows that she will never make it to the final two but that she wants to stay and work with them to help them. Shelly says that she apologizes and that whatever I need to do to make you feel comfortable then you come up with that.. and I will do it. Shelly says that you will have complete control… Shelly says that she will vote herself out if we make it to the final three. Rachel says that we need to win HOH this week. Shelly says that she swears to god, her daughter and her husband that she will not go against them. Shelly says that if you guys vote for me to stay then I will become a target in their eyes …because they will know I am against them. Rachel and Jordan say that is not true we will always be going up. Shelly says that she does NOT have anything …does not have a deal with them …not any of them.. I have not made a deal with Adam the entire game. (Shelly is lying she made a final four deal with Porsche, Kalia, Adam and her) Rachel says maybe if we can put it all behind us and build a new relationship together. Shelly says that she will show them with her actions, not my words. Shelly says that if they can't trust her then don't vote for me. Shelly says that she needs to now earn their trust. Rachel asks so if we didn't win the veto would you have voted for me.. Shelly says after the thing with Jeff and wanting to make things right …yes I would have voted for you if you came to me. Shelly says that she is not an idiot …I am an adult …I would not go down the same path again. Rachel tells Shelly that they need to think about things and talk about it all. Shelly says okay.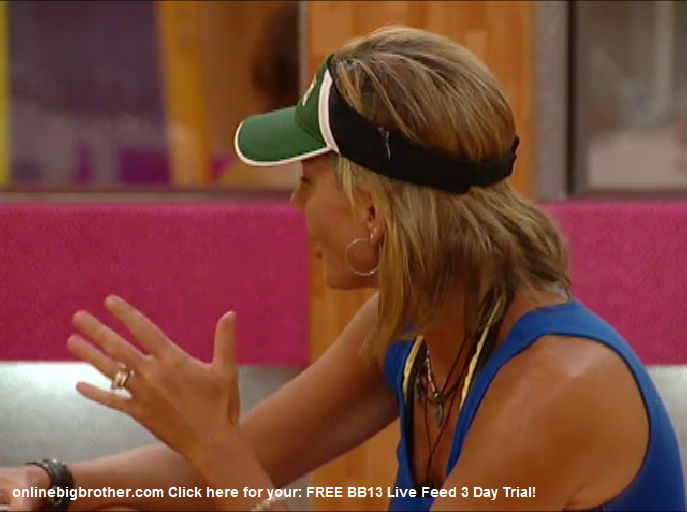 1pm – 1:10pm Adam Rachel and Jordan are in the kitchen and they tell him that they will all talk later. Jordan says that we need to go over all of the scenarios. Rachel and Jordan go to the havenot room to talk about what they should do. Jordan says that no matter what happens they will protect Shelly. Jordan tells Rachel that she told Adam if he doesn't work with them …then it is a slap on the face. Jordan talks about how Shelly is trying to be all nice now. Jordan says that Kalia and Porsche have a final two deal together …and they will probably take Adam to the final 3. Jordan says that the one thing for Adam is that he tells it to you straight. Rachel and Jordan talk about how they need to talk to Adam as well and get his side. They talk about how they need to win HOH this week. They discuss what the final competitions will be like and who it would be better to be up against. Jordan says that she saw Shelly tell them to hold on in the competition. Jordan says that she saw Porsche talking to Adam during the competition. They talk about how excited Shelly has been after the others win competitions and it show she is with them. Jordan says that she thinks Shelly is the one that needs to go …we just can't trust her.. Rachel agrees. They talk about needing to split up Kalia and Porsche.
Live Feed FLASHBACK – Don't miss all the drama!
Superpass – 3 Day FREE Trial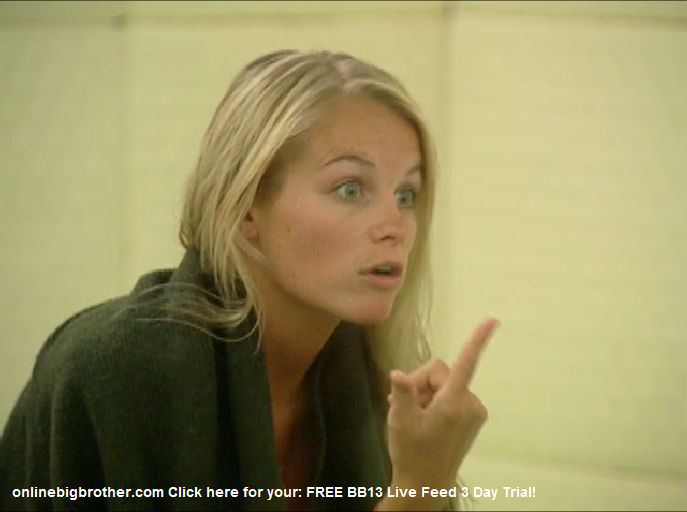 If you like this site and want to help us keep it running please consider donating, Your donations go directly to paying the server and bandwidth fees. Donate Link

Big Brother 13 Live Feed Image Gallery
Follow: @BigBspoilers and @Dawgsbigbrother on Twitter for recent crazed out spoilers. Theres also our Facebook page.
Big Brother 13 Spoilers POLL CAST your VOTE!


Share it YO!!
Tweet