Big Brother 13 Live Feeds Can be watched on your iPhone and Android Mobile devices sign up -> Watch Big Brother 13 on Your iPhone or Android Phone
2:55pm Backyard Rachel, Jordan and Shelly JR are being nice to Shelly now trying to help out their jury votes. Shelly says the Fortune Teller started up for her the other day. Shelly explains everything that happened. Rachel mentions that early in the Season Dani had plugged it in and it started.. but later it stopped working. Shelly didn't know that.
They all start talking about dani. Shelly wonders what they are all doing in the jury house. rachel thinks Jeff and Brendon are having fun. Jordan: "BJ are probably siting at the pool and over on the other end is Dani". Rachel thinks they may have gotten over it by now.. but it's only Sunday. Shelly says that Jeff's eviction interview will probably be one that she will miss watching. Jordan comments on how mad Jeff was when he left and he hit the door.
Shelly tells them that Dani probably doesn't have very many fans, Shelly is sure that Dani's 2 biggest fans are in the house.. She brings up that Porsche and Kalia are planning things up in the HOH room they have a shot glass with these little coloured things in it and each colour has a name. "There's one for you.. you … me … Adam.. and each of them"
Shelly says Kalia thinks she's running Porsche's HOH.. she's telling Porsche everything to do, "they actually think they shouldn't win the next HOH.." Shelly mentions that they are thinking things through much more than she ever did.
Rachel says Porsche really doesn't know Janelle they worked at the same place and POrsche jut met her once. Shelly brings up that Porsche has that ring Janelle gave her for good luck. Rachel smirks.
(So rachel is still a BLANK, Jordan still hates Dani and Shelly shooting straight again)
3:35pm Pool JR Talking about the fortune teller and how whenever her a Dani would mess with it they would always get in trouble from production. Rachel wonders if maybe something will come from the fortune teller. Jordan says she really hopes there is another Pandora's box they really need something to go their way. Shelly joins them and they begin to Chit chat about suntanning.. Rachel says she's not much into laying out in the sun she just does it in the BB house because it's so boring.
Sign-up NOW and watch the houseguests live! Uncensored Live Feeds 3 Day Free Trial
3:40pm all cams on suntanning.. no talk
Shelly leaves..
Rachel: "You know that we're in a house with 4 floaters" Jordan: "Yes I know that"
Jordan feels bad for not winning the HOH and losing Jeff. Rachel thinks they can do it this Pandora's box has given them a real chance. Jordan: "I'm getting really nervous.. I haven't won anything since week 2.. If you go I don't stand a chance"
Adam comes out.. JR tell Adam that KP are planning upstairs they've made little models of players and are making plans. Rachel: "Shelly just told us everything"
Adam is pissed, "I'm really aggravated about these BLANK people.. trusting them when they really don't have your back" Adam says he feels like BLANK.
Jordan says to him that he needs to keep his mouth shut and not tell anyone because it will just cause Drama and they don't want that. Jordan wanted him to know so he can stick with them. Adam says that he knows Shelly is a liar so he should of never trusted her.
Adam starts blowing smoke up their asses saying how bad shelly is and how what she did to Jordan after Jordan giving her a family phone call wasn't very nice. Adam knew that his chances in this game were nill with JEff and Brendon in it but he wanted Jeff to still be in the house till the end.
Adam goes on and one telling JOrdan everything she wants to hear about Shelly being a horrible person and Adam always being on their side. Jordan asks Adam which one should they get out Kalia or Porsche. Adam says they need to get Kalia out "Dani has taught her the game" Jordan agrees. Rachel thinks they need to win HOH first.
Adam says he will open Pandora's box he think everyone should. Adam: "If I have to stay in a room with Dani for a hour and you guys get a Margarita party please save me one" Adam thinks the last week has been anything but boring. Jordan thinks this season has been really exciting she only thinks that Dani was saying it's boring because PT was gone.
(Adam Sucking up to JR BIG TIME.. and in case you are wondering which side is Adam on, he's on the side that has the power. JR have the power right now so thats the side he's on. Adam is the ultimate floater this year)
*BTW If i was Adam I would be doing the same thing as he is doing JR control who is going home.
4:50pm HOH KP They are talking about Adam. both are sure that he will fkip if the other side has the power but there's really nothing they can do now about it.. They just hope Kalia wins HOH. Kalia wants to bring in JR and solidify their situation with them just in case.
Kalia reminds her they need to work on Adam to make sure if he wins HOH they don't go up.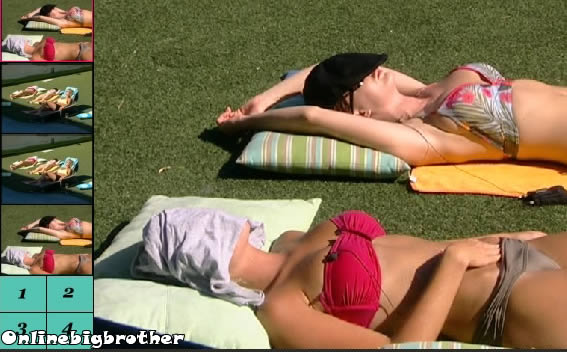 Share it YO!!
Tweet