POV Holder:
Paul
POV Competition
Aug 20th
POV Used
Yes
POV Ceremony
Aug 22th
HOH
Natalie, Meech
Next HOH
Aug 25th
Original Nominations:
Victor AND Paul
After POV Nominations:
Victor AND COrey
Have Nots
Victor and James
Watch the next week of the feeds for FREE – 1 week Trial!
Paul used the POwer of Veto on himself causing Michelle to pick a house guests for nominations. Michelle Picked Corey.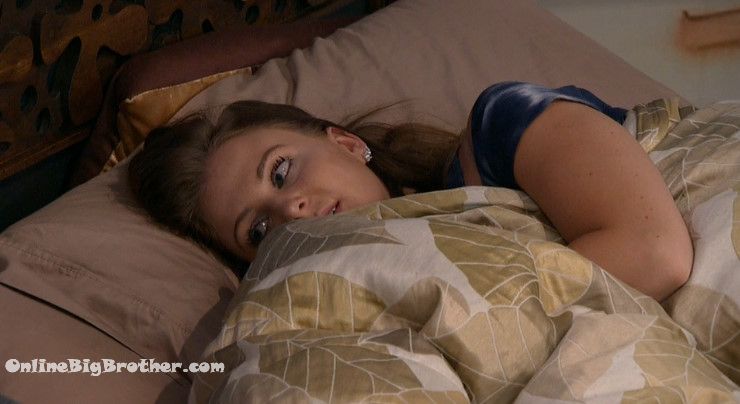 11:36am Michelle and natalie
Michelle regrets helping Victor and Paul study..
Natalie goes on about Corey and Nicole doing nothing in the game and that is why they want to keep them. Michelle is pissed about Paul. Natalie accuses Paul of sabotaging her during the POV. Adds that James confirms that was Paul's plan when he was working with the guys.
Michelle is convinced someone is coming back into the game. They agree to be each other's number 1 along with James.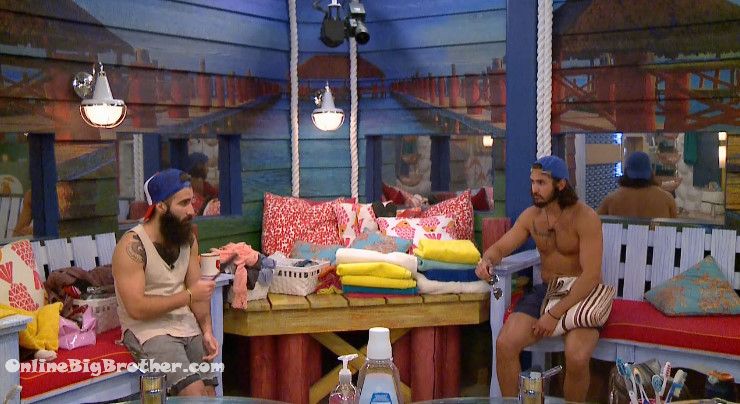 11:36am paul and Victor
talking about getting into James head that Nicole and Corey are 1 vote. Paul warns they have to be careful with wording.
Paul – you got to work on the sympathy strings with Michelle and Natalie
Vic agrees says there's a lot of time remaining and the timing is important on this one.
Paul says he doesn't trust James at all.
They agree James is not a straightforward person and is playing everyone.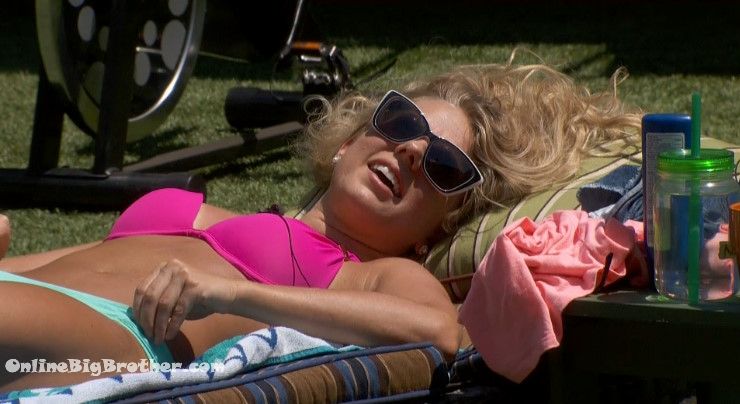 12:21pm Nicole and Paul
Nicole denying calling Paul a liar and manipulator. She says she doesn't call anyone manipulator. Says everyone lies in the house so she wouldn't call Paul a liar
Paul – when was it told you I was coming after you..
Nicole says it was Pualie, "He planted a lot of seeds maybeeeeeeeeeeeeeeeeeeeeeeeeeeeeeeeeeeeeeeeeeeeeeeeeeeee"
Nicole says she more mad that she missed a strip tease from Corey. (When he called Nicole out Friday night)
Nicole pretty much denies any wrongdoing ever.
Nicole says she's certain Corey is going
Paul isn't sure
Nicole – everyone is together except for Corey and I.. Clearly you guys are all together… studying together
Paul says his life was on the line.. Paul says he did come to her guns hot when he called her out.
Nicole denies ever making up random stuff that's not her strategy.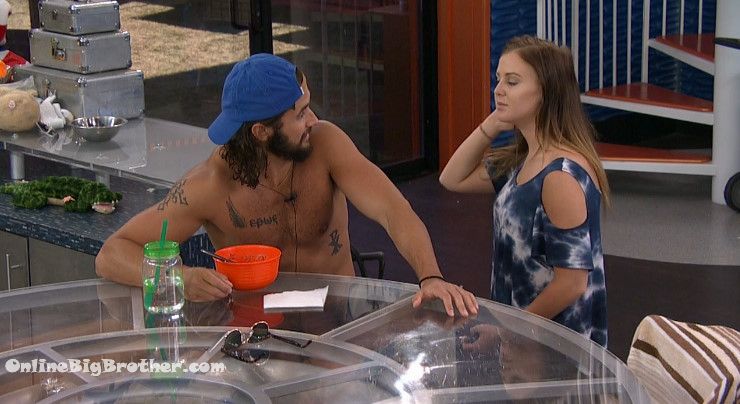 12:30pm Michelle and Victor..
Victor – I'm f*** nervous, lets hope James votes my way..
Michelle – don't be nervous..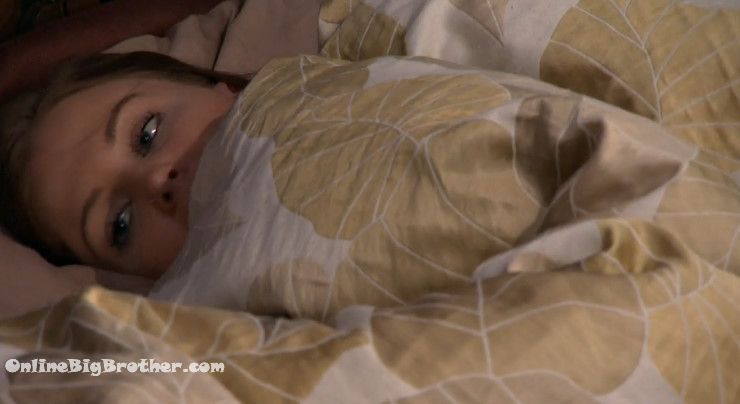 12:31pm Michelle and Natalie HOH
Michelle – Victor is alone in the kitchen.. guess who is outside talking their head off to Nicole and Corey.. Paul
Michelle – he told Nicole I wanted her out..
Natalie – oh my god.. he probably did
Natalie – the fact that he's doing that.. was it a serious conversation
Michelle – ya.. you know his pose.. sitting down hands like Frank… I feel bad Victor is like I am scared.. thanks for putting up Corey.
Natalie – at the end of the day we can still send Corey out too.. doesn't have to be Vic it's still our HOH.. Nicole is voting 1 way Vic is voting another.. 2 guarantee votes..
Natalie says she can't manipulate James but she can let him know they respected James HOH.
Michelel wonders if Paul is goign to try and talk and manipulate.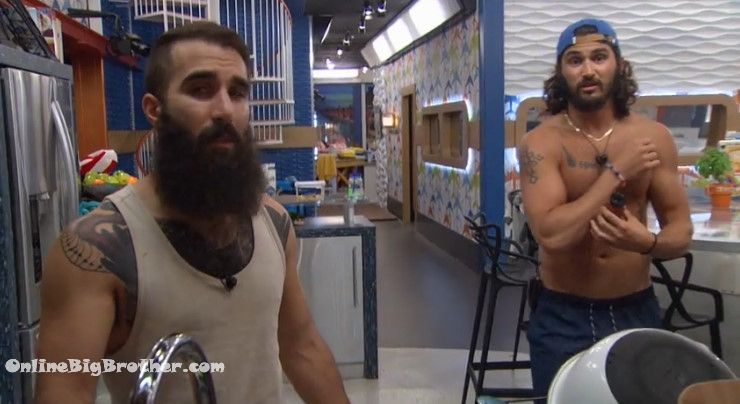 2:31pm Victor and Paul
Victor is goign to talk to Natalie later, they go over his talking points
Victor plans to talk to Natalie every day at least
Paul is going to lay back a bit he doesn't want to make anything seem "Sketch"
Vic – you need to stay chill bro.. you don't need to worry about anything.. just relax..
they agree Paul campaigning hard for Victor is goign to be bad.
Victor says if they are voting him out and it's 2 to 1 he's going to turn to JAmes and Natalie and tell them they've lost his vote.
2:48pm Paul is suggesting that they stop asking James if the plan is still a go they need to "Amp" it up around James make him think they are comfortable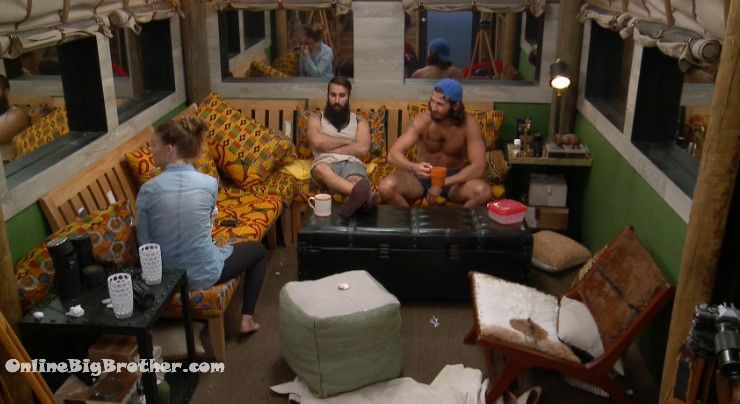 2:52PM Victor, Paul and Michelle
Victor says he talked to James and James is till good with their plan. Victor says Michelle putting Corey up.
Paul – Nicole and Corey are good at
Victor – lies and deception
Meech – wheres Nat at
Vic – outside with Corey and Nicole James is in the Diary room..
Meech says Corey and Nicole don't talk to her anymore
Vic says they don't need Meech anymore they are just talking to James and Nat they need James's vote and they need Nat to pressure James.
They agree they hate Monday, Tuesday, Wednesday because of the paranoia.
Paul says if they end up getting boned it's 50/50 chance they get the care package.
Vic – if I get boned you have 1 person playing for you in HOH (Paul)
Paul – 3 against 1 son of a f***
Paul says they are just gettign paranoid because their final 5 is literally the best thing ever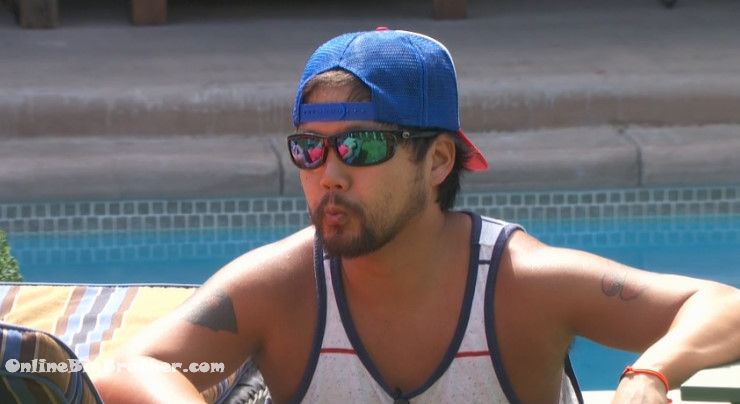 3:00pm James and Natalie
Natalie says her HOH week is ruined, "Didn't even get to enjoy it"
Natalie – he added more f***g drama to my HOH.. like shutup and sit down you're annoying.. I can't handle it.. he gives me anxiety he hurts my stomach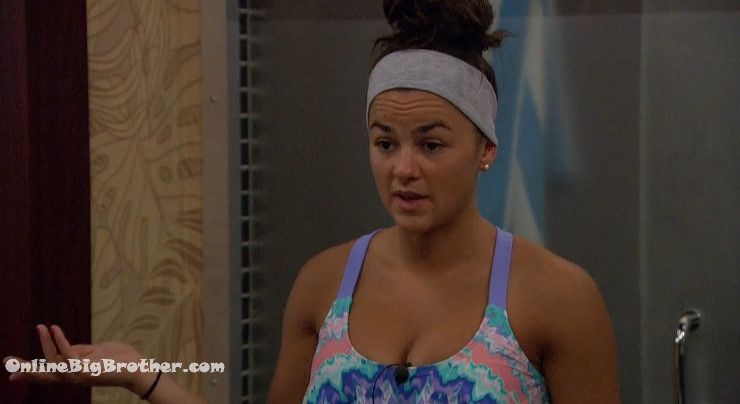 3:16pm Natalie and James
Natalie is blaming everything on Paul.
James wants to blindside Victor Natalie is onboard says they should blindside bot Victor and Paul, "you gotta blindside them"
James saying that he doesn't care if he losses the Jury votes.
Natalie – Michelle's on our side I've been working hard.. she has your back..
Natalie says everyone wants to send Paul out next week before Corey.
James says Corey will go up along with Paul if Veto is played he'll put up Nicole, "I'll have to blindside them.. Corey"
Natalie – its in our best interest for you to win.. Paul will be a team of 1 Corey and Nicole are a team of 2 we're the strongest team now..
Natalie says Corey, Nicoel and Paul talked outside in secrete and neitehr corey or Nicole have coem to them about that
James – sh1t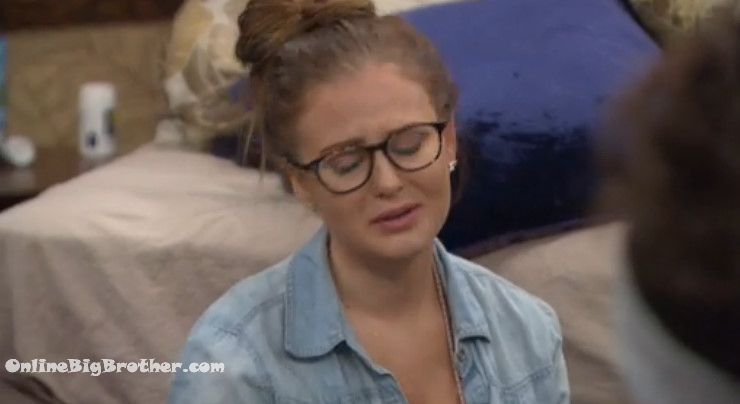 3:34pm Michelle crying
Michelle- Corey and Nicole are mad at me..
James – we're all gunning for the veto even Corey.. everyone plays
Nat – we're going to all ensure Paul goes home next week
Meech asks them what they've talked to Nicole and Corey about. She feels they've been talking to Nicole and Corey a lot and she's the odd person out (Ding Ding)
Meech says if they all think Paul was the target this week what does Nicole and Corey think about the veto/
Meech asks says they were studying all night with Paul the night before the Veto, Nicole and Corey were alone downstairs.
James- oh I don't know about that..
Michelle says she knows for sure Paul was the one that Told Nicole she was planning to put her up today. (It was James)
Natalie goes on and on about Paul being a liar because he lied about knowing how to cook and make fries.
Michelle says that Paul said he had no student loans but the other day he said he owed 60grand
Natalie says Paul's personality morphs depending on the people he's with.
Natalie says the backyard is closing tomorrow at 2pm so the comp is going to be MASSIVE, she thinks it'll be the wall and james will win it.
James says he's putting Paul/Corey up if veto is played Nicole is going up
Victor joins them…
Victor saying it'll be Victor, Paul and James competing in the HOH, Victor goes on about taking out Nicole next week.
Victor – we have 13 wins to her 1. The odds are in our favour
Victor – she's going to crumble when Corey leaves..
Michelle leaves to go ask Nicole why she was so certain she was going up.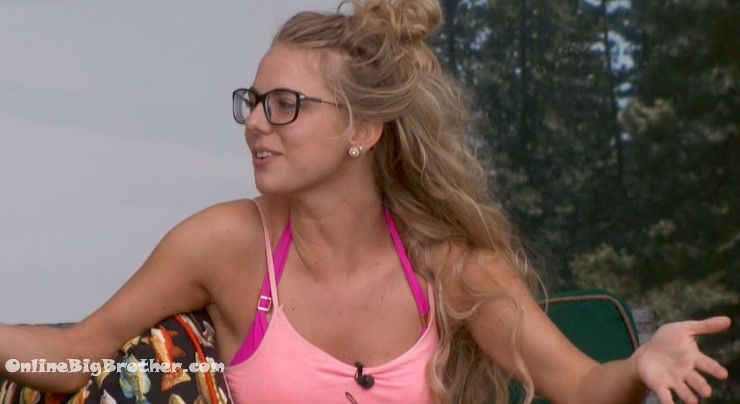 3:47pm Nicole, MEECH and Corey
Michelle asks her why she thought she was going up
Nicole saying there was a 50/50 chance she was going up so she didn't want to chance it so she got ready.
Nicole says Corey is such a good guy and her and Michelle have a past together so that is why she thought she was going up.
Michelle saying she was trying to win the Veto to pull Victor down she wanted paul to go.
Michelle – what did James and Natalie tell you about this week.
Nicole – Nothing..
Michelle starts to cry "you don't like me… you and me use to hang out all the time"
Nicole says Corey is much "cooler" than she is so she's would think he's safe.
4:04pm Nicole says she won't vote for Victor to win because to her social game is very important. Michelle argues it says Victor has survived and won a lot of competitions.
Nicole says she just doesn't "Feel" like Victor should win.
Nicole says she loves Jordan and would have voted for Jordan no matter what. Nicoel say people just usually end up voting for who they like.
4:15pm Michelle starts saying that Paul morphs his personality. Says he claims to need the money then says he's friends with Aaron Carter adn his leather jacket is 1000 dollars.
Michelle tells them that the plan was for the 5 of them to take out Nicole and Corey and get to final 5.
They go on and on about Paul being rich, liar, smart, etc etc…
Michelle – he hangs out with Billy bob Thornton's son..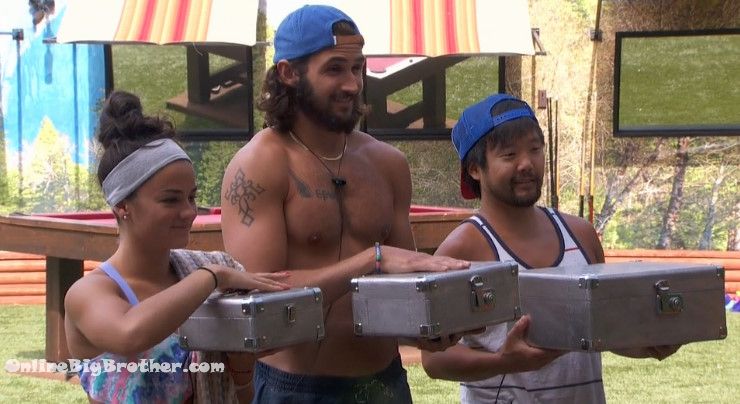 3:57pm Playing Deal or no deal with the props. Only 1 of them opens..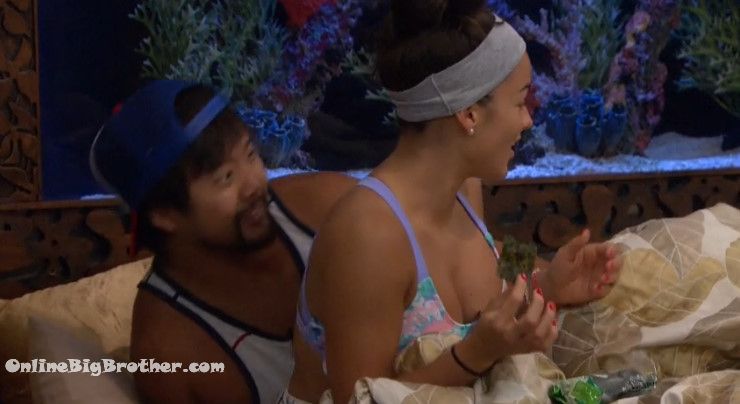 4:07pm Natalie saying the only way for Victor to stay is if he goes after Paul
James- that won't happen
Natalie – right.. so Bye
4:30pm Kitchen Nicole and Victor
Nicole tells him "No offense" she's voting to keep Corey.
4:41pm HOH Michelle, Corey and Natalie
Talking about Paul lying about knowing how to make fries.
Michelle retells parts of her conversation with Nicole and Corey adds that they are targeting Paul next week so they are safe.
Natalie says Paul was eavesdropping on her and Corey's conversation. (LOL she says this every 20 minutes)
Meech says it was Paul that told her Nicole was coming after her 2 weeks ago. Natalie says Nicole is smart she knows the game and knows if you are not winning comps you should stay in the game.
4:48pm back to talking about Paul.. James thinks Paul is 30.. Natalie says his ex girlfriend was a Disney star. Meech says Paul lied about knowing how to make Fries (Ohh for pete sake)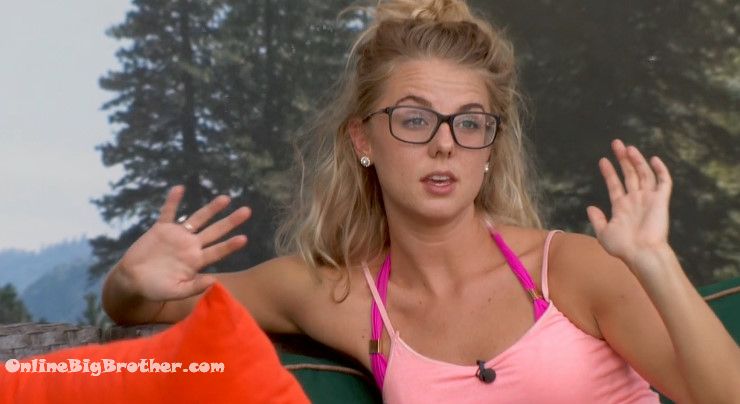 4:50pm Nicole says the only people she wants to win other than herself is James or Corey.. (It's a kraken season)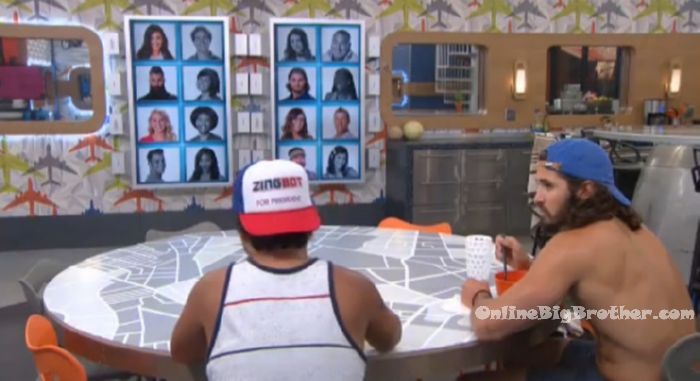 5:15pm – 5:30pm Vic tells James that he was talking to Nicole earlier. I asked how she felt about her boy being on the block. I said it could go either way and she said yeah it sucks. I was like I don't know what's going to happen this week. She was like oh really? I was like it could go either way. I'm like what are you trying to insinuate?! I think she's not happy. I just wish she would have hung out with us more. Vic and James sit down to eat at the table.

6pm
Most of the house guests are sleeping. Vic is playing pool with himself. I have an inkling I am going home. Maybe I should just trust James. I've been on the block before and I went home. I feel like I have a good possibility of going home. Then again I might just be paranoid. I haven't seen James and Corey talking much. I haven't wronged James. He wronged me when he threw that comp. I will say guy .. hook Paul up with package if I go. Paul has played a really game and he deserves one. I'm not going to take anything away from Nicole and Corey but Paul and I have been riskier players which is more fun to watch. If they do skate by then, they deserve to win it.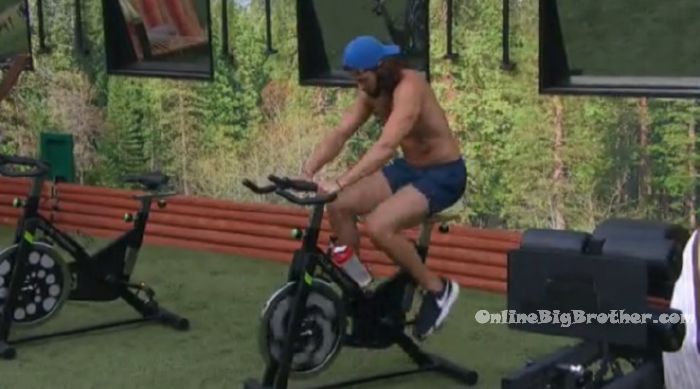 7:05pm
Nicole awakes up and heads into the kitchen to make cookies. Meanwhile in the backyard Victor is working out.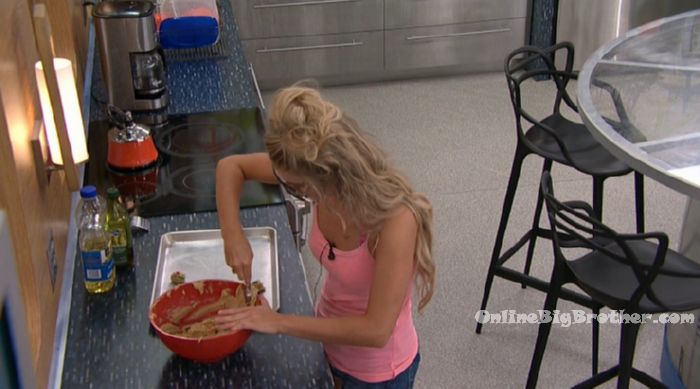 7:20pm – 7:40pm Kitchen – Vic says I don't know what's going to happen this week. Nicole says I don't know either. I only know my vote (for Corey).. and Paul's vote (for Vic). Vic says I skipped from 14th place to 7th if I were to leave this week. Vic says this is good for life lessons. Nicole says I might just hide forever. Vic says he's not talking about the game outside of the house. At that point I'm done. We're not playing for money any more so what's the point. Paul joins them.
7:45pm – 7:50pm Vic and Paul head outside to play a game of pool. Paul complains that they locked the HOH door. Vic says they probably want to sleep without people coming in. Paul says James talks to Nat .. tells her all the things she needs to know. Vic says Michelle isn't stupid. She knows if I go home she is f**ked. She put Corey up for a reason. If anything she will come back to me and say I think something is fishy. Or she tells Nat hey I don't agree with that. I like it better that James isn't up there and they lock the door. Michelle know that if I go she will go not that long after that. Paul says what bugs me is that Corey and Nicole are so calm and collected. Vic says they have each other. My heart won't break if I leave you. I talked to Corey and he's the same as always if I go it is what it is.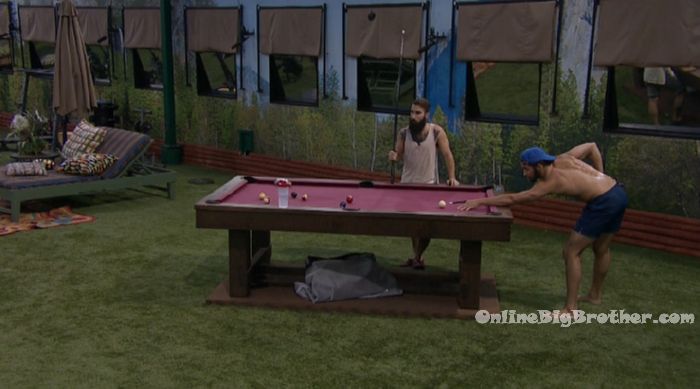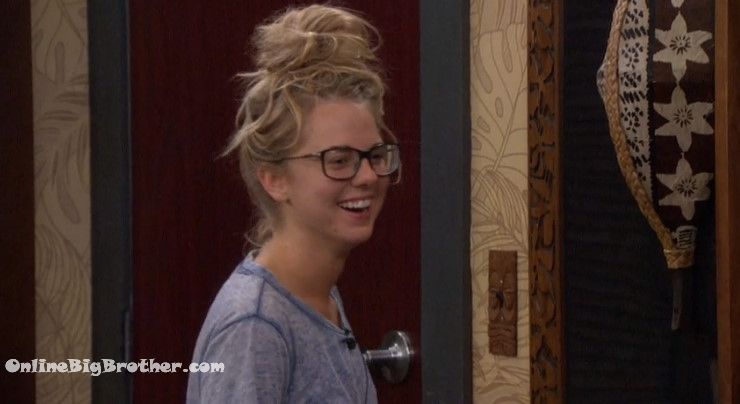 From last night.. 8/22
3:50am Cam 3-4 HOH Nicole, Paul, Natalie, James Victor, Michelle
Nicole comes out of the Diary room, walks up to the HOH – James we got in trouble.. I have to say this on camera.. I won't buy.. I won't get you something nice..
James- ok.. I'm not going to get you something nice either
Paul – wait what happened
Natalie – they were saying they are going to get themselves something nice (If they win)
Nicole leaves..
They start asking James about it.. James says he's not allowed to repeat it, "Just let it go"
Michelle – keeping her safe or something.. like a deal
3:54am Cam 3-4 Nicole and Corey
Nicole – I did get in trouble though.. earlier I told James.. James was like hey If I win I'll get you something nice, Corey something nice and Natalie something nice.
Nicole – I was like Yeah me too and I get in trouble for that.. A warning, the prize is only meant for 1 person..
Nicole explains that Production made her go up there and tell James she thinks it looks sketch.
Nicole says they never meant anything by it they were just being nice to each other.
Corey – I know
Nicole – so when do you think our first make out sessh will be