POV Holder:
Paul
POV Competition
Aug 20th
POV Used
Yes
POV Ceremony
Aug 22th
HOH
Natalie, Meech
Next HOH
Aug 25th
Original Nominations:
Victor AND Paul
After POV Nominations:
Victor AND COrey
Have Nots
Victor and James
Watch the next week of the feeds for FREE – 1 week Trial!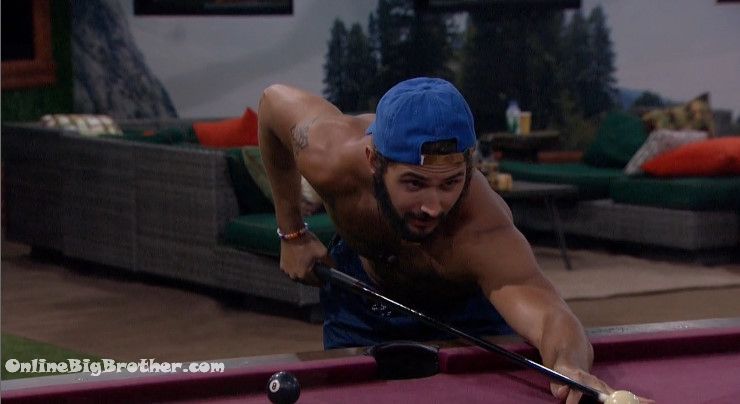 (It's slow :( )
7:50pm Victor and Paul Pool
Vic – James is taking out a big target.. Take it from his perspective we've been working with him more than COrey has.. Sow why would it make sense for him to do that now.
Vic – he still can play HOH next week
Paul – as long as I am in this house he knows I'm a bigger target than him.
Paul says maybe James is thinking it's easier to beat Corey and Nicole than HIm and Victor
Victor – I think he trusts us when we say we'll go after Nicole next.. If he trusts we'll go after Nicole For him it would make sense to get Corey out now..
Vic – if we wins HOH he can take us out or if he doesn't win HOH we'll take out Nicole..
Paul – he's worried about the care package
Victor suspects that James is leaking information to Nicole.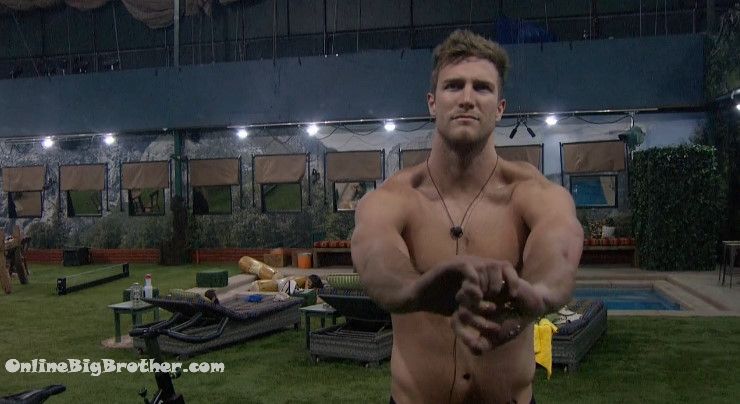 8:27pm Corey working out… Nicole watching drooling. Victor and Paul in the hot tub chilling..
Victor says unless he's up against Paul in the final 2 he'll win. Victor thinks Paul has a good chance to get America's favorite. Paul isn't sure mentions they have no idea how he's being portrayed on the show.
Paul says James is confident that he has America's favorite locked.
Victor asks about Natalie winning it. Paul doesn't know it'll depend how the game goes mentions if they were popular and she sent them home might hurt her.
Victor – this game is stressful..
Victor hopes the fans like the season there's no 'Controversial Sh1t" that puts a stain on it.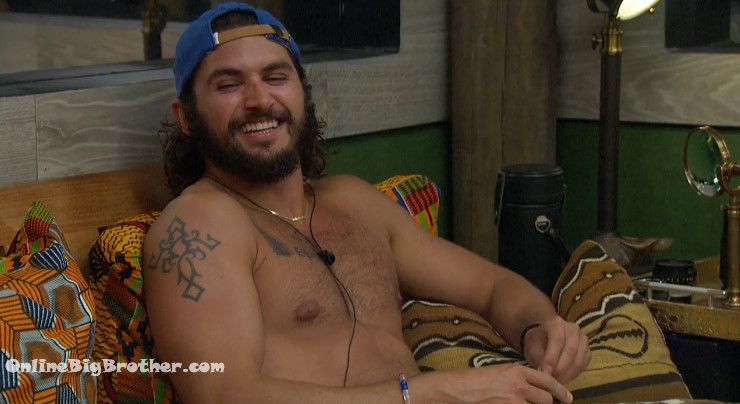 9:00pm Victor and Michelle
Talking about silly reality shows like sweet sixteen and Made.
Meech liked laguna beach and the Hills.
Victor says he doesn't want to be on James' a$$ he'll give James some space. Michelle says that's a good idea.
Victor asks if Natalie seem like she wants Corey out
Michelle – she does.. She knows what he said.
They agree people will judge them for the littlest things said. If they could listen to the fans talk for 24/7 they could find something to make them look like a "bad Person"
Victor says they have to watch every single thing they say.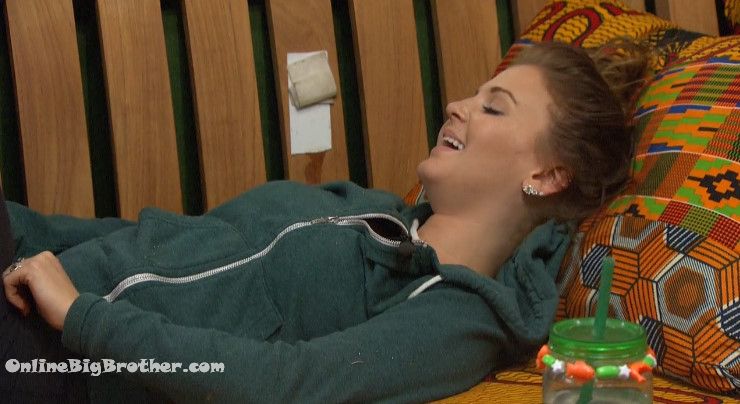 9:27pm they reminisce about university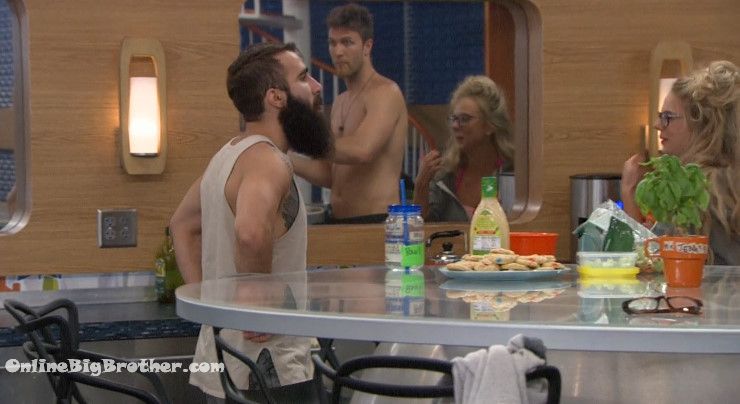 9:33pm Kitchen Paul, Corey and Nicole
Talking about Paulie losing his mind and having to go for his own safety.
Paul telling them a story about when Paulie first found out Zakiyah was going. Highlights the crazy, "He ran into the London room to me like he was my ex wife.. And he just found out I've been hiding the fact I had kids in ecuador ". Puts his hands on his hips impersonating Paulie, "so when were you going to tell me" . (See image)
Paul – I was like what… he was like about Zakiyah going home.. I was like dude I don't know what you are talking about. He licked his lips and ran out.
Paul – Hommie is insane
Corey – ya
Corey – we never say that side of Paulie.. When that came out I was like What…
Nicole – it was so random. I was like crap.. You know it's like shoot
COrey – random
9:48pm Corey talks about a time he tried marijuana edibles and didn't feel it. it was a gummy animal. Paul promises to give him a edible that he'll feel.
Corey talk about his friend Dylan who has "Beautiful Blue eyes" he's 6.2 attractive the ladies really like him.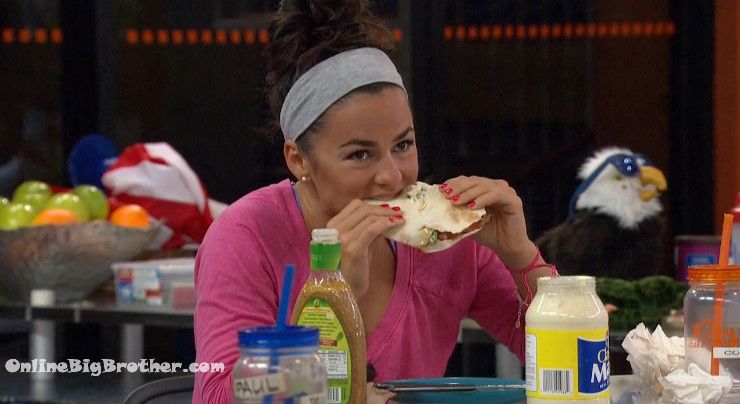 10:17pm Natalie and Nicole
Natalie going on about Paul "Forcing" her to study and telling her if she wins the veto she has to use it on her.
Natalie says Paul isn't 23 she says he's too smart.
Natalie says Corey said something personal about her that made her said.. something about her and James.. a comment.
Nicole – I don't think he said anything about it
Natalie – I know.. Corey doesn't say rude comments
Nicole – he's not that type
Natalie says nobody else heard it. Natalie thinks Paul just made it up.
Natalie – it's the meanest thing someone can say something about someone..
Natalie again saying it's made up wonders why Paul never told her before.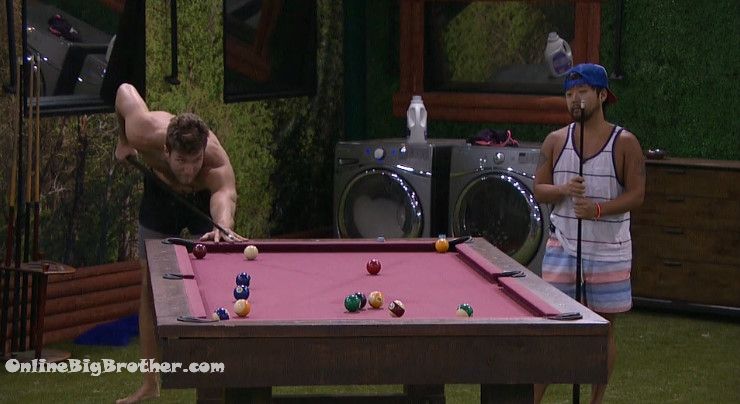 10:41pm James and Corey playing pool
"BB BRIBE"
WEEK 5 – August 25 to August 26th
The winner gets $5,000 to bribe one house guest. Bribes my influence voting, competitions, vetos or nominations. The bribe can only be given to one house guest, for one action, within the week leading up to the next eviction.
[polldaddy poll=9501597]
[polldaddy poll=9503412]