POV Holder:
Paul
POV Competition
Aug 20th
POV Used
?
POV Ceremony
Aug 22th
HOH
Natalie, Meech
Next HOH
Aug 25th
Original Nomi1nations:
Victor AND Paul
After POV Nominations:
? AND ?
Have Nots
Victor and James
Watch the next week of the feeds for FREE – 1 week Trial!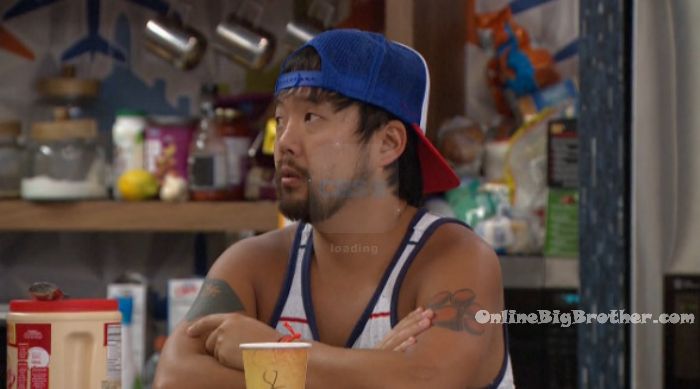 10:40am – 11am Kitchen – Nicole, James and Corey are talking. James tells Corey and Nicole… don't tell anyone I told you this but Michelle really wants you (Nicole) out. Nicole says she knows she (Meech) wants her out. James says she thinks everyone under estimates you. Nicole says she's just like Christine .. its legit the same thing. Nicole says thank you. Wait so she knows you don't want me out or did you tell her you do? James says I said you haven't won anything so I think you're over estimating her. Nicole laughs. James says she said if that's what you guys think, I'll go with you but I think you're under estimating her. Nicole says because she doesn't want Vic gone. James says Vic doesn't even tell people who he wants out. Paul says he wants this person and that person out. Nicole says I just can't believe that she thinks its best to get me out. James says Paul is pushing to get Corey out because he thinks he has a care package coming. Nicole says Paul might get it too. James says but he is banking on that he or Vic will get it if Corey is gone. Nicole says but that's bad for you. James says no sh*t. He didn't even know what a veto or a DPOV was. James tells Nicole I just don't want you thinking she's (Meech) is your best friend. Nicole says she knows she's not. James says its going to be us couples battling it out. Corey says that would be funny. That would be dope if we could make it to the final 4. James says after Vic and Paul .. then there is just Michelle. Corey says maybe Nicole can come through with us .. just one time!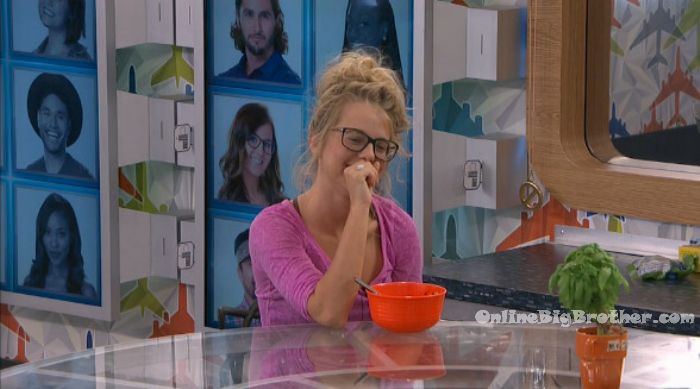 11:10am – 12:05pm Backyard – James, Nicole and Corey are suntanning. James says he is definitely going to get a tattoo when he gets out. I've got a South Carolina tattoo and I definitely need a Texas one. James says its good that all the nice people are going to be left and that all the strategers and drama is going to be out. Nicole says I am trying to stay out of the drama but it just finds me. Nicole asks why does Paul want Corey out? He thinks he's throwing crap? James says he thinks its best for everyone but its not best for us. If you get rid of Corey then that means all that's left is Me, Nicole, Nat, Meech and Victor. So ya'll two can gang up on me. I would be sitting up on the block next to Nicole. They would say they've got me all week long and then get rid of me and then they can wipe through all the girls. Nicole and Corey laugh. Nicole says I can't believe two returners are in the top 7! James says I know I thought we would be the first to go. Corey says He said in his interview that if there were returners he would team up with them. Nicole says they (Paul & Vic) know I'm coming for them. Nat Nat joins them to sun tan. Nat tells Nicole I feel bad for Vic. He wasn't my target. Nicole says he is just so good. Nat says I'm just going to stay out of it. Paul is a bigger threat but.. Nicole says I know but he's not on the block so we can't do anything about it. Nicole says if you're in the final 2 that's something you can say that you got him out. Nat asks me really in final 2.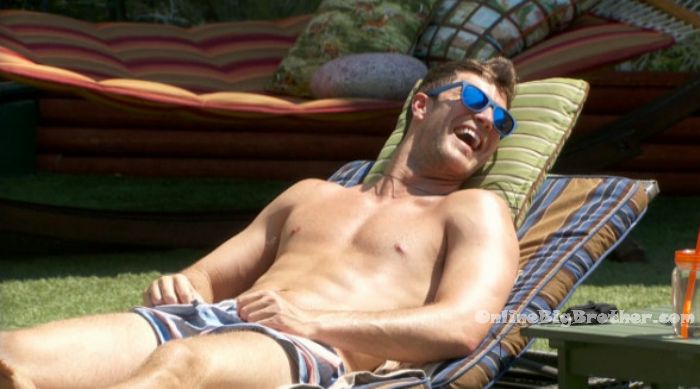 12:20pm – 12:30pm Nicole says none of us are going home next week. James says none of us .. its 3 against 1. Corey says I'm going to win it next week. It doesn't matter. There is no way he (Paul) can win HOH and POV. Nicole says you don't know that. Corey says there is no way he is that good. James says if its an endurance I'll rattle him. James says if it is me and him up there on a wall comp.. I'm going to be screaming all night ya'll two (Nicole & Corey) are next. Just to get him to drop out. Nicole and Corey laugh. Corey says when I drop out I'll start crying. Nicole says no don't.. you're the worst fake crier.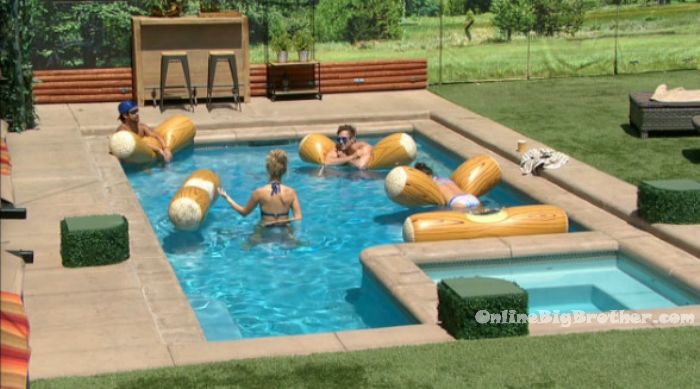 1pm – 1:30pm Backyard – Nicole and James. Nicole says she doesn't think she would have any votes in the end. Maybe 1 or 2. James says you would probably have 2 or 3 votes. Nicole says I would maybe have Paulie and maybe maybe Z. I don't think I can beat anybody in the final 2. Making it is good enough for me. I would be fine with the 50k. James asks do we get the stipend too? Nicole says they don't, we do. Nicole says it would be so good to to see you and Corey in the end. James says he woudl buy his girls mom an SUV to drive the kids around in. If I won I would send you, Corey and Nat cash. Maybe like 10K. Nicole says she would to. James says Definitely would send Nat some cash because that girl has been struggling. They talk about whether or not there will be another double eviction. James doesn't think there will be. James also doesn't think anyone from jury is coming back because Julie said they will not be returning to the house.
James tells Nicole you tell Paul and Vic that you hate me and I'll tell them I hate you. Nicole says I'm not even going to talk to them.
1:50pm – 2:15pm James is yelling to the backyard camera telling the live feeders whats going to happen this week. James says in case you wanted to know where my vote is going this week. At the end of the week Corey is going to be on the block next to Victor and I'm going to send Victor to Jury. Me, Corey, Nicole and I are going to try and ride to the end together. It will be the battle of the showmances. Yes I haven't forgotten about Michelle. We're going to try and send her home next week or Paul if he doesn't win HOH. Please don't send Paul a care package.
Vic joins Paul. James says Nicole and Corey were worried that they're going up. They said they really needed us to vote for them to stay. Vic akss what was their incentive? James says nothing really. They're definitely worried. Nicole is more worried than Corey for some reason. Vic says if that's the extent of it .. then this will be a chill week. Michelle was so worried but I told her don't worry about it. We fixed it and it will be good for tv. Vic says just that comment alone that Corey made got her mad. James says oh yeah she wants him gone.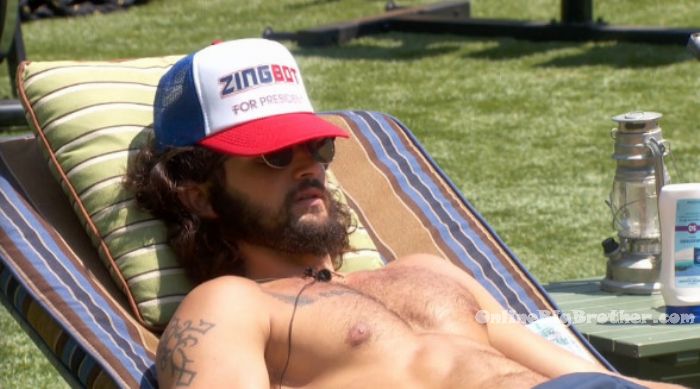 2:35pm Corey and Nicole are playing pool. James, Vic and Nat are talking by the pool. James talks about Audrey the transgender from his season. He says she was gorgeous. She was drama.. she was like Paul but a girl.
3pm Vic does another Baldwin puppet show with the eagle.

3pm – 3:20pm Backyard –
Nicole tells Corey I can't see Meech putting you up without talking to you. She would put me up without telling me though. If she does come to talk to you what are you going to tell her? To put me up? Corey says I'll tell her if she puts me up she'll be sorry. Nicole asks if he would really say that? Corey says no. Corey says the only reason she would put me up is if she plans on sending me home. Nicole says Paul and Vic want you to go up. She wants to put me up that's for sure. Its bad but I just really don't want to ruin my streak of being up on the block. What?! I paid my dues in my last season I was up 5-6 times. Corey asks are you throwing comps? Nicole says no. I threw OTEV. I didn't scurry .. I took my time. I definitely didn't try in that last comp either. I felt safe with Nat winning .. or you or James. Paul wasn't doing very well. Nicole says I would be shocked if she didn't put me up. The only reason she wouldn't put me up is if she got wind that we want Vic out. Do not tell her. Corey says I wouldn't. Nicole says its fine if I go up I trust you and James. If she doesn't talk to you about it, then I know I'm going up.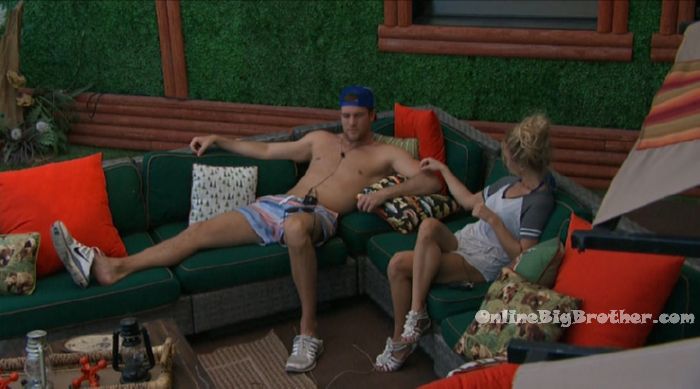 3:30pm – 3:50pm Corey says he would tell Meech she would be sorry if she put him up. Nicole gets annoyed because she would be the other option. Corey then says he would tell her after she put him up that she'll be sorry she put him up. Nicole argues with him saying that's not what you said. She then says she's fine with it if you want to talk to her and get out of it. Corey says I want Meech to feel so bad after she puts me up. I want her to feel so bad. I want her to just want to be out at that point. I'm going to be like Paul and Vic wanted me to put you up during the double eviction night and I told them I didn't want to. So good job. Nicole says its probably going to be me anyways. Corey says I definitely want to say that to her.. maybe. I just think it would be funny. She would be rattled. Nicole says its fine if you want to get me on the block. Corey says I don't want to. I'm fine with going up. Nicole keeps bringing it up. Corey asks is this conversation over yet. Corey and Nicole are getting on each others nerves.
4:15pm In the kitchen – Meech tries to come back inside from the backyard but Vic hold the door shut. He lets go and runs back to the stove. Meech comes in and asks if he was holding the door. Vic says no. Meech says maybe it was the ghost. Vic says just kidding it was me.

James tells Paul I just don't think it would be good to vote out Nicole. Paul says he talked to Meech and she thinks that Corey would never put her up. So I explained to her that Corey is more likely to get a care package and how Nicole isn't going to win anything. Corey is more likely to win HOH. She said that makes sense. That way the only people that can get the package is me and Vic. James asks if you get the care package and I win HOH. Who goes home? Paul says Nicole. James asks who would go up as a pawn then? Paul says I would even volunteer. I really don't think Michelle would mind being a pawn either. She said we could because she put Vic up.