POV Holder:
Next POV:
Sept 1 (Saturday)
POV Used
POV Ceremony
Sept 3 (Monday)
HOH Winner:
Ian
Next HOH:
Sept 6 (Thursday)
Original Nominations:
Frank and Jenn
Current Nominations:
Have Nots
Last Evicted Houseguest
Frank and Jenn are nominated for Eviction this week
6:25pm Kitchen Cam 1-4 Everyone
They're talking about running out of food because Jessie/production took all the "Junk Food" There seems to be a bit of panic that their favorite foods are all gone. Ian says that he hopes the food isn't thrown out because that is a waste of food, "that's not cool".
On the kitchen table is a bunch of health food that was left behind. everyone is trying different types of these health foods. A new player I have never seen before is eating slop with Ketchup and mustard. They appear to be nominated.
Ian keeps going up to his HOH room to get some food from his Baskey. (Jessie never touched the HOH basket food.. Ian's doritos, pop etc are not gone)
Frank: "They took my F***** oatmeal"
Ian: "Maybe this is there way to curb the ant issue"
Danielle: "Or tell us we're FAT"
There all these white stains on Joe's Shirt. Dan asks him what they are. Joe claims they are part of his shirts design. He says his daughter gave him the shirt.
Danielle, Dan and Shane all say they have never smoked weed.
6:41pm Cam 1-2 Bedroom Dan and Danielle
Dan: "You're going to get to the end"
Dan leaves.. Danielle jumps on the bed.. "I'm so excited"
Danielle says she shouldn't get so confident.. "Oh my GOD .. I Can't Believe they DID IT.. Oh MY GOD this is HUGE.. Jenn's going out the door.. Even if Frank wins POV Joe goes up and Jenn still goes.. "
Danielle thinks she's won the game.. she keeps running scenarios in her head. they all include her in the final 2 with the votes to win.
Danielle: "I just hope I never ever ever have to choose between Shane or Dan.. OMG that will be the worse ever.. I'M SO EXCITED"
7:04pm Kitchen table all cams everyone playing with toys
Jenn is the only one in a bad mood she's not playing with any toys.
7:31pm Cam 1-2 HOH Dan and Ian
Dan: "Good job today"
Ian: "thanks… it wasn't easy"
Dan :"I know.. nice job though"
ian gets called into the Diary room
7:36pm Cam 1-4 Shane, Danielle, Frank, Joe they are talking about the POV tomorrow. Frank is thinking it's OTEV because they've been in lockdown for so long. Frank starts to explain to them what OTEV is all about. Joe looks confused. Shane has a decent understanding of it having seen the competition in season 13. Frank tell them he hopes Shane's name doesn't get pulled then he can say he's the only houseguest that has the potential to play in all the POV's.
7:38pm Trivia
7:48pm Why we wait for the trivia to be over take a look at these sweet crystals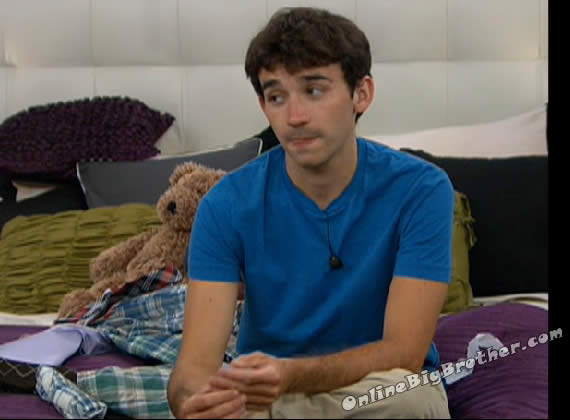 7:53pm Cam 3-4 HOH Ian and Danielle
Ian is saying that he's pretty sure that tomorrow will be OTEV.
Ian: "We don't want Joe to win it because he'll take Frank down then I have to put Dan up.. if that happens you would vote out Jenn right"
Danielle: "How smart is frank"
Ian: "He's smart but he's in really good shape.. He knows his stuff.. it's more about being able to find them fast"
**** They were picking the POV players ******
Everyone but Shane is playing.
Danielle thinks that The POV is tonight but she's not sure. Ian thinks the comp will be early tomorrow.
(The problem with Ian having no close allies in the house he we never hear him talk about his strategy right now it looks like Joe would go up if the POV is played but he could just be telling Danielle that.. If the comp is OTEV Frank has the best chance of winning it based on his athleticism )
8:03pm Cam 3-4 bedroom Dan and Frank
Frank asks Dan if the nominations stay the same does he still have Dan's vote. Dan says yes. Frank says if Jenn or him win the Veto Joe will most likely go up since they can talk to Ian. There is no worry that Joe will win the Veto. Frank and Dan ponder if the POV is tonight or tomorrow. Dan thinks it might be really early so he's going to get some sleep.
8:08pm Cam 3-4 HOH Joe and Ian
Joe asks him if he gets put up is he safe.. Ian says he's all good. Ian thinks that the comp is in the morning. Joe asks him if he wins it he plans on keeping the nominations the
Joe: "Basically we don't want Frank to win it"
Ian: "II think I have a good shot of winning OTEV but so does Frank.. half of it is thinking the other half is physical"
Joe assures him that he won't use the veto if he wins it..
Share it YO!!
Tweet