Big Brother 13 Live Feeds Can be watched on your iPhone and Android Mobile devices sign up -> Watch Big Brother 13 on Your iPhone or Android Phone
8:30pm Kitchen Rachel and Porsche They are preparing a wine and cheese night. Porsche has prepared a platter of cheese and Rachel opens the bottle of win.
They mention how strange Shelly has been lately when they are all in a group. Porsche and Rachel agree that Shelly is starting to clue in that she could be going home. They go back and forth and play dumb about how they decided to vote for. They both say it's a 50/50 draw.. Prosche: "I don't really care but.. Shelly though I don't like the vibes she does.. being all nice and fake.. it's kinda annoying.. but Shelly hasn't won anything.. I just don't want her to get to final 2 and be all like I PLAYED YOU ALL"
Rachel: "It's like it's 50/50.. I don't think she'll make it to final 2.. who would take her"
Porsche thinks it's best they all go to final 4 because they all competed. Rachel: "We're down with with final 4 are you" POrsche: "I'm totally down with final 4 I thought about it the other day how cool it would of been if we had thought of this early then reunited near the end"
Racehl brings up that her and Jrodan haven't decided who (SA) they will vote out because they can just get the other player (SA) out the following week. Rachel is a bit worried about Adam and she knows Shelly can't win shit.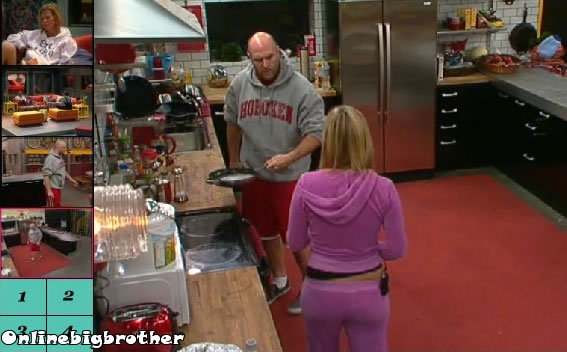 8:43pm Adam and Porsche Kitchen Porsche is telling him she just talked to rachel and she told her that they haven't decided who to keep. Porsche brings up that Rachel is saying she's concerned that Adam can win comps and Shelly can't. Adam brings up that hr's been saying a lot that he wants to compete. Prosche: "That is not what you want to say to these girls" Adam agrees says that Rachel doesn't want to brings someone along to the finals that can compete but she also has that hatred for floaters.
Sign-up NOW and watch the houseguests live! Uncensored Live Feeds 3 Day Free Trial
9:04pm Adam retreats to the hammock to avoid conversation with KSPRJ
9:53pm Adam and Shelly they talk about the season and how it all went down. Adam says after all they've been through he would never walk out the door. He brings up that he understands why Chima left because it sucked what happened to her plus all the emotions of the house. Adam would never do that though. Shelly is disgusted by people that walk out the door. Adam goes on and on about his casting experience.. and having met Alex from BB9 and becoming friends with him. Adam talks about this person which worked for the BB12 casting and she was eating a cream cheese sandwich. She had some cream cheese on her lip and adam something about it looks like she has the money shot. Adam adds that during the BB13 casting the person saw him again and joked that they need to watch out for him because he a weird one.
Adam apologizes to showtime about how boring they are right now he tells "showtime" he'll raise his hand when something interesting happens so that way the people that record it can fast forward through it all.
10:22pm Kalia and Porsche (prior to this conversation Jrodan was in the room and she tried to tell them that during her year she had no part of any of the drama her and Jeff just sat out side talking about birds. Prosche tells them that she came for the competitions because that is what she thought was cool. Jordan gets called into the DR)
Porsche says how much her father and brother have been there for her. SHe says that she's been down and out many times and her father has always taken her back in he would sleep on the couch and she would sleep in the bed. Porsche always wanted to move to California to work on her acting but she just couldn't leave her dad at home and have him not be taken care of. Porsche doesn't like working at a bar but it pays the bills and lets her give some back to her Brother and Father. Her brother is starting college and he needs the help. Kalia now starts in on why she needs the money…
POrsche and Kalia both know that Shelly is well off and doesn't need the money like some of the other players in the house.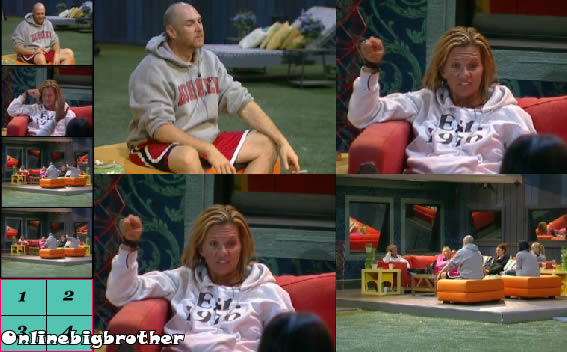 11:10pm Broadway shows yo
11:40pm They are talking about past season of Big Brother when there was that one comp with the honey that looked really hard. They got to see Big Brother 10 in sequester, Porsche is amazed old man Jerry was able to do the honey comp.
Adam tells them about Big BRother 1 where the one legged player Eddie, won it. Adam knew he was going to win it from the very first episode. Shelly agrees. They briefly explain how different big brother 1 because America voted ever week and there was no veto. Shelly wishes they had a pen because she wants to have everyone sign her sweatshirt she wears every night.
Share it YO!!
Tweet