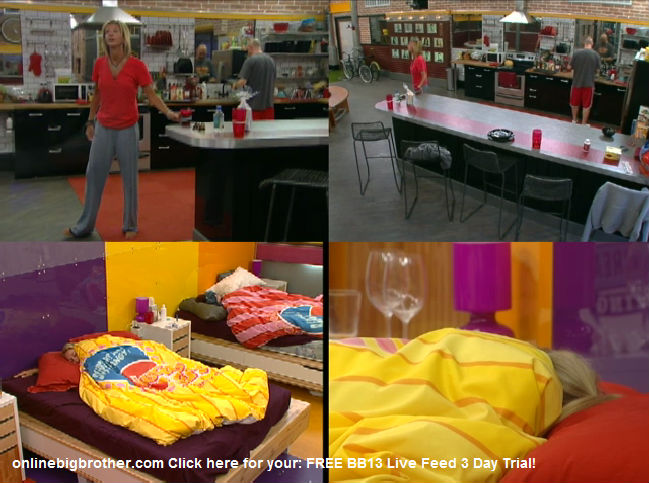 Watch the Big Brother 13 live feeds on your Android and iOS devices. Sign-up for the 3 Day Free Trial
12:50pm Adam, Porsche, Shelly and Kalia all head inside. Adam is doing his dishes. Shelly tells Porsche that they have to be doing something up there for you… Porsche then goes up to the HOH and tries to open the door with her key …but can't open it yet. They wonder what they could be doing in there. Porsche goes to the diary room and comes back and says that they told her it should be soon. Porsche says to Shelly that he really won't trust us now …because he didn't know about the room thing. Shelly says yeah he will don't worry about it .. it is your decision.. you do what you want. Porsche then goes to tell Adam that she misunderstood and thought they said it would only be a half hour.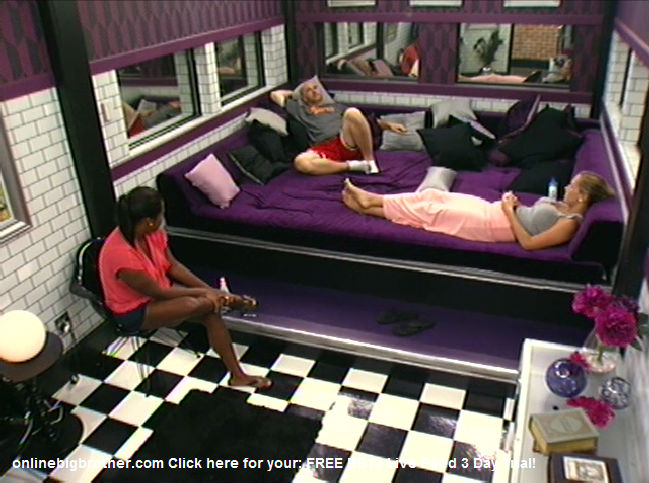 Big Brother Spoiler 1pm Purple Room Adam, Porsche and Kalia head into the purple room. Porsche says what if its Pandora's box?! Kalia says that she heard them this morning up there doing the mexican hat dance. Porsche says that she kept checking to see if it was open. Kalia says that she really doesn't think that if it is a pandoras box where we go and do something for the day … because we still need to do nominations today…. unless we do it tomorrow. They talk about how they don't care if Jeff or Brendon come back …Kalia says that they can clean the kitchen for all I care. Porsche says that she keeps hoping that they are just fixing the TV up in the HOH room and not a Pandora's box. They talk about other season that had pandora's box and what happened on with them. Kalia mentions that they don't always announce the powers if someone has it. Kalia says that if there is a vote from America this week … Jordan will get it because she is in there crying …she will get the sympathy vote. Porsche says that she thinks there will be a golden token up in the HOH room and when I want to I can put it in the fortune teller and it will talk.. They talk about New York and other random stuff. Then the conversation turns to talking about how Rachel and Jordan will probably stay sleeping all day. They talk about the clown shoe POV competition. Kalia asks Adam if he wins HOH will you put up Jordan? Adam says yeah … were I am now is where I wanted to be..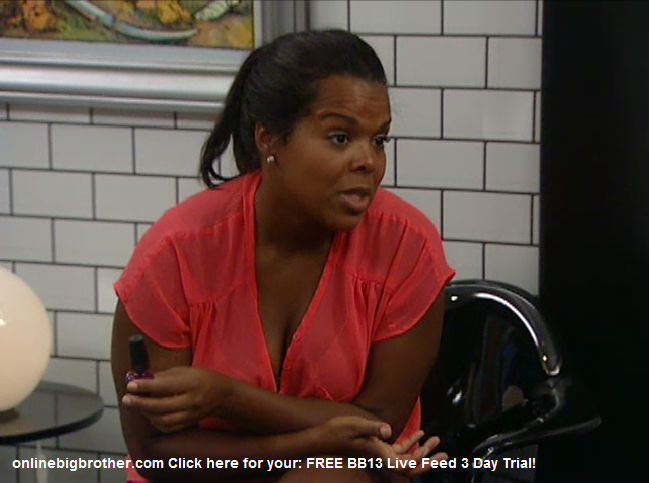 1:10pm Adam says that the people he was loyal to ..are the people I stayed loyal to for as long as I could .. Adam says that Jeff yelling at him really BLANK  pissed me off!! Kalia says that even when she tried to stay loyal to the end no one trusted her. Adam says that if Jordan asks him he is going to tell her that he is pissed that Jeff said BLANK  to him after he was voted out. Adam says that he though Jordan was going to punch the BLANK  out of Shelly. .. and of all people Rachel was holding her back. Porsche says that she was about to get country. Kalia says that Jordan went to a black country school. They talk about the fight between Shelly and Jordan. They talk about how Jordan is so sweet and that America will be surprised … they say that this is the third time Jordan has gone off. Adam says that he has a terrible side too that he is happy it hasn't come out yet.. because he is not proud of it.


1:30pm Adam tells Porsche that it is her decision and she should do what she thinks is best. Porsche says that her only problem is that Adam's loyalty was with them less than 24 hours ago. Adam says yeah and look where that got me. I got yelled at. Adam says that at least I was loyal. Adam talks about how Dani was the bigger threat. Porsche says that no matter what happens if Rachel wins the POV …then we need to put up Jordan and she needs to go … and then Rachel will go next week. Porsche says that she has stuff planned with Jeff after like trips and humanitarian stuff ..that he will get over me not using the veto on him. Adam says that there is a risk that if Jordan wins the veto and takes Rachel off ..then there will be two of us up there.. there is no more backup plan. Porsche says that won't happen. Adam and Porsche shake on being loyal and trusting each other. Porsche says that if there is a pandora's box and she is sketched out about it in any way I will not open it. I like the way things are in the house. Porsche talks about how she was loyal to the vets and then she jumped ship and went with Dani and they had to shovel water the entire way. Adam says that he is not worried about Jordan having another blow up ..but that Rachel probably will. Adam talks about how when Dani put him up on the block and how if it didn't work to put up Brendon then he was going home. Adam says that whenever Dani told him a plan ..she only told me part of it … but with Jeff he told me everything. Adam says that he thought this was Big Brother …not a bus depot … because everyone was throwing everyone else under the bus..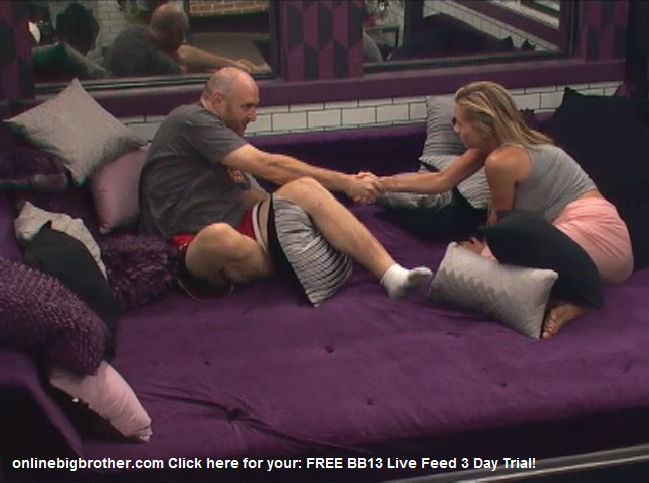 1:45pm Adam says that when Dani kept saying we are writing a check to Jeff …all I kept thinking was that if I keep her …I am writing a check to her. Adam says that Jeff got money and I think Dani will be getting America's Player …from listening to the crowd when she walked out …they were loud and hard. Adam says again whatever you want… I will stand by. Porsche says that she is loyal to all us four and that's why we just pounded. Kalia comes in and tells them to keep an eye on the backyard becaue they are out with Shelly. The cameras switch to the backyard and Jordan and Rachel are heading back inside. Adam comes outside and says oh it cooled down. Shelly says yeah with them out here… Porsche comes back outside and says the HOH is still locked. Porsche talks about how she hopes its just them fixing the tv. Shelly compliments Porsche on her hair. All four cameras switch to the bathroom, Rachel and Jordan are talking about the HOH competition last night. Jordan says that she even stayed up till 3am practicing and she did horrible. Jordan says that if we don't win the POV tomorrow then we can say oh well. Rachel says that if she goes home …Jordan has her vote along with Jeff, and Brendon. Rachel tells Jordan to take Adam to the final two and she will win.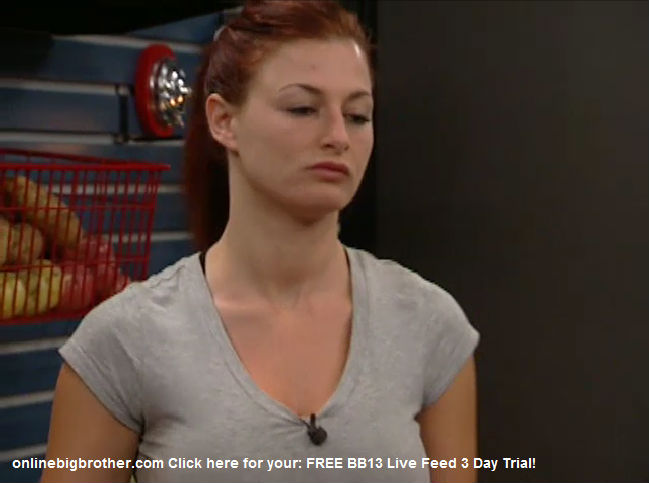 Rachel and Jordan head into the storage room. Rachel says I promise that there are people rooting for us. Jordan says that there was no way they could have saved Brendon because Adam was the vote. They talk about whether or not Jeff is in the jury house yet. Jordan says that she has gas… really bad. Rachel tells Jordan that she said that she would take care of Jordan in her goodbye message. Rachel asks if it would be really mean if we hid the diet cokes. Jordan says no we don't need any more drama. Rachel says but don't you just want to BLANK  with them. Jordan says lets just wait till the day before if we are leaving. Jordan says that she told Jeff in her goodbye message to kill Dani in the jury house.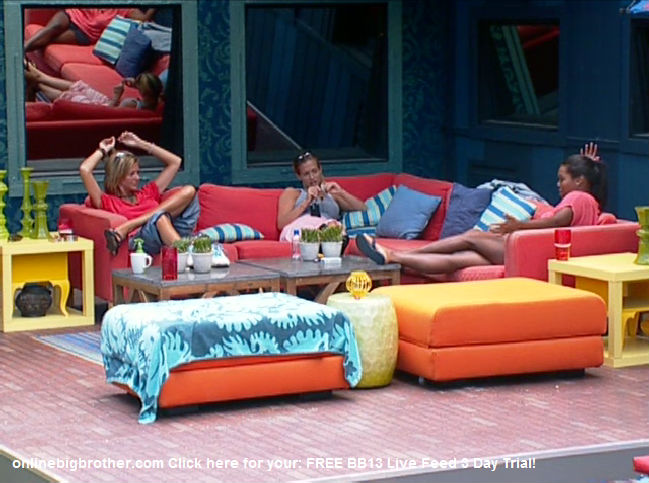 1:55pm – 2:10pm Out in the backyard. Porsche, Kalia and Shelly are talking. Porsche tells them how she talked to Adam and that they shook on it and that she feels so much better about her decision… and that she doesn't need to put him on the block. Porsche says that she feels better about not nominating Adam. Kalia starts talking about being in the house and that she really needs the money to not have to borrow a car from her mom ..and actually being able to own something. They talk about how the vets always talked down to us. Shelly says that Jeff even made fun of her for cleaning. They discuss how they did break their word to people and they talked all about their integrity. Kalia says that is why she didn't make deals with everyone … Shelly says that she is really excited about their three girl final. Porsche mentions that Rachel had us all at each others throats a couple weeks ago and now look at us. They talk about how with Dani leaving it brought them all together. Shelly says that it was so nice to see Dani turning into a butterfly and that she didn't need to walk in a shadow and that she can be herself now… Kalia says that Dani was the only vet that came in here and played different than her original season… They are talking about how amazing Dani is and how great she is…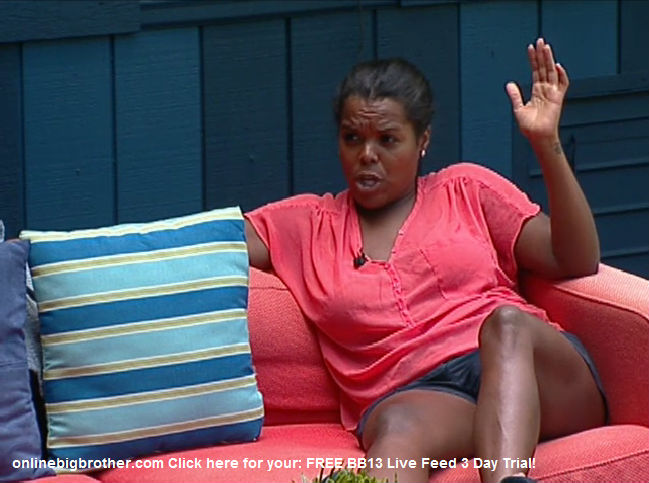 2:10pm – 2:25pm Porsche says that Brendon was the sailor of Jeff's ship. Kalia says that's why Jeff wanted Brendon out because he was just the skipper. Shelly heads inside. Porsche tells Kalia that Adam was saying that Dani didn't tell him everything … but Porsche says that she told him that Jeff didn't either. Porsche talks about how much better she feels about Adam and that he was honest with her. Porsche says that as much as she trusts him even more now than she did this morning .. you can't deny how close people come from being in the candy room together. Porsche talks about how she told Adam that even if he wins the HOH …he can wear the slippers and robe …but he has to put up Jordan … Porsche says that he said he was okay with that. Kalia talks about how the vets wanted to battle it out with the best competitors … but thats not how Big Brother works… They totally under estimated us. Big Brother calls Porsche to the diary room. They say its happening.. Kalia tells in case it is Pandora's box for her to pay special attention to the wording or if there is a picture.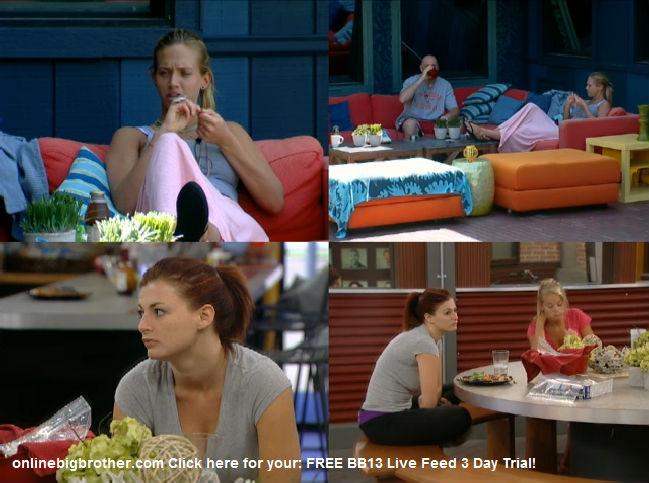 2:30pm – 2:45pm Porsche comes back outside and asks where Kalia is… Adam says that she went in looking for you. Porsche says that as she was going up to the HOH room .. Shelly said in front of Rachel not to tell anyone about what is up there. Porsche says that Rachel laughed at that. Adam tells Porsche that no one has never not opened Pandora's box. Porsche asks really? Porsche talks about how her little brother was supposed to write a code in her letter and she knows him …and he didn't. Porsche says to Adam …no offence to your alliance but …this is going to be the best week for Dani … she thought it would be the worst …but when she sees Kalia win HOH and me win POV ..she is going to be so happy. Kalia comes out and Porsche tells her that they told her sorry it took longer than they thought … Big Brother cuts the live feeds to the we'll be right back screen. When they come back, Porsche, Adam and Kalia are talking about how everything went down and other random stuff… Shelly says that Rachel just said inside that people better start being nice or they aren't getting any votes. Porsche says BLANK  you I'm getting money if you give me a vote or not. Shelly says that she doesn't even care she knows she isn't getting a vote from them. Meanwhile Jordan and Rachel are in the kitchen eating and cleaning up… not talking very much.
Share it YO!!
Tweet