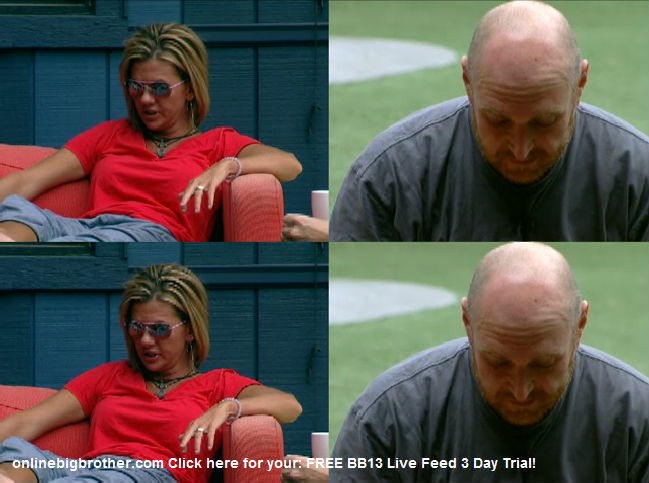 Watch the Big Brother 13 live feeds on your Android and iOS devices. Sign-up for the 3 Day Free Trial
11:45am Porsche asks if they will tell her when her HOH is unlocked …because they said it would only be a half hour. Kalia says well it probably is unlocked.. why don't you go and check? Porsche says what by myself? Kalia says yeah ..because if it is something like a box… Big Brother cuts the live feeds to the we'll be right back screen. When the feeds come back, Rachel has left and Kalia, Porsche and Shelly talk about all the dirty looks that Rachel has been giving them all. Shelly says that she was in the bathroom and that if looks could kill.. Kalia says that once she is on the block for good, I don't care about her vote.
WATCH the houseguests LIVE on SuperPass!
Click here for your: FREE 3 Day TRIAL!
11:50pm – 12:15pm Adam and Shelly are talking in the backyard. Shelly explains that she has always stuck with Adam and that she understands why he voted the way he did… you were trying to save your bacon. Shelly says that she will pay the price, but that I played the game for me. Shelly says that it was a point that you told me that you were going to do what you want. Adam says that the thing that I am the most hurt about is after the votes come down he looked at me and yelled at me.. that hurt! Shelly says that you were expendable to them. Shelly says that she won't ever tell anybody that they played right or wrong. Shelly says that they had you and Rachel lined up to play for them and then were ready to take you out. Shelly says that was their game plan. Shelly says that they told me that they were taking me to final three regardless if Jeff was taken out. Shelly says that Jordon was taken me. Shelly says …but that I had to play for me, nobody knows the end game. Shelly says that we didn't know what was going to happen and I could be the one sitting outside and you could, too. Adam says that he remember her saying they keep looking for reassurance, and that was bothering me, what more do you want from me, what more can I do. Shelly asks if he regrets it now. Adam says that after all I did, they doubted me Adam says that Jeff turned to him and asked me who I voted for. Shelly talks about how Adam will not have to pay for what happened but that I will for the rest of the game. Adam says well we will see if they stick to their word and vote for the person with the best game or not. Shelly says that the way she is acting …I can tell that I am not getting their vote …but at least I can look my family in the eyes. Adam heads inside.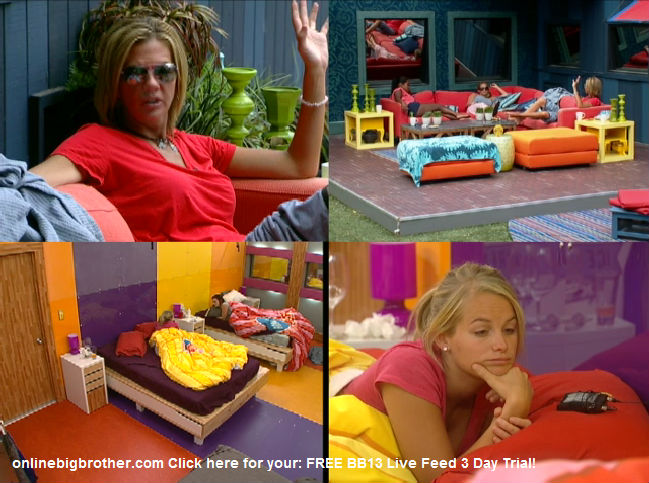 12:20pm Out in the backyard, Porsche and Kalia join Shelly in the backyard. Kalia starts talking about how the vets always thought they were better than us. Kalia says that they think that even though Adam was with them she thinks he is with them. Kalia says that maybe they should put him up and that if one of us wins the veto then we take him off. Shelly disagrees and says why not leave him up there. Kalia says taking him down will stamp the trust. They discuss what they will tell Adam about going up on the block. Porsche asks Shelly if she ever had a deal with Adam. Shelly says no.. never. They talk about how he had a deal with Jeff and Jordan and that until Jordan walks out of the house he probably still will. Shelly says that you can be assured that Adam will never have blood on his hands. Shelly says I think he is scared of us. Kalia says that he better be. Shelly says that Kalia is a tough talking. Kalia says yeah but sometimes it scares people. Shelly says that Adam screwed her. They talk about how they still need to keep the numbers on our side. They talk about if there will be more luxury competitions. Shelly says that she will take punishments and that they can take prizes. Shelly says the only thing she would want is a letter from home. Porsche heads inside. Kalia says that she just doesn't want for everything that happened yesterday to be lost because you never know what is going to happen. Meanwhile Rachel and Jordan are in the candy room talking and studying the events of the house. Jordan tells Rachel that she did really well and that they just need to play hard. Rachel says that our only option is to win the veto. Jordan says yeah.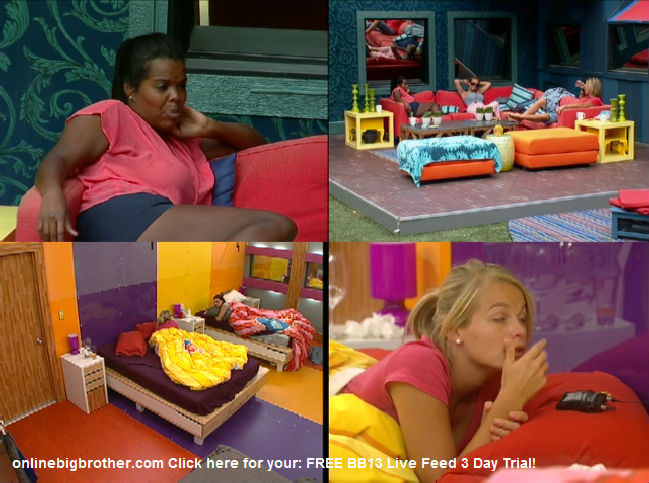 Sign-up NOW and watch ALL THE DRAMA after the Live Show Tonight!!
Click here for your: FREE 3 Day TRIAL!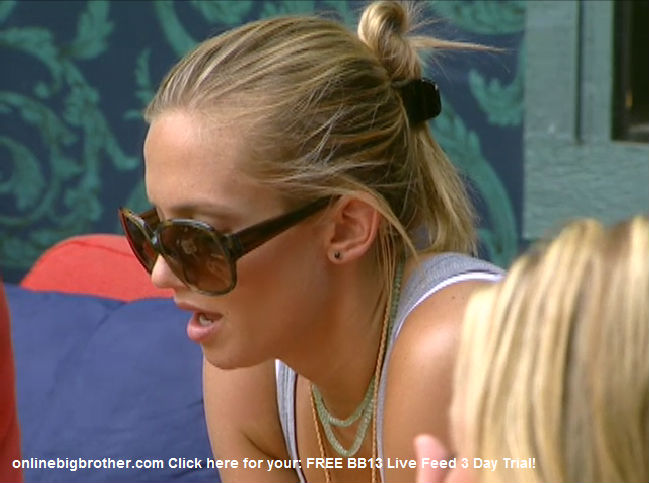 12:25pm – 12:50pm Porsche tells Adam in the kitchen to come outside so that they can all talk about the scenarios. Adam and Porsche come back outside. Shelly and Kalia head inside. Porsche tells Adam that its possible there might be a prize / punishment competition. Porsche says that Shelly would obviously take slop. Porsche then tells Adam that they need him to go up on the block… and that way he still looks good in Jordan's eyes. Adam says you're not going to BLANK  me are you? Porsche says oh no .. we are all going to make a final four deal and shake on it. Kalia comes out. Adam says that he doesn't like it … that they really need to put up Jordan and Rachel because if Jordan wins the POV then she can take her off. Kalia and Porsche talk about how Jordan won't win anything.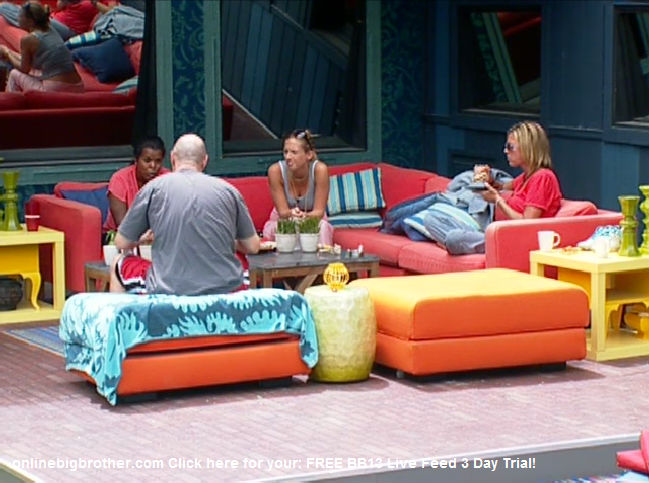 Adam says that its way better to have both of them up there. Porsche says that if one of the four of us can't win the veto against Jordan … then one of us needs to go … I'll go if that's even possible. They talk about how Jordan won the Hoff competition but that it wasn't even a real competition. Shelly says that she can't wait to go into the booth on thursday and vote out Rachel for good! Adam says again that he really doesn't like the idea and that he really thinks they should go up together …because god forbid Jordan wins and two of us are up on the block. Porsche says I appreciate that you think she is good but .. Adam says that it's not that he thinks she is good ..but there is still a chance. Shelly says that if there is a trip prize …do not let Rachel get it as a honeymoon!! Porsche says that if you do win the veto and you don't take Jordan down …Jeff will kill you. Adam says that it is her decision …and that he will respect whatever she wants to do .. Kalia points out that since this week was crazy .. I don't think there will be anything else till next week … but there still maybe a power or something.. Adam says yeah but thats something we can't control. They talk about how Rachel and Jordan may still try and swing Adam to their side because they know you voted to keep Jeff. Adam says no I wouldn't..I am with you girls … you girls are my angels. Shelly, Porsche, Kalia and Adam all put their fists in and "shake" on a final four deal.
WATCH all DRAMA unfold LIVE on SuperPass! FREE 3 Day TRIAL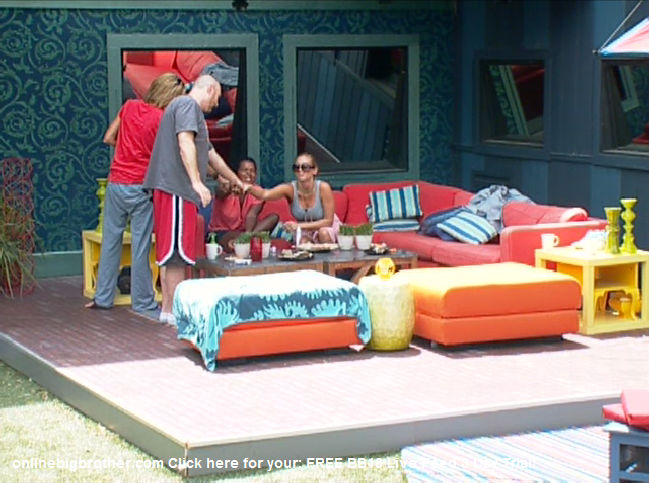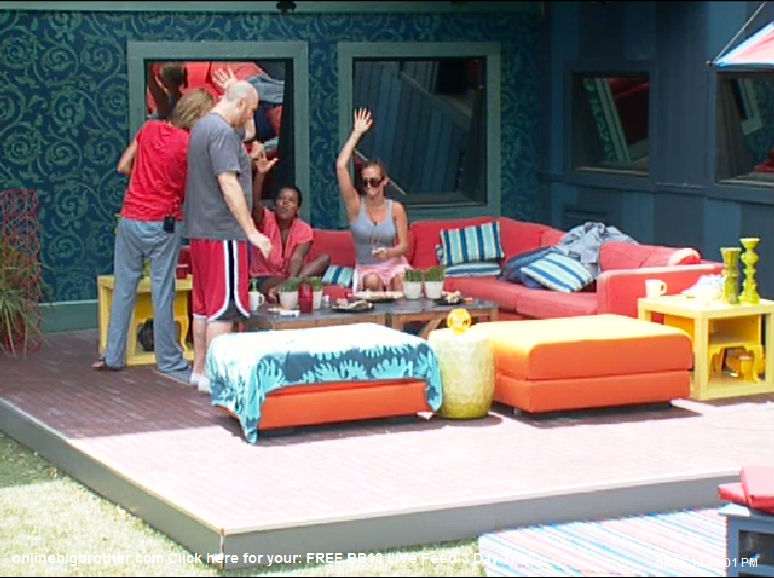 If you like this site and want to help us keep it running please consider donating, Your donations go directly to paying the server and bandwidth fees. Donate Link

Big Brother 13 Live Feed Image Gallery
Follow: @BigBspoilers and @Dawgsbigbrother on Twitter for recent crazed out spoilers. Theres also our Facebook page.
Big Brother 13 Spoilers POLL CAST your VOTE!

Share it YO!!
Tweet