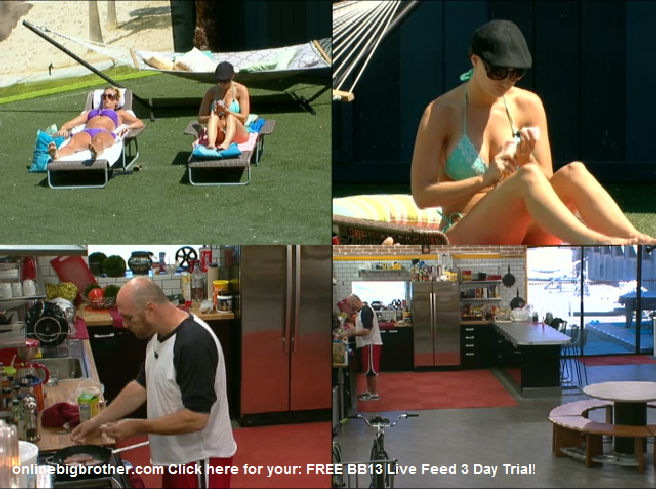 12:25pm – 12:40pm Porsche tells Rachel that Adam threatened her this morning that if she doesn't take him he isn't going to vote for her…. and if I do take him …he will tell them all to vote for me to win. Porsche tells Rachel that Adam wants the money for a wedding with Fara and that he would tell the others to vote for her… because $50 G's is enough for him. Porsche says that he said that he is the deciding vote. Rachel says that no one knows what the jury will do. Rachel says that Adam had the same chance they did to get to the final two. Porsche says that it makes me not even want to hang out with him anymore…. I can't believe he threatened me. Porsche says that he said he wouldn't give Rachel this deal either. Porsche says that it was just so rude. Porsche asks Rachel if he did that to her too. Rachel says no …he didn't threaten me. Porsche says that it's like he doesn't even think I deserve to be here. Porsche says that she doesn't even want to have a final three lunch with him …that's how rude that was. Rachel says I know he doesn't say that to me… that's like telling you to throw the competition. Porsche says that Adam said asked her if she wants $50,000 or $500,000… Porsche says that she is pissed that he would do that ..she has been friends with him this whole time and for him to do that she doesn't even want to be around him anymore… Porsche says that Adam was carried through the game by Jeff. Rachel says not only by Jeff but others too. Big Brother tells the houseguests to go inside ..they are on an indoor lock down. Rachel and Porsche say BOO! They head inside.
12:40pm – 12:55pm Rachel and Porsche head into the bathroom to get pretty. They do teeth whitening, zit strips, manicures and pedicures. Meanwhile, Adam is in the kitchen eating.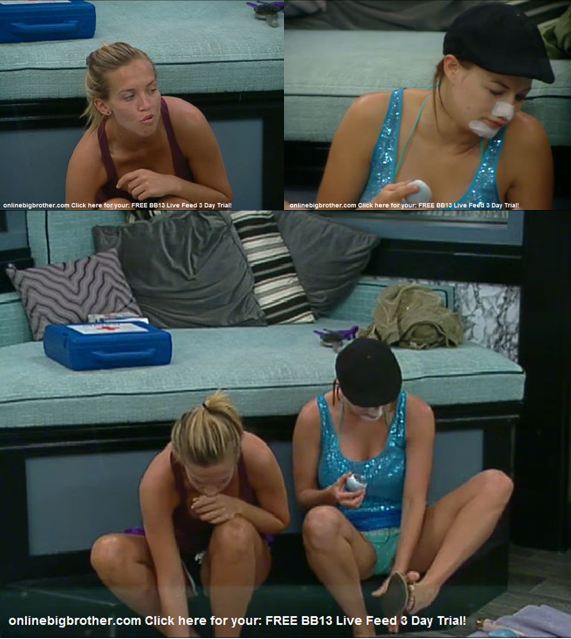 1pm – 1:25pm Rachel rips off her zit strips and both her and Porsche examine the amount of zits she ripped off. Rachel then puts zit strips on each cheek. Adam joins them in the bathroom. They talk about whether or not Fara will bring their new puppy to LA. Adam doesn't think she will since the puppy is still so young and doesn't even know where to pee and poop.
Operation get pretty continues… while Adam dreams up new ways to threaten the girls..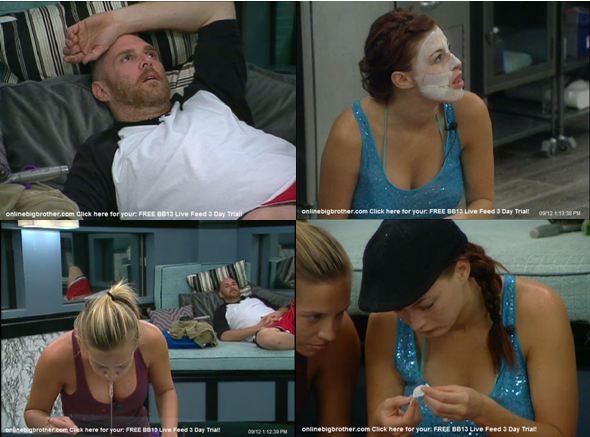 1:25pm – 1:50pm Adam heads to the candy room to make his bed and grabs some clothes. He then goes to the kitchen and puts his ear up to the backyard door to listen. Big Brother tells him to stop that. Adam heads to the bathroom to take a shower. Adam tells them that something is going on out there… They all wonder what big brother is building in the backyard. They think its too early to set up for the finale. Adam says that it would be a 50hr lock down …they wouldn't do that to us. Rachel says we can't workout …we can't tan… Porshce says yeah here we are complaining and its probably something awesome. Adam says houseguests …the lock down is over please go outside and enjoy your margarita party.. Rachel and Porshce laugh and say yay! They joke that they will get to listen to music and get to watch a Disney movie. They all head to the kitchen to play cards.
1:50pm – 2:15pm Rachel, Adam and Porsche play cards.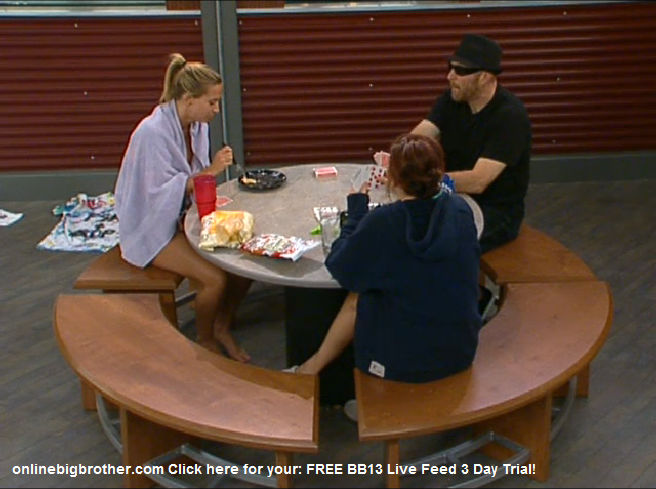 2:15pm – 2:35pm Rachel, Adam and Porsche make something to eat. They talk about how the guys all thought Dani was too skinny "skeletor" and how Cassi was more curvy. Adam says that both Cassi and Dani were way too thin for his taste. Rachel asks Adam if she looked better season 12 or this season. Adam says that when she came in ..he thought she looked a lot thinner. Rachel says thank you. Porsche says the camera does add ten pounds …thats what I am worried about … looking bigger. They all sit down to get back into their card game… Big Brother says did you know bing cherries were first cultivated in Milwaukie, Oregon? Rachel says tell us facts about other houseguests. Big Brother says did you know that 7inch records are played at 45rpm? Adam says yes, I did know that.
WATCH all DRAMA unfold LIVE on SuperPass! FREE 3 Day TRIAL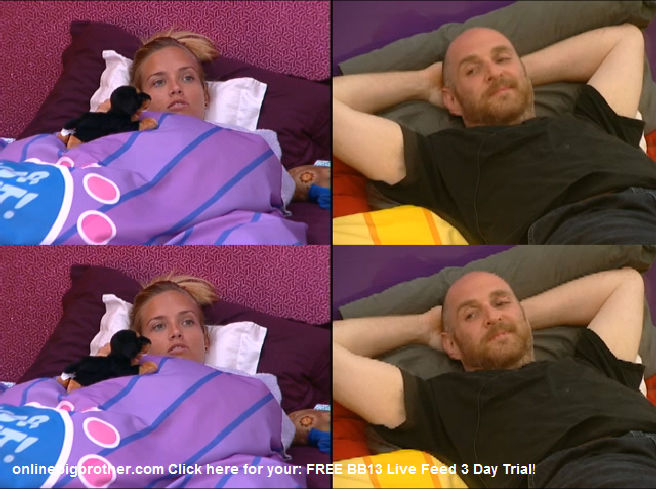 2:40pm – 2:50pm Adam gets called to the diary room. Rachel and Porsche ask him to ask if they are going to be on locked down all day. Porsche and Rachel head into the candy room. Adam comes out and Rachel gets called to the diary room. Adam tells Porsche that she what she said about it being unconventional about his telling the other houseguests to vote for someone else. Adam says that Rachel already got her chance to win last season. Porsche says that it just made her uncomfortable …and that if she wins $500 G's …she will give him $10 G's for a ring… Adam says that he has to try everything he can … Porsche says that its too risky taking you to the final two because the jury members like you. Adam says either way ..you are in a great spot to win the money and you earned it. Porsche says that she thinks that either way she is playing for second place. Adam says that he was rooting for her to win that last comp. Adam tells Porsche that Rachel told him that the only reason Porsche is here is because of Janelle. Porshce says that's not even true. Adam says that his other argument is who do you want to give $50,000 to me or her… don't answer. Porsche says that she has to think of the votes …it will either be 5-4 for her or i just don't know… Porsche remembers the cookies and they run to the kitchen. Adam tells her that he asked in the diary room if he would need a patch if they weren't going to open up the backyard… he says that they told him he wouldn't need a patch ..and says that the backyard would only be locked down for 2-3hrs. Adam tells Porsche thank you for listening to him..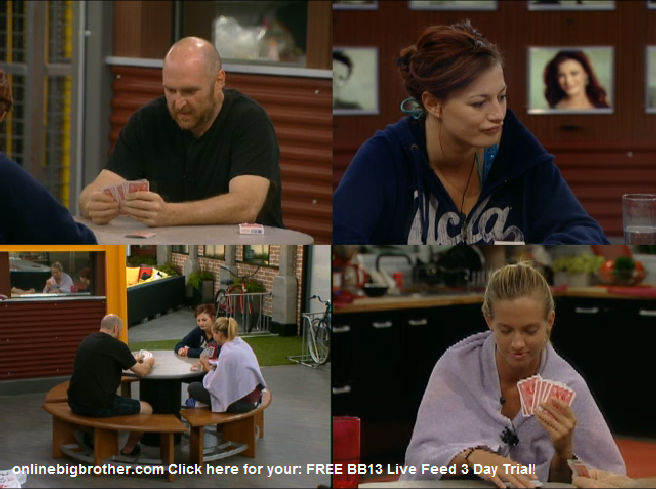 3pm – 3:10pm Rachel comes out of the diary room. Porsche gets called into the diary room. Rachel asks Adam if they said anything about being locked down. Big Brother cuts the live feeds. When the live feeds come back, Adam and Rachel sit down to play cards. Adam and Rachel talk about the party in Vegas and how it worked last season. Porshce comes out of the diary room and joins them at the table. Adam brings up how Britney didn't know about the fire at her house until a couple days after the finale. Porsche tells Adam and Rachel that the lock down will be between an hour and five hours long still… They wonder what its for .. Porsche says she thinks its to determine where everything goes for the finale. They start playing cards again.
WATCH the last few days of Big Brother 13 for FREE!
Click here for your: SUPERPASS – 3 DAY Trial!
3:20pm – 3:30pm Big Brother ends the indoor lock down. Rachel and Porsche head out to suntan. Adam has a smoke.
3:45pm – 4:15pm Silent suntanning in the backyard.
4:20pm – 4:40pm Adam is in the purple laying down staring at the ceiling. Adam gets up and goes out into the backyard to grab the BBQ tongs. He stands in the middle of the yard and says recites past houseguest names …then says AAHHHGG!! Adam goes inside and tells Rachel that he is going to BBQ hotdogs and hamburgers later. Rachel says she might have some. Adam and Rachel head back outside. Adam has a smoke, Rachel hoses down the tie-dye shirts. Rachel shows Porsche the tie-dyed bathing suit and Porsche says that it might turn her Who-HA blue.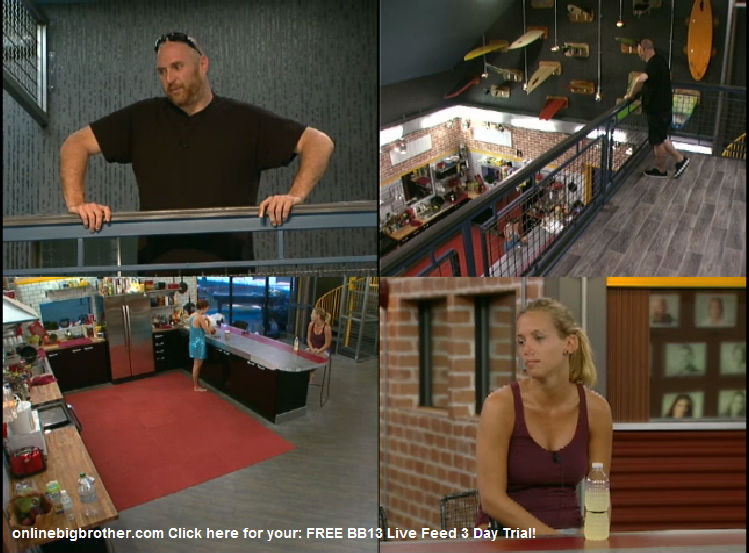 4:50pm – 5:20pm Adam and Rachel talk about BBQ'n around 8pm tonight. Adam goes up to the HOH loft and talks to Rachel and Porsche in the kitchen about the past events of the house. Adam tries the HOH door but finds that its locked. Adam says so there were really only 2 back doors this season … Jeff and Dani. They talk about how Lawon made a stupid move volunteering to go up. Porsche says that she really though Shelly was America's player because she thought up some crazy ass BLANK. Adam joins them in the kitchen. Rachel takes out her hair tie. Adam says Hey Rachel the birds called and they want their nest back. They talk about random stuff. Rachel says that after Britney said that I had STD's I decided to stop watching the show. ..And then after Monet said that I was a ex-stripper hoe bag I really stopped watching the show. Rachel and Adam recount the events of BB12.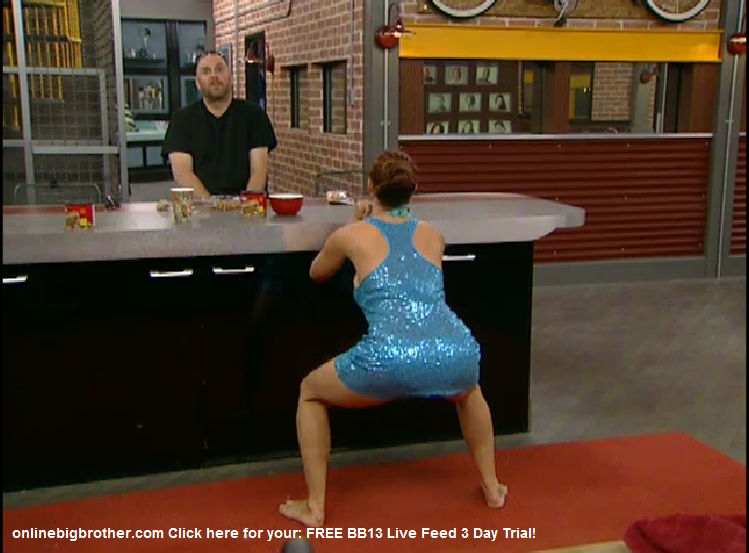 5:20pm – 6:20pm Adam Rachel and Porsche move out to the hot tub and continue to talk about past BB events and seasons. Porsche grabs the clean laundry and heads inside. Rachel and Porsche head into the candy room. Rachel explains to Porsche what she will need to pack for the next few days and how it works when they get out.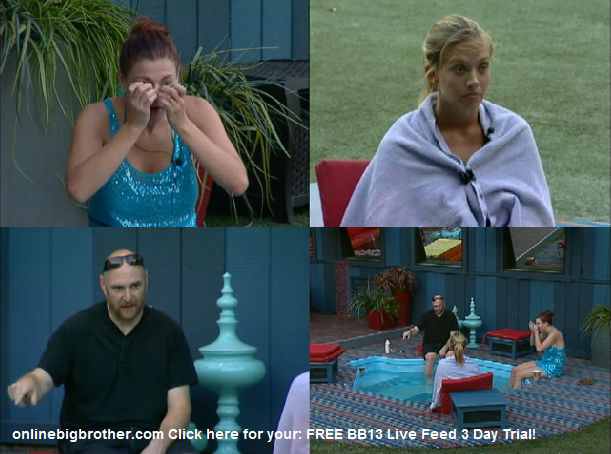 6:25pm – 6:45pm Rachel and Porsche go into the HaveNot room to hang their clothes up on the wall. Adam and Porsche are in the candy room. Adam is talking about how unbelievable it is that he met Tori Spelling in the BB House. Adam, Rachel and Porsche continue to discuss the events of the season in the candy room. Rachel and Porsche head out into the backyard to workout. Adam goes out to the backyard to have a smoke. They continue to talk about big brother and Porsche says that she doesn't want to talk about Big Brother anymore.

Big Brother 13 Live Feed Image Gallery
Follow: @BigBspoilers and @Dawgsbigbrother on Twitter for recent crazed out spoilers. Theres also our Facebook page.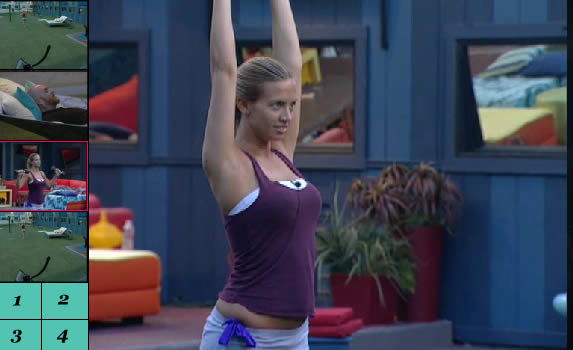 7:00pm POrsche and Rachel are working out.. Adam is on he hammock. Rachel starts to giggle and Prosche asks her if she was farting. rachel says no. Adam points out that the backyard is already stinky enough as it is.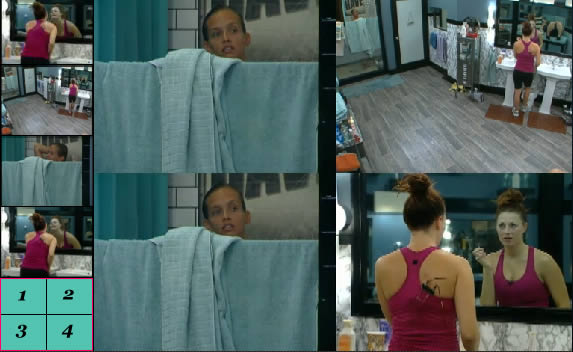 7:50pm Final 3 in the bathroom. Adam telling them they will be getting alcohol tonight but not tomorrow night. Adam brings up that everything he got in his HOH basket was potato skins and bacon stuff.. rachel: "Well didn't you ask for that"
Adam jokes that Kalia was sure surprised when the vote came out One One. Adam thought that maybe Kalia would of thought all her "PLAY LIKE A ALLSTAR NOT A FAN" speeches would of swayed his vote. Rachel tells them that Jordan was thinking about voting to keep Kalia for some time.. she didn't mind saving Porsche.
rachel jumps in the shower and starts talkign about why she will never get Kalia or Shelly's vote. Adam says that
rachel: "If dani made it to final 2 I would of voted for her.. unless she was up against Jeff.. but She's not going to vote for me"
Adam says he would of voted for Dani to and he cannot understand why someone would play this game and not vote on based on how the people played the game. Adam thinks people are always so quick to blame other people for the reason they got evicted but all the time the reason you get evicted is you BLANK up.
Rachel and POrsche starts bringing up how people hold big time grudges in this game. Rachel explains to them how people keep hating even after the show is over. Adam points out he's still hating on Kalia right now mainly because she wanted him to play her game and he wanted to play his own game.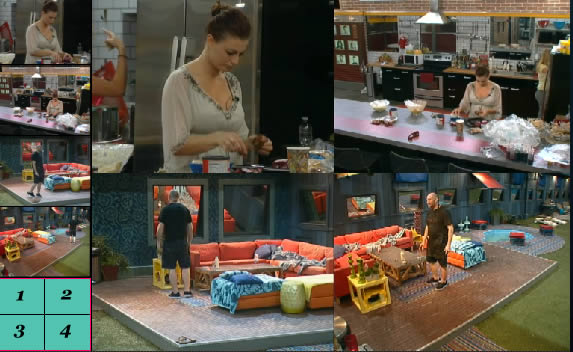 8:30pm Porsche and Rachel Preparing Food Adam smoking.
rachel and Porsche mention how adam looks like he's talking to himself.
Adam is talking to himself, he's saying "They must think I'm crazy.. well I am".. What 40 years old metal heads.. love 90210, drinking appletinis, licking the salt off the rim… "I'm going to get Crazy with these hot dogs" Adam starts grilling hotdogs.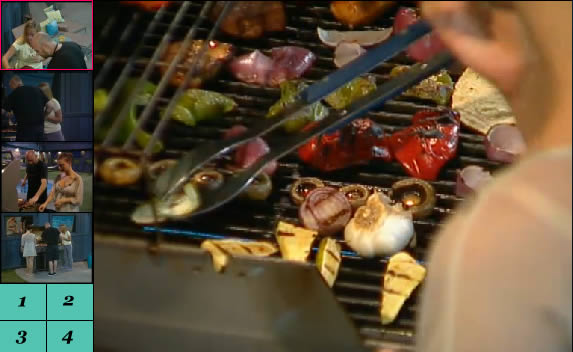 8:50pm Grilling yo