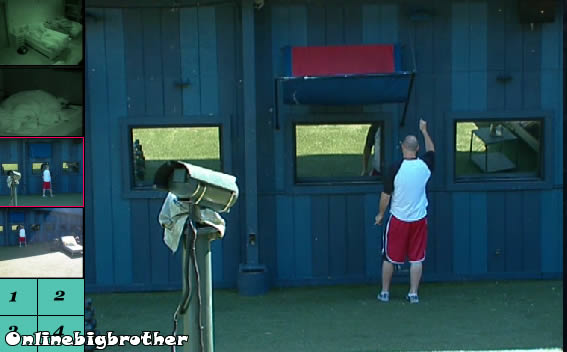 10:38pm Adam wakes up Porsche and Rachel still sleeping. Adam walks outside lights up a smoke and starts putting up the window shades in the backyard.
Adam sits on the couch thinking, smoking, chilling out. He finishes one smoke and moves onto the next one. Adam having finished his second smoke starts to fold the laundry on the pool table. After folding the towels Adam proceeds to the bathroom to brush his teeth.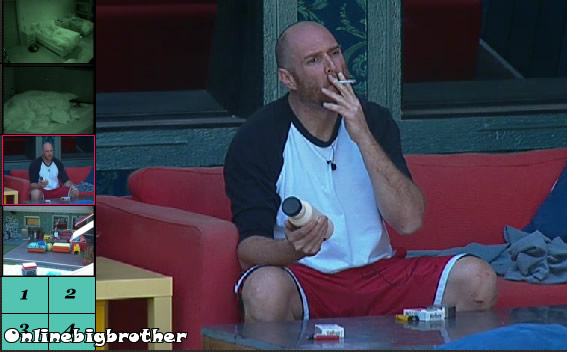 11:03AM Adam heads back outside for his 3rd Smoke..
11:08AM Wake up call for the houseguests
WATCH the last few days of Big Brother 13 for FREE!
Click here for your: SUPERPASS – 3 DAY Trial!
11:20pm Backyard Adam and POrsche Adam is telling her he wants to make her a deal. He's the deciding vote and he'll be the one
Adam: "I can give you 500K if you take me"
Porsche: "You won't have time to talk to them" (jury)
Adam: "I will tell them to vote for you when we're final 2.. I will give you farrah's necklace as collateral"
Adam: "500000 will do wonders to you 50K will give me what I want to do.. 50Grand I can buy a ring and a wedding gown.. 500K for you you can get yourself set up and you'll have money for your father"
Porsche is skeptical that he can get Jeff and Jordan's vote she asks him how is he going to get JJ to vote for him and how will she get Rachel's and Brendon's vote. Adam says his word is good he will do whatever it takes to get everyone in the Jury to vote for him.
Adam: 'I want to see something good come out of this money and I know you will do something good"
Porsche says if she votes off Rachel she'll lose brendon and Rachel vote, She's sure she doesn't have JJ's vote and shelly's vote is a bit unknown. Adam says Porsche doesn't need Jeff's vote. Porsche isn't sure she'll have enough votes.. she tells him the best chance they had was if Adam one the final HOH and took her. Porsche is certain if she votes out Rachel she'll lose 4 votes straight up. Adam doesn't think so.
Adam:"I am not making this deal to Rachel you can ask her .. No it's not going to happen "
Porsche: "So what if I take Rachel then you'll hold that as a grudge thats not fair"
Adam: "If I leave at final 3 I will vote based on who wins the final HOH and how they person played the game the entire season"
Adam knows now that he's lost all chances of winning 500K. Porsche tells him she still wants to be friends with him and if she wins she's still taking them to "Kentucky". Adam: "For me 50g's is enough" Porsche: "50g's is like 5grand a week"
Adam tells her he'll let her think of it. Porsche maybe needs to know what exactly Adam will say to get JJ to vote for Porsche because she feels that Adam and JJ were very tight and she doubts Jeff will vote for her.
Adam says he's going tell the Jury that Porsche wants to help her family and he feels if they give her the money she will do go with it like Jordan did..
rachel joins them.. Prosche leaves.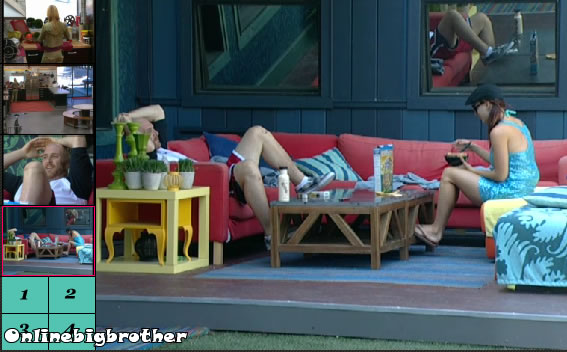 11:35pm rachel asks him what he's thinking about. Adam says he's thinking about life and starting over.. he corrects himself not starting over but restarting. Porsche joins them again and they all start talking about how odd it will be getting back to normal.
WATCH the last few days of Big Brother 13 for FREE!
Click here for your: SUPERPASS – 3 DAY Trial!
11:40pm everyone in the backyard eating cereal, smoking and talking about their apartments back home.
Adam brings up that certain aspects of his life will be so weird getting back into.. "It'll be like learnign how to walk again"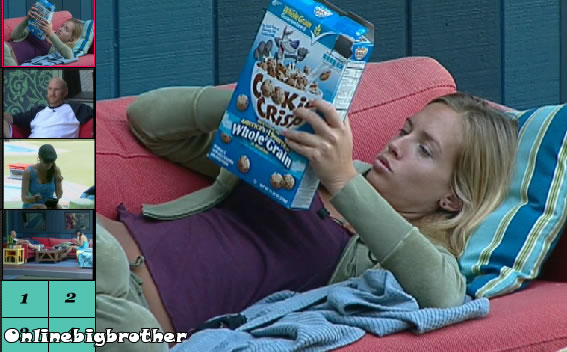 11:43pm Breakfast of Big BRother 13 Champions Cookie Crisps
** Updated **
Adam starts to explain Survivor and how different it is than BB. He mentions that sometimes the winner till have to make a choice do you want a hammock or a toothbrush and toothpaste.
rachel: "I would take the tooth brush"
Porsche: "I would take the hammock you can sleep in it"
Rachel: "you can build your own hammock… What do you think people did in cave man days"
Adam: "did you see all the cave drawing showing people laying down in hammocks?"
Porsche: "They were to busy inventing the wheel"
Adam: "and Fire"
Porsche mentions she wants to play in Survivor next.. she then thinks Amazing race would be fun.
Adam wonders about Amazing race's comps he never watches it, Rachel starts to explain.
Adam brings up Ozzie on survivor and how he use to climb banana trees with a machete.
Porsche: "how do you climb a banana tree"
Rachel: "You don't know how to climb a tree?"
Porsche: "Ya but a banana tree? "
Adam explains ozzie would find the trees that were slanted.
12:10pm
Adam says the Fortune teller was fun but the lead up to it was shitty.. "Waking up every couple minutes sucked"
Adam and Porsche agree that OTEV was fun, Porsche also really liked the "mini Games" comp. Adam liked "Cornhole". Porsche wonders why the players in "cornhole" never threw overhand..
Porsche asks them if they should take their naps in the sun. Adam: "We're not napping we're chilling"
Porsche gets up to change..
12:20pm Rachel and Adam
rachel tells him that she knows all he thinks was she answered a phone call to get back on the show.. but she really had to work hard to get back in.
Rachel says she knows that her and Porsche each have 3 votes and Adam is the tie breaker if she takes Adam to final 2 then her and Adam will each have 3 votes and Porsche will be the tie breaker. She goes on and on about trying to get on the show since Big Brother 9 and how hard her live has been this past year. She includes that her entire experience with Big Brother has been a battle..
Rachel says Porsche answered a phone call to get on and Rachel has been trying for years. She know Adam has had to make major changes to his life to get on the show but she wants him to look at how she played the game and vote depending on that.
Rachel thinks if she doesn't take Porsche then Porsche will vote for Adam out of spite and Rachel will come in second. Rachel: "Every time I have played this game I have had someone gunning for me" (Maybe it's your toxic personality)
Adam: "Last year was a lot more catty.. even the guys"
rachel agrees says the cast was much younger and once her and Brendon paired up they never had a shot in he'll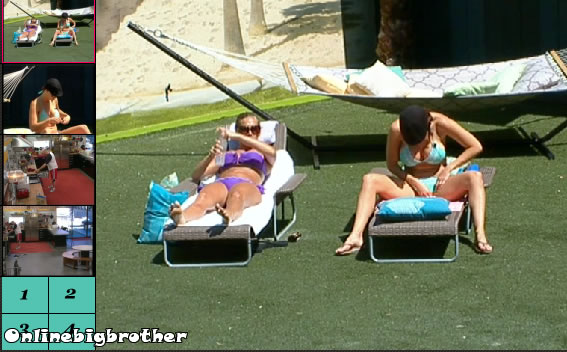 12:30pm Bikini time yo

Check out the Big Brother 13 Polls