Watch the Big Brother 13 live feeds on your Android and iOS devices. Sign-up for the 3 Day Free Trial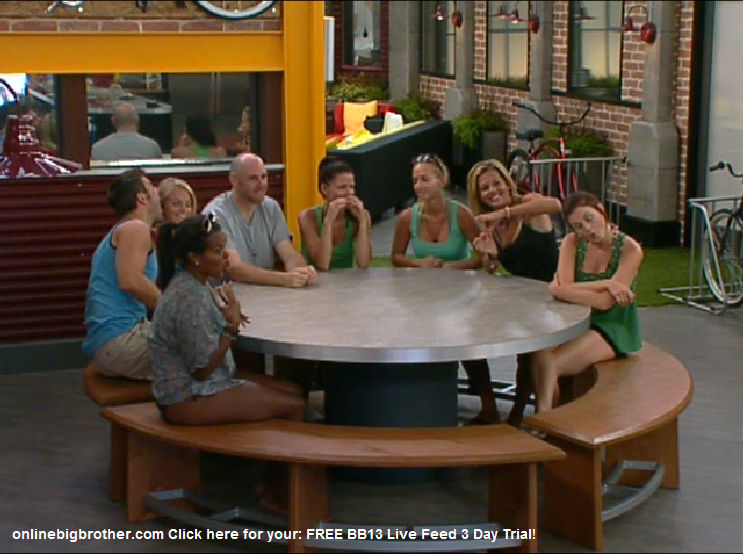 If you like this site and want to help us keep it running please consider donating, Your donations go directly to paying the server and bandwidth fees. Donate Link
1pm – 1:15pm Porsche and Adam are talking in the purple room. Porsche doesn't understand why Adam would want to be on Jeff and Jordan's side. Adam and Porsche discuss how Dani has some valid arguments. Adam says that he just can't because working with Dani he becomes a bigger target. Porsche doesn't understand why. Porsche says that Jeff will never put up Rachel. Jeff comes inside and gets everyone to come to the kitchen for a group photo. They all sit around the kitchen table and take a happy photo and a funny photo. Jeff, Jordan, Adam, Shelly and Rachel head outside. Jeff comments on how Rachel is in every photo. Meanwhile in the kitchen, Porsche is telling Dani that she was in the purple room talking to Adam and that Jeff came in to do photos and was baby sitting Adam because he saw me talking to him. Porsche tells Dani that Adam said that he will be a bigger target if he votes for Dani. Porsche says she doesn't get it. Dani says that Adam is stupid. Dani talks about how she was having a good conversation with Adam until Rachel interrupted them.
Sign-up NOW and watch the houseguests live!
Click here for your: SUPERPASS – 3 DAY Trial!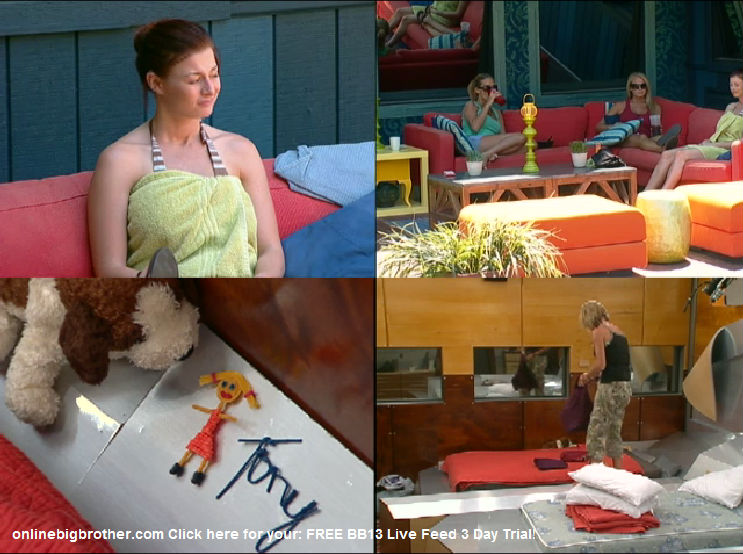 1:15pm Shelly and Rachel talk about making scrap books out of all the photos from the house. Shelly says that she wants to take some slop home to show people what it tastes like. Shelly says that she is going to do it right now ..because she never knows she could be walking out the door soon.. Shelly heads inside and puts some slop in a zip lock bag and then grabs a slop bucket from the storage room and puts it in her suit case. Meanwhile Porsche, Jordan and Rachel are talking about losing weight and how Dani has an amazing body. Rachel then leaves to go hang out. Shelly joins Porsche and Jordan on the couches. Adam is in the purple room by himself staring up at the ceiling.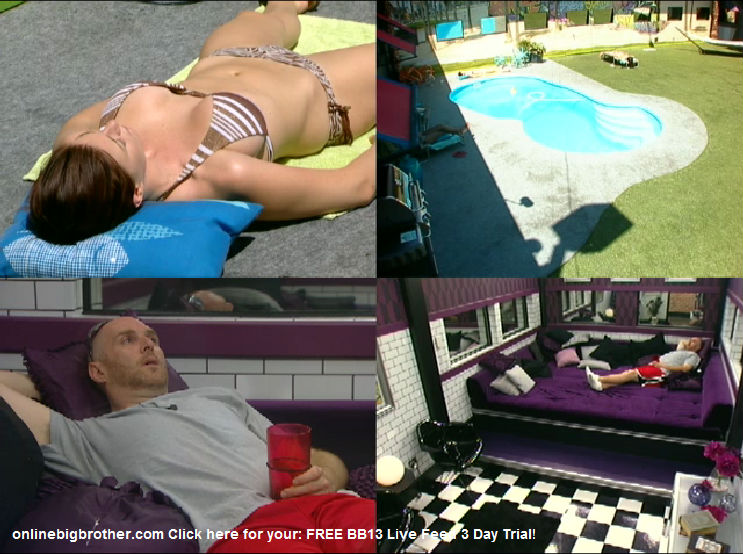 1:40pm – 2pm Porsche joins Adam in the purple room and asks if they are threatening him. Adam says no. Adam asks what is on your mind. Porsche says obviously you tight with those three… you are a bigger target than me … but if I win HOH or something I will be a bigger target. Porsche says that she was with the vets from the beginning becasue she was grandfathered in … Adam says ya like Kalia. Porsche says no she came after. Porsche starts talking about how Dani knows the game inside and out. Adam says that Dani is in a position that her back is against the wall and she is going to say whatever she has to ..to stay. Adam says that Dani had him and Shelly up on the block and if it hadn't worked to get rid of Brendon …I would have gone home. Porsche says that doesn't matter because it did. Adam says that whole deal played with my life. Porsche says but they play with your life too. Adam says that obviously someone is lying to him … a few people. Porsche asks if its Shelly? Porsche says you need me to talk to her? Adam say na na ..I am putting that in my pocket for later. Porsche says that she needs a stonger team …like her, you and Dani. Adam and Porsche start talking about the wake up songs and about rock bands. Meanwhile out in the backyard Jordan and Shelly are talking about kids that misbehave.
WATCH all DRAMA unfold LIVE on SuperPass! FREE 3 Day TRIAL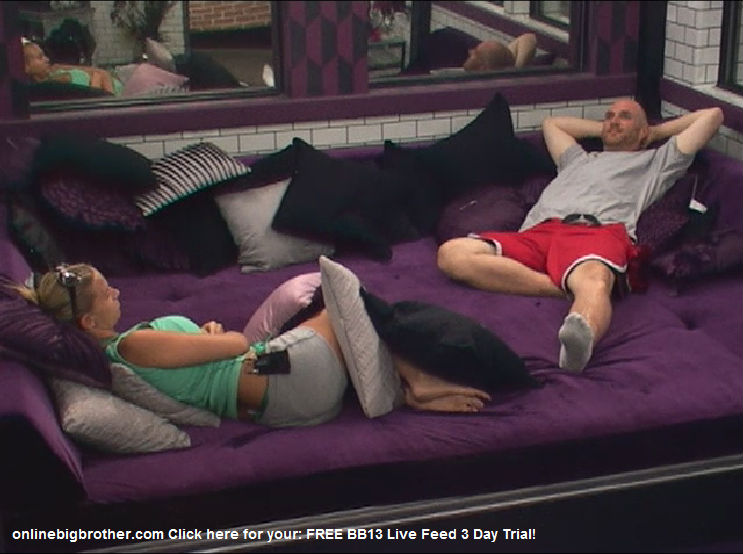 2:15pm – 2:30pm Dani comes to the purple room and starts talking to Adam and Porsche. They talk about non game stuff. Dani starts complaining about how all her stuff is going missing and that she is getting blamed for other stuff going missing. Dani says that she thinks its Rachel. Dani asks who found the chess pieces. Adam says that Jeff found them and threw a piece down at him. Dani says again that she keeps getting blamed for stealing stuff in the house… Dani says this house sucks. Dani asks Adam if she holds his smokes ransom will he vote for her? Dani says that she will give them back if you let me stay. Adam says that stuff is disrespectful ..just like stealing Rachel's dog. Adam heads outside. Porsche fills in Dani on what she was talking about. Dani says that Adam was calling her out in front of Shelly and that she wasn't happy about that! Porsche asks did he. Dani says yeah. Dani heads outside to lay out. Meanwhile Adam tell Jordan that Dani is really trying to get his vote …but that she isn't getting anywhere with him.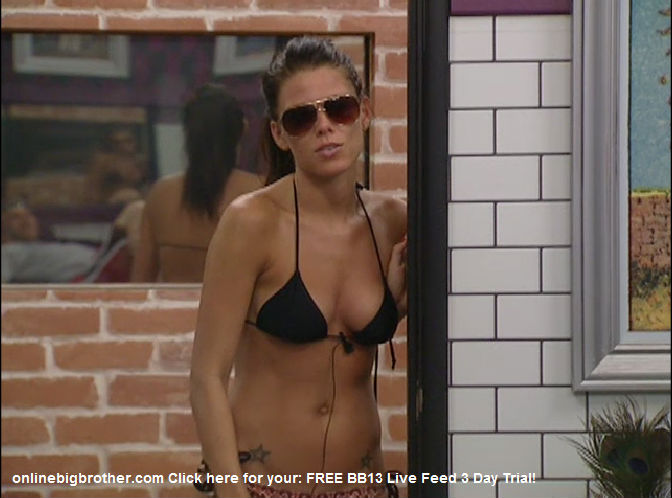 2:25pm – 2:45pm Porsche and Kalia are talking in the havenot room. Kalia says that she was talking to Adam and telling him about how in the beginning we all talked about how we would stick together and look at how all of us got picked off. Kalia says that she told him that he will never win up against them …no one will vote for you. Kalia says that everyone thinks you are to Jeff as to what people think I am to Dani …that Jeff is the pupet master. Kalia says that she told him that this is probably our last chance to take control. Kalia talks about the numbers its 4 to 3… and then you have a chance to play to the end with people that you have a chance to win against. Kalia and Porsche both say that they want to talk to Shelly again. Kalia says that she wants to talk to Shelly about how the worst two people you want to be in the final two are Jeff and Jordan. They start going over the scenarios of what would happen if who ever wins HOH this week. Kalia says that no question we have the numbers if we get Adam. Porsche talks about how she told Adam that she was grand fathered into the vets group and that she didn't have a choice to vote with them or not but when it came to voting for Adam or not …she says that she just wouldn't vote Adam out. Kalia says that she told him that if we have a deal …we have a deal and we shake on it … Kalia and Porsche start talking about how they have trouble trusting Shelly because they know of the lies she has told and that she keeps floating back and forth ..she needs to pick a side…
WATCH all DRAMA unfold LIVE on SuperPass! FREE 3 Day TRIAL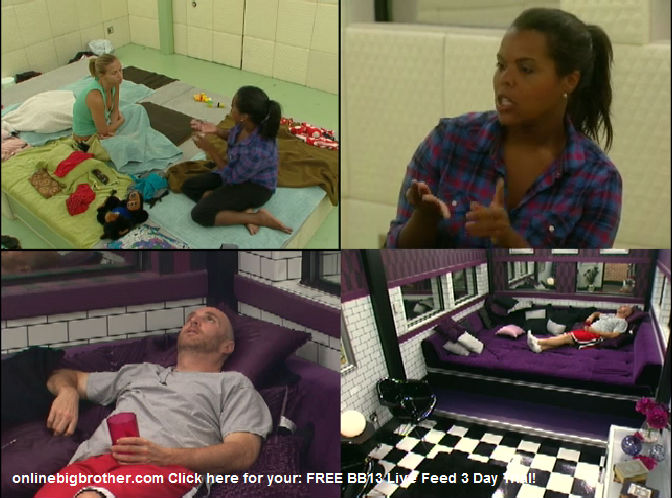 Big Brother 13 Live Feed Image Gallery
Follow: @BigBspoilers and @Dawgsbigbrother on Twitter for recent crazed out spoilers. Theres also our Facebook page.
Big Brother 13 Spoilers POLL CAST your VOTE!


Share it YO!!
Tweet