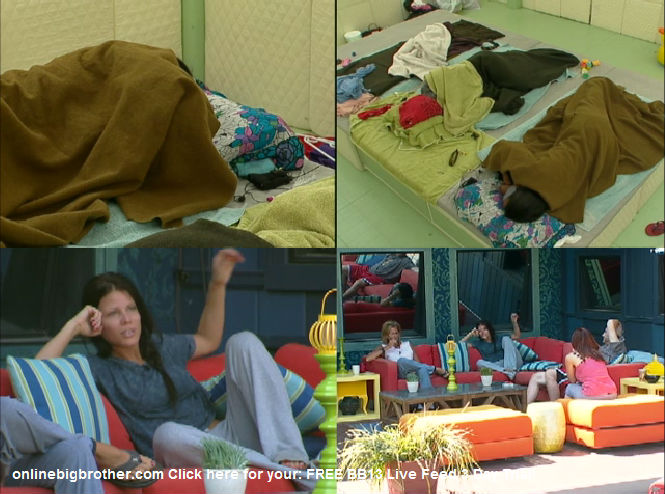 Watch the Big Brother 13 live feeds on your Android and iOS devices. Sign-up for the 3 Day Free Trial
11am – 11:50am Out in the backyard, Adam says that he for sure thinks this HOH will be one where the winner is crowned on the show. Rachel starts quizing Adam on what happened on certain days. Adam is thinking and trying to answer… and says that it too early to be answering questions. Rachel says I don't think anything happened that day anyways. Rachel continues to ask him dates. Dani tells Adam to stop hurting his brain its not worth it. Adam says that one thing he won't miss is smelling other peoples farts. Rachel goes over to the washer and dryer where Shelly is… Dani says please call Rachel to the diary room! Dani starts whispering and tells Adam that she swears on her grandmothers life that if he does this for her she will own him and do anything he wants. Dani that he doesn't even have to tell anyone and that they can surprise everyone… Rachel comes back over and Adam changes the conversation saying he wants to work out. Rachel sits inbetween them both. Dani is annoyed and gets up and goes inside. Dani complains to Shelly about how Rachel sat right between them both… she is so annoying. Shelly says and why is he telling her information about the days …I have told him no less than five times not to do that. Dani says study your on your own.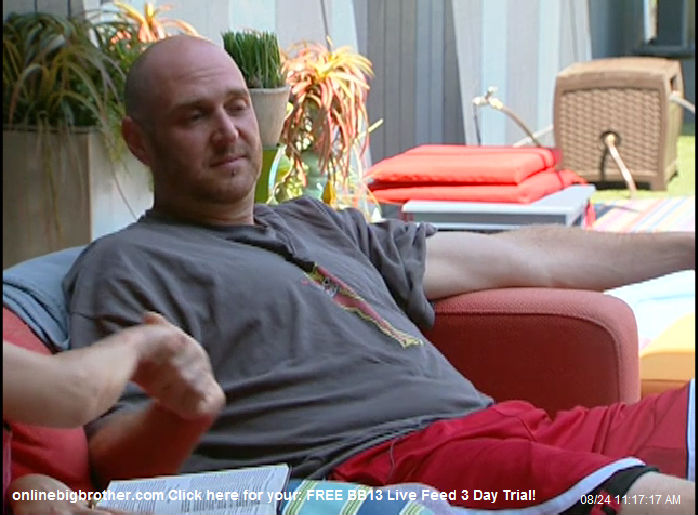 TRY the Live Feeds for FREE!
Click here for your: SUPERPASS – 3 DAY Trial!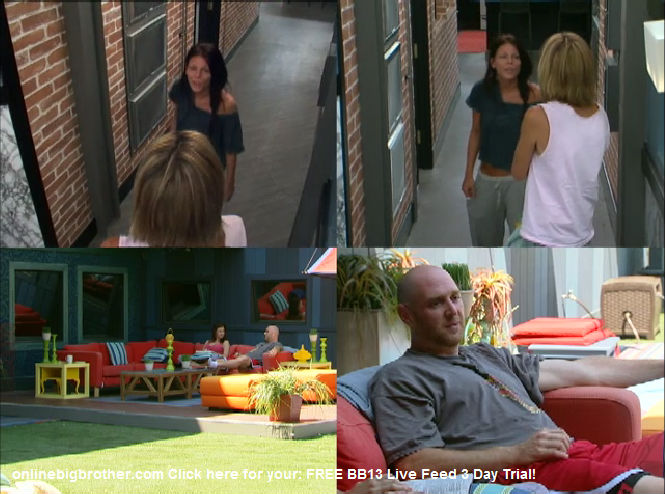 Back out in the yard, Rachel and Adam are talking. Rachel asks if she inturruped their conversation. Adam and Rachel shake on that he is with them 100%. Adam says that you and I have to stick together …and that he was talking to Jordan about getting the other side out and then go after each other. Adam tells Rachel that Dani was trying to get him to save her. Adam says that he doesn't want to hide behind Daniele doing her dirty work. Rachel says that once she leaves the house will change. Adam says as a friend I like her but that he has no shot going head to head with her. Adam heads inside and Dani continues to work him for her vote. Dani says that her dad would love him if he kept her ..and that he might even like his facebook page. Dani says that you have always rooted for the underdog and you have always said that back dooring people is a pussy move. Adam tells Dani that she did have a chance to play for the veto. Dani says yeah and he swore up and down that I was safe. Adam says …just playing devil's advocate ..and you believed him. Adam says not to be conceited but I am the underdog. Dani says yeah you are and you need to get them out. Dani tells Adam that he can't do it alone. Dani says that she would take the crappiest of crappy deals … I will do anything.. I would never put you up ever. Dani says that no one would ever know .. and you can make up whatever you want. Adam says they will still know. Dani says if they win next week you are going up ..period! Dani asks what do you need …what do you need to hear? Adam says that he just needs time.. Dani says you have all the time in the world …you have 24hours ..I don't want to harass you though. Adam says that he wouldn't respect her if she didn't fight to be here. Dani says that she knows this is pathetic but she is even willing to give a one sided deal where if he gets the chance he can vote her out. Adam says that he needs to think about all the options and that he is a logical person. Jeff comes down and the conversation ends.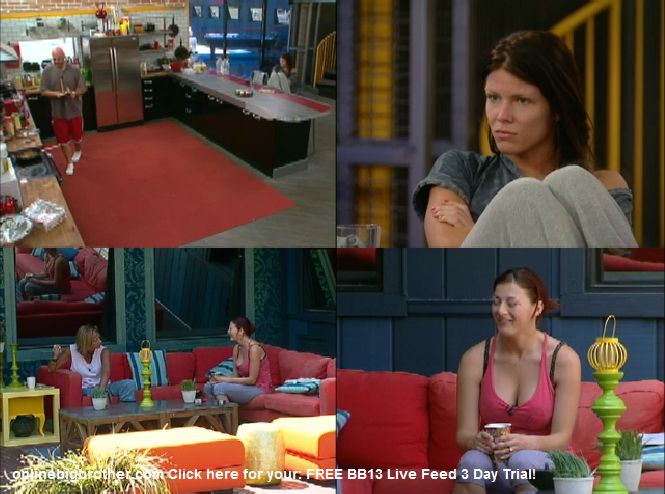 WATCH all DRAMA unfold LIVE on SuperPass! FREE 3 Day TRIAL
Meanwhile out in the backyard Rachel and Shelly are talking about how Dani is trying to persuade Adam to change his vote. Shelly says that he won't switch his vote, he is with us. Rachel says that she doesn't thinks he is not going to switch his vote either. Jeff heads out into the backyard. They talk about winning HOH and about past competitions.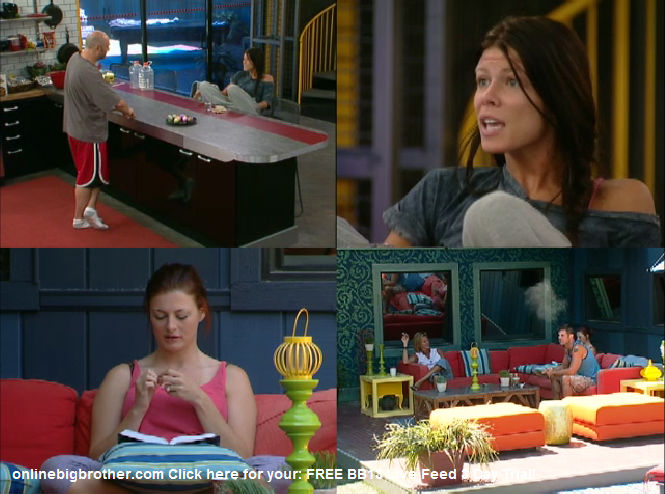 11:50am Dani and Adam really start to get heated. Adam is really not happy with how things happened earlier in the game and that what happened made him not trust her …and makes it hard for him to move forward. Dani says that she has always tried to keep him in this house. Dani says that if you are in my tight alliance then I will protect you. Adam says sorry for calling her out like this but … Dani says no I want you to ..so that we are on the same page. Adam says that she has to give him time ..its not a snap decision. Jeff comes through the kitchen to go to the diary room and Adam says picture time! Dani says there is no reason for me to go against you…
11:55am – 12:10pm Jeff comes out of the diary room with the HOH camera. Jeff heads up to the HOH room and tells Jordan the that chess pieces are back. Jordan says no way! Jeff says yeah I was going to take a picture of the blank chess board. The talk of the chess being found is all over the house. Shelly swears on her life that she did not hid the chess pieces. Adam says that when ever he talks photos with his girlfriends they always turn out fanominal … Porsche says girlfriends? I like it! Adam says my female friends …my friends without penises.
WATCH the houseguests LIVE on SuperPass!
Click here for your: FREE 3 Day TRIAL!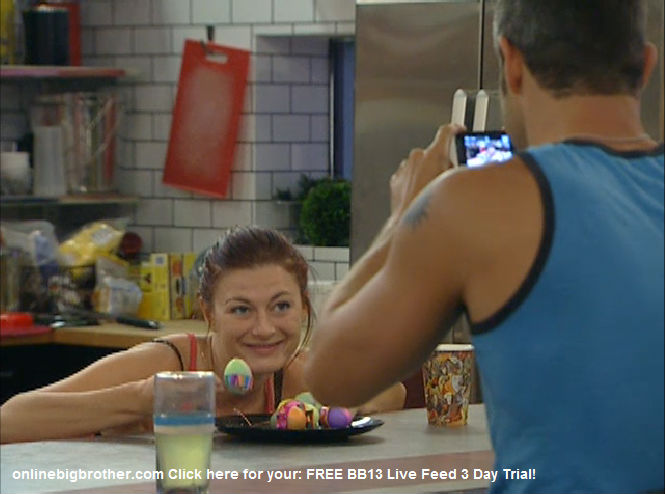 12:30pm Porsche and Kalia are in the candy room talking. Porsche is telling Kalia about how Dani is only able to vent to Shelly and Porsche …that she hates being on the block with Kalia. Kalia says that it sucks because she is a fix it person and because we are both on the block I can't do anything. Porsche talks about how Dani is just really emotional because she is on the block and has her period. Porsche and Kalia leave the room and head to the kitchen. Jeff tells them that they need to go get Dani so that they can take pictures and so that it won't beweird if she's not there with them. The cameras switch to Jordan and Rachel out in the backyard talking about how they were talking to Adam for a long time last night and that they all just really need to stick together. Rachel says that she feels a lot better now that Adam talked to her this morning and how they shook hands on sticking together. Adam joins them outside by the couches.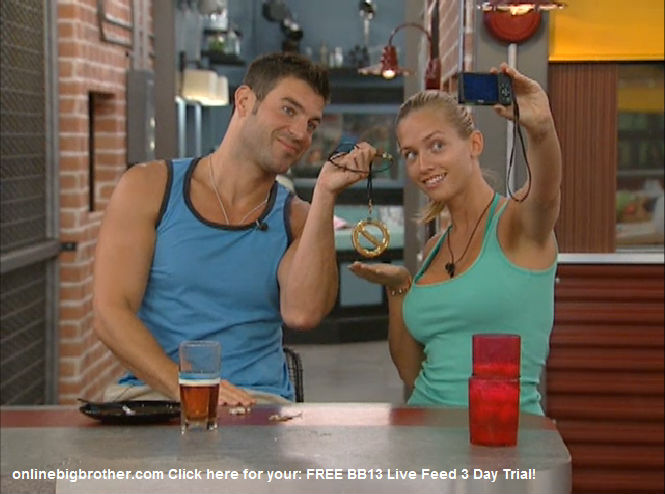 12:50pm – 1pm Jeff, Rachel and Jordan talk about how Kalia can't win HOH this week. Rachel says that she will be like this is for you Daniele! Kalia and Porsche come out into the backyard to take more photos. Jeff has been asked Rachel and Porsche how to spell their names he is surpriesed it wasn't the way he thought. Jordan asks Rachel what her favorite bible verse is? Rachel says that she doesn't know… she doesn't read the bible as much as she should. Jordan says that he favorite one is the one about the lord is my shepard. Jordan and Rachel talk about random stuff. Jeff is sitting there in silence.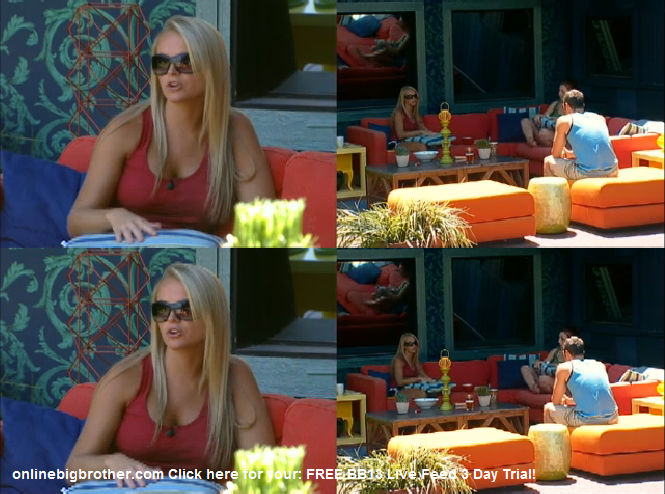 If you like this site and want to help us keep it running please consider donating, Your donations go directly to paying the server and bandwidth fees. Donate Link

Big Brother 13 Live Feed Image Gallery
Follow: @BigBspoilers and @Dawgsbigbrother on Twitter for recent crazed out spoilers. Theres also our Facebook page.
Big Brother 13 Spoilers POLL CAST your VOTE!


Share it YO!!
Tweet