Watch the Big Brother 13 live feeds on your Android and iOS devices. Sign-up for the 3 Day Free Trial
12am – 1:25am Porsche, Rachel and Adam are still playing cards. As they play they talk about past competitions and other random stuff. Rachel talks about dying her hair red again. They ask where Jordan is and Adam says she went to lay down and asked to be woken up in the backyard opens up. Jordan is laying down in bed. Kalia is in the diary room. They talk about the golden keys and how long ago that was. Rachel talks about he being banned from the internet because she had a fee problems with what people said about her last season. Porsche asks really banned? Rachel says yeah from Brendon. Kalia comes out of the diary room and joins the card game. The conversation turns to bashing Shelly. Kalia says that she will have some words for her when she gets out …she used people to stay and we all used her for a vote when she swung from side to side…. and we used her for cleaning. Rachel asks I don't know why you didn't vote for her to stay. Kalia says that moments before Jordan said she was leaning to vote for her…and then because of who would be the least pissed at being voted out. Kalia says in her goodbye messages she told Shelly has been lying to everyone and flipping back and forth from side to side and that she can flip her vote out the door. Rachel says that is pretty much what she said too. Rachel says that Dani is Kalia and Porsche's master.. then says well leader .. but I guess that isn't much better either. Adam joins them again. They play a while longer and then end the card game.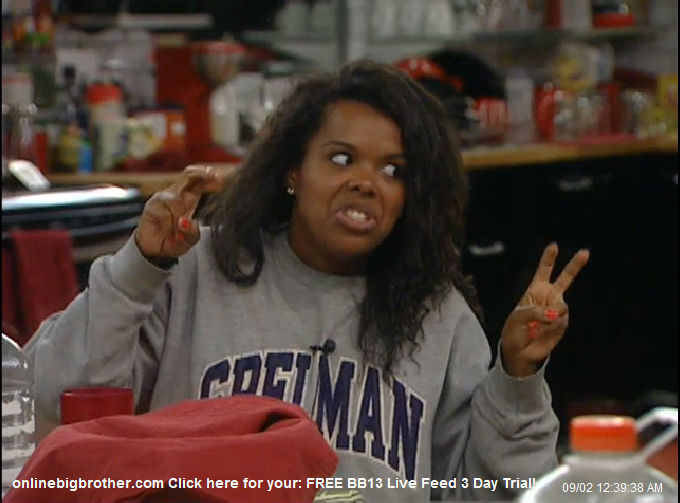 WATCH all DRAMA unfold LIVE on SuperPass! FREE 3 Day TRIAL
1:30am Kalia and Rachel are up in the HOH room to talk. Kalia says that she has always been honest and that she has always made the move that are best for me. I made a final four deal with you, Porsche and Jordan. Kalia says that she has not lied in this game and that she wants Adam out. Kalia says that she hopes that is enough to keep her here… I have no final two deals ..and I would rather be at the end with you …being someone to give me a run for my money. Kalia says that she hopes the deal to be final four still stands. Rachel says that she feels that Adam and I would be going up if you won. Kalia says yes, but you wouldn't have been going up. Rachel says but what if Adam had won. Kalia says that you would have been in big trouble. Rachel says she has a hard time with people that continue to me up on the block. Kalia says that you can't play next week and if its questions and it probably will be I will win. Rachel questions why Kalia is saying she wouldn't take Porsche to the final two. Kalia says that she would much rather beat the best of the best, maybe its stupid but I want to beat the best in the end. Kalia and Rachel talk about the jury votes, each thinks the other has more votes. Rachel says in the perfect world I would want you to stay …but I don't want you to go next week. Kalia says that she would not get her out. Kalia says that she had Rachel pegged wrong and that everyone expects me to take Porsche but I am not …I have made two deals in this game and I have stuck with them … I want to take you to the final two. Kalia offers Rachel safety for next week. Rachel says but you can't ensure that I would be safe. Kalia say Adam goes this week and if I won next week and put up Porsche and Jordan …and I tell Porsche that the plan is to back door you (Rachel) and if I have the chance to win veto I throw it to you …or Porsche wins the veto I just say look were stuck whatever… Rachel says that she can't agree to vote out Porsche. Kalia says but you wouldn't. Rachel says that she can't agree to that. Rachel says that even if I did nominate you …its not the end of the story. Rachel says that who knows what will even happen with the veto …its better to be on the block and then not be on the block on Thursday. Kalia talks about how it's not fair that week after week she is busting her butt. Kalia says that she has been honest this whole game and that she has a problem with people who have been floating through this game. Kalia throws Porsche under the bus and says she doesn't deserve to be at the end because I have done a whole lot more than she has …she stepped it up a week ago and that's it. Rachel tells Kalia that she has stepped up in this game and she respects her.
Sign-up NOW and watch the houseguests live!
Click here for your: SUPERPASS – 3 DAY Trial!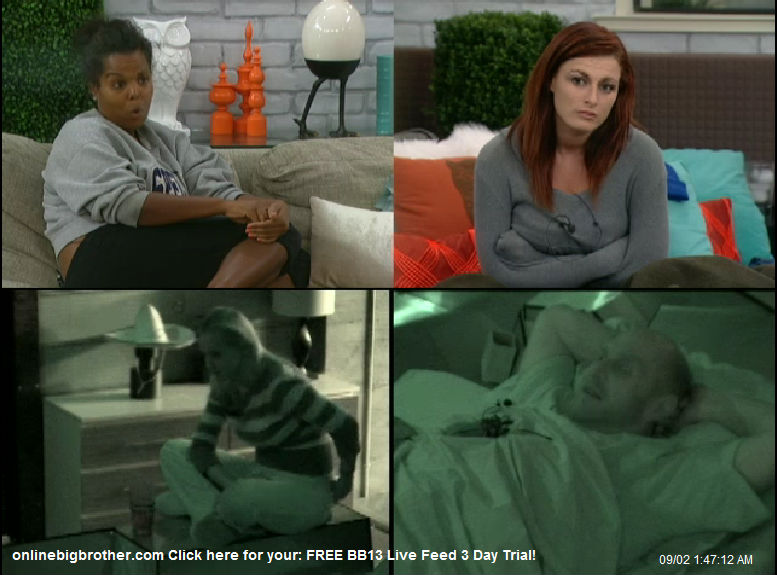 2am Meanwhile down in the metal room, Porsche is talking to Adam about how Kalia is already up in the HOH room talking to Rachel. Adam and Porsche start talking about Shelly and how she lied and played both sides. They talk about thinking she was America's Player. Adam tells Porsche that Rachel is the next road block. Porsche says that she doesn't understand what Kalia is doing up there. Back up in the HOH room, Rachel asks Kalia if she would talk Me, you and Jordan to the final three. Kalia says yes, absolutely …and I know that seems mean but … Rachel says its three weeks. Kalia says that she is not playing for Porsche. Kalia says what if you put up Porsche and Adam …and I throw the veto or not use it if I win it. Big Brother cuts the live feeds for 10 minutes. When the live feeds come back, Kalia is still talking to Rachel telling her that everyone thinks she was playing Dani's game but that she tried to prove herself and that she could make moves on her own. Kalia says that if it comes down to me or Porsche I am going to save myself …I am playing for myself. Kalia tells Rachel that her, Adam, Porsche and Shelly had a final four deal and that she has Adam in her back pocket. Kalia says that Adam has already told people that in the end he would vote for you. Rachel doesn't believe it. Kalia says that Adam will vote for who played the best. Kalia says that she doesn't think Adam is throwing things because he is embarrassed he hasn't won anything. Kalia says that if its a questions competition I will win it, I study everything. Kalia says that Jordan is over it already. Rachel says that she is worried that Jordan is over it …she wasn't even excited that we won.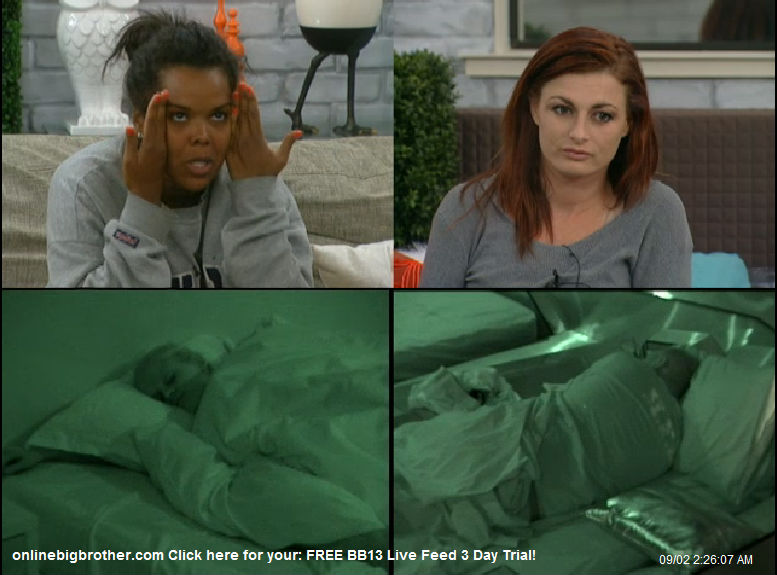 Kalia says that she has tried to be nice to Rachel the whole way because she knew it would come to a decision and I wanted you to make a decision based on game. Rachel talks about how Brendon and her have nothing ..not even enough for first and last month's rent .. we need this.. we came here to be here to fight and play to the end. Rachel talks about all the things she needs …wedding, honeymoon, house… Kalia then talks about how she has nothing too .. she left her job and doesn't even know if it will still be there. Kalia says that it will really piss her off if Adam and Porsche make it to the end. Rachel asks if Kalia will vote her out next week because she can't beat me. Kalia says if I say I am taking you to the end I will do that. Kalia says that she will not repeat anything and no one will suspect it. Rachel says what about your final two deal. Kalia it was nothing and look I just tried to vote him out… I can't rely on him to win anything. Kalia says again and again that she wants to take Rachel to the end to beat the best. Kalia says that if I say I am going to do something I do it. Rachel says that she just doesn't want to go home this week. Rachel asks if I put you on the block would you still feel like I was coming after you? Kalia says no ..because I know you still need to show them that we aren't working together. Kalia says that if you can guarantee that I won't go …then you can put me up. Rachel says that she still isn't sure what she is going to do. They talk about Dani and how she messed up and should still be here if she hadn't made the moves she did. They talk about Shelly and how she stole her puppy. Rachel and Kalia head down stairs.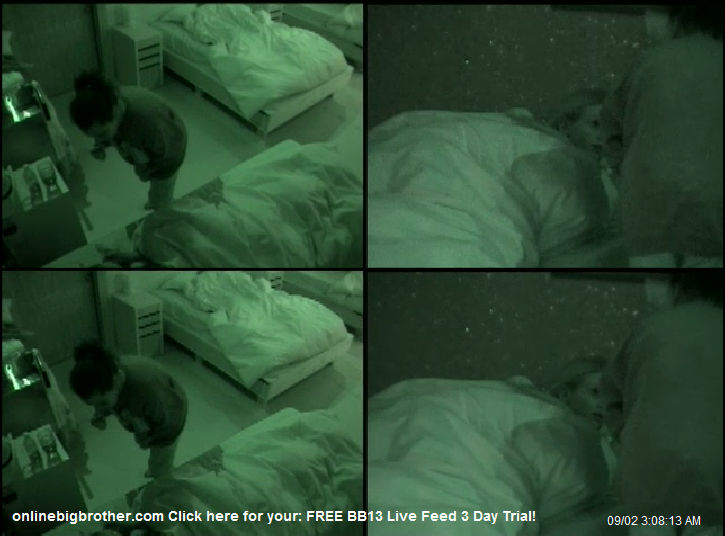 3:05am Kalia briefly talks to Adam in the metal room. Kalia tells Adam that this sucks … I really need to play for the veto… I know one of the nominations…. ME! Kalia goes into the candy room and briefly talks to Porsche about what she was up in the HOH talking about. Kalia says that they are probably both going up and that she was trying to talk to Rachel about keeping the competitor here. Kalia goes to bed. Jordan gets up at 3:15am goes up to the HOH room with Rachel. Jordan tells Rachel that she was laying in bed and heard Kalia and Porsche whispering and when she moved Kalia freaked out and left the room. Rachel says that Kalia wants to make a final 3 deal with us. Rachel asks do you think Kalia needs to go. Jordan says yes… she is coming after you. Rachel tells Jordan about her conversation with Kalia. Jordan says that next week she and Adam have a final two deal and she will come after you. Rachel says that there is no way in here all four of us will be the final four (Jordan, Rachel, Porsche, Kalia) still…that would be stupid. Rachel says that it all comes down to the POV. Jordan and Rachel go over the final votes. They talk about how Kalia is a good talker and makes you feel safe. Rachel laughs about calling Dani their (Kalia and Porsche) master during the card game. Jordan tells Rachel not to be fooled by Kalia. Jordan says that she sees Kalia as more of a threat than Porsche. Rachel asks Jordan if she thinks Adam could beat them in the question part of the final HOH and Jordan tells her no way. Jordan says that Adam gets nervous and chokes. Jordan says they need to keep Adam with them because the 2 of them could beat him in skill and endurance comps as well as questions. Jordan tells Rachel they have to trust somebody in this game, I trust Adam over those girls. Jordan admits that she was so close to changing her vote to keep Shelly tonight.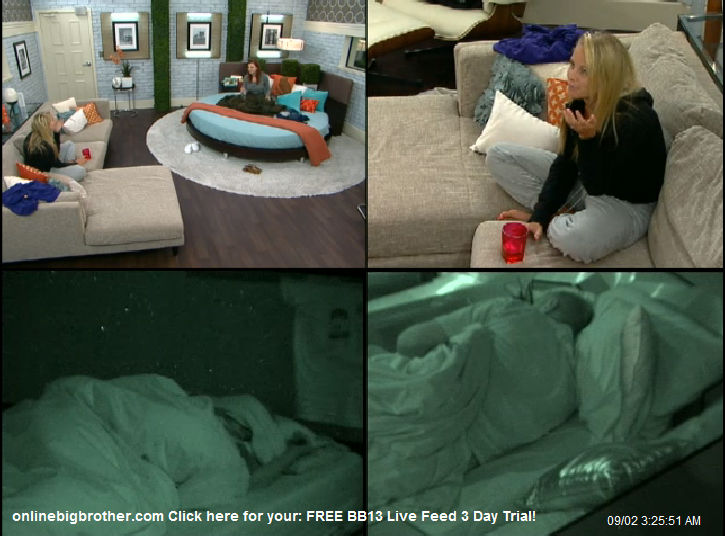 FLASHBACK – Don't miss all the drama!
Superpass – 3 Day FREE Trial
Rachel and Jordan are thinking they could have a Have/HaveNot or a luxury competition tomorrow because the backyard is locked down. Jordan tells Rachel that she trusts Rachel's instincts if she is thinking it is best to vote out Kalia then Jordan thinks that must be the right decision to make. Jordan says Kalia is 30 and is spoiled, she thinks her mom and her grandmother take care of her and her family has money. Rachel agrees and says Kalia is spoiled and probably doesn't want to have to go and get a real job. Jordan asks Rachel if she gets a Pandora's Box would she open it. Rachel says no way and says that she realizes that they are in a great position right now and doesn't want to screw it up. Rachel says that it would have to have Brendon in the box for her to open it or a crazy honeymoon vacation. Rachel says that she thinks it is too late in the game for Pandora's Box to have any special powers for the HOH. Rachel and Jordan talk about past competitions. Jordan wonders if any of the duos knew each other before the game, she wonders about Adam and Porsche but Rachel says that Adam voted against Porsche week one so she doesn't think that's the case. Jordan wants to talk to Adam but says that Kalia will always be around. Rachel tells her he is outside smoking a lot and the girls sleep all day so she can get a chance to talk to him alone. Rachel admits that this HOH win wasn't as sweet as it was in the beginning of the summer. Jordan says that Kalia needs to go because she could beat me and Adam in questions. Jordan gets up and tells Rachel again to not let Kalia fool her. Rachel assures her she won't. Jordan says goodnight and leaves Rachel alone in the HOH.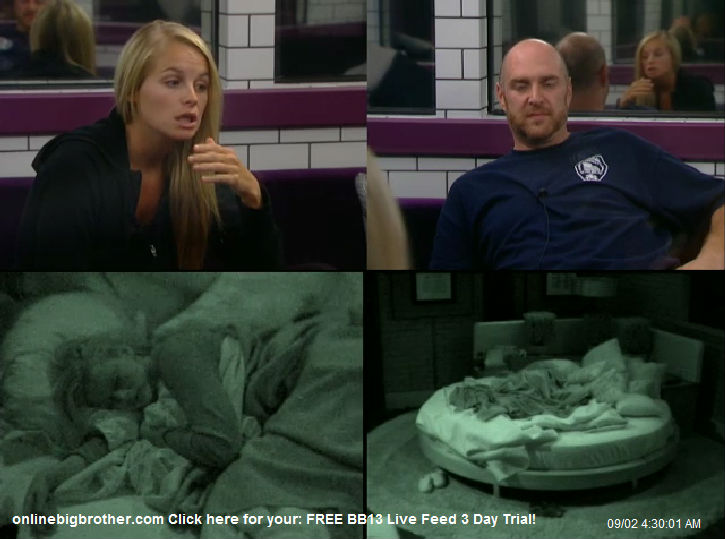 4:20am – 4:35am As Jordan goes through the metal room to get to the candy room she and Adam start talking. Adam gets up and they go into the purple room to talk. Jordan asks Adam if he talked to Kalia and he says he didn't. Jordan says that Kalia is trying to cover herself. Jordan tells Adam that Kalia was trying to make a final two deal with Rachel. Adam says that if he won HOH he would have put up Porsche and Kalia. Jordan tells Adam he is safe with them ..final three deal (Jordan, Adam and Rachel) Jordan tells Adam that she doesn't want to go up against Kalia in a questions competition. Adam says she has to go this week. Adam says that if he wins the veto the nominations will stay the same. Jordan says she thinks there will be a havenot or luxury competition tomorrow. Jordan mentions that after Shelly got evicted she saw Porsche in the mirror smiling at Adam. Adam says she was just happy that Adam stayed. Adam says the most important thing is to not let Kalia win POV. Jordan tells Adam that she is so scared that Porsche will win HOH next week. Jordan says that the worst case scenario would be if she and Rachel got put up on the block by Porsche next week. Adam and Jordan head to bed…
7:10am All the houseguests are still sleeping…
TRY the Live Feeds for FREE!
Click here for your: SUPERPASS – 3 DAY Trial!
If you like this site and want to help us keep it running please consider donating, Your donations go directly to paying the server and bandwidth fees. Donate Link

Big Brother 13 Live Feed Image Gallery
Follow: @BigBspoilers and @Dawgsbigbrother on Twitter for recent crazed out spoilers. Theres also our Facebook page.
Big Brother 13 Spoilers POLL CAST your VOTE!