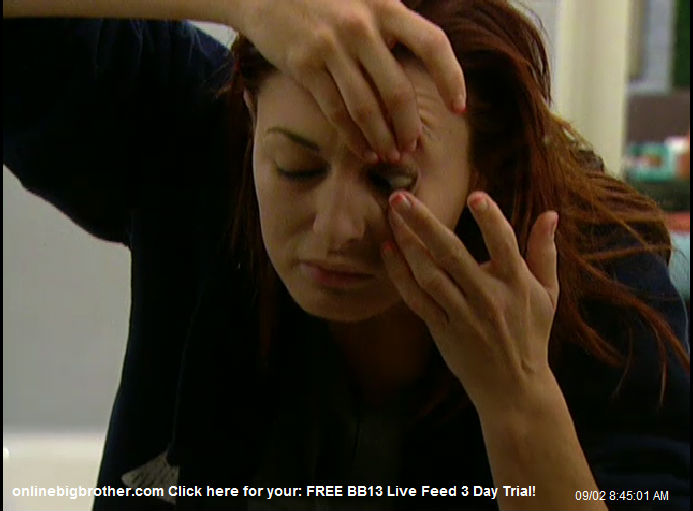 Watch the Big Brother 13 live feeds on your Android and iOS devices. Sign-up for the 3 Day Free Trial
8:30am – 9:50am Big Brother wakes up the houseguests. Rachel and Jordan are getting ready up in the HOH room. Jordan tells Rachel about how she talked with Adam after she left the HOH room to go to bed. Jordan says that her and Adam were talking about and about how they talked about the different scenarios. Jordan says that we need to get them mad at each other so that if one of us leaves they will go against each other. Jordan says that she is nervous. Rachel says don't be …look at all the competitions Kalia and Porsche really aren't that great at competitions. Rachel says that there are there is still a lot of game left to play. Rachel says that she doesn't think this will be a full week. Rachel and Jordan are talking about how maybe there will be a double eviction or another fast forward. Rachel wonders if there will be a night time veto tonight… like the face morphing competition.. if we have nominations this morning then maybe it will be. Rachel says then maybe there will be another eviction on Sunday. Rachel tells Jordan no to tell any of them. Rachel says that there is only one more live show before the finale. Jordan asks Rachel if it seems like she is over it. Rachel says that she knows how it is ..like when Brendon left I didn't want to anyone …and I am sure its the same with Jeff. Jordan says that she isn't over it and doesn't want it to seem like that. Rachel says that she just wants Jordan to try in the competitions. Jordan says oh I will. Jordan says that we are different players that balance each other out… I am good at social and you are good at competitions. Jordan and Rachel try and fall back asleep…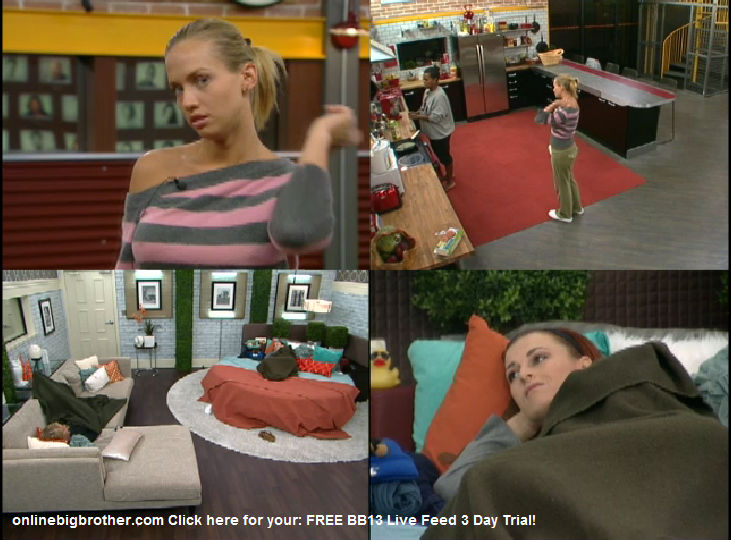 WATCH all DRAMA unfold LIVE on SuperPass! FREE 3 Day TRIAL
Meanwhile, Porsche and Kalia are talking about Kalia's conversation with Rachel last night. Porsche talks about how Rachel gave her looks again this morning. Kalia says that she wants to be the last person to talk to Rachel before nominations. Porsche says that she needs to talk to her too. Kalia tells Porsche that Rachel told her that it could be a tie vote and that Rachel would be the one to make the decision on who goes. Kalia talks about how Jordan and Rachel switched their vote the last minute to vote out Shelly and that now I am the one that looks bad. Porsche and Kalia head to the kitchen to make breakfast. Porsche thinks that there wouldn't be a havenot any more because normally they lock the havenot door when there are exactly enough beds. Kalia doesn't understand what Porsche is saying but then figures it out. Kalia says that she hopes its a luxury competition this morning and we get to go out of the house for the day. Kalia says that Rachel would be furious. Porsche asks if it is luxury and you win and can only take one other person would you take Rachel because she is HOH. Kalia says I don't know .. it would be kind of obvious ..trying to bribe. Kalia says if I do go up on the block ..all I don't want is to still be up there Thursday. Kalia talks about how Rachel asked her if she would do a BB AllStars. Kalia says that Rachel told her of all the newbies she is the one that she thinks they would consider. Kalia says that she wouldn't do it. Porsche and Kalia go back to the candy room and climb back into bed. Kalia gets called to the diary room.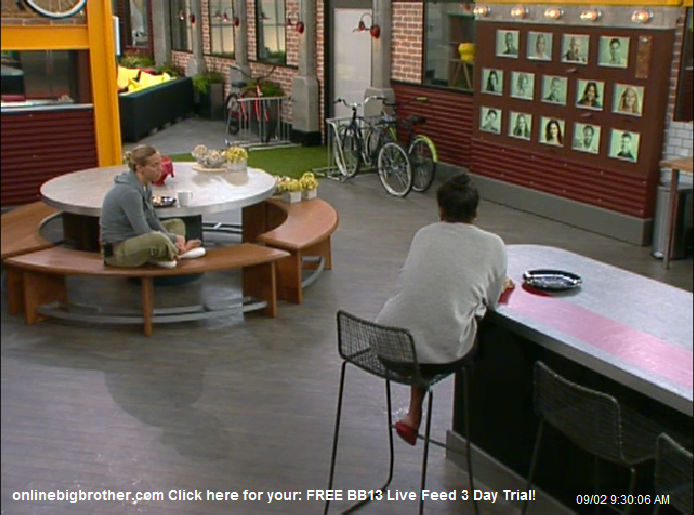 9:50am – 10am Big Brother cuts the live feeds to the we'll be right back. When the live feeds return, Porsche is ironing in the living room. Rachel and Jordan are in the havenot room talking about whether or not Rachel should open up Pandora's box if she gets one. Rachel says that because there are only two weeks left ..she doesn't think its worth it to open it. Rachel wonders if maybe Brendon might come back. Jordan tries to convince Rachel to just see how it is and that maybe it would be something like you get to go have a romantic date with Brendon. Rachel says what if Dani gets to come back for 24 hours. Jordan's jaw drops. Jordan warns her to just see what her gut tells her. Jordan says that she wants it to have something to do with a celebrity. Rachel says we already had one. Jordan says no like a real celebrity. Rachel laughs and says oh my god he is a real celebrity. Jordan and Rachel leave the havenot room.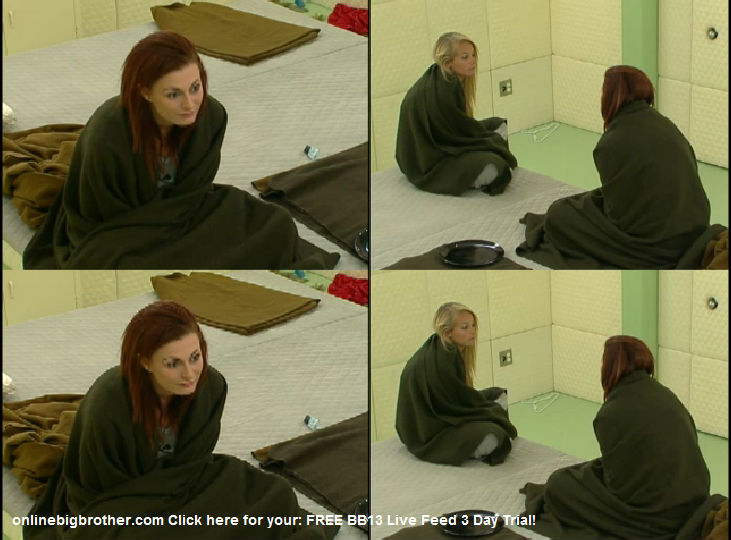 10am – 10:40am Kalia, Jordan, Rachel and Porsche are in the bathroom getting ready for the day. Rachel says that we haven't had to look pretty in a long time. Porsche, Rachel and Kalia go into the candy room. Rachel is trying to figure out what to wear that's dressy. Kalia jokes what if we go out into the backyard and we get a margarita party .. all before lunch. Rachel leaves. Kalia and Porsche talk about how Rachel is kicked out of her HOH room. Porsche and Kalia are talking about apartments and condos in LA. Kalia talks about how she can't wait to go off on people and tell them what she really thinks of them when all of this is over. Kalia and Porsche talk about what Evel Dick thinks of the season. Porsche says that if he were still here.. he definitely would have made it more interesting.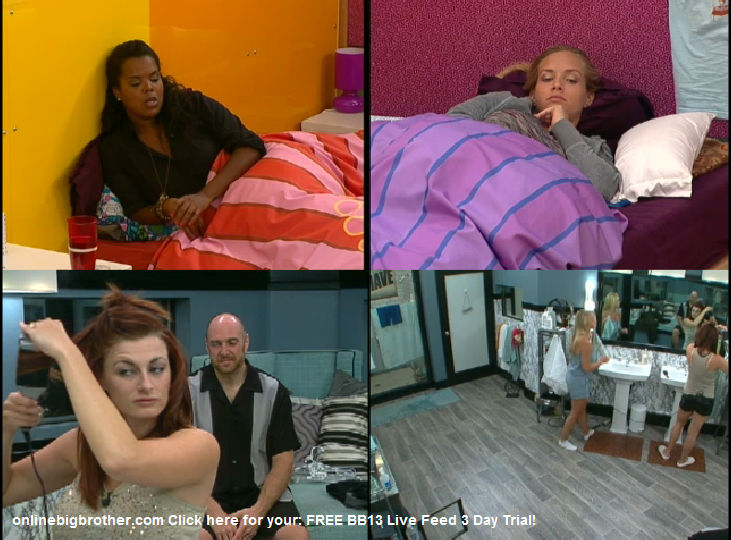 Meanwhile, Adam and Jordan are in the bathroom. Jordan is asking Adam questions about his relationship with Fara while she puts on her makeup. Jordan says that she thinks it's going to be a luxury competition.
10:40am Big Brother switches the live feeds to the TRIVIA screen…
11:40am Still TRIVIA…
WATCH all DRAMA unfold LIVE on SuperPass! FREE 3 Day TRIAL
If you like this site and want to help us keep it running please consider donating, Your donations go directly to paying the server and bandwidth fees. Donate Link

Big Brother 13 Live Feed Image Gallery
Follow: @BigBspoilers and @Dawgsbigbrother on Twitter for recent crazed out spoilers. Theres also our Facebook page.
Big Brother 13 Spoilers POLL CAST your VOTE!