9:20pm Purple Room JA Jordan tells him that she's worried about that he's spending too much time with Porsche. Adam reassures her there is nothing to worry about. Jordan tells him that they have saved him 2 weeks now Adam owes them. Adam tells her not to worry. Jordan starts talking about the comp saying she was burnt out so quickly. Adam starts to explain that it was like strength endurance a very hard comp. He goes on about how he got to a point where he knew he wasn't going to win so he stopped trying as hard. He brings up that this wasn't the first time he's taken it easy in a comp. Adam doesn't think he should give it his all when there is no chance he will win.
Sign-up NOW and watch the houseguests live! Uncensored Live Feeds 3 Day Free Trial
9:50pm rachel's HOH room
10:02pm rachel gets called to the DR so everyone leaves the HOH
10:14pm Kalia and Porsche laying down in the candy room, Adam and Jordan chit chatting in the other bedroom.
Adam is talking about how he would freeze up if he met Tori Spelling (I think his love for tori spelling weird am I the only one?) Porsche and KAlia are listening in on Adam talk in the other room. Adam thinks if Tori Spelling was at the wrap party he would have a few drinks have her meet Fara then it would be all good. Jordan asks him how many kids he wants to have… Adam says 2 and then starts to explain why he only wants 2. (Feeds are on fire tonight YO ;) )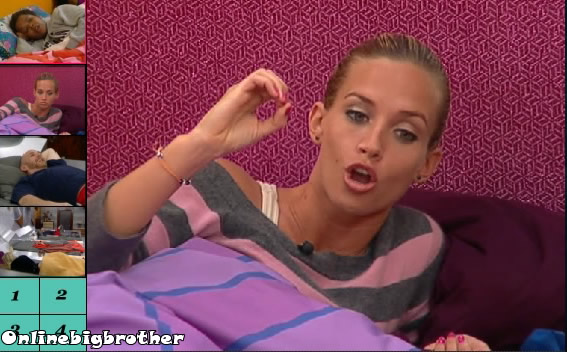 10:31pm KP candy room They are whispering across the room to each other. Kalia brings up that JR wouldn't tell her which way they are going to vote and then at the last minute they lied to her. She points out that Adam will now float to the other side. Kalia is aware her decision to Vote out Adam will come back to get her. Porsche brings up the comp, she thinks the POV will be questions or OTEV. Kalia hopes the next HOH is questions.
10:40pm JA Jordan warns him to watch out for Posche. Adam reassures her that he knows what Porsche is doing and it's going to take a lot more for him to turn (Check out 2 screen captures up.. I wonder if that will convince Adam to flip) Jordan tells him that Kalia is playing the poor me card. Jordan reminds him that Kalia voted to evict him. Adam knows he goes on and on how he's with JR till the end. Adam says that the best thing for Rachel is for her to put up PK because if she doesn't and one of the girls win POV then Jordan could go up.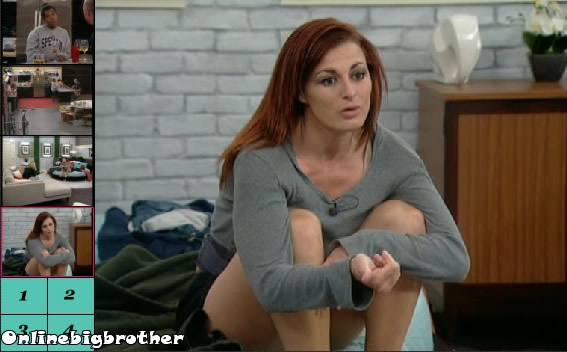 10:45pm HOH KP talking about Getting Kalia out this week. Rachel: "If we don't win POV next week i'm going home… what does every good competitor have to go home"
rachel goes on and on trying to justify her not putting up a floater. (She's putting up KP) . Jordan warns her that they are all gunning for Rachel maybe she should talk to Porsche. Rachel thinks that Porsche is Jealous of Rachel friendship with Jordan.
11:40pm Cards yo