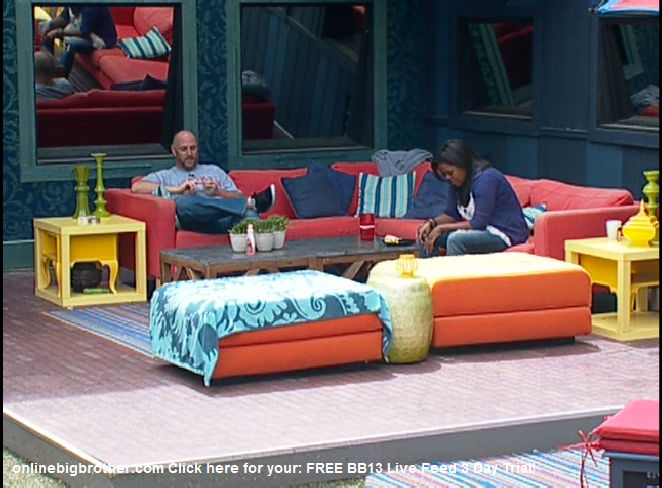 12:40pm – 12:50pm Kalia and Porsche are cooking in the kitchen. Kalia says that no matter what happens she is okay …I didn't have a half a million dollars before I walked in here …and my life was pretty great. Porsche says that's a good way to look at it. Kalia says that she is just trying to justify it so that she isn't hysterical when she walks out on Thursday.. Porsche and Kalia talk about how they can't wait to get out and get back into their routine again. Kalia heads outside to eat. Adam asks her if she wants to talk to him at all? Kalia says that she is mad and upset …and that she has a hard time asking for help. Kalia starts to cry. Adam says that his speech was more directed to Jordan and Rachel because they voted to keep me. Kalia says that she feels like the whole game we have just been railroaded … and it felt like we never had a chance. ..we put our hands in last week…and that meant nothing. Kalia is crying. Adam says that when people weren't sticking to the deal the whole dela was broken. Kalia says that she doesn't even know if she will campaign to certain people … and that I know you are going to vote to keep Porsche. Kalia says that Jordon was carried by her boyfriend and she has won the game before. Kalia says that Rachel has been the most hated person all season and she had her fiancée here. Kalia says that she and Adam did not have a golden key and we had to work our butts off to stay here. Adam says that he wants to beat a vet …to prove that he earned it. Kalia takes it as a huge, huge, huge, compliment that you want me out of the game that hard. Porsche comes out to join them. The conversation changes to talking about pain medication.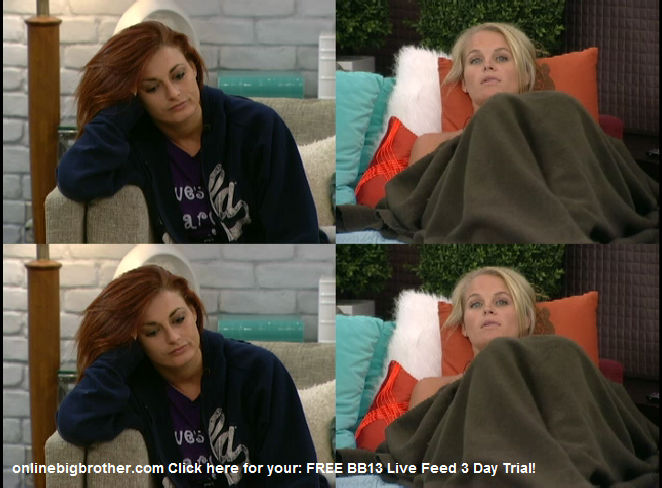 12:55pm All four camera switch to the HOH room where Jordan and Rachel are talking. They are talking about what Rachel does that pisses people off so much. Jordan says that if we get to final three …you run your mouth as much as you want! Jordan says that's just you .. and it makes me laugh. Jordan talks about how right in the beginning she and Jeff weren't even sure if Rachel and Brendon wanted to work with them. Jordan wonders if she had just gone to school instead …I wonder who BB would have gotten to come on the show. Big Brother cuts the live feeds… When they come back,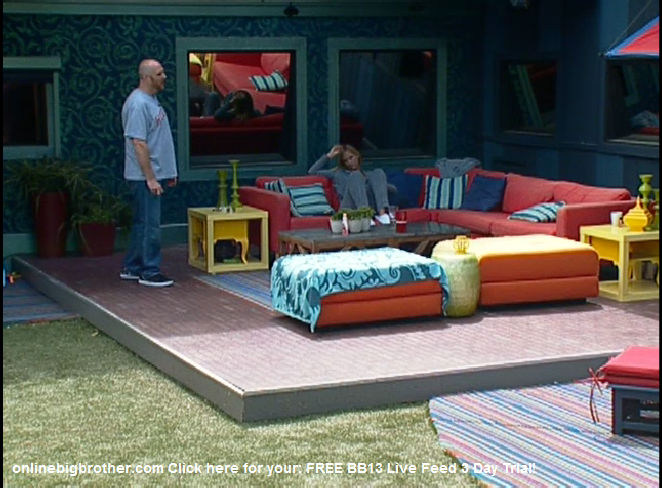 1pm All four cameras are on Porsche and Adam. Adam tells Porsche that she definitely needs to campaign but that from the feeling he got from them …she is safe. Adam tells Porsche that she can ask them if I have a final two deal with them …I just told them I can't make that deal. Adam tells Porsche not to be fooled by Jordan ..she is playing the game hard… even though she had Jeff here she is playing hard. Adam says that he can her that as of now the plan is not to get rid of her. Porsche says that she knows that …and that she also knows that Kalia is going to sell their soul to them. Adam says why did they get rid of Shelly… because she tried to give them everything ..but she couldn't follow through with anything. Adam says that he definitely sees a nap in his future. Porsche says that she really wishes she could have just won that veto. Porsche says that she was just to flustered in her mind.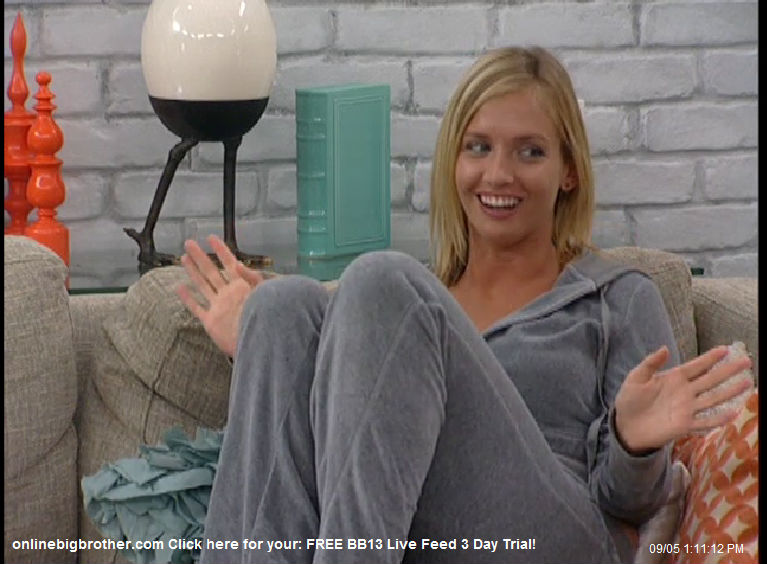 1:10pm – 1:35pm Porsche heads up to the HOH room to talk to Jordan an d Rachel. Porsche says that she is starting the campaign trail and hands them face strips and teeth whitening strips. Jordan says I don't know if Kalia campaigns to me …I will have better teeth, face and nose with Porsche. Porsche says okay how do we get to final four? They talk about how Adam got this far in the game. Porsche says that he played it very well. Porsche says that if she stays she will help them get to final three. They talk about how they could name themselves Julie's Angels. They all talk about the beginning of the game and what they thought about each other and what has happened to get them all here to this point. They talk about how after the show is over they interview process is horrible.. you get asked the same questions over and over again. The conversation changes to talking about teeth, fake boobs and health care. Rachel says that her boobs were $8000, Porsche says hers were $5,500 and Jordan says that hers were $4,200 but that she got a discount. Rachel says that maybe hers were closer to $6000 ..she doesn't remember. They talk about how Cassi's boobs were $6000. Rachel starts talking about a drainage tube that some girls get. Porsche leaves the HOH room. Jordan and Rachel go into the bathroom to show each other their scars.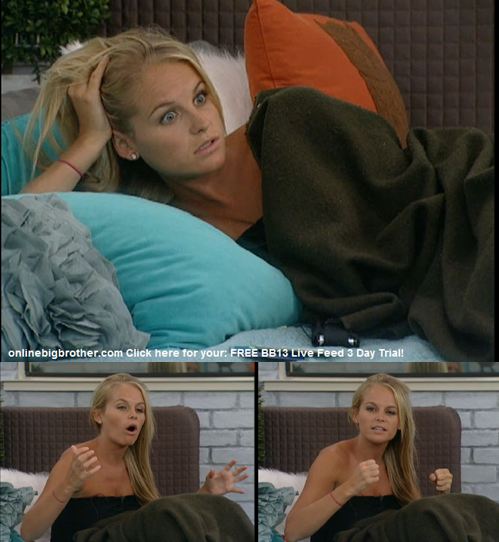 1:35pm – 2:30pm Kalia joins them up in the HOH room. Rachel shows Kalia her breast scars and talks about her drainage tubes …that drains all the blood and puss that comes out. Porsche joins them again. Rachel talks about how her doctor used glue instead of stiches becasue you scar less with the glue. They continue to talk about medication and medical stories. Jordan tells Rachel that she needs to get Brendon to grow out his hair again… we all might not agree on everything ..but we all agreed that he looks good in that picture. They continue to talk about hair on men and what they like and don't like. They talk about how much Shelly lied and how they don't know what to believe. They talk about all the stuff Shelly took from the competitions. Porsche says that she took a lot too. They talk about wanting to work out. Rachel and Porsche try and guess what Dominic's secret is … is school and modeling his full time job? Is he related to Cassi? Is he really 25 years old? He has a twin? Kalia says that she really doesn't understand why people come into the house pretending to be something they aren't. Porsche gets called to the diary room. Rachel talks about how Shelly never talked to her but to tell her im a bad person. Rachel says that Shelly gave me a shirt and I am going to give it back to her on finale night. Kalia says that she is going to give Shelly a piece of her mind on finale night. Kalia talks about how one day Shelly was getting into the pool and she had to tell her to put something else on because she could see her vagina .. there was a big gapping hole in her shorts and I could see everything. They talk about how Shelly kept getting smaller and smaller. Rachel and Kalia continue to talk about Shelly.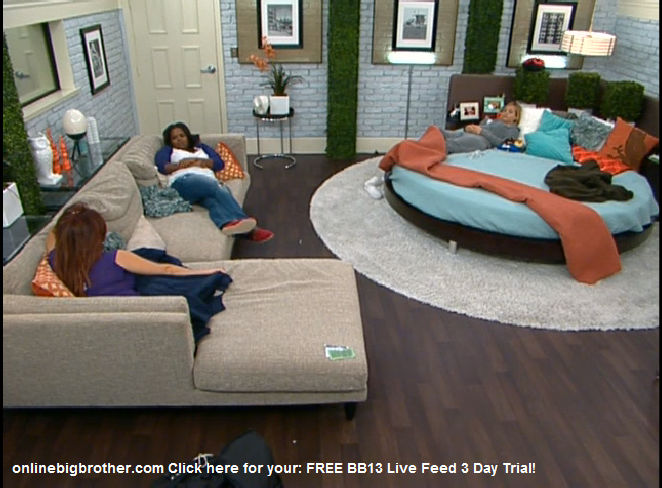 2:35pm Jordan and Adam are talking in the metal room. Jordan tells Adam that we are not keeping Kalia ..she is gone. Adam says that Kalia is going to say whatever she can to stay. Adam tells Jordan about his conversation after the ceremony and how she said that she has never begged for anything. Porsche comes out of the diary room and asks Adam and Jordan what they are up to. Porsche says that she is so bored…
2:45pm Kalia and Rachel continue to talk about random things in the HOH room. Rachel talks about needing to find a place in LA when they get out. Kalia is giving Rachel pointers on how to find places. Meanwhile, in the downstairs bathroom, Jordan gets ready to workout. Porsche comes in and tells Jordan that she is pretty sure Adam will vote for her and that all she needs is her to vote for her as well. Porsche tells Jordan she doesn't know what Kalia can even say …she already tried promising final two deals. Porsche tells Jordan she will give her ..her American apparel shirt.