Big Brother 13 Live Feeds Can be watched on your iPhone and Android Mobile devices sign up -> Watch Big Brother 13 on Your iPhone or Android Phone
7:00pm Adam and Kalia Backyard couch Adam is saying he has to win HOH this coming week everyone has gotten something from home except for him.
Kalia says if it's questions which she sure it is and it gets down to Adam and her she'll throw it to him.. Adam goes over parts of his talk with Jordan.. he explained to Jordan that the reason he "backed away" from her before the POV ceremony was because her emotions were running high with her so he thought she needed space. Kalia goes over her some of her conversations with Jordan..
Kalia says that going into the next week her and Porsche are not jumping ship they will stick to the plan. Kalia says she wouldn't mind it being adam and herself in final 2 and KPA final 3. Adam tells her he just wants to worry about final 4 before worrying about final 3 final 2. Kalia says oh of course. Adam knows if he doesn't win the HOH he knows he's going home. Adam says it's so important that they win the POV because all that matters is having the numbers.
They start talking about the comp. Both are convinced that it will be a mental HOH. Kalia thinks it's either odds/evens maybe the order of events.
they start wondering when the finale is.. Adam brings up that their "package" said they will be gone until September 23rd. Kalia thinks they might mean that the entire process is down in the 23rd.. after the show they all have special events to attend.
(I'm saying Adam is telling the vets more information but he'll float to whoever wins the HOH. Who can Adam beat in the final 2?)
Sign-up NOW and watch the houseguests live! Uncensored Live Feeds 3 Day Free Trial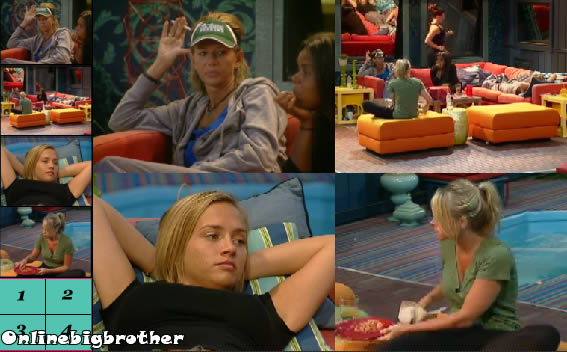 7:45pm Quad back yard Rachel running laps around the backyard. Adam grilling, JPSK on the couch eating and Chatting. Jordan comments that she feels really sore today after that POV. Shelly says she's sore to but she's also been on pain medication all day so it's no too bad. Jordan comments that Rachel says she fine and she latest the longest. Shelly jokes: "She's a freak of nature" Everyone laughs.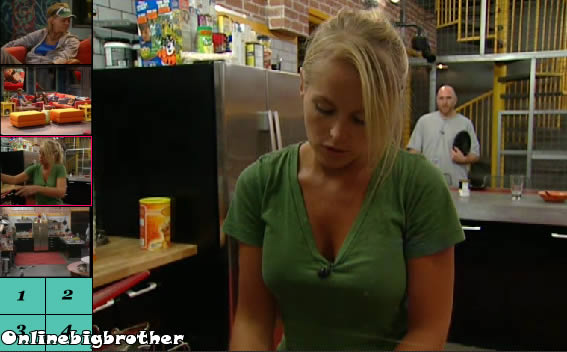 7:46 Kitchen Adam and Jordan JOrdan tells him he's guaranteed final 3. Adam thanks her coming from a person that's won before he really appreciates that. Adam: "Hopefully it's you and me hanging on a banana at the end"
Adam leaves
7:55pm Kalia tells her that she will still honour her deal they made week 2 that they won't put each other up. Jordan says if she would of won in double eviction she wasn't going to put Kalia up either. Kalia hopes that Jeff understands that she put him up because there is no way she can beat Jeff. Jordan thinks Jeff will understand, he was mad when he left but he'll get it.
Kalia also points out that no one knew it was double eviction and they were all kinda shocked Kalia didn't have time to talk to people or anything. Jordan : "Rachel kept telling me all day that it was a double eviction.. We didn't believe her but she was convinced… "
Jordan says she's been playing too personally and she needs to stop and make the moves needed.. Kalia tells her its impossible you cannot play this type of game without emotions. Jordan is saying that this year is so much harder than bb11 she finds herself exhausted at the end of everyday/.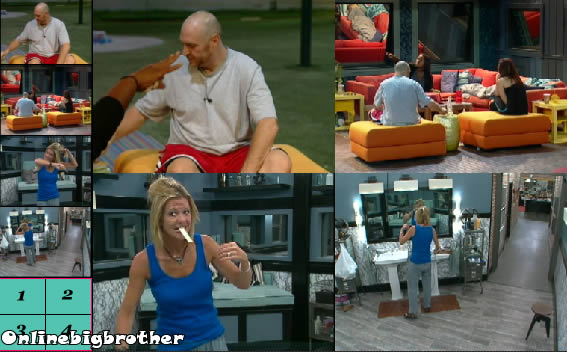 8:50pm Chit chat and straight shooter doing her hair
9:34pm Kitchen Shelly and Jordan Jordan walks through the kitchen right when she hits the backyard door she says. Shelly: "Jordan it's music to my ears to hear you talking to me again.. " Jordan says she's glad their talking to.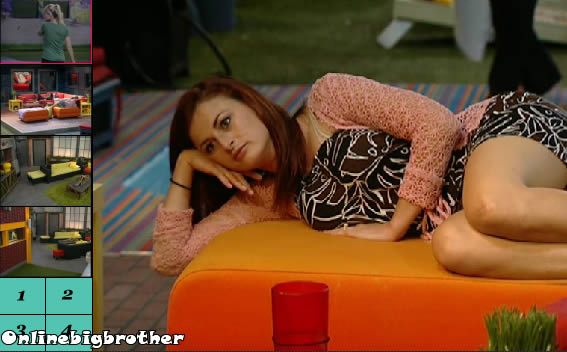 9:39pm Backyard JRKP Rachel saying that apparently the fortune teller is moving around. Kalia: "Huh.. their moving it" Rachel says it's been moving it's head. Kalia didn't know it was moving she knows the door is messed up.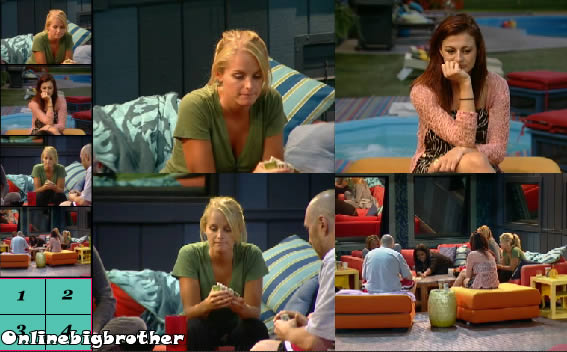 10:18pm Everyone getting along playing bullshit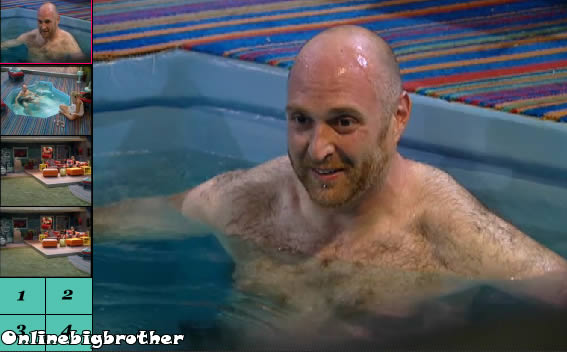 10:58pm Adam and Jordan in the hottub Adam is saying he wants a son more than a daughter (Feeds cut so we don't get his reason) . SKP on the couch start teasing Adam about his hairy back. Porsche asks him if she can shave his back. Adam says he has no hair on his head so he needs it to grow somewhere. Kalia jokes that from what he's been saying there's enough hair on his balls. Adam: "Hey.. real men are hairy"
11:21pm Hot tub POrsche and Rachel they are talking about how the final 6 really surprises them. Rachel keeps saying: "I know what happened… I know exactly what happened.." Rachel doesn't tell her what it is exactly but hints something about floaters and tells POrsche she's not implying her because she's winning comps. Porsche points out that the first month she didn't get to play in comps because of the gold key.
Rachel brings up the few interviews she gets when she wins HOH, she says she only has had one interview out of 4 HOH's
11:40pm
backyard Couch KSJ. They are talking about what they would do on fri,sat and sunday nights. Kalia would go out to dinner, Shelly says that she spends alot of Fridays alone with Josie because her husband has that big contract at the women centre. Shelly looks up at Jordan with a funny look on her face (I would almost say it was a bit of a smirk), "We have big killer dogs and a body guard.. we're never alone"..
Share it YO!!
Tweet