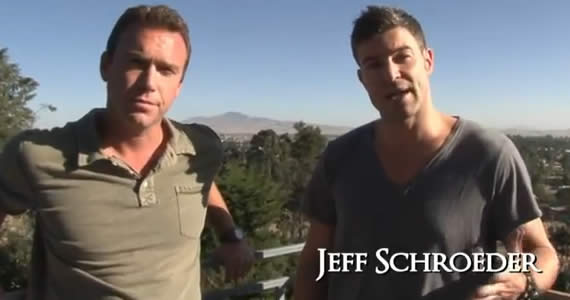 Big Brother 11 and Big Brother 13 famous hunk of man meat Jeff Schroeder is at it again with the webshows. This time he's partnering up with with Amazing Race winner Alex Boylan's in a interactive web series, Missions In Action.
The premise of the show is simple, travel the poorer regions of the globe, showing stories of the people and charities that are making a positive impact. Jeff will be on Episode 8 Scarves of Pride, Location Addis Ababa, Ethiopia the Charities are FashionABLE, The Mocha Club, Women At Risk. The Mission Former sex industry workers in Addis Ababa find peace and purpose in handcrafting beautiful scarves for abroad.
What a great project to be working on.. Oh and for all you JJ watchers Jordan will not be accompanying Jeff
The show started in November at the Compassion Child Development Center in the Philippines. Heres is what the charity had to say about the project.
"This is a tremendous opportunity for viewers to see, first hand, how we serve children and their families living in extreme poverty around the world," says Mark Hanlon, Senior Vice President, Compassion, USA. "The conditions in which our beneficiaries live may seem hopeless, but viewers will catch a glimpse of the hope that exists when children are nurtured and developed in the basics of living a future free of poverty."
Source
check out their website and videos https://www.missionsinaction.tv/
Big Brother 14 has been confirmed and the BB14 Application form and rules have been released. Casting Calls should be known in March. I was hoping for a an Allstars but after last years dogs breakfast of a season I'm guessing (more like hoping) for a reboot season.. Either way if your an interesting person and do not see being on Big Brother as a way to further a acting/modelling career then PLEASE APPLY.