Watch the Big Brother 13 live feeds on your Android and iOS devices. Sign-up for the 3 Day Free Trial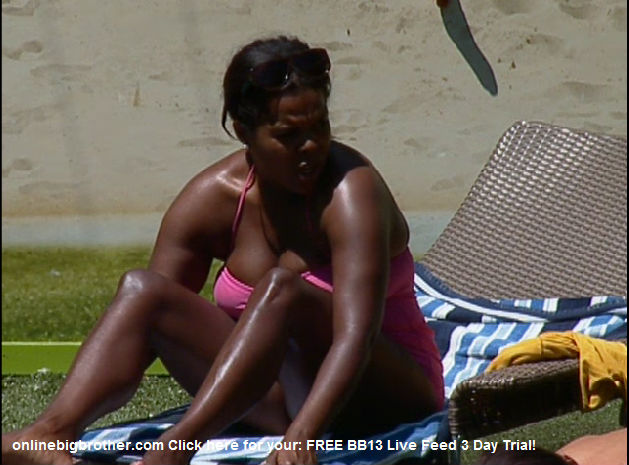 If you like this site and want to help us keep it running please consider donating, Your donations go directly to paying the server and bandwidth fees. Donate Link
1:45pm Shelly talks to Kalia, Dani, and Porsche about how she was talking to Adam earlier telling him that she can't wait to hang out with everyone …going through their names and that she purposely left out Rachel and could see her getting mad. Kalia starts going off about how Rachel was telling Shelly that she is going to have stalkers and that people are going to be saying that they want to kill her kid and stuff. Shelly says that when Rachel was saying that she said that everyones experience in and out of here is different. Kalia says that Rachel had said that she and her can hang out in LA after the show. Dani laughs and says you two can go get waxed …you can wax your snatch and she can wax her moustache. Shelly says that Rachel told Jordan that she better make sure Jeff makes the right decision this week because it's really critical. Shelly says that she really thinks that she is in charge. Lots of Rachel bashing.
TRY the Live Feeds for FREE!
Click here for your: SUPERPASS – 3 DAY Trial!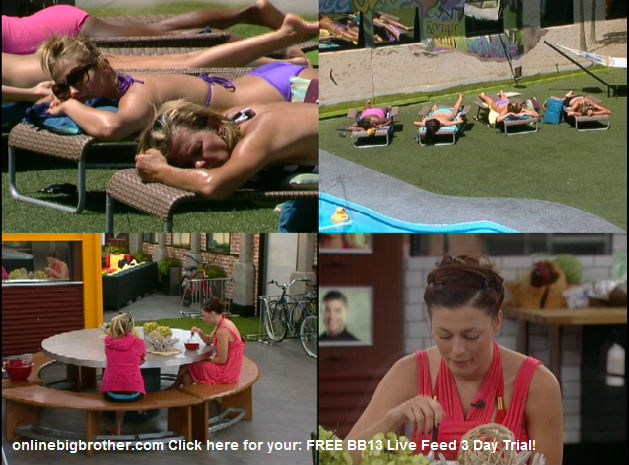 Meanwhile, in the kitchen Rachel and Jordan are talking about getting Dani out this week. Jordan says that it will be really awkward this week. Jordan says that we just really need to make sure Adam and Shelly vote her out this week. Rachel says oh I know …it will be really bad if they don't. Rachel says she thinks Adam will vote her out ..but that she isn't sure about Shelly. Jordan says she thinks she will ..and if she didn't she would be super shocked. Rachel says you just don't know what people are telling you. Jordan heads outside to the couches and Jeff says hey what's up stupid?! Adam says you can't call her that any more ..she isn't wearing the humilitard.
2pm Kalia and Dani are talking. Kalia is telling Dani all about her conversation with Adam. Kalia talks about how she was questioning Adam about working with the vets. Dani says thanks! Kalia says oh I don't think of sides any more. Kalia says that part of her thinks that Porsche is really the target from things people have said and done. Dani says that she wants coffee in her cake .. Kalia asks ..you want BLANK in your cake? Dani says no coffee. Kalia says that she will be really sad if Kalia leaves. Dani says that even if Porsche leaves she thinks she will cry. Dani say sorry for not talking to her yesterday .. but I went into the diary room and cried. Kalia says yeah I though so.. Kalia tells Shelly that she is really envious of her body. Shelly asks why I have no ass. Kalia says that Shelly has nice abs. Dani says that everyone was commenting on that in the beginning. Shelly says well thank you ..I never hear that.
WATCH the houseguests LIVE on SuperPass!
Click here for your: FREE 3 Day TRIAL!
2:15pm – 2:45pm Jordan is dying Rachel's in the bathroom while Jeff watches. Rachel is telling Jordan that she should become a hair dresser. Jeff is now trimming his facial hair. Kalia is trimming her hair. Jeff finishes up and Adam says that it looks like his is in the backstreet boys now. Jeff says yeah because the top of my hair is long. Rachel and Jordan continue to talk about hair dying and hair dressers.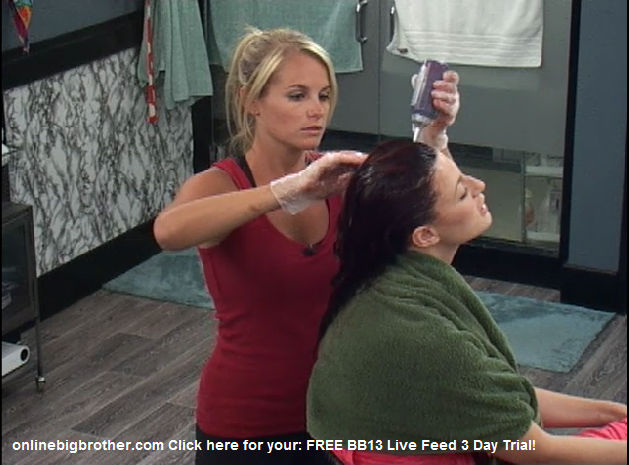 Meanwhile out in the backyard, Shelly is talking to Dani about how Adam was telling her that some people might be mad at him about some of the things he said in the diary rooms. Dani says that he just wants to come off as the funny guy to America. Shelly says that it kind of upsets her that he zings her in his diary room sessions. They talk about how they wish he hadn't shaved his beard. Shelly and Dani lay in silence.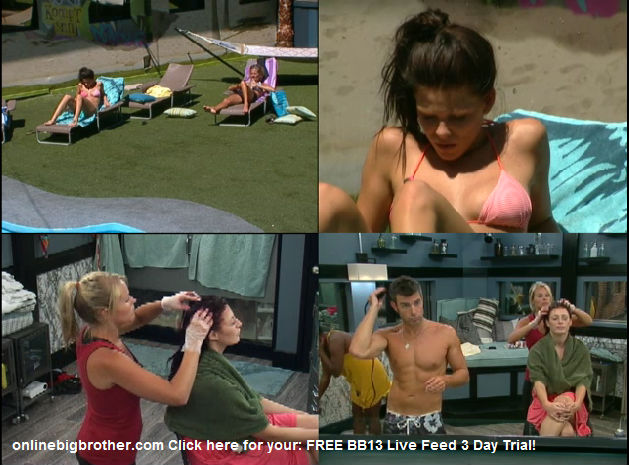 2:40pm – 2:50pm Jordan, Shelly, Adam and Rachel sit out on the backyard couches talking about random stuff. Shelly starts talking about genes and traits being recessive or dominant. Shelly talks about how to predict if you are going to have a boy or a girl and the things you can do to get one or the other..
WATCH the houseguests LIVE on SuperPass!
Click here for your: FREE 3 Day TRIAL!


Big Brother 13 Live Feed Image Gallery
Follow: @BigBspoilers and @Dawgsbigbrother on Twitter for recent crazed out spoilers. Theres also our Facebook page.
Big Brother 13 Spoilers POLL CAST your VOTE!


Share it YO!!
Tweet