Get the BB13 live feeds on your Android and iOS devices. Sign-up for the 3 Day Free Trial
12:10pm – 12:55pm Jeff, Kalia and Porsche are now awake and moving around the house. Jordan is standing in the pool with her arms on the edge while talking to Shelly about Christmas and gifts. Over on the backyard couch, Jeff, Dani, Brendon, Adam Porsche and Kalia are talking about weird al and other random stuff. Kalia talks about how Jeff was snoring last night. Jeff says why didnt you wake me up? Kalia says that Jordan woke up and bumped you. Jeff says that Brendon was talking in his sleep. Brendon says that he does that some times and would wake up and see people standing around his bed. Kalia tries to move the bench in out of the sun. Jeff looks at her and asks what did you think you could get in 3 inches of shade. Kalia leaves and goes to sit in the shade by the pool. Jeff laughs and continues to make fun of how Kalia couldn't figure out that there wasn't enough shade there. Adam talks about how boring our cast is. Jeff says what do they want us to do ..build a space ship?! Brendon says I could build one! They start talking about the movie back to the future movie. The conversation changes to Adam and Brendon talking about people they know that pee in their sleep. Adam says that his friend started peeing on his cd's so he started kicking him. They talk about the pool tournament last night and then Adam starts talking about his dreams again. Brendon tells a story about how there was a plane crash and his friend found a human head in her yard. The houseguests continue to talk about random stuff… Shelly, Kalia and Jordan are talking about travelling and other general things…
Sign-up NOW and watch the houseguests live!
Click here for your: SUPERPASS – 3 DAY Trial!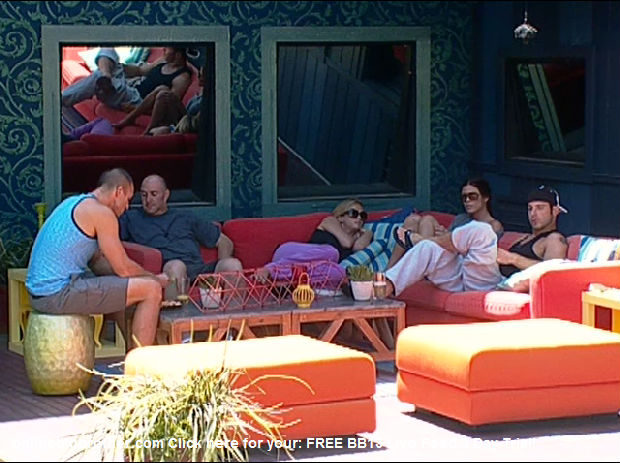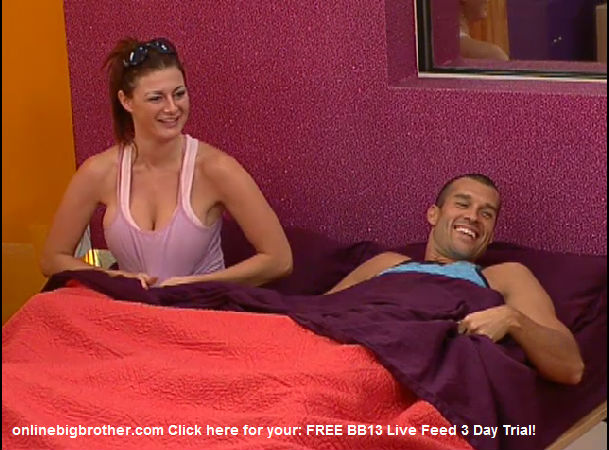 1pm – 1:20pm The houseguests on the couch get up and head inside. Porsche farts and everyone says Porsche!? Porsche blames it on all the milk she's been drinking. Adam is in the kitchen cooking, while Brendon and Rachel talk to him about random things at the kitchen counter. Brendon and Rachel head into the bedroom where Jeff is laying in bed. Brendon and Rachel climb into bed to take a nap. They joke about how they are making deals in their sleep. Jeff says that his address is definitely down here (meaning he won't be up in the HOH room) Brendon says that times are a changing.. Jeff says I believe you. All four camera switch to Adam in the kitchen making a pizza and Kalia, Jordan and Shelly in the backyard talking about car crashes they or their family has been in.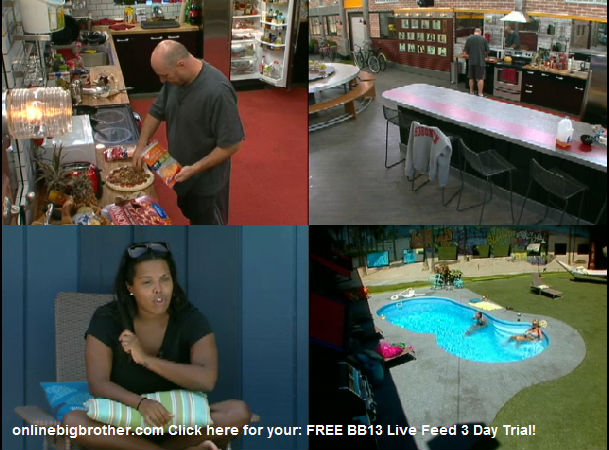 1:35pm – 1:50pm Adam and Dani are on the backyard couch talking about what Dani said during her POV ceremony speech. Adam says that America is going to love it …that there's a zombie in the house. Adam tells Dani that Porsche found a hand towel next to Brendon and Rachels bed. Dani says ewww..good god …can't they stop for a month or a week. Adam says maybe one day you will find love like they have. Dani says why would you do that. Adam says they are young and in love. Adam and Dani talk about the hot dog eating contest they will be having later. Adam asks what his strategy should be. Adam asks Dani what she thinks the next HOH competition will be? Dani says questions …true/false. Adam says that it has to be a competition that has to be done on the Thursday show … cuz last week was a tune in sunday to find out the results. Dani says yeah .. Adam says its too early to do a before/after or majority rules competitions. Dani says yeah. Dani asks if they have been harassing him at all? Adam says no. Adam says that the benefits of looking at it as an outside view is that you keep a bigger target in the house … but they you have a couple in the house. Adam says what would be the benefit of keeping Shelly in the house.. ..there will be a lot more food and we'll have a clean bathroom. Dani says and we won't have to smell his farts any more. Adam says that he is still waiting for a bacon eating contest for HOH. Dani says that would be gross. Dani says she wonders if there will be a luxury competition this week. Adam says that if they don't do a havenot competition this week ..then it will be over. Adam forgets his pizza in the oven and says oh shit and runs inside and says look what you made me do Dani…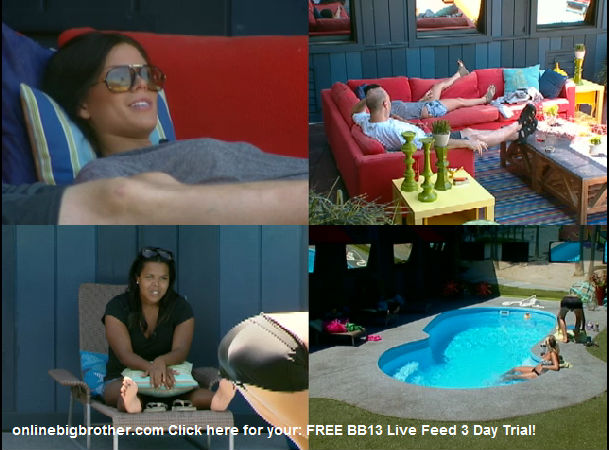 1:55pm – 2:10pm Adam, Kalia and Dani are in the kitchen making lunch and eating. Adam says here is maybe a stupid question.. why have they not made an announcement that we are in the jury? Big Brother cuts the live feeds. When they come back, Kalia says that she thinks they will tell them this week ..that who ever is evicted will be the first member of the jury. Jordan is still in the pool, she asks where Jeff is at? They tell her that he's sleeping. Back inside, Dani talks about how boring everyone is and asks Adam how they can be not so boring? ..then she says I bet you're going to go take a nap. Adam says no ..I have to get ready for the hot dog eating contest. They start talking about how awful Dominic looks in his memory wall photo. Dani says that she looks awful too. Dani tells Adam to entertain her…. DANCE MONKEY DANCE! Meanwhile out in the backyard Jordan and Shelly are talking about crying. Shelly says that she is an ugly crier and that the other night she had to wear her sunglasses at night so that jerky couldn't see her upset. Kalia comes out and lays on the lounge chair with a pillow between her legs and says that she really needs to change out of these coochie shorts..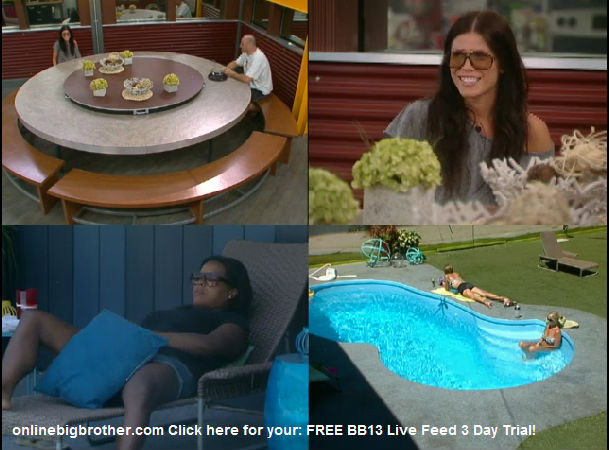 2:15am – 2:45pm Adam and Dani are still in the kitchen talking about random stuff. Adam talks about how he is just starting to believe that he is in the big brother house. Dani says she believes it and that when you get out it feels like it was forever ago… Dani talks about how you never watch it the same again …it takes the fun out of it. Adam says I don't think so .. Dani says I bet it will.. Adam says that maybe next season he will do a web show with her … Dani says EWWWW… Adam you just farted! Adam says that he was holding it in for awhile. Dani says maybe we'll do a web show with my father. Adam says no he hates me …no maybe he doesn't. Porsche joins them in the kitchen. They start talking about Brendon and Rachel making out in their bed. Porsche mentions the hand towel and a cape… Dani asks what now they have time to role play? The talk turns to how immature Adam and Dominic are… Adam says that their combined age was twenty …Dominic was 15 and he was 5 years old. Dani asks Adam if he is really a red head .. Adam says yeah and starts to pull down his shorts .. Dani says EWWWW… I just threw up in my mouth. Adam says I covered it up with my shirt! Meanwhile out in the backyard, Kalia, Shelly and Jordan are talking about breast implants and being able to breast feed or not. They continue to talk about food and other random things…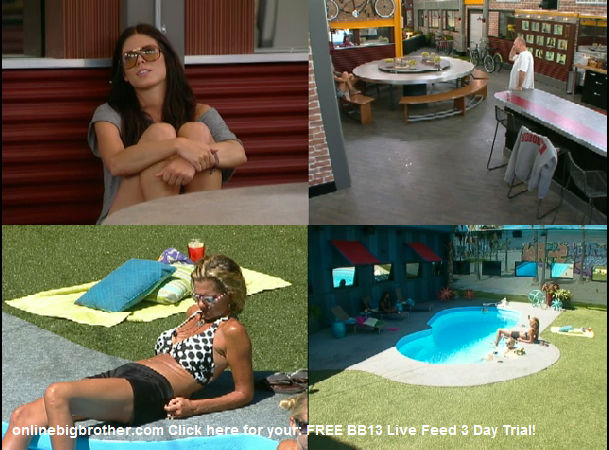 If you like this site and want to help us keep it running please consider donating, Your donations go directly to paying the server and bandwidth fees. Donate Link
Big Brother 13 Spoilers POLL CAST your VOTE!

Big Brother 13 Live Feed Image Gallery
Follow: @BigBspoilers and @Dawgsbigbrother on Twitter for recent crazed out spoilers. Theres also our Facebook page.
Share it YO!!
Tweet