Get the BB13 live feeds on your Android and iOS devices. Sign-up for the 3 Day Free Trial
If you like this site and want to help us keep it running please consider donating, Your donations go directly to paying the server and bandwidth fees. Donate Link
FLASHBACK – Don't miss all the drama!
Superpass – 3 Day FREE Trial
9:30am All the houseguests are still sleeping. Big Brother switches the live feeds to the control room screen and then to TRIVA… When the live feeds come back from TRIVA, Jordan is laying awake in bed with Jeff. He tells her to get out because she can't sleep in there. Jordan says don't tell me to get out! Jordan then leaves and goes to the metal bedroom to lay down. Shelly is in the kitchen making coffee. Kalia comes through the kitchen and they talk about how freezing it was last night. Meanwhile in the bedroom, Brendon tells Rachel it will be okay right?! Brendon asks her to have breakfast with him… she hasn't had breakfast with him in a while. Brendon says it will be okay I promise you! Brendon says come on please… I am sick of this .. I don't want to lay all day ..I want to sit and talk with you on my last day. Brendon says come on please. Rachel finally gets up off of him and they leave the havenot room. Shelly asks how they are? Brendon says better days! Hang in there. Shelly tells Brendon that they are on an inside lockdown. Brendon says that Rachel is doing better …but that they are annoyed they can't trust anyone. Brendon talks about how once Dick left they had no chance …Brendon says that this season will be one about the floaters. Shelly says that it better not. Shelly says that if Brendon walks out …they will protect Rachel. Shelly tells Brendon that she thinks he made a mistake ..he did a great thing ..but he still made a mistake. Rachel says that no one will put nominate Dani. Shelly says that she would. Rachel says I though you said you would backdoor her ..not nominate her? Shelly says yeah I would back door her. Rachel explains how she would nominate her because either way Dani is playing for the veto … its big brother .. I've played this game before ..she will be playing . Rachel is pissed and says that she is all alone …she doesn't care who hears her. Shelly tells her that there are people lined up to have her back …and that they were talking about her last night and everyone cares about her.
24/7 UNCENSORED Big Brother 13 Live Feeds!
Click here for your: FREE 3 Day TRIAL!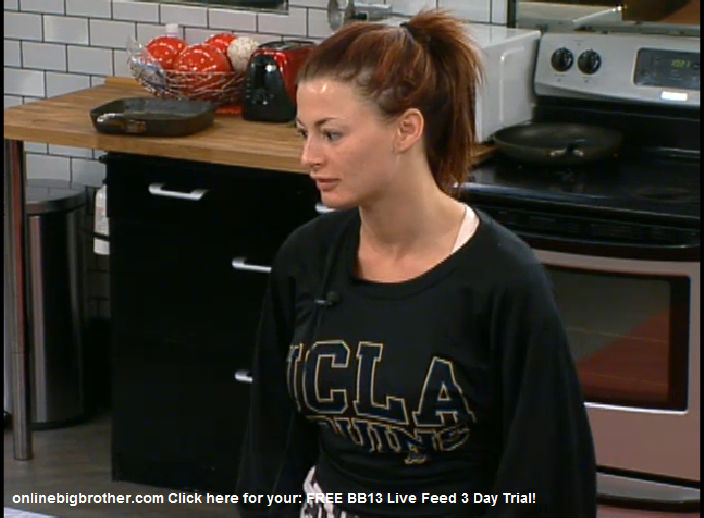 10:50am Rachel has given up … she tells Shelly that she doesn't care any more… she isn't going to compete any more.. she will play like everyone else and do nothing. Shelly says thats not you .. you're not like that .. Rachel says that people go far by doing nothing. Rachel says she guarantees that she will go farther by not doing nothing. Brendon says that Rachel is competing for a honey moon for us. Rachel says no ..not even that I'm not winning anything. Brendon asks when did it every become about manipulation and not about competing. Rachel says that for two years we have been fighting …we fight our hearts out and this is where it gets us. Rachel says that she ruined any chance that Brendon could stay and no she just doesn't care … Rachel is so defeated and says that she won't do anything from now out. Shelly explains that not everyone can compete and everyone has a different game… you can't have everyone be competitors like you … you have to have the balance. Shelly asks Rachel why she is here? Shelly says so the only way you have a chance if Brendon is in here with you? Rachel says no. Shelly asks so why are you giving up .. Rachel says because Dani threw me under the bus when I was trying to do the right thing. Rachel has totally given up. Shelly is getting mad and saying she doesn't understand! Shelly says that her attitude sucks .. why would I vote for Brendon …when you have given up .. I need you to fight … Rachel says that she talked to the psychiatrist and she knows that she is BLANK in the head. Rachel goes off and says that when people started talking about how my butt cheeks are flapping … and STD's are flying … that's not okay ..you have no idea what that does to people. Rachel says that everyone hates her …production hates her …Shelly hates her …everyone hates her. Shelly says I never said that …don't say that! Rachel says that she hates herself … why shouldn't everyone else! Brendon keeps telling her to stop. Rachel says that she wants to just go …Brendon says okay then lets go …we can go! Rachel says I don't know why they wanted us to come back ..they hated us.. Big Brother cuts the feeds..
ReWatch all drama on FLASHBACK! FREE 3 Days TRIAL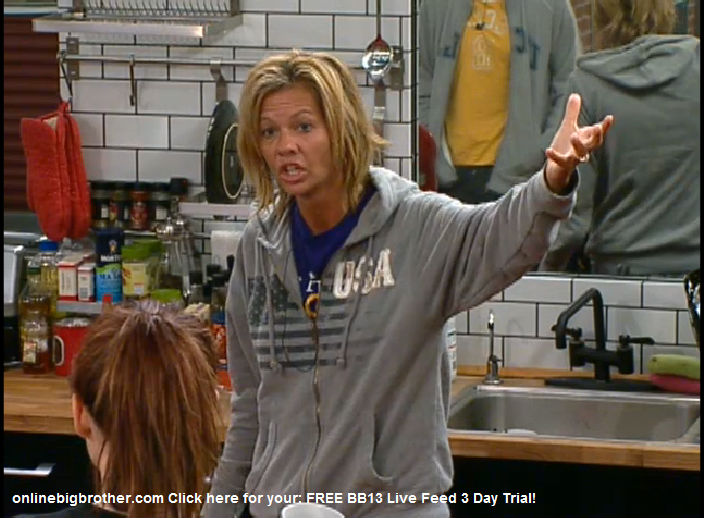 11am Rachel says that she only came back because she needed the money ..she has nothing .. no job … nothing .. Rachel says that they have no idea ..how it feels to go to a job interview and have them ask so tell us why you acted like that on national tv. Rachel tells everyone to just leave her alone. Jordan comes in and tells Rachel to fight and to stop. Jordan says just because you aren't on the top now ..you can't give up. Rachel to Shelly goes off and says that real people don't let people act like that and say that they are worthless …I am not going to sit here and validate what you are saying. Brendon and Rachel leave to go into the lounge room.
FLASHBACK – Don't miss all the drama!
Superpass – 3 Day FREE Trial
Big Brother 13 Spoilers POLL CAST your VOTE!

Big Brother 13 Live Feed Image Gallery
Follow: @BigBspoilers and @Dawgsbigbrother on Twitter for recent crazed out spoilers. Theres also our Facebook page.
Share it YO!!
Tweet