POV Holder:
?
Next POV
Aug 9th
POV Used
?
POV Ceremony
Aug 11th
HOH Winner 1:
Nicole
HOH Winner 2:
Christine
Battle of the Block Winner
 Frankie/Ca;eb
Next HOH
Aug 15th
Original Nominations:
Nicole's Noms (Caleb & Frankie) Christine's Noms (Zach & Donny)
Final Nominations:
?
Have Nots
Donny and Zach
POV Players
Christine, Zach, Donny, Nicole, Caleb, Derrick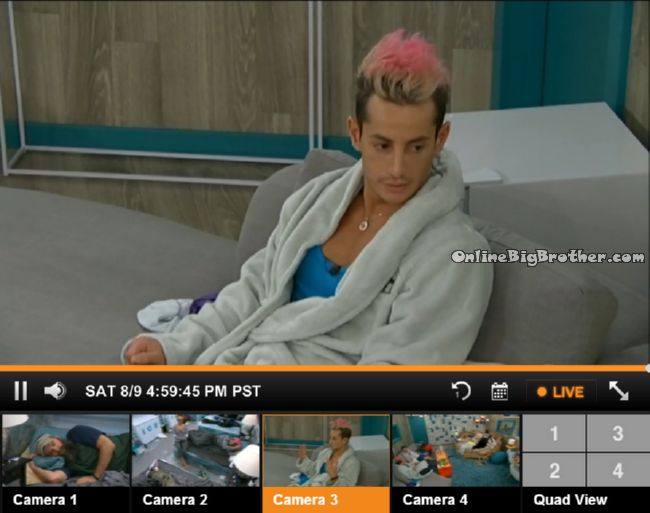 4:55pm HOH Frankie, Derrick and Cody
Frankie is saying at this point he would vote Zach out he's not even looking at him
Cody says Zach is being stupid. They agree the worst part of being a have nots is the bed the slop is bearable. Derrick adds that it's a good week to be a have nots having peanut Butter is a big plus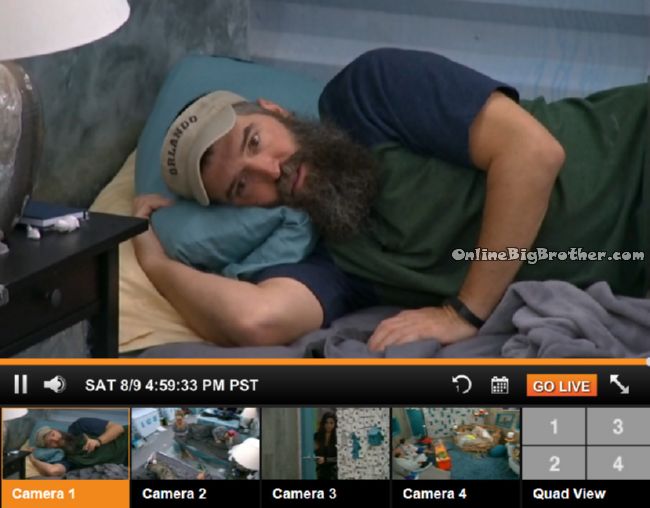 4:53pm Have nots Nicole, Zach and Donny
Donny and Zach move into the have nots room.
Donny – this must be cody's it smells like a girl
Zach is happy that at least they get Peanut butter this week
Donny agrees warns that peanut butter constipates if they are not careful.  say they can put the peanut butter in with the slop. Donny propses they make peanut butter oatmeal cookies..
Zach thinks he's been gaining a lot of weight so maybe being a have nots is going to help him lose it.
THey are guessing the POV will have some punishments because theres only 2 have nots.
Zach mentions how the BOB was the one competition where working in a pair makes it hard than by yourself. Caleb sitting out actually helped Frankie win it.
Nicole – it's like it's staged
Zach – It's totally staged for sure not only that it was so close in the end.. it couldn't have been closer.. it was great for them but still bullsh1t.
Nicole – it's weird how one competition changes everything
Donny – and it snowballs.. there's light at the end of the tunnel;
Zach – one of us three have to win the veto .
Zach – F***g Victoria is such a joke I hate Victoria
Donny – we're the minority
Zach – I f*** hate Christine.. she is the biggest floater in this game she is a bigger floater than Victoria
Donny – there's two people that have never been on the block that has to show you they're in some type of an alliance they never get nominated
Zach agrees..
Donny how cold does it get in here at night
Nicole – At three they kick it in.. 55
Nicole says Frankie, Christine, Cody and Derrick are up in the HOH
Donny laughs tells them he knew a long time ago all those people in the HOH were in an alliance together. Zach says he was friends with them all he knew they were together.
Donny hopes "they" (the other side of the house) get all their plotting done while he was asleep case he wouldn't trade it he would rather have his sleep.
Donny "Kids get your sleep at night there's a lot of bad things that happen while you sleep" (See image below of Donny)
Nicole thinks it will be the counting veto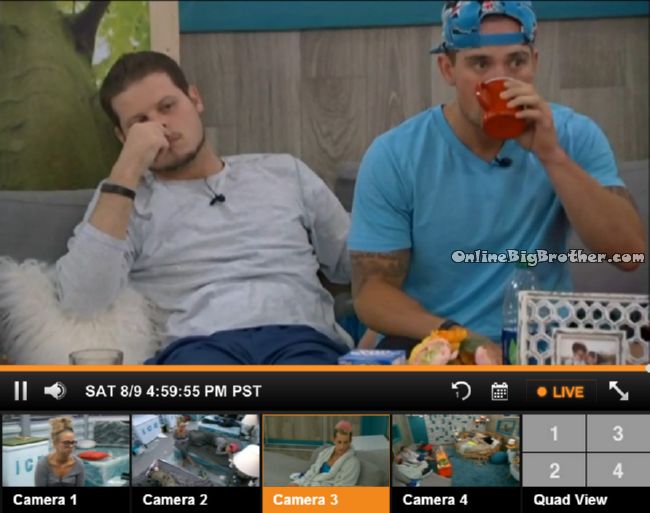 5:09pm Frankie, Caleb, Derrick and Cody
Talking about Donny's POV wins. Derrick says sarcastically if Donny wins POV again he's never putting him up on the block Donny can just stay here..
Derrick – the guy hasn't shown us one weakness.
Caleb – he's only won one HOH
Derrick thinks Donny is throwing comps.
Caleb doesn't think so why would he he know he's a target
Cody doesn't think anyone is targeting DOnny
Caleb say she is and Donny knows it.
Frankie says he's with the guys
Cody says Donny is making plans to turn on the 6
Derrick says if Victoria goes up they get out DOnny, Caleb agrees.
Frankie prays that Christine backdoors nicole
Derrick – I don't see that happening.
Derrick will not use the veto. Frankie thinks the only way the nominations will change is if Frankie/Donny win it.
Christine comes in starts hugging COdy.. and giggles.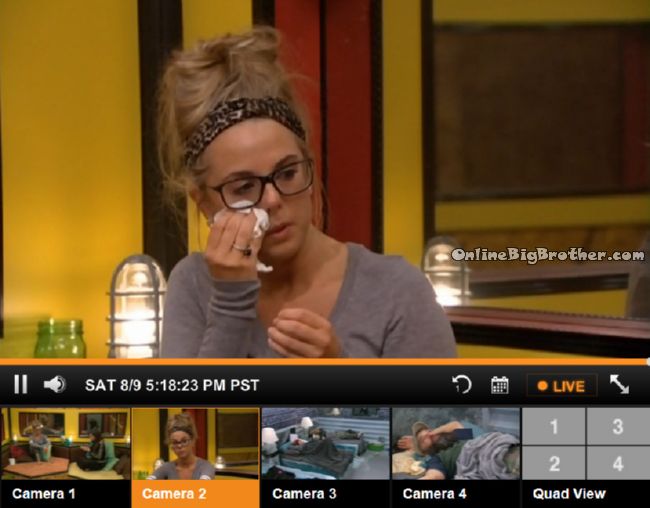 5:18pm Victoria and Nicole
Victoria is shocked everyone is trusting Frankie again
Nicole – I had to blow up his game.. now the jokes on me
Victoria – sucks the outcome that happened.. Caleb being stubborn.
Nicole – every HOH i've had i've been gusty with.. i never played it safe..
Nicole says "They" purposely screwed over Hayden because he was a threat she says he played a great game
Victoria says that afternoon (Wednesday) they pulled her aside and told her to vote out Jcoasta
Nicole – so they lied to hayden and I.. I don't know why I wish HAyden would have won that HOH .. he would go after Christine and Frankie..
Nicole – god please let me win this veto and do the right decision with it..
Nicole – I've won HOH 3 times but only got it once.
Victoria says the only person she trusts is Nicole and Derrick and if he leaves she doesn't think she can be emotionally stable..
Nicole trust Derrick to.
Victoria – He's loyal he doesn't manipulate (LOL)
Nicole – Oh my gosh please let's get him (Frankie) out of this house.. "
Nicole – he scares me right now he's changed so much..
Victoria – he was going legit crazy.. sitting in front of the oven watching the pie crust rise..
Nicole – Christine is scared of him right now
Victoria – I don't know
NIcole – it could be an act
Victoria – Christine played all of us.. she literally played all of us
Victoria – from week 2 i have been wanting Frankie out..
Nicole says she doesn't have anyone in the house
Victoria you have me
Nicole I have you to..please don't tell anyone what I said I don't want them to see me as weak.. I honestly believe you are a vote for me always and I am a vote for you always ..
Nicole – I heard Frankie was running around telling everyone to vote Hayden out..
Victoria – I think CHristine wants me gone
Nicole doesn't know what Christine wants she's not telling anyone.. Nicole thinks the target is Zach but you can never be so sure because Christine did vote to keep him
Nicole gives her a summary of the event that led to Jocasta going home. Nicole blames it all on Frankie.
5:38pm Nicole explains some of Frankie
Nicole says she will never forget what Frankie looks like at the table when she said he was promising to work with her and HAyden then backstabbed her
He said to her "Sorry I didn't accept your offer " he had a smirk on his face. Nicole explains that she never wanted to work with Frankie he followed her and Hayden around for weeks . they FInally agreed and they backstabed both of them.
Nicole – He had that Devil look on his face sorry I didn't accept your offer.. and then he comes in here and says I'm really sorry we need to work together we both have nobody "
Nicole – That's why I said at the nomination Ceremony
With a live feed subscription you can go back and watch any event that has been shown. Use our site as an index and watch only the parts worth watching.
Try It Free! Subscribe now to the official BB16 Live Feeds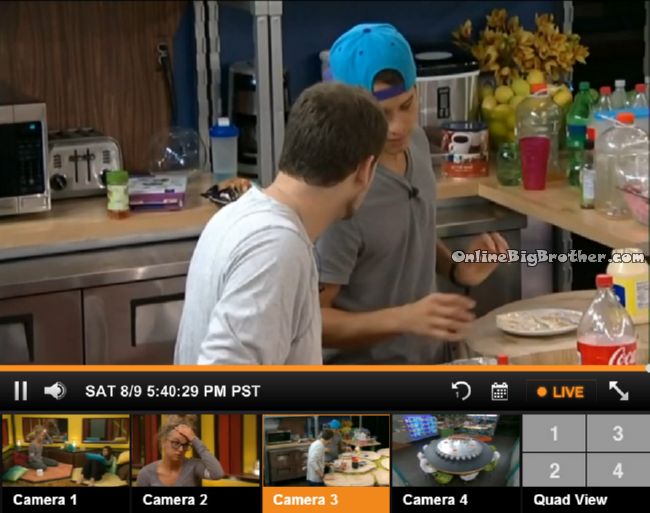 5:40pm Derrick and Cody
Derrick – Do you think it's going good with the Frankie thing
Cody – Yup .. unless Caleb f**s it up
Cody – Bro I don't buy for a second the whole Christine Frankie thing.. But Nicole is starting to sketch me out with the whole like Playing Alone…
Derrick says if Donny pulls himself off and Victoria goes up they have to have a sceriious conversation because Derrick thinks it might be better for their game to keep victoria.
Derrick points out the Nicole wants to work with them again because she has no one else, "There's no doubt in my mind you and me sniffed it out.. her and Hayden were playing us against Frankie and Christine"
Cody says Nicole and Hayden were fully honest with them about the stuff Christine and Frankie were saying.
Derrick if Zach wins POV Victoria goes up Donny goes home.
Derrick if Donny pulls himself off Victoria goes up it'll be interesting..
Derrick If i get one more whiff of him throwing us under the bus .. gone.. and I'll live and die by the consequences..
6:26pm Feeds on Jeff POV COmp underway
8:23pm Still doing the POV 
"The HITMEN" – Cody & Derrick
Team America = Donny, Derrick, Frankie
More polls here https://www.onlinebigbrother.com/big-brother-compendium/big-brother-16-polls/
[polldaddy poll=8233586]