| | | | |
| --- | --- | --- | --- |
| POV Holder: | Cody | | |
| HOH Winner | Derrick | Nominations: | Victoria and Caleb |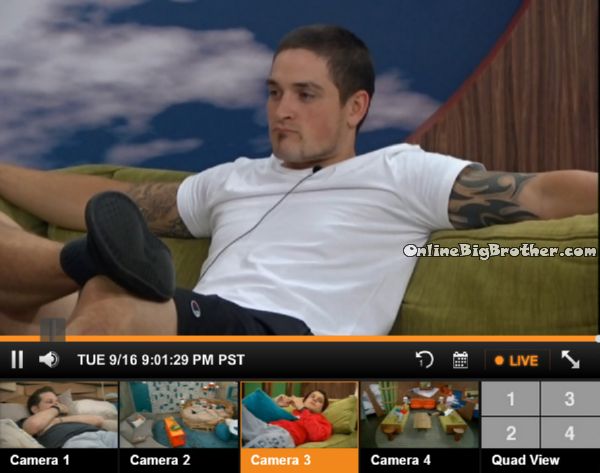 9:02pm Living Room Caleb and Cody talking about Girls playing hard to get and playing games.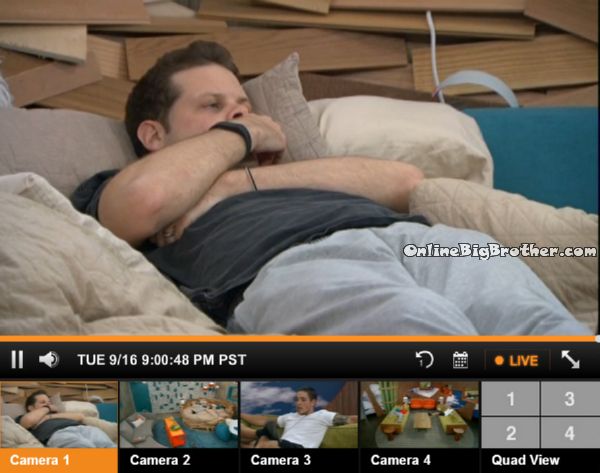 Derrick going over a speech..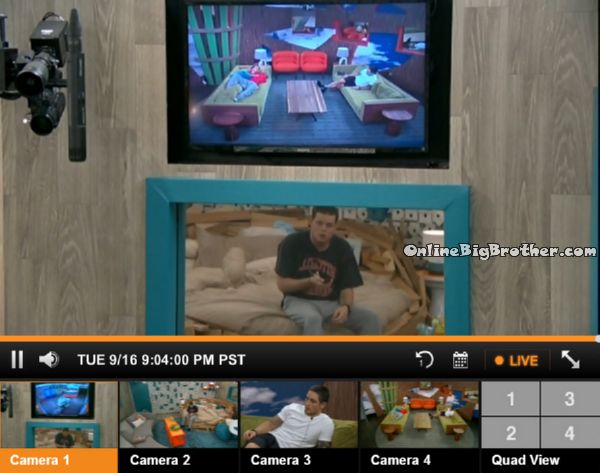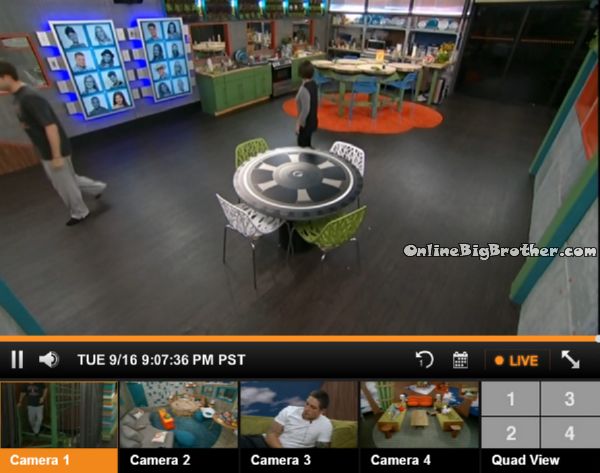 Derrick is called in to the Diary room. Memory wall shows Victoria and Caleb nominated. Caleb and Cody still chit chatting in the living room. Caleb is talking about a christian school he went to. Victoria is packing.
9:20pm In Dallas the girls would rather jump in a jacked up diesel truck over a Ferrari any day.. my Ferrari is a jacked up diesel truck.
Caleb wonders if Derrick is slaying things to her to make her feel safe. Cody doesn't think so. Caleb mentions that Victoria seems happier than she should be. Caleb asks
Derrick comes out of the Diary room. Cody says he's the only one that hasn't gone yet. Derrick tells him "they always save the Winner for last"
Cody wins the power OF veto
9:42pm Kitchen Victoria tells Derrick and Caleb they will be a live show tomorrow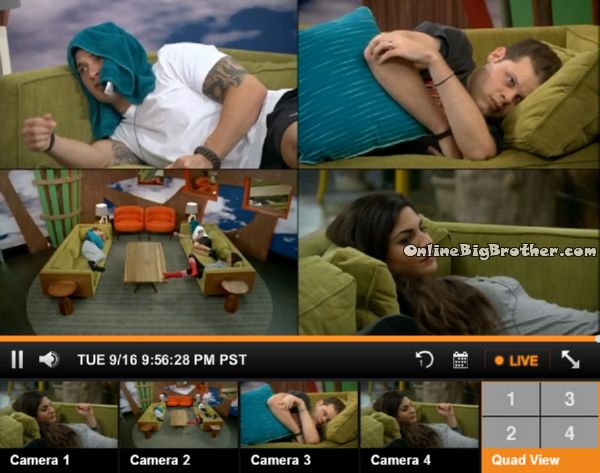 9:55pm Caleb talking about his time served in Iraq. He was part of a squad that was required to work out and be strong. They broke up the riots and fights at the prison.
10:01pm Derrick says it's already noticeable how much cleaner the house is with Frankie gone. (Frankie was evicted yesterday)
10:03pm Cody – You think that mouse is gone.. I get so f*** paranoid
Derrick – I haven't seen it.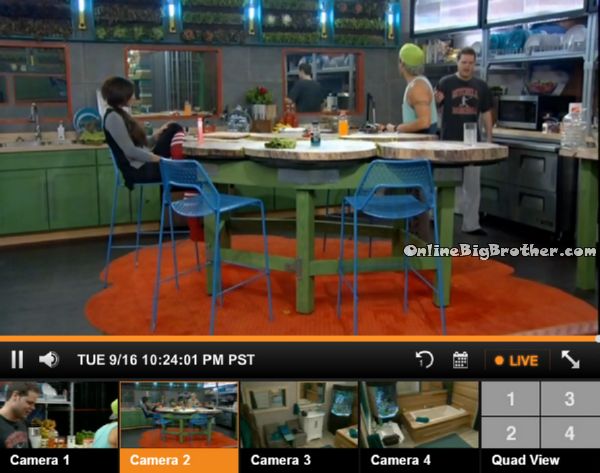 10:22pm Kitchen Victoria, Cody and Derrick
Cody – HEY DONNY.. I got your M&M's right here. (Takes a mouth full of skittles.. Remember Donny had said he was going to use M&M's to pick his nominees like the detonators used Skittles)
Just a bunch of chit chat.. this is most likely the final 3.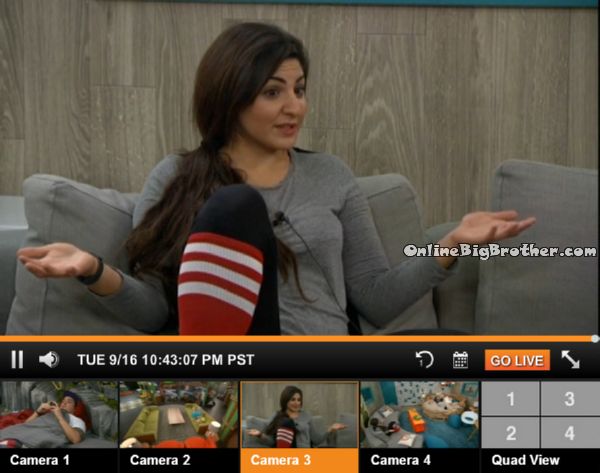 10:40pm HOH Derrick and Victoria
Derrick tells her there is a good chance she's staying.
Victoria doesn't think so.
Derrick – you never know..
Victoria – do you know something I don't
Derrick says he talked to Cody Said Caleb is a big threat Victoria is not Cody seemed receptive. He gave Cody his opinion why Victoria should stay.
Derrick told Cody it's him and Derrick to the end if they keep Victoria is't easier for them to get there. Derrick – it's a good argument.. we just have to go with it.. He was all like TRUE TRUE.. hopefully it's enough but if it's not it's not.
Derrick – that is the best effort I can give.. it had to come from the guy off the block"
Derrick says Cody is keeping it really close to his chest. 'live Veto tomorrow.. I'm sure THEY let him know it's got to be by the book"
Derrick tells her to keep the speech short and sweet says she's been on the block 9 times "make a little bit of a joke.. it's pretty crazy"
Derrick – You can't really say anything new.. They've heard you plead for you life many a times.
10:43pm Victoria says she's only fought for her live 4 times
Derrick – you've given a speech more than 6 times
Victoria no
Victoria gets called to the diary room
Derrick – oh my god TVGN have you ever seen a house guests have to coach a house guest as much as I have to coach her..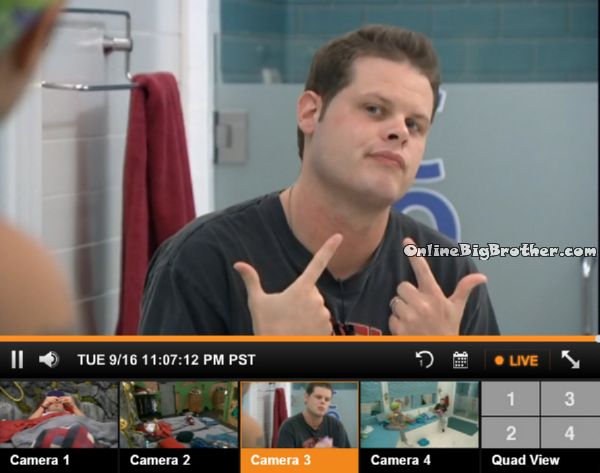 11:08pm bathroom Derrick and Cody
Cody is talking about Voting Caleb out.
Cody wants to tell Caleb – "Caleb the contract came up and the Hitman took you down"
Derrick says it's so dope, warns that is might not come across well for Caleb but on the other hand Caleb might dig it.
Derrick – Bottom line he's going to be pissed at us.. he's been saying to me for weeks you and me to the end
Cody – final 3 came up week 10
Derrick – we are doing exactly what we did to Frankie to him.
Derrick says they are smoking Victoria in the Final HOH "I'm not falling off.. i'm not falling off.. I'll win the mental"
Derrick says in his mind Caleb really thinks Cody is going to take him. Derrick is sure they can reason with Caleb that them taking Caleb to the final 3 is a bad game move.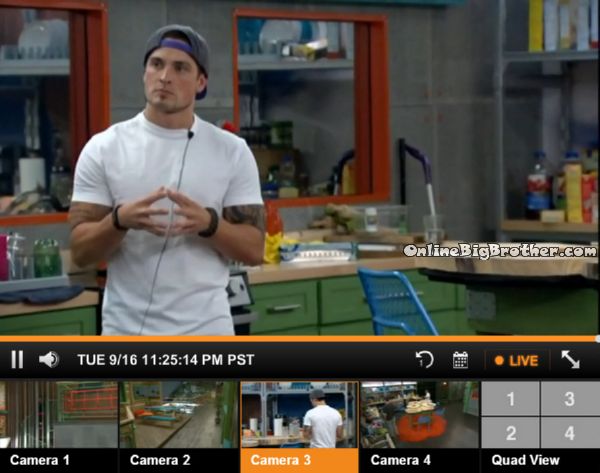 11:25pm Kitchen
Caleb asks him if Victoria is still trying to convince people
Derrick – I ain't got time for that..
Caleb – I got a pretty good speech planned I have some one liners that are pretty rough, pretty tough to beat.
Caleb – I can walk out that door by the sharpness of your blade.. Or I can stay by the loyalty of you actions
Derrick – that's pretty good.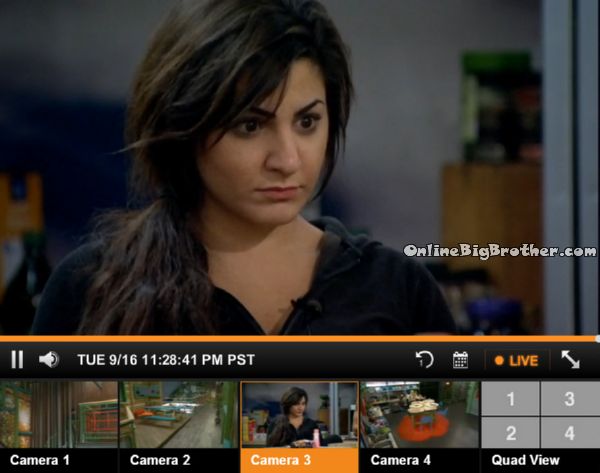 11:31pm HOH Derrick and Cody
Derrick talking about Caleb's speech.. Derrick laughs. "You know what i'm thinking.. if you say the hitman tomorrow he'll tell the whole jury. Cody says he's said the hitman in goodbye messages.
Cody mentions his speech about Caleb's contract being up.
Caleb knocks on the HOh door.
Cody – Why do you knock
They tell him only Victoria needs to knock.
Cody gets called to teh Diary room.. Caleb says h'es not going to have a prepared speech. Caleb then goes into rehearsing his prepared speech.. "I'm standing next to a girl that has never kept you save.. I have acted on my loyalty"
Victoria comes in.
11:58pm HOH Everyone
Caleb saying his step brother and him where asked to be on Amazing race but they fdound out he wasn't Claeb's blood brother. Caleb – "Blood vs Water" on second thought Caleb adds it was Survivor not Amazing race.
12:04Am Caleb goes to bed.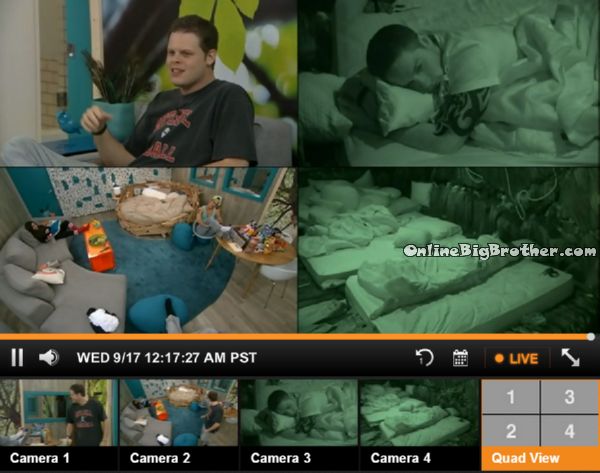 Cody and Claeb in the HOH with Victoria. beast Mode sleeps.
If you found value in our site please consider leaving a donation using Pay Pal below.
[polldaddy poll=8244330]