| | | | |
| --- | --- | --- | --- |
| POV Holder: | Cody | | |
| HOH Winner | Derrick | Nominations: | Victoria and Caleb |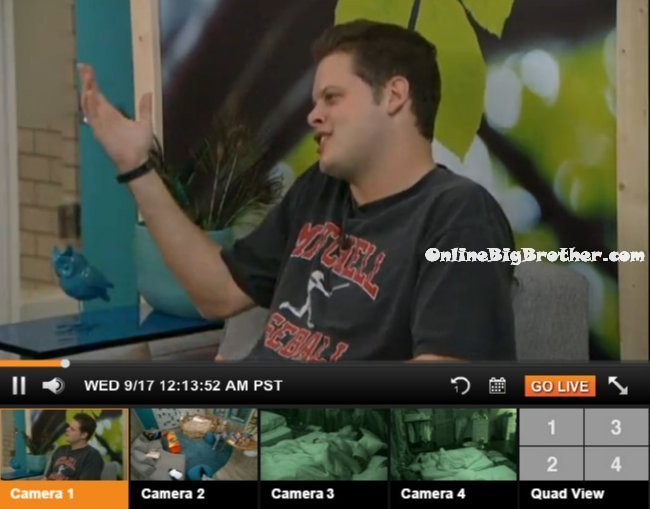 12:10am UP in the HOH room – Cody, Derrick and Victoria are hanging out talking. Cody wonders if Jeff will be a fan of theirs. Derrick says he thinks Jeff will be a team Donny fan. Cody wonders if people like Boogie makes a surprise appearance. Derrick says at the after party like Rachel's thing, absolutely I think he'll be there. Cody asks do you think they'll look at us and be like losers, you guys are rookies! Derrick says I think they'll be like nice game but you're not at my level yet. And you would be like am I though!? Am I though!? Derrick says Boogie won All-Stars! He's kind of a big deal! The talk about the POV competition today. Cody says it was his favorite comp of the season. Derrick comments on how this is his last night in the HOH and after tonight they won't be able to come back up here. Derrick talks about his letter and how it says we're all rooting for you and promoting you like crazy. Derrick says you don't promote things you don't like, right!? Derrick says after the season ends he wants to do more with the show than just a feedster. Derrick and Cody start tossing the fake lime back and forth.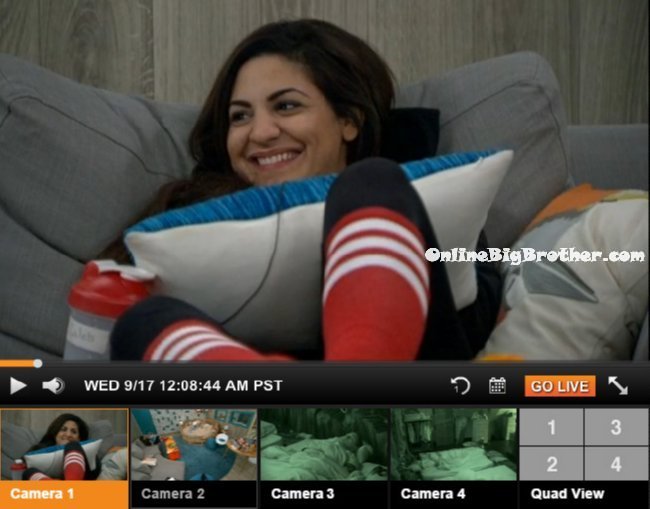 1:30am Derrick and Cody are alone in the HOH room. Derrick says I have to win the second part of the HOH to be in the end with you because she ain't going to beat you in endurance. If she wins the final HOH and takes you I am still voting for you. It could be a freak chance.. we have to both get there. Cody says oh if she takes you I am voting for you but I'll kick you in the balls. Derrick says either one of these guys could take me if they think they could beat me. Cody says the chances of her winning are really low. If she had to list the HOH's that simple to remember but if its something she has to jump up then thats hard. Derrick says she's going to panic any ways. Cody says we're going to f**king crush her. Derrick says we've done everything we could to get to this point. Caleb's the final thing. It's the best chance we have of both getting there. Cody says he's got to go. There's no hesitation in it. Derrick says he's got to go. We're playing statistics here. Statistically he has a better chance at splitting us up than she does. Derrick says its possible because we're not meat heads sitting here saying its done put a fork in her. It could happen, I know it can and if I go home because of it I have no one to blame but myself. Cody says the final one is a guessing game and that's why I would rather be sitting next to you than her because I don't want her to get an opportunity to win it. Victoria joins them again. The conversation turns to talking about if big brother is building 1 comp or two in the backyard. They talk about the past house guests and who had more to their stories than they were letting on. Derrick says Devin, Donny and PowPow. Cody says good night. Derrick says big day tomorrow about to play Grim Reaper! Cody leaves.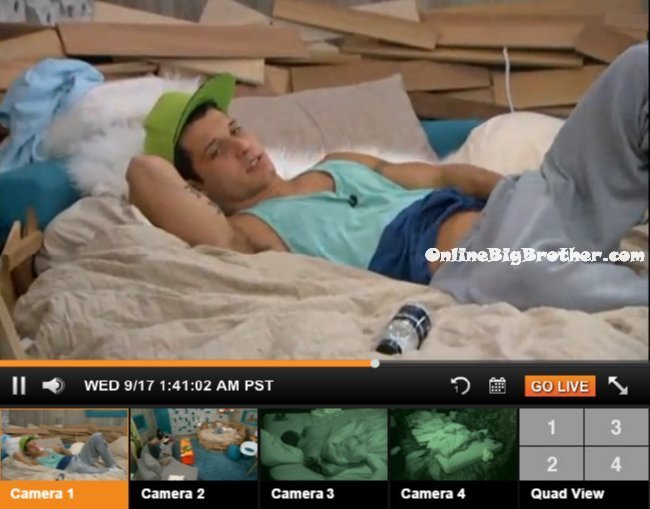 One way to support this site that doesn't cost you anything extra is making your
Amazon purchases through the links Below
For in Canada use the following link:
Amazon.ca
1:55am – 3:30am Victoria tells Derrick that she has no idea what to say tomorrow. Derrick says just keep it simple! Victoria asks do you know what he's doing tomorrow? Derrick says I think he is thinking of keeping you but I don't think he is dead set on one way or the other. Derrick helps her with what she should say in her speech. Derrick and Victoria talk about the jury votes. Derrick says that Jocasta, Donny, Christine and Frankie won't vote for me. If by chance you win the final HOH and you win, I would totally understand it because of everything you've gone through to get there and winning the final HOH. Victoria says who knows Cody might not even keep me. Derrick says I put a good word in for you. Derrick says we have a 2 in 3 chance at making it to the end, we just have to get to the end. Derrick says I think you would have a harder chance against Cody in the end. Victoria brings up her basket of bathroom stuff to shower in the HOH bathroom. Derrick starts talking to Victoria about how self conscious she she about her hair. Victoria goes to shower and goes out after to show Derrick her hair. Derrick tells her that she has more hair than most people. You have a ton of hair. You completely over exaggerated it. Derrick says I'm going to sleep. Victoria says thank you and goes back to blow drying her hair in the bathroom. Victoria heads downstairs to go to bed.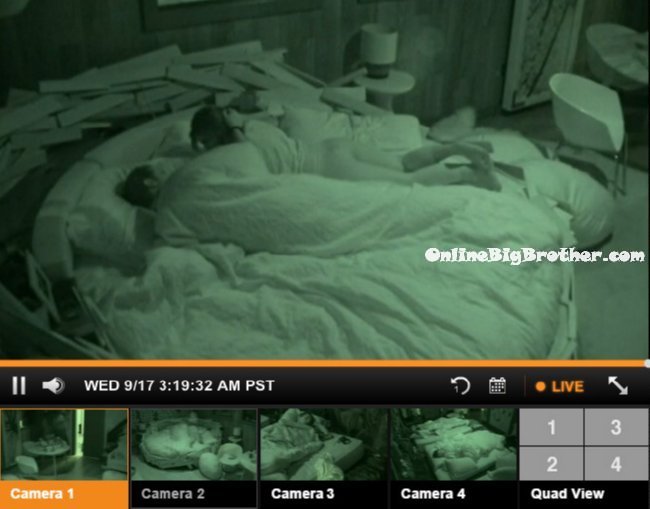 If you've enjoyed our live feed updates this season, please consider donating.
Simon and I work 24/7 all season long to keep you updated on everything that happens inside the house. Any amount is greatly appreciated! Your donations go directly to paying the fees required to run this site.
**** I want to personally thank all of our loyal Online Big Brother fans that have once again helped make this another great season. I unfortunately won't be around for much of the remainder of the season as I will be getting married to the most amazing girl this weekend and then we'll be off on our honeymoon. She puts up with me working every day for over 3 months straight and I couldn't be more lucky to have her in my life.
Go easy on Simon as he's juggling a new addition to his family and will be keeping you up to date on how the final week plays out.
[polldaddy poll=8244330]