POV Holder:
?
Next POV:
Aug 25 (Saturday)
POV Used
POV Ceremony
Aug 27 (Monday)
HOH Winner:
Frank
Next HOH:
Aug 30 (Thursday)
Original Nominations:
Current Nominations:
Have Nots
Dan
Last Evicted Houseguest
Boogie and Ashley
10:09pm cam 3-4 Britney and Ian Livingroom
Britney to Ian :"you are going to have to go to bat for me"
Britney: "As long as we can get him to put up Dan or Joe we will be fine"
Ian: "I know.. I Know"
Britney: "You either have to Backstab Dan or Backstab Frank.. the guy who can't play for HOH next.. I'm counting on you to have my back.."
Ian: "I have your back"
Britney:'You took a HUGE risk today… I know where you stand"
Ian: "I went to bat for Dan once.. he went went to bat for me.. I went to bat for him he went for me a… "
Ian implies that he's still down with the quack pack. Britney explains to him after what he did today she trusts him.
Britney: "What did you put on your chalkboard.. "
Ian:" I put 1000"
Britney: 'I thought you were going to put 1"
Ian leaves Dan joins Britney..
Britney explains that Ian is going to push to have Dan and Joe up… Britney adds that she told Ian that he needs to vote for Dan.. this week. Britney thinks they can trust Ian.
Britney: 'I think you can get Jenn's vote"
Dan nods.
Dan is nervous about going up… Britney tells him that Ian is a bit rattled tonight she's pretty sure he's on board. Dan points out that if he goes up Ian is the deciding vote.
Dan: "that thing seems so much easier yesterday.. didn't it" (the HOh competition)
Britney: "way easier.."
Frank and Joe join them.. talk turns to chit chat..
Joe to Frank: "They are going to run out of images and letters for you"
Joe: "We definitely need beer tonight. like cmon.. we've had a hell of a day.. C'mon BB"
Frank comments on how many competitions he won. Dan starts to really play up Franks competition wins.. pointing out how that is more than him when he won his season. Frank plays along mentions that during his interview he said he would win 4 HOH and 3 POV.
10:33 cam 1-2
Britney: "I'm so sad danielle"
10:35pm Cam 3-4 Powerhouse and Dan
Dan tells Powerhouse he's certain he's going to be nominated this week. Dan realizes that it was six versus one they all had a chance to play and Frank still won. Dan: 'It all comes down to the power of veto'. Dan covertly asks Powerhouse if he and ian get nominated can he count of Powerhouse's vote
Joe says yes he tells Dan his best chance to to get the votes is against Ian.. Joe leaves.. Dan left in the living room .. takes a nap (Image Link)
(hmm Can Dan survive this week?)
10:53pm Cam 3-4 Dan talking to the camera explaining his strategy
Dan goes into the Have Nots Room starts talking to the Camera "Gameplan time.. Heres whats going on,, "
Dan: "Am I going to play possum one more time.. Go to Frank and say .. dude I understand you are putting me up I understand you are going to try and take me out.. I'm cool with that"
Dan: "Do I say If I survive this week by winning a veto .. and say I don't care who you put me up against I'm going home.. However.. if I survive this week I am not necessarily coming after you cause I figure.. "I took my shot and missed you took your shot and missed.. we're even.. Thats one Pitch.. "
Dan: "The other pitch is I act completely defeated.. say I came here to do exactly what I set out to do.. I wanted to prove I was the best player in the house and knock Boogie out.. . you know it's all good"
Dan: "what will Frank buy.. if i'm waving the white flag… Is Frank going to Buy that… . to I lose the veto and show him I'm waving the white flag.. "
Dan: "I just can't go up against danielle.. joe I'm alive.. Jenn. .. they are not going to waste a nominee on Jenn… "
Dan: "What is it.. what will he believe"
Dan: "If someone wants your head on a pike.. do I sell out Ian?
Dan: "If I sell out Ian it will cause distress in my alliance .. Frank needs his ego needs his ego stroked You are the man you are better than me.. "
Dan: "I need to be with Joe.. Have to be attached to the Hip.. talk game and everything"
10:28pm Cam 1-4 Ian gets his HOH stuff
11:58pm Cam 1-4 Britney's Birthday cake
12:05AM Cam 3-4 Ian and Dan bedroom
Dan wants to work on a plan with Ian so they can throw some Heat onto Joe. Ian has just been called into the Diary Room. Dan proposes they go into the arcade room when he comes out. (Very tough to her what the entire conversation was about) Dan: 'See what i'm saying because If me and Joe come up to him with the same story he's not going to trust Joe"
12:15Am Cam 3-4 Ian and Dan in the Have nots room
Dan wants Joe and Himself to tell Frank to put up the same people up. Dan is going to fight for Frank to put up Ian and he's going to stick close to JOe. Dan says they have to get Joe to go up and tell Frank to put up Ian as well. Dan reminds him that when Frank tells him Dan and Joe are trying to get him put up Ian has to acted shocked and pissed off. Ian can do that, "F**** scmubag"
Dan: "Just so you know I'm not going to rat out the quack pack.. are we good"
Ian: 'Ya we're good"
12:17am Cam 3-4 Dan and Brit
Britney: "what's going on"
Dan: 'Just starting to work"
Dan: "I'm going to try and trick Frank into thinking me and Joe are working together"
Dan says he's going to go upstairs and Throw Ian under the bus try and get him put up.. Joe is being instructed to do the same. .
12:19Am Cam 3-4 Dan and Joe in the Arcade
Dan saying that the only chance to keep the headhunters alive is to get Ian nominated. Dan says that he's going up regardless but if Ian is up beside him he has the votes to stay.
Joe is going to say that Ian is Wishy Washy.. He's going to go up tomorrow and hit Frank with the news.
12:26AM Dan talking to the Cameras in the Have Nots Room
Dan plans to appeal to Frank ego makes him think he's the smartest player in the game.
Dan: "I Love playing this game with people that hate me.. they want my head on a stick.. thats renegade style"
Dan: "If i'm put up against Shane, Brit or Danielle i'm cooked i'll have to win veto.. just got to get through that curly bozo wig and I got a shot.."
Dan: "Do I have one more puppet dance …JOe to dance right here and Frank to dance over here.. "
Dan: "These people are so gullible thinking Ian isn't working with the Quack Pack"
12:34pm Daneille and Brintey Bathroom
Britney: "We need to make sure Dan is nominated beside Joe"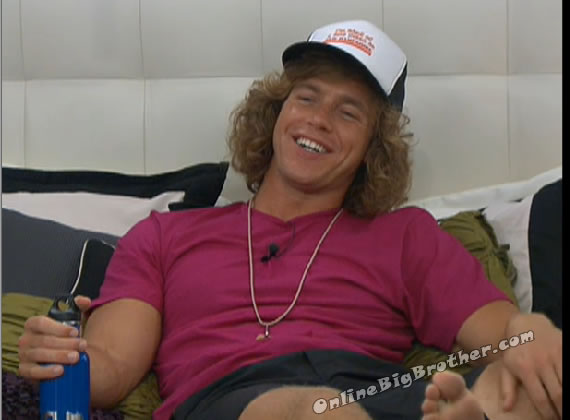 1:04AM Frank gets his HOH room
Dan leaves early
1:11AM HOh Frank, Brit, Danielle and Jenn
Frank talks about being on Big Brother and how it was his passion.. his dream.. and his struggle to get on show everyone how much he wants it. (Drink.. Drink… Drink x2… Drink.. and Drink.. )
1:23AM Frank and Britney HOh Cam 1-2 (Image Link)
Frank: "I think we're still good.. I do trust you Brit.. I'm going to put Dan and Danielle up. I just want you to vote Dan out"
Britney: "Says if Frank puts Dan and Danielle up her vote is going to be to Danielle because she trusts Danielle up 100%.. I know you won't trust me anymore and I don't really trust Dan myself"
Frank: "You are 100% though"
Britney: "Yes"
Frank :"I'm not going to put Joe up.. If I can't get Dan out i'm going to take out his closest ally"
Frank: "Dan isn't as honest as you think.. he's been in Ian's head"
Britney: "I've been trying to be there for Ian.. he's been crying because of Boogie.. I don't want you to yell at Ian"
Frank: "Ian had to feel the heat "
Frank now claims that Frank and Boogie never said anything mean or nasty about Ian..
Share it YO!!
Tweet