7:02pm Backyard near hammock Shelly and Jordan
Jordan is saying that they need to split up Dom and Dani because DAni is playing under the radar and next week both Dani and Dom get to play for HOH and if they win they will make a power move. Shelly is scared of Dani thinks she's a extremely good social player.
Shelly says they should go up to HOH and talk to Rachel, Jordan agrees they head up. Shelly: "You watch how I play this it's going to be cool" (Shelly is awesome lol)
They wake Rachel up Jordan: "OK OK we need to talk to you". Jordan asks her if she's using the veto. Rachel doesn't think so but they still have 2 days to see what happens. Jordan says that her and Shelly have been talking and Dom and jordan has been watching Dani and Dom together and she's pretty sure they need to take out Dom this week. Jordan continues that Dom is with Dano all the time she's seeing them whisper and Kalia has gotten very close to dani. Shelly jumps in says that Kalia has her worried she has something going on with DD.
Shelly starts to explain the other day when Dom came to her in the Havenots and told her that he wanted to team up with Shelly. HE mentioned to her that he already has Dani and he wants them to make a power move otherwise they will be picked off.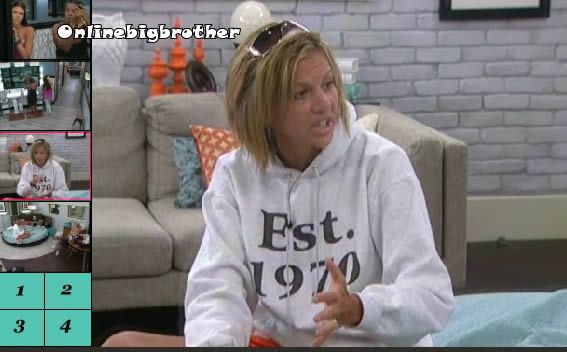 Shelly goes on a 5 minute rant how SHE WILL NEVER PUT BR OR JJ UP. Shelly says there's something going on with Dani, Dom and Kalia and if they take Dom out right now they take out that sides strongest player. Shelly adds that dom has been talking about backdooring jeff this week, She told him that was a crazy idea. Shelly: "He said to me If you and me and dani got together we're solid… I said to him I will not take these people down". Shelly says Adam comes to her for everything and she can help guide his decisions. the only thing that bothers her about adam is that he told her he doesn't mind lieing and that bothers her because she will not lie in this house.
Brendon comes in.. Jordan: "Good .. Brendon needs to listen… We've been talking and YOOOOU need to listen.. umm umm I'll let Shelly explain it". Shelly rehashes everything again.. Adds a couple new things though. Shelly stresses that Adam will probably put up JJ or BR if he wins HOH but he will never win HOH, she makes a point that Dom will win HOH and he will put up JJ or BR. Jordan explains that Dani is playing in the middle and she's been watching her lately she's feeding them information to get the 2 sides fighting.
brendon says if they were to decide to take Dom out this week they need to not let them know keeping it a secret is VERY important because if Dani finds out she'll go into panic mode and start working for votes. . They all agree that they will keep it hush hush.
Shelly leaves
Jordan: "they are plotting against us they are trying to get us to fight each other" She again brings up that Adam won't win any HOH but Dom will. She also points out that next week will probably be a endurance comp and Dom has a good chance to win it. .. Jordan says If you knock dom out then dani is solo again and maybe kalia will go with her. Brendon doesn't care about Kalia if anyone wants to have her as their running mate have at it. Brendon says they have to find out whose vote they can control.. he knows they can't control Dani's.
Jordan: "There's no reason for us to keep Dom over Adam unless y'all have a deal with him because we don't" brendon says no he completely understand tells Jordan they are 100% with JJ. Brendon says that Dani is trying to play a Dr Will. Rachel tells them that Dani was pushing for them to let Dom win the POV. Jordan: "OH MY GOD really WHY?" Brendon adds once she said that they knew something was going on because it makes no sense.
Brendon: "We can't out her.. not yet at least"
Rachel sys she worried about lawon being in the Jury house. Brendon thinks it's stupid for them to be worried about that they have a lot of game left to play. Brendon: "Dani is always worried about the jury vote she's using that logic to help her game..the key here is don't let Dani suspect that something is wrong" Brendon reminds them they have to be careful around Por because she's trying to get in with Dom now. Jordan asks them if they have the votes. Brendon says all they need is one more Either Shelly, KAlia or Lawon. Jordan "We'll we have Shelly" Brendon stresses they need to make Dani feel like part of their group.
brendon tells Rachel they still have awhile to think this threw, He knew something was up with Dani when she told them this morning to backdoor Jeff.. Rachel agrees. Brendon adds he think Shelly likes JJ and he's sure that they can work with her now. He's worried that they lost Por, Tell Rachels to start getting her back but make damn sure she doesn't let anything slip to Dani. Rachel asks him what does he think is going one. Brendon: Dani is leading the Calvary right up the middle and set us up for eviction. Brendon: "I was playing very personally with dani not thinking she would flip, that's bullshit she's turned on us."
Rachel wonders if JEff will try to get rid of them before final 4 because if they have to fight a battle together he thinks they will get pretty close. Brendon is worried about Jordan knowing too much and spilling her guts out. Brendon: "I'm going to tell jeff that from this point forward we tell Jordan the least amount of information possible" Rachel tells him not to cause he'll get pissed.
Check out the BB13 Polls
Share it YO!!
Tweet