Watch the Big Brother 13 live feeds on your Android and iOS devices. Sign-up for the 3 Day Free Trial
7:30am – 10:15am Shelly wakes up and starts her morning routine of smoking and cleaning. Shelly heads into the storage room and opens the draw where Dani had hid the chess pieces and finds them. (I wonder if Dani will still use the chess pieces in her speech on Thursday now that they've been found?) Shelly says Ahhh..HA! Shelly then goes up to the chess board and places the chess pieces back on the chess board. Shelly then heads back outside to have another smoke. Big Brother cuts the live feeds… and when they come back ..all four cameras are on the other houseguests still sleeping with the lights off.
WATCH all DRAMA unfold LIVE on SuperPass! FREE 3 Day TRIAL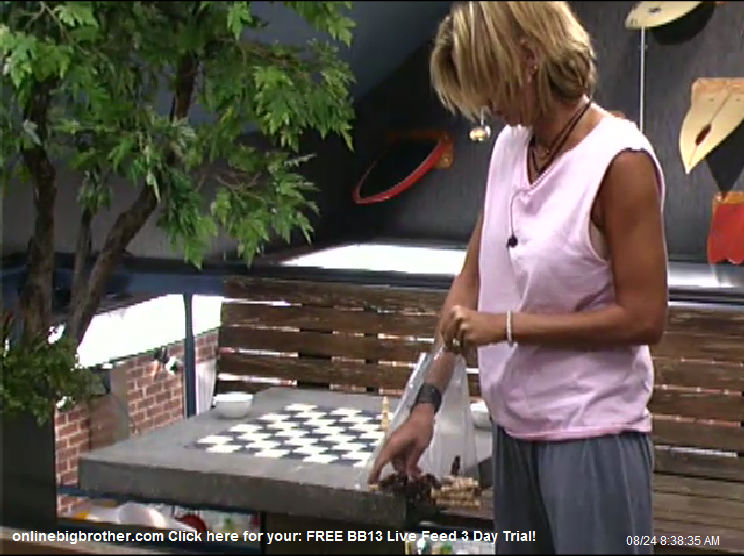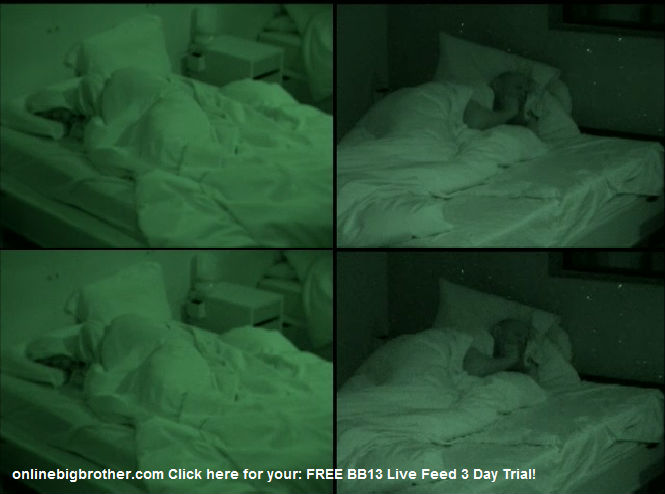 10:15am – 10:45am Big Brother cuts the live feeds to wake up the houseguests. When the live feeds come back, Shelly is working Adam hard again… she is telling Adam that it is unfair to Fara for Adam to walk out of the house with nothing. Shelly says that this week is big .. we need to win either way! Shelly asks Adam if we stick with Jeff and Jordan this week .. do you have the balls to back door Jeff? Adam smiles. Shelly says that in this game there comes a point in time when you need to take out the personal part of this game …and believe me it hurts me just as bad to do this to Jeff and Jordan… but we need to break them up to win. Adam says that he just doesn't trust Dani because she told Shelly and him that we were both safe.

Dani joins them and Shelly says speak of the devil. Shelly says that she is still trying to talk to Adam about the plan. Shelly says that she has come to the conclusion that she is not a good sales woman. Dani says that its not that …its that Adam isn't a good buyer. Dani asks Adam why he won't go against Jeff. Adam asks Dani why she told both him and Shelly that we were both safe. Dani says …so you are going to call me out like that? Dani says to be honest if I had to pick one of you back then it would have been Shelly … but you were never my target … Brendon was! Shelly asks so what would your final three be… Dani pauses and says I don't know … my final four deal would be with you (Shelly), Adam, and Porsche… Dani says that she is willing to talk about a final three deal with them ..I am willing to sell my soul at this point.

Dani asks why would you want Jeff to stay … he told me that he swore I was safe and now I am going home. Dani says that it makes her sick that we are basically handing Jeff half a million dollars. Dani says that Jeff has won two competitions that were tailored to him, he can't win everything. Dani tells Adam that you have to make big moves to get through this game. Dani says I don't want to be mean but do you want to be known as that guy in the elf suit. Dani and Adam start going through the scenarios about what would happen if whoever wins HOH this week. Dani says talks about the power shifts in the house… and that were you are now isn't necessarily the best place it be next week. Dani says that they don't care about him .. we do …we have cared about you since the beginning. Dani says so what Jeff will be mad at you …you can come hangout in our HOH room. Dani says that she is willing to make whatever deal they want and that she will 100% stick to it. Adam brings up another point that Dani and Dominic had made a final four deal and that he wasn't a part of that …so you wanted me out eventually. Dani says granted you weren't a part of the final four deal but that was in the very beginning and things change week to week here. Rachel comes outside and the conversation ends.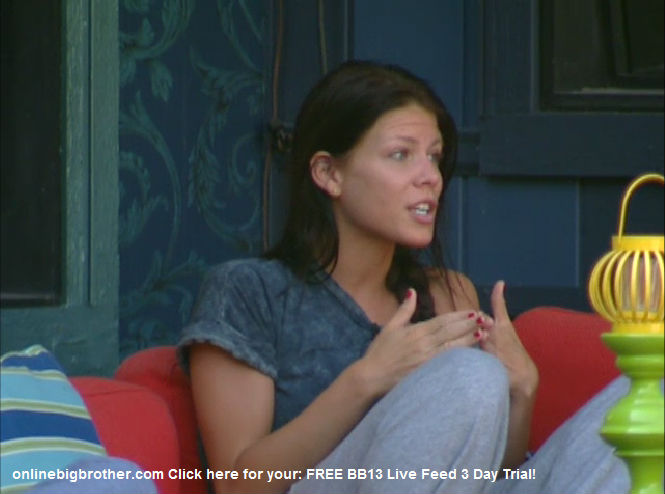 10:50am – 11am Shelly, Adam, Rachel and Dani are talking about random stuff. Shelly talks about a butt paste for babies with diaper rash. Dani says I don't plan on having any babies any time soon so I am not the one to be talking to. Rachel says I do! …I'll keep that in mind for the next five years.. Adam and Dani joke about eating babies. Dani remembers her first night in the havenot room when she yelled she was so hungry she could eat a baby!!
If you like this site and want to help us keep it running please consider donating, Your donations go directly to paying the server and bandwidth fees. Donate Link

Big Brother 13 Live Feed Image Gallery
Follow: @BigBspoilers and @Dawgsbigbrother on Twitter for recent crazed out spoilers. Theres also our Facebook page.
Big Brother 13 Spoilers POLL CAST your VOTE!


Share it YO!!
Tweet