POV Holder:
Next POV:
Sept 8 (Saturday)
POV Used
POV Ceremony
Sept 10 (Monday)
HOH Winner:
Ian
Next HOH:
Sept 13 (Thursday)
Original Nominations:
Jenn and Shane
Current Nominations:
Last Evicted Houseguest
Frank And Joe
6:10pm Cam 3-4 Arcade Dan alone
6:10pm Cam 3-4 Danielle and Shane
Shane is folding up clothes says she's lost so much weight when he came into the house he wore a 34 waist now he's a 31.
Danielle saying that Jenn is being super crabby at her because Jenn is on the block. Shane thinks it's just because she's been nominated 2 weeks in a row. Shane keeps saying "She's got to go".
Jenn had snapped at Danielle when Danielle said to her "I'm sorry you guys are on the block". Jenn was mad because Danielle wasn't being happy. Shane says it makes sense that Danielle is sad both Shane and Jenn are up on the block. He doesn't understand why she's not cool with that. Danielle: "She told me I DON'T WANT TO HEAR IT"
Searching for a power.. (And I hope she finds a veto)
6:18pm Jenn tells Dan she has anger issues.. she's got help for it in the past.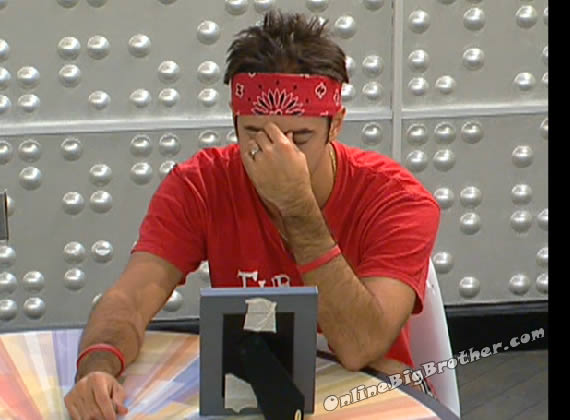 6:40pm Kitchen Jenn and Dan Jenn is making some Slop muffins. Dan is sitting on the dining room chair looking at the picture of his wife and the Memory Wall.
Jenn: "You don't think we're going to play this competition today"
Dan: "It's going to be a night one.. tonight or Tomorrow night"
6:53pm Cam 1-2
6:55pm Cam 1-2 Ian and Dan
Dan thinks the POV could be tonight. Dan heard them set up out side and he thinks they are building something that uses the steel pipes. Ian hopes that the POV is tomorrow night he cannot handle a competition right now he's exhausted.
Ian brings up that Jenn snapped at Danielle.
7:09pm Cam 1-2 Dan and Ian
Dan has been studying for the past hour. He tells Ian he's studying for the face morphing competition he thinks it's either tonight or tomorrow.
7:23pm Getting ready to attack the first person that comes into the room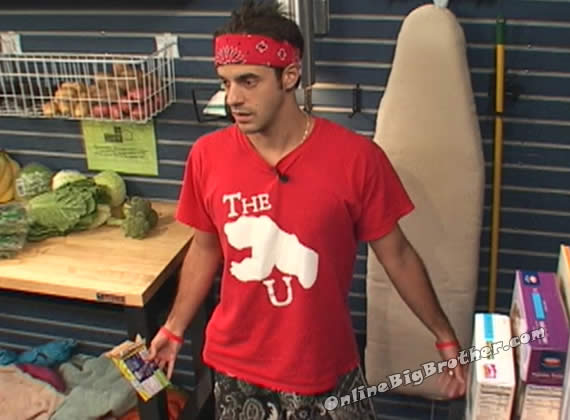 7:40pm Cam 3-4 Dan and Danielle
Dan doesn't want to piss Jenn off before a competition. Dan doesn't really know says he talked to her and she told him she has a anger problem.
Danielle cannot stand Jenn anymore. Dan says that is fine but they have to get to the final 3 with her.
Danielle: "She's making my time here miserable.. "
Dan: 'you are hear to win half a million or are you here to have a good time"
Danielle: "I didn't do anything.. why is she pissed"
Dan: "Of course you didn't do anything.. We have to prepare for her to be mad when she's on the block"
Danielle: "What will happen if I win HOH next week and have to put her and Ian up"
Dan doesn't know says that Jenn will be pissed but what can they do. Dan suggests she puts Dan and Ian up if doesn't matter.
Danielle: "How sad is that we cannot put her up as a pawn because she'll walk around the house pissed all day"
Dan says that is the nature of the game.. it's the difference between 50 thousand and 500 thousands..
Share it YO!!
Tweet