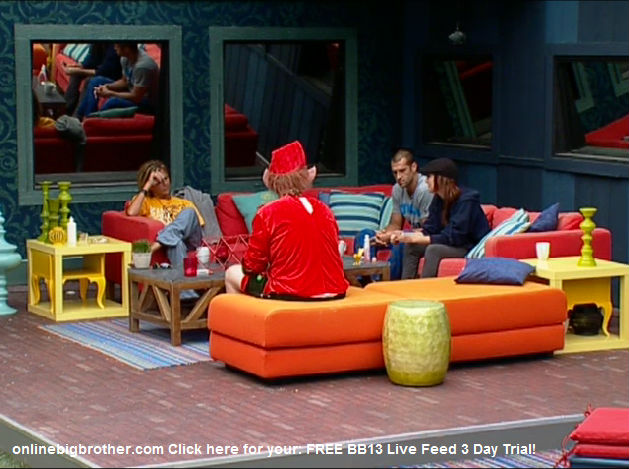 Get the BB13 live feeds on your Android and iOS devices. Sign-up for the 3 Day Free Trial
10am – 10:30am Big Brother wakes up the houseguests. Adam, Shelly and Brendon are sitting out on the backyard couches. They start talking about birthdays and then they talk about how Kalia didn't want to share a bed. Shelly says pretty soon there will be a lot of empty beds. Brendon says yeah once Kalia and Lawon are gone we'll have a nice house. Shelly says that she is really surprised that Dani and Kalia stayed up there all night. Brendon says why would they ..they're up in their castle. They talk about what Dani said last night to upset Rachel about now she will get her interview. Brendon says that Dani has a black heart. Shelly says thats not a nice thing to say… Rachel joins them out in the backyard. They start talking about how Kalia claimed that choosing the POV players was rigged. Rachel says that there was a 33% chance this week and a 33% last week. Adam says that if you are up here and someone is down here the only way they can get up here is to bring you down.
See What They Can't Show You On TV! SUPERPASS – 3 DAY Trial!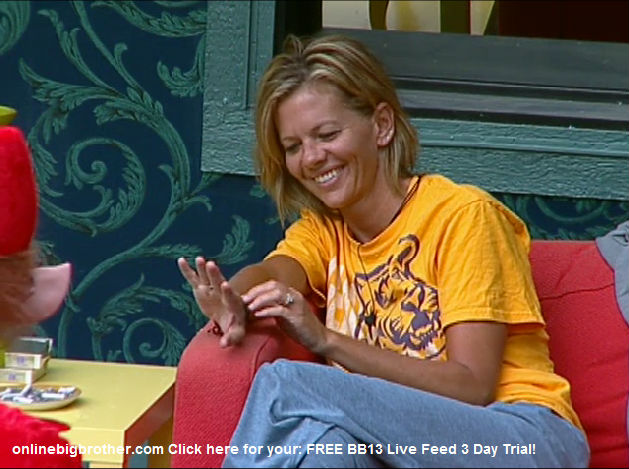 10:30am – 10:45am Shelly says that Kalia was complaining about how no one likes her and no one wants to talk to her. Shelly says well why not come down and talk to people and change that. They talk about how Kalia brought up the race card with Shelly and Rachel. Brendon says that she even pissed in the spa! ..its 20 yards to the bathroom and you're 30 years old! Rachel and Brendon both say they haven't gotten back into the hot tub since Kalia said she peed in the pool. Shelly sasy that Kalia even said that she thought it was okay because there are lots of chemicals in there. Shelly brings up that fact that Kalia lied about her age too ..how she is 30 not 27 …and that she said that because she wanted to fall somewhere in the middle of the age group. Brendon heads inside. Shelly and Rachel talk about how Kalia is just skating through because she is friends with someone in power. They talk about how Lawon hasn't had to do jack. That they need to put him up so that he starts fighting to be here. Shelly says that he is a band wagon jumper. Adam says to his credit Lawon has never said a bad word about anyone.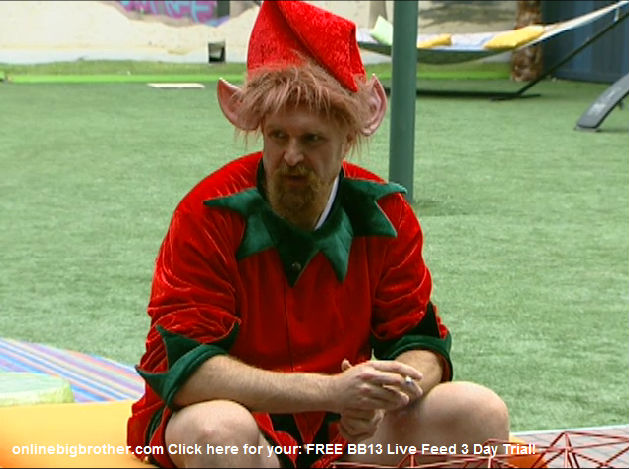 10:55am Adam, Brendon, Shelly and Rachel talk about how LA is the silicon valley and the porn capital of the world. They talk about how if making porn was your job it would be so hard because you would be so embarrassed about telling people what you do. It starts raining in the backyard and they get excited saying that it never rains. Shelly says it feels like we are in the real world.
TRY the Live Feeds for FREE!
Click here for your: SUPERPASS – 3 DAY Trial!
If you like this site and want to help us keep it running please consider donating, Your donations go directly to paying the server and bandwidth fees. Donate Link
Big Brother 13 Spoilers POLL CAST your VOTE!

Big Brother 13 Live Feed Image Gallery
Follow: @BigBspoilers and @Dawgsbigbrother on Twitter for recent crazed out spoilers. Theres also our Facebook page.