First HOH
Dan
Second HOH
?
Third HOH
 ?
Final HOH
?
Last Evicted Houseguest
SHANE
*? <> Jenn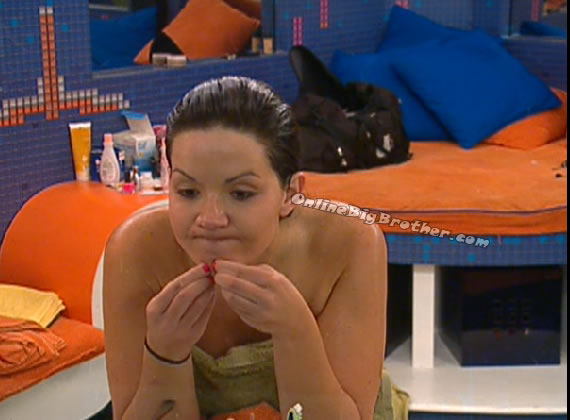 9:30pm Bathroom Dan and Danielle No talking going on.. Danielle just mad a deal with Dan and threw him the first part of the HOH she goes right to popping zits on her chin. Ian is in the Kitchen rocking on the chair
9:41pm Danielle tells him they were on the HOH competition for a hour and a half.
9:48pm Ian goes into the bathroom and asks Dan how the hell he was able to get her to drop. Dan says they will talk later tonight. He tells Dan they can hear production Setting things up in the backyard. Dan with a big grin on his face "For the Fianle" Ian: "Ya"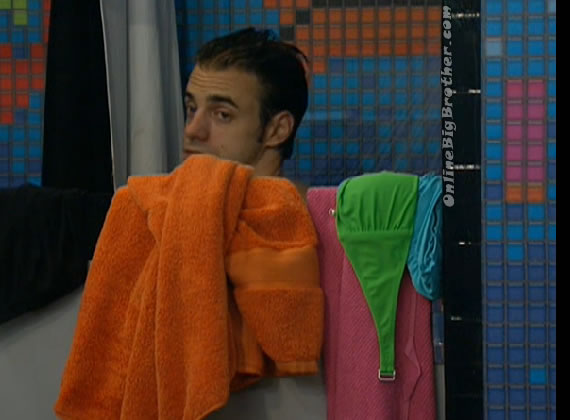 10:00pm Very little talking the tension is insane..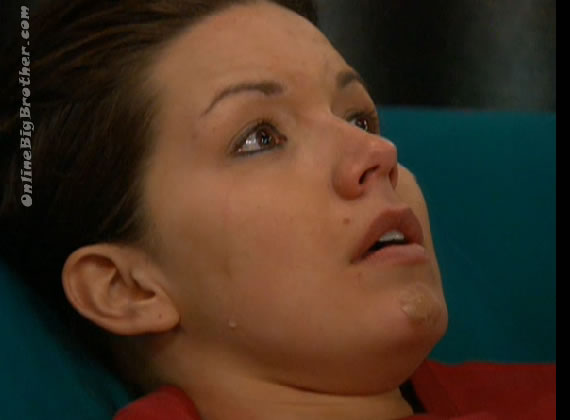 10:05pm Dan tells Danielle that Ian asked him what he said to her to get her to drop and he told Ian he promised they did not have a final 2 deal. Danielle goes into the Arcade room starts to cry.. Dan enters tells her that they need to convince Ian to throw the next HOH to her. Dan asks her if she is sad.. (Can't hear the reply) Dan wants her to hang out with him but she doesn't she just lays in the arcade crying.
(I feel sorry for Danielle.. that was a pretty brutle backstab)
10:20pm Arcade Cam 3-4 Danielle and Dan
Dan: "Still mad at me"
(can't hear a reply"
Dan: "You hurt physically?"
Danielle says her hands are cut up. Dan leaves..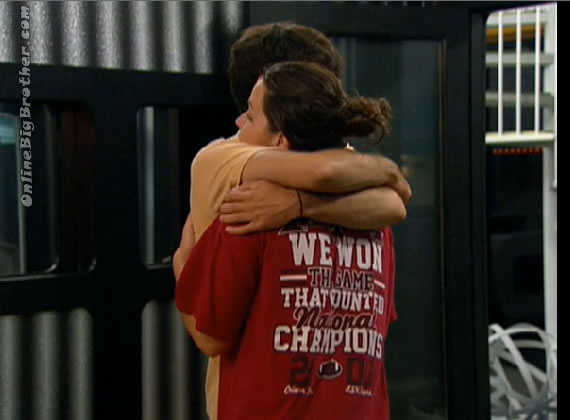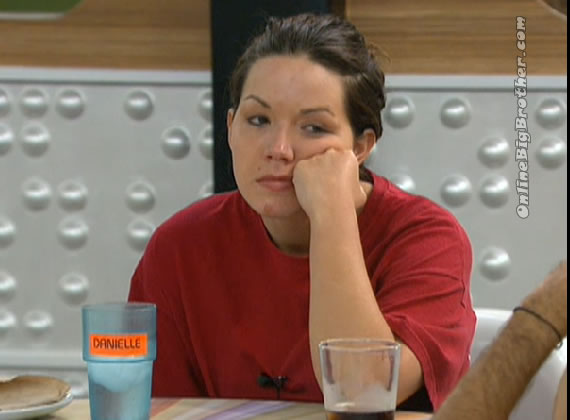 10:37pm Cam 3-4 Ian and Danielle Danielle: "I never lied to anyone in this house beside Frank" Ian: "F*** that guy he's a douche" Danielle hates how Shane left. Ian agrees says it's pretty disgusting. Danielle is worried that Shane will hate her now. Ian doesn't think so Shane knows what happened he can see it on our faces. Ian: "I cannot believe that just happened.. I was ready to talk to Julie"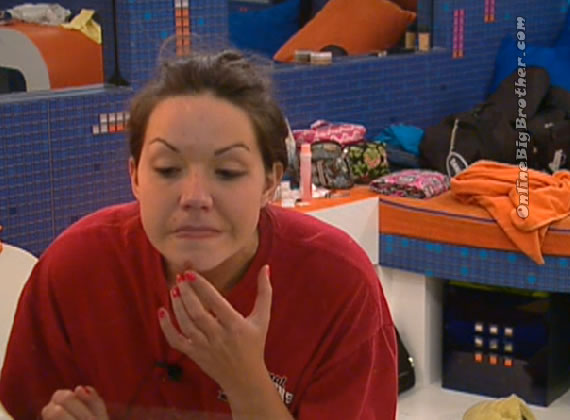 11:10pm Back to the zits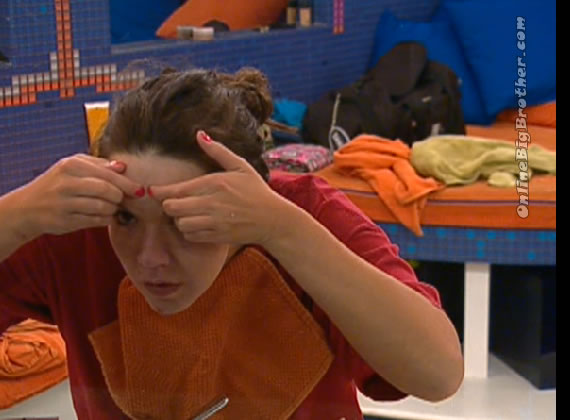 11:12pm With only one bleeder Danielle starts digging for more. (this blog is turning into a danielle zit blog.. )
Danielle gets called into the Diary Room says she's really not ready for that..
11:21pm Cam 1-4 Dan and Ian Ian says the first thing he does when he gets out is put a link to the duck tales song on his Facebook page. Ian mentions how the quack pack will be known in the Jury house after his POV Ceremony speech.
Ian says the name of the First HOH competition was "Hook line and Sinker" Ian thinks it wasn't cool after what happened tonight. Ian tells him he could have sat in the hook forever and he tried really hard to make him falling off look natural. Dan says it looked "Emmy" (OMFG he threw the HOH comp )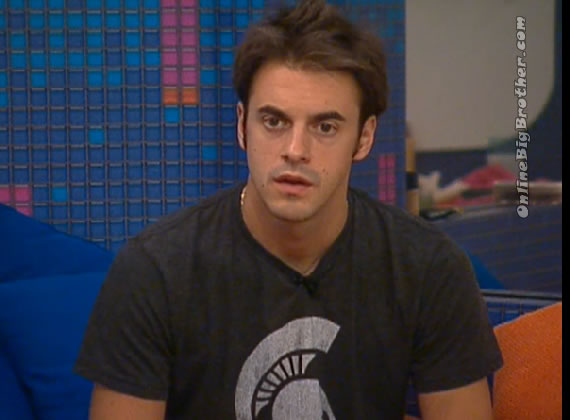 11:40pm Dan and Danielle
Dan tells her to go to Ian and tell him she will take him to the end no matter what.
Danielle : "Can you tell me what the benefit of keeping Ian was?"
Dan: "If Ian takes you to final 2 you win but if Shane does he beats you"
Danielle: "Ian told me to my face that He's taking you to the final 2"
Dan: "no he didn't"
Danielle : "Yes he did"
Dan wants them to convince Ian to throw the final HOH comp.
Danielle tells him she's upset and confused about what Dan did. She think's Dan will do whatever he needs to do to win the game. Danielle says Shane would have thrown the final 3 to her.
Dan: "I didn't trust Shane"
Danielle: "That comment is honest.. I can handle that it's all the little lies that are not.. Keeping Ian is more beneficial for you than it is for me"
Dan: "Shane was PIssed"
Danielle: "He's taking your a$$ period I'm playing for Janelle's F*** spot"
Dan keeps tells her she needs to get Ian to throw the HOH
(Looks like Danielle and Dan are back as a team final 2 .. LOL )
Dan tells her that Ian thinks she's stupid.. he always dismisses everything she says when it comes to science and he told him he can beat Danielle in the finale speech.
(Alright Big Brother 14 is over unless ian wins the next 2 comps and takes Danielle to the end Dan wins the 500K.. who out there is into survivor? I'll be blogging on my friends survivor blog this season coming up check it out https://www.survivornews.tv/ )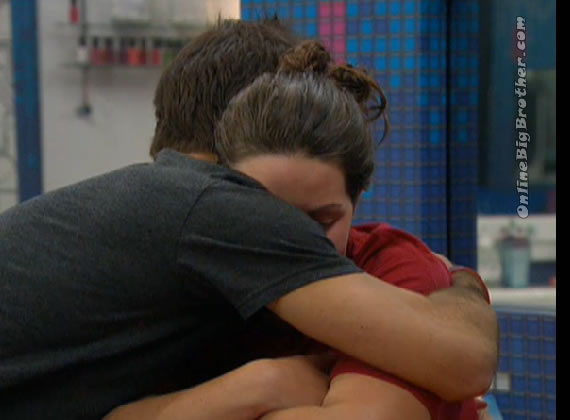 12:03AM Dan fully mists Danielle Danielle says she needs to speak to the psychologist or she's going to have a mental breakdown.
(Dan continues to mist Danielle.. Danielle keeps crying and picking at zits.. Ian was playing around in the kitchen..)
Share it YO!!
Tweet