First HOH
Dan
Second HOH
?
Third HOH
 ?
Final HOH
?
Last Evicted Houseguest
SHANE
12am Dan says think what I just did to him (Ian) in the first round, I could do that to him in the third round. Why wouldn't you think that I could do that?! Danielle says it might not do any good because I don't even know if he was trying. Dan asks did you ever think he would drop off that thing? Danielle says that he was on that thing telling me to beat you! Dan says huh?! Danielle says when we were swinging. Dan says that's good because then he thinks you are taking him. Danielle says that kids smart too. Dan says he thinks we are both taking him to the end, he doesn't care who wins. You have got to make him believe you are taking him to the end. Danielle says I haven't made a final two with him. Dan says even if you haven't you probably won't have to make it. Danielle says I don't care if I have to fucking cut him at this point; I just want to get there. Dan asks Danielle do you think all this happened by accident? Danielle says no, but I am so drained. Dan says all I ask of you is one more competition and I will take care of the rest. That's all, you're best effort. We will look back at this and laugh. Danielle says no I won't. I have been blindsided so many times in this game I am turning cold. Danielle says that the second one is happening Saturday. She says we have to get up right when they wake us up. Dan asks her how much she hates him right now. Danielle says that she has never hated him, not even during the funeral.
Re-Watch ALL THE DRAMA on FlashBack: Big Brother 14 Live Feeds – 3 Day Trial!
Dan brings up Memphis and says that he was fed up with my antics too. Danielle says that was nothing compared to what you've done to me. Danielle asks Dan what he said to Ian. Dan says that he told Ian he might have some magic up my sleeve and then I asked him if he made it to the final 3 would he drop during the first part of the HOH. Dan says that Ian said yeah I would do anything. Danielle says if I don't make it to the end my dad is going to rip me a new one because I dropped during the first round. Danielle says that she has always felt good about her decisions, but that she just did for him. She says that she was terrified of throwing it, I am a dumbass. Danielle says if you said something mean in your speech I wouldn't have done it. Danielle asks when you said you were going to write your forth book was that real or fake. I don't even know what to believe anymore! Dan says that was real, I am, when I told you to look in your hand and then look up… Dan hears Ian coming so he runs into the arcade room and lays down. Ian comes in and asks if Danielle is alright. Big Brother then calls Dan to the diary room.
12:15am Danielle and Ian are talking. Danielle says no matter what Ian I am taking you. I have never lied to you. Ian says it was ugly today. Danielle says that she hopes he will do the same for her. She says that she will never get over what he did to Shane. Ian says that he (Dan) will never win. He will win over my dead body. He couldn't win over either of us. Tonight that was so bad. Danielle says he knows I f**king hate him, he knows it. Ian says that was disgusting, absolutely disgusting. Danielle says I am so upset, and I forgave him. Ian says it's just like what Britney said here's a pie that I baked for you .. with arsenic in it.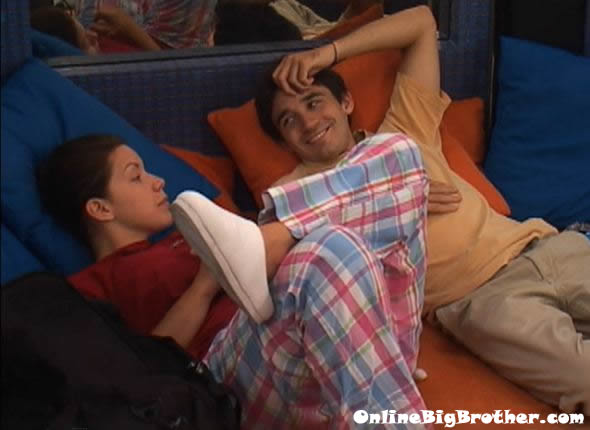 Danielle says that if I make it to the third round, I will annihilate him! Because Shane and Jenn told me how they are going to answer the questions. I know how they are all going to answer. Ian says really, like what do you mean? Danielle says they told me they are answering personally and strategically, I know how four of the people are answering. Ian says how, how, what?! You know how they are answering? Danielle says Mmm Hmm. Ian asks what do you mean strategically? Danielle says like some people lie, some people tell the truth, some people answer personally or some people make something up to throw you off. Ian says interesting. Danielle says well either way when I win this and rub it in his face, it will kill him, and then I get to take you over him and then he goes. Guess what the player learned from the coach. See ya! Go sit you're a** in jury for the first time. Ian starts to laugh. Danielle tells Ian that he reminds her of Colt. Dan joins them in the bathroom. Danielle says so they are going to wake us up early tomorrow aren't they. Ian says yeah. Danielle says and then the second part is on Saturday right. Ian says yeah. Danielle says because they need to have this all edited by tomorrow night. Dan offers Danielle the soft bed. Dan leaves to go lay down.
Superpass Live Feeds: FREE 3 Day Trial!
12:20am – 12:30am Danielle tells Ian I know what he is doing, he is trying to be all nice now but I want his head on a platter and I want to serve it to Shane. Ian says breakfast tomorrow, awkward party of three! Danielle says it's like what Boogie did to you, I just wish he would have been honest and not lied to Shane's face! Ian says Shane was not happy. Danielle says that she though Shane was going to punch him. I want to beat him so bad, I will gut him like a fish! Danielle starts talking about how her hands were hurting so bad in the comp and how she was struggling. Ian talks about how he fell off. Danielle says that she hopes she will get to do her speech, you just wait I am out for blood. I just feel so bad because this is why Shane didn't want a showmance. Don't worry Shane I will get him! Ian says that as soon as you used the veto on Shane I knew something was up. Danielle says that he (Dan) was just so uncomfortable because he didn't know how Shane was going to vote and blaa, blaa, blaa. Danielle says that then Dan told her he was keeping Shane. Ian asks do you know what Shane was going to do. Danielle says no, he didn't tell me, I didn't want to know. I didn't want a guilty conscience. This is going to cloud my mind for the next few days; I just want revenge so bad! Ian says there goes our Quack Pack t-shirts!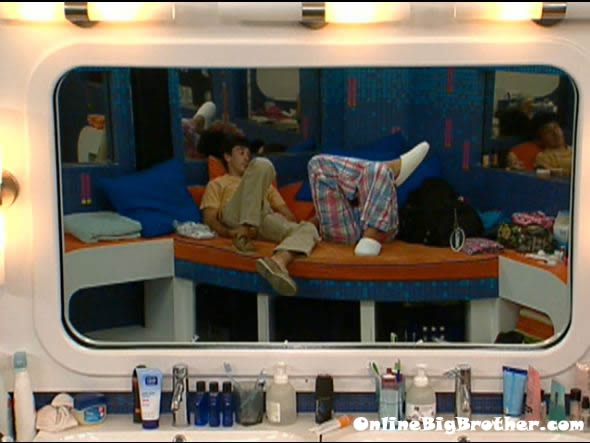 Ian says as soon as you won that veto I thought I was done, I thought I was going. Danielle says no, not at all, I thought for sure Dan was going. I can't believe I took him off. And I am pretty sure Shane was going to save you. Danielle says hell hath no fury like a woman scorned. Ian says that I knew I would never do anything dirt, I would rather leave, death before dishonour. Ian tells her that Shane got a huge applause. Danielle says I just want to get to the third round, okay Dan you wanted to write a book about how the coach can learn from the player… well here is your first start. Ian laughs and says that would be epic! Danielle asks what do you think the second one is? Ian says it could be morph-o-matic … we haven't see that one yet! Danielle says again I just didn't see that coming.
12:35am
Danielle gets ready for bed. Danielle then heads into the bed room and talks to Dan. Dan asks Danielle is he going to take you? Danielle says no, he would never say it. Dan asks did you tell him about the deal with me? Danielle says I didn't tell him about the deal, I told him how much I want to kill you. Danielle says that she told him if I make it to the third round I will kill him, I know how Shane and Jenn are going to answer. Dan asks did you tell him we had a deal or no? Danielle says I told him I would talk to him later. Dan says he is going to ask me what should I tell him? Danielle says no. Dan tells her to tell Ian that I looked tired and you didn't have to do anything. Are you sure he is going to believe that? Danielle says yeah because he knows I hate you. Dan asks but what did you tell him about why you dropped. Danielle says that she told him she was tired and I slipped in the water. Dan asks should I tell him we had a deal or no. Danielle says you can if you want to or not, either way it doesn't matter. They think they hear Ian coming and Dan rolls over like he is sleeping. Danielle asks Dan did Joe and Jenn really tell you to get rid of Shane, to break us up. Dan says that Jenn always wanted you two to break up and Joe said at some point it had to be dealt with. Dan says but no not really. Danielle asks is that why you really did it? Dan says no I just had to give Shane a reason. Danielle shakes her head. Dan says Jenn always thought you two needed to be broken up.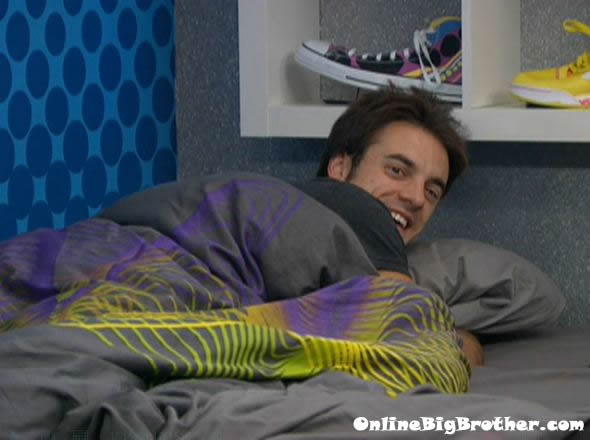 12:50am Ian joins them. Dan pretends he is sleeping. All the house guests are in bed going to sleep…
4:45am All the house guests and robots are still sleeping..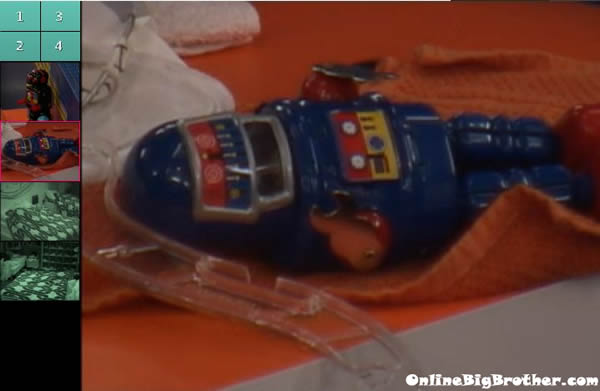 Simon and I work 24/7 all season long to bring you all the live feed updates and spoilers, please consider donating. Any amount is greatly appreciated, your donations go directly to paying the server and bandwidth fees needed to run this site. Donation Link
Share it YO!!
Tweet