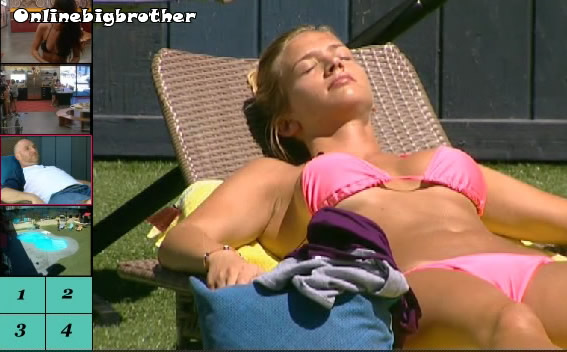 3:00pm Suntanning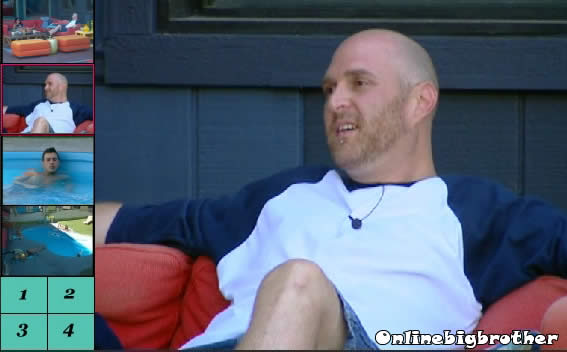 Big Brother 13 Live Feeds Can be watched on your iPhone and Android Mobile devices sign up -> Watch Big Brother 13 on Your iPhone or Android Phone
3:13pm Dani and Adam Dani is trying to get Adam's vote. Dani tries to explain to him that JJR will make it to the end unless he is able to win a lot of comps. She adds that Jef and Jordan's list is Adam, Shelly then Rachel that is the order people will go. Dani pushes the fact that going deeper in the game against a known 3 person alliance is tough. She stresses that Adam has no chance to win the money if he sticks with JJR and he's also up against 3 people that have done this before and are for the most part very strong competitors.
Dani: "I'll offer you anything"
Adam: "you've won 2 HOH's and how many have you played?"
Dani dodges the questions, "I've lost all the vetos".
dani says that going into this next HOH she has a very good chance to win it against Jordan and Rachel , "I will break my ass getting HOH this week"
Adam: "If jeff was HOH week THree would you of tried to backdoor Brendon"
Dani says no, she was really close to Brendon and Rachel in the beginning and was never close to JJ.
Dani says that Brendon and Rachel told her before Brendon left that ever single thing she warned them about happened and they regret not doing going ahead with their plan.
Adam, "i'm worried about road blocks and comps… You're a tough player both mentally and physically"
Dani how am I more of a threat than JJ they are a solid 2 players they're winning comps left and right.
Adam sees Rachel more of a target than a road block..
Dani: "Omg are you kidding me… " Dani explains that Rachel will go final 3 with JJ they will vote to keep her because they know they can beat her in the final 2.
Adam says she's making good points he's not set in stone.. in his head he's still running scenarios.
Dani: "This would be the biggest game move EVER.. . they will get rid of you unless you win some comps.
Dani: "I don't have a number one with Kalia gone… I'm looking for people to work with"
Adam says his biggest reservations is Dani is such a physical and mentally strong opponent. Dani thinks that Jeff is stronger.
Dani: "Adam you know this game,, Think about it be smart you need to think for yourself if you make a move that will benefit them you know that in the end game people will look at that and regret it".
Adam doesn't think he'll regret going the distance with JJ.
Dani: "I swear to you I'm not blowing smoke if you keep me in this game. I will be looking out for you"
Adam says that keeping Dani will put a huge target on him. Dani tries to remind him that She and rachel are still the biggest targets.
Dani: "I'm giving you my word that's huge Adam for real … I have your back.. Think about it you know this game. "
Dani jokes that her dad will hate him if he votes her out
Adam laughs says "he already hates me"
Adam adds that his mind isn't set but his biggest thing is Dani is a strong opponent.
Dani: "… even Shelly knows that it's JJR you know it to Adam. Shelly is just as close to JJ as you are"
Shelly walks over to join them talk turns to Chit chat 4000
4:00pm Kirchen Porsche and Adam Porsche says to Adam that DPSA is the way to go they will have the advantage during the HOH and after this week it will be 4 vs 2. She mentions that Dani and Porsche are the best at the physical comps and Adam and Shelly will dominate the mental. Adam is thinking about it he's talk to Dani but hasn't talked to Kalia.
4:08pm Shelly and Dani Shelly says she talked to Adam all morning and he's scared chicken shit.. "Keep working him though it's not impossible but it'll be tough"
Dani says she was talking to him, being honest and explaining their plan. Shelly says she talked to Adam saying him this week is his last move to make a move otherwise he playing JJ's game.. "dead up honest he will not beat JJ in final 3.. I told him they will keep me over him"
Shelly: "Adam in the pecking order wyou will go out before me"
Shelly: "I'm not even telling him things that are not true.. I'm telling him FACT"
Shelly explains that his main concern is he will go home if Rachel and Jordan win HOH. Dani he needs to understand that Dani will go home if Jordan/Rachel will win HOH,.
Shelly: "He's tight with them.. there's something going on between them"
Shelly: "something is up with him he has never been this hard to flip… I have a personnel relationship with Jordan but it has nothing to do with he game.
Shelly i told him if he sits around hoping that Kalia and Porsche win HOH and put up JJ that's a wimpy way to play.. Porsche joins them says she's been talkign to Adam. Dani briefly brings up her conversation with him. Shelly: "That shit with Dick that is awesome it works on him" (Dani using Adam's love of evel dick to influence adam)
(Porsche/Shelly and Dani will be working adam hard for his vote )
Check out the Big Brother 13 Polls
Share it YO!!
Tweet