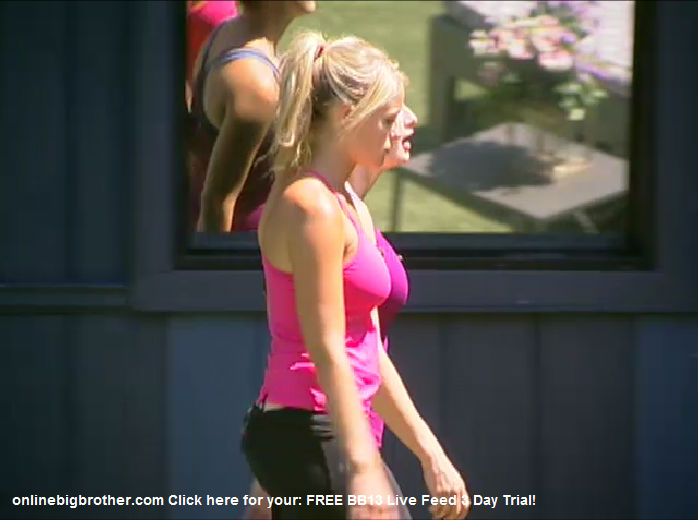 12:35pm Jordan and Rachel are still walking around the backyard talking. They are going over what has happened so far in the game and the mistakes and things they would have changed. Rachel says that Shelly should have never been a part of their equation. Rachel says that she just needs to keep telling herself that she HAS TO WIN the next veto. Rachel says that if I don't win the veto then I will be gone and Adam will take Porsche to the final two. Jordan says that Porsche hasn't really done anything. Rachel says that as long as Porsche doesn't win the next HOH and we win the Veto we will be okay. Jordan says that she thinks she can do it ..and that a lot of people are probably rooting for you. Rachel says that she is pretty confident that if it is anything physical she can beat Adam. Rachel says that she thinks she can beat Porsche in a lot of physical stuff too. Jordan agrees. They say that even if Adam wins HOH we can talk with him. Kalia says that Adam said that her argument is solid but that its about numbers. Kalia says that she told him this will be the biggest mistake of your life. Kalia tells Porsche that we need to step it up. Kalia continues to tell Porsche everything she said to Adam. Kalia heads outside.

Meanwhile, Porsche and Kalia are in the kitchen. They are making lunch and talking about how Adam isn't going to use the veto. Porsche and Kalia compare their arguments that they have tried to talk to Adam about using the veto and working with them. Adam heads out into the backyard and shows Rachel and Jordan his shaved back. Adam, Rachel and Jordan discuss the arguments that Kalia and Porsche have been trying on him to get him to go with them and use the veto. Adam continues to tell them all of Kalia's arguments and discounts them all as not very valid points. Adam heads inside.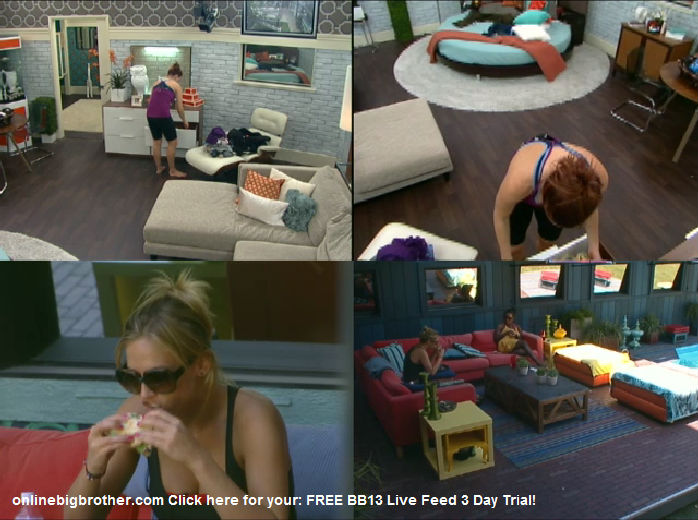 1pm – 1:15pm Porsche and Kalia are on the backyard couch. Kalia continues to talk about how she did everything for Adam. Kalia says that Jordan and Rachel are going to be following Adam around all day telling him not to use the veto. Kalia says that she told Adam …do you really want to be the guy that sent the rest of your alliance home? ..the fans are going to be brutal on you. Porsche barely says a word …just keeps saying uh huh… Kalia says that her argument is solid and logic and is everything that Adam stands for …and I am going to keep trying it on Adam. Kalia says that Adam was the one saying newbies to the end and now day 64 you want to take us out …you are a jack for that! People are going to hate you. Kalia says what Adam want to give it to Jordan …she already won ..and why because you like her …winning big brother isn't about who you like. Kalia says that if the three of us can't beat Rachel then we don't deserve to win. Porsche wonders if the Big Brother Veto Winner is subject to nomination if they use it on someone else. Kalia doesn't think they can be nominated, Kalia remembers reading the rules and it said that the POV winner is safe from being nominated but if they are already nominated and they do not use the Power Of Veto then they can go home.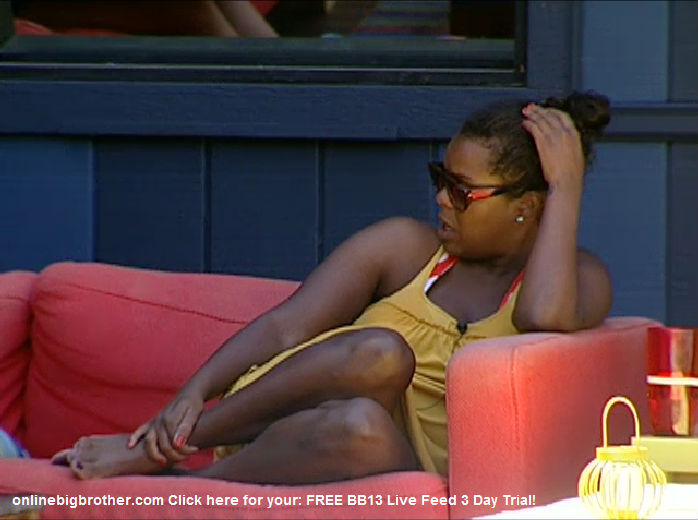 1:15pm – 1:30pm Jordan and Porsche are laying out in the lounge chairs suntanning. Porsche says that she does feel bad for Kalia …but that I am staying here so I can't feel that bad. Meanwhile, Kalia starts working on Adam again in the kitchen. Kalia tells him that she is going to keep giving him arguments. Adam says that he wouldn't expect anything else. Kalia says that she believes in us. Kalia says that Adam can ask her anything he wants and she will tell the truth. Kalia says that Rachel has thrown everyone in the house under the bus. Adam says the closer we get the harder the decisions get. Kalia says that this is an easy decision. Kalia says that she knows that he has a thing with Jordan but that she can't believe he is taking Rachel side. Kalia says that she will drink that whole bottle of hot sauce. Adam tell her she doesn't need to do that. Adam says that there is still game to be played. Kalia says that she knows he doesn't want to upset Jordan ..but that she will be just as happy sitting around a fire place with Jeff and that she already bought her family a house. Kalia says that we are all trying to do that for our family. Kalia asks can you tell me what reasons would you not use the veto. Adam says no. Kalia says with us it will be a fair battle … a posed to someone who has wiped the floor with everyone. Kalia says that she just doesn't understand it. Adam says that he has to hold some cards back. Adam says that he is considering using it… I am definitely considering using it .. and you have made some valid arguments. kalia says that if you were to use the veto on us tomorrow ..I will have words for them.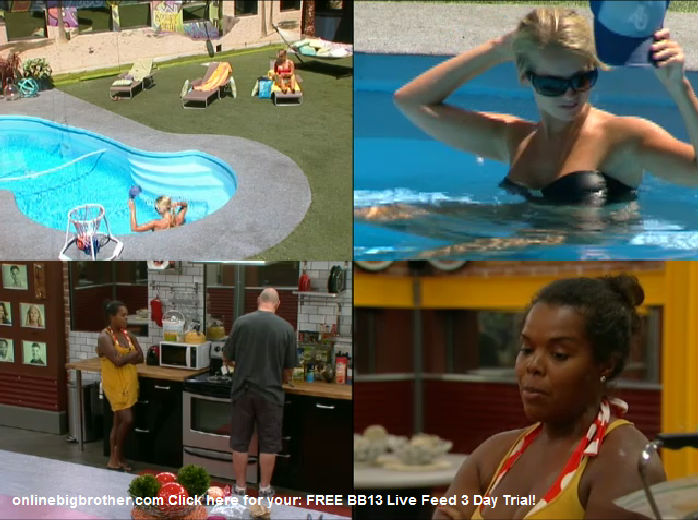 1:40pm Kalia gives Adam a break and heads out into the backyard to talk to Rachel and Porsche who are suntanning.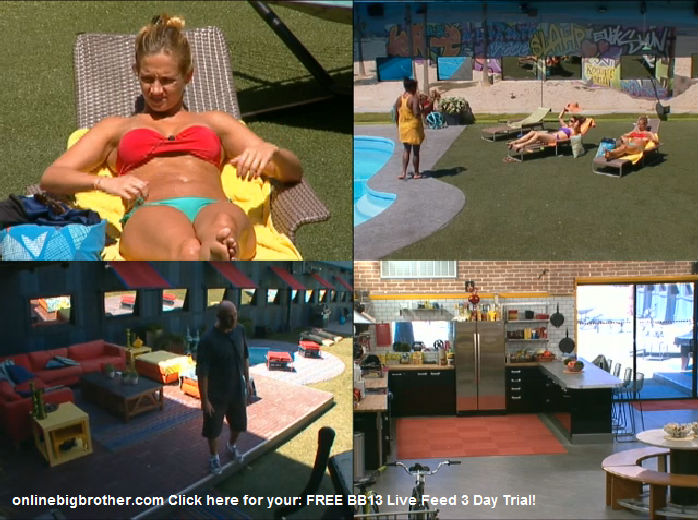 1:50pm Jordan and Adam are in the bathroom. Adam is telling Jordan all about the arguments that Kalia has been giving him. Jordan says that she knows exactly what Kalia is saying. Jordan says that she is throwing me under the bus. Adam says that she isn't throwing you under the bus ..she is gently nudging you under the bus. Adam tells Jordan the conversation he had with Kalia and says that she made valid arguments but how can I trust her. Jordan agrees …you can't trust her. Adam says that he already has his speech ready that he will say that Rachel gave him the chance to fight for his life … and that he will tell her that she will now have a chance to fight for votes. Jordan continues to talk about how she is going to have to hear Kalia talk for the rest of the week.. They continue to talk about the Kalia and all her arguments. Kalia starts to come in and Adam ends the conversation. They both head outside and Jordan says that she is done talking about it …she has said all she needs to say about it.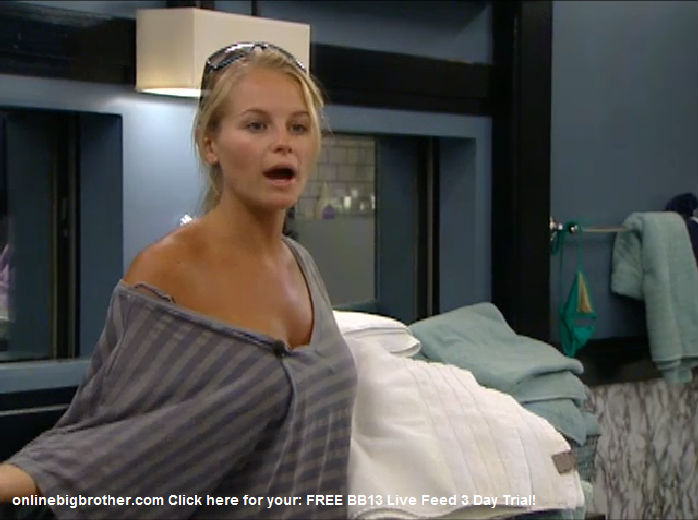 2:10pm – 2:45pm Adam and Porsche are laying out talking about random stuff. Kalia is in the bathroom plucking her eye brows. Rachel is in the kitchen making something to eat. Porsche says that some times the breeze feels good and some times it feels like ass. I hope we have a water competition that washes all this goo away. Big Brother says …that's what she said! Rachel talks about the hot sauce and says its so hot. Big Brother says again ..that's what she said. Kalia and Rachel start playing a card game. Kalia talks about how much she misses her boyfriend. Rachel says she misses Brendon too. Kalia says who knows he might not even be there when I get out. Rachel asks why would you think that.. Kalia says I don't know.. Rachel and Kalia put their card game on pause and Rachel joins Porsche and Jordan on the lounge chairs. Rachel and Kalia go back to their card game. Rachel starts talking about her cellulite. Kalia tells her to shut up.