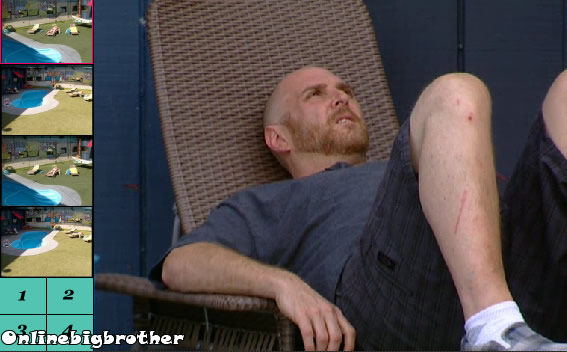 Big Brother 13 Live Feeds Can be watched on your iPhone and Android Mobile devices sign up -> Watch Big Brother 13 on Your iPhone or Android Phone
3:05pm Backyard Adam, Jordan, Rachel None of them want to go into the kitchen because Kalia will talk game to them. Adam starts telling them that Kalia was saying last night that Jordan really doesn't want to be in Big Brother and Jordan just wants to go to the Jury house and see Jeff. Jordan gets pissed to hear that, Starts speaking loud "She gone she's outta here". Adam: "The funy thing is Kalia is saying the same thing Dani would.. ohh the fans want to see big moves the fans want to see an exciting show" Adam loves the fans "F*ck them they aren't getting me 500K i'm going to get ME 500k" Rachel mentions that she doesn't even like to play cards with Kalia.
(Adam sucks I hope he gets out Third and they withhold his stipend becuase he was so lame)
3:20pm Porsche, Rachel and Adam laying around the backyard They talking about how this is the adam show becuase Tori Spelling came back. Porsche asks Adam if he wrote the jingle for Big BRother. ADam starts humming it.. POrsche asks if there is a metal version. Adam starts to sing his own metal version of a big brother theme song.
They start talking about Jessie.. Adam wonders Where they found a character like that. Rachel thinks it was open casting. They all think he's hilarious, Adam finds it funny that he was on the show 4 times now. Rachel: "The more awesome he gets the more I think about him.. The more I think about him the more awesome he becomes.. " They laugh.
Adam asks how big the Pandora's box room is because on TV the room looks tiny. Rachel says it's abou tthe same size as the HOH bathroom. Porsche thinks it might be bigger.
Rachel is moving the lawn chair into the shade.. she's complaining that her boobs are too big. Porsche says it's becuase her top is too small. POrsche comments that Shelly lost 20lbs in the house and her boobs were shrinking. rachel: "We need to do the Shelly diet english muffins and stress" (actually it was more Coke, Smokes and lies)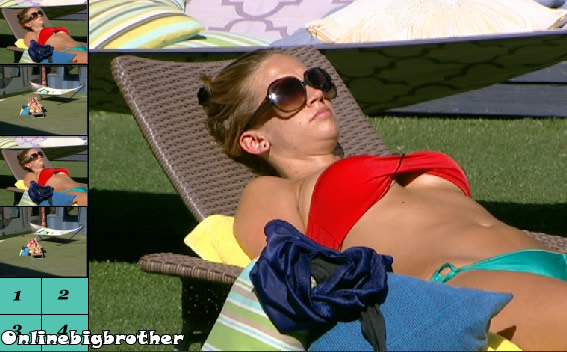 3:45pm backyard
Sign-up NOW and watch the houseguests live! Uncensored Live Feeds 3 Day Free Trial
3:53pm Backyard Kalia and Porsche Kalia is saying that Adam told her he's still on the fence what to do. Kalia told Adam that they are still in an alliance so if he wants to talk he can talk. Prosche thinks that Kalia is making more progress than she is. Kalia leaves..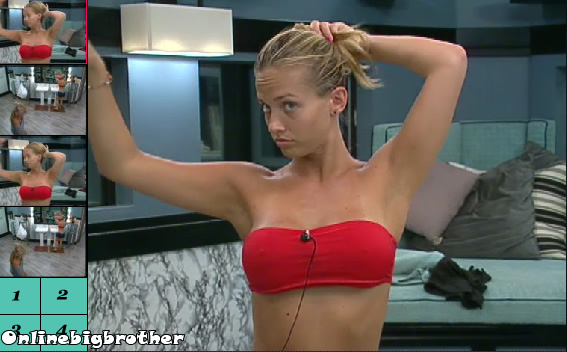 4:00pm JRP Bathroom POrsche and Jordan talkign about having more energy becuase they laid out in the sun for a but, They decide to go work out again. Jordan is telling rachel she looks way better when she doesn't wear so much makeup. Jordan is getting ready to work out she doesn't want to lay down the entire time.
4:05pm backyard Jordan and Rachel Jordan saying that Kalia told her she isn't campaigning to get Jordan evicted. Jordan laughs brings up that Kalia is doing exactly that. JOrdan: "Theres a lot of Fake people in this House" Rachel agress wishes everyone didn't have to be fake. They both agree it's just the way the game is.
Jordan starts running laps around the back yard, Porsche joins Rachel on the couch and they talk about nails.
4:12pm They're talking about their periods.. hurray