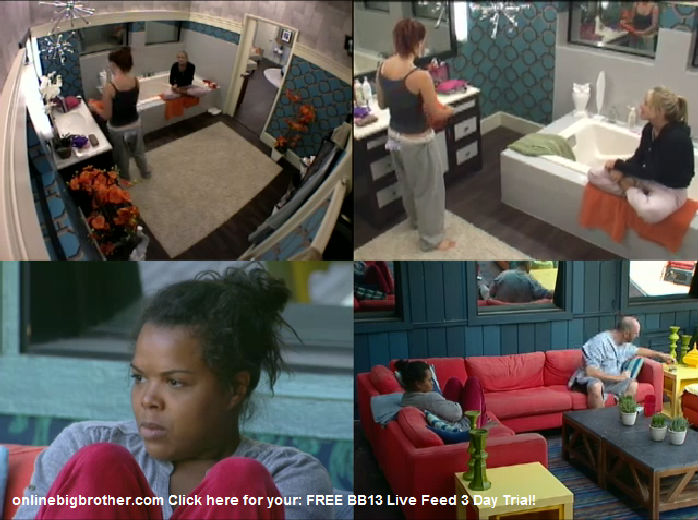 Watch the Big Brother 13 live feeds on your Android and iOS devices. Sign-up for the 3 Day Free Trial
10am Adam wakes up, changes his battery, goes to the washroom and then heads out into the backyard for a smoke. Adam starts studying the dates and events of the house. Adam says wait until you  BLANK see tonight. Shopping Spree with Tori Spelling and Rachel locked up in the HOH room with Jessie. Adam says day 66 Adam does not use veto …day 69 pray to  BLANK god that Kalia gets voted out! Kalia joins Adam in the backyard. Adam starts talking about his dreams. Big Brother then cuts the live feeds to wake up the houseguests.
See What They Can't Show You On TV! SUPERPASS – 3 DAY Trial!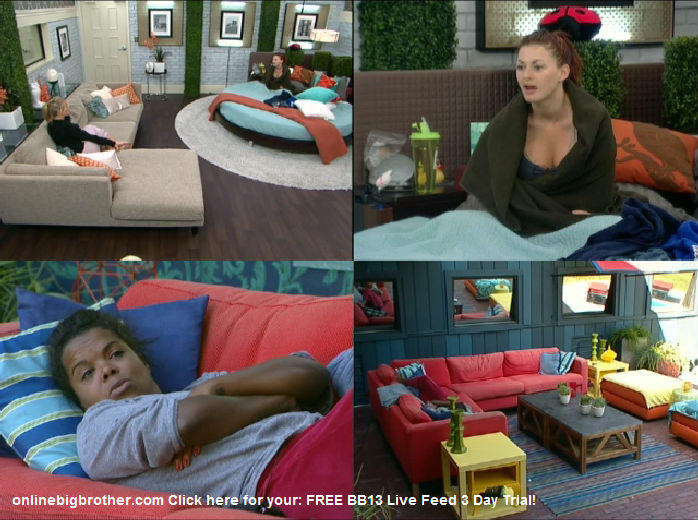 10:25am Up in the HOH room Jordan and Rachel are talking. Jordan is talking about how she was talking to Kalia last night and didn't want for anyone to get the wrong idea about what she was doing. Jordan says that she really wanted to talk to Rachel and Adam. Jordan says that even this morning she wanted to talk to Adam and he is out there with Kalia. Rachel and Jordan talk about how they hope they can trust Adam. Rachel says that Adam gave you Fara's necklace so hopefully we can trust him… I think we can. Jordan talks about how Kalia was telling her why she really needs the money. Rachel says okay well this isn't a charity. Jordan says that she told Kalia that everyone sees you as a threat …you're really good at questions. Jordan says that Kalia wanted to prove that she could do it without Dani. Jordan says well that's why we need to get rid of you. Jordan says that her gut is leaning towards Kalia leaving. Rachel says good … I was worried you would change your mind. Rachel says just think about with Porsche yesterday in the OTEV where we were asked who has lost 17 competitions and she picked Keith… Rachel says of all people why would you pick Keith. Jordan and Rachel both say they feel bad for Kalia but that we want to stay. Jordan says that Kalia said that she would keep me as long as she could but what that means is that they are going after you. Rachel says for sure. Jordan says that she wants to talk to Adam to reassure him.
WATCH all DRAMA unfold LIVE on SuperPass! FREE 3 Day TRIAL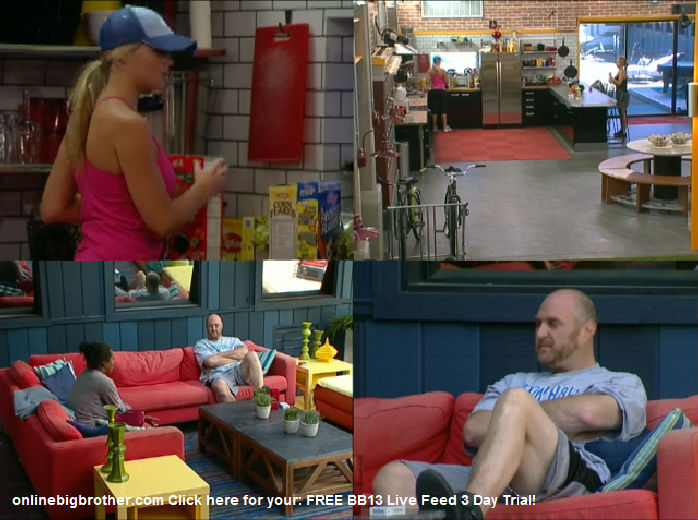 10:45am Meanwhile out in the backyard, Adam and Kalia are talking. Kalia is working Adam. Adam questions how many deals she has made in the house and not kept. Kalia says that from the beginning you have been saying newbies to the end and if you don't use the veto then you are doing the opposite of that. Kalia says that Jordan has already won doing the exact same thing. Kalia says I promise you that if you use the veto on me …I will win next week and I will take you to the final two. Kalia says that Jordan and Rachel can't tell you that ..they aren't taking you to the final two. Adam says that there is still a lot of game to be played. Porsche tries to come out and Kalia tells her to give them a minute alone. Kalia says that we have a chance to take our power back… I know you don't want to make people mad … Jordan won't go to the jury mad. Kalia says I guarantee they will not take you to the end. Kalia says that this is honestly and truly your best move. Kalia says that if you don't use the veto you are sending me home. Kalia says think about the easy versus the hard. Think about keeping your alliance here. Kalia says that she is all but begging him to please use the veto. Kalia says I will not put you up next week. Adam says that is the worst thing time makes you think …but its also a good thing it also give you perspective. Kalia says that she will cut her hand and shake hands with him. Kalia says that she does not lie and never has.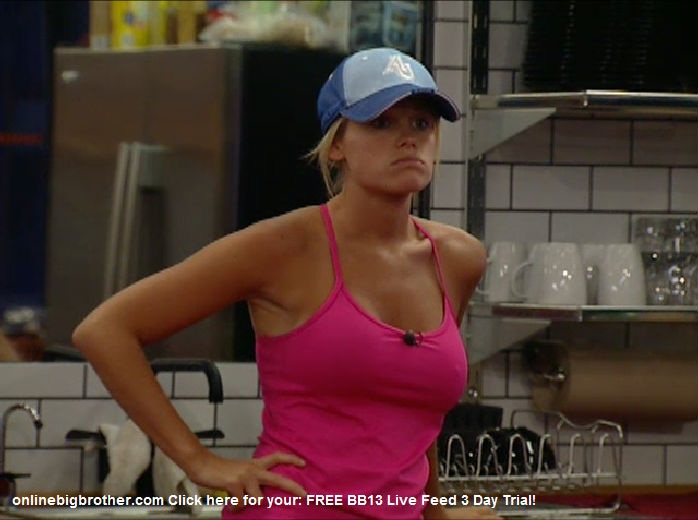 10:50am – 11am In the kitchen, Porsche tells Rachel and Jordan that Kalia is working Adam out in the backyard and wouldn't even let her out there. Porsche comes back out into the backyard and asks if they are done yet… there is a lock down in 5 minutes. Adam heads inside and Jordan says you still aren't using the veto right… Adam says I want my necklace back. Jordan yells ADAM! Rachel says you know he's not using it. Adam says that she was just out there chewing my ears off. Adam tells them that if he doesn't use it he is going against their alliance… Adam says Umm you were my alliance for two days. Adam says if I was really going to use the he wouldn't have given them Fara's necklace. Adam says that she was out there saying that you (Rachel) will not win the veto next week. Rachel says oh hell no that bisnatch is skating on thin ice …last night she is saying we had a final two deal and now she is saying I won't win the veto. Adam says that he will listen to her …and plead her case …and let her dig her ditch. Rachel says that she is about to go out there and …. Adam says no don't do that … you would lose respect for her if she wasn't fighting to be here.
Big Brother 13 Live Feeds
Click here for your FREE TRIAL: SUPERPASS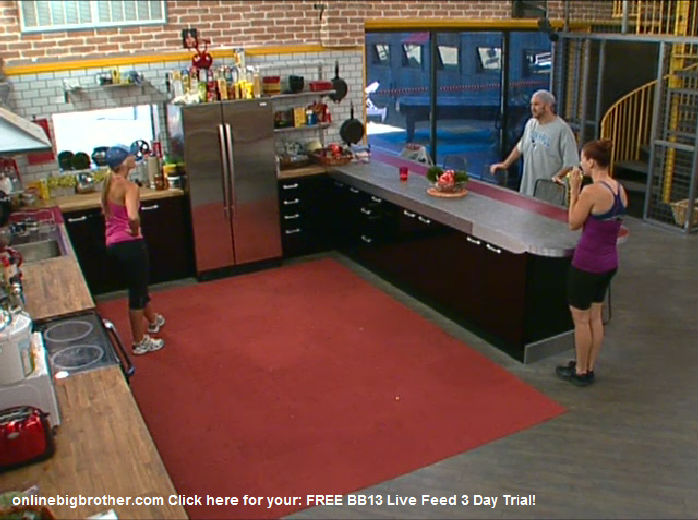 11am Kalia heads inside to change. Kalia talks to herself and says that was round one … he has ten more where that cam from. Out in the backyard, Adam, Rachel, Porsche and Jordan are working out by walking around the yard. Kalia watches them all workout from the couch. Big Brother puts the houseguests on an outdoor lock down.
11am – 11:45am Adam, Porsche, Jordan and Rachel continue to workout and talk about random stuff. Kalia lays out to sun tan.
12:05pm Jordan and Rachel continue to walk around the backyard. Adam and Porsche are on the backyard couch playing the I vote to evict game. Adam says I vote to evict pushups or situps. Adam says I vote to evict comforter or pillow. Porsche says comforter. Adam asks I vote to evict breakfast or dinner. Porsche says dinner so that I will lose weight.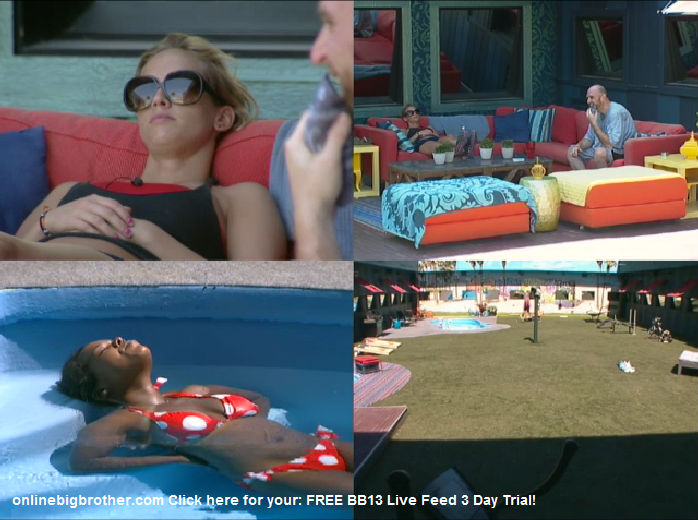 12:25pm Porsche is trimming Adam's back hair. Porsche says see this is why you should keep me, who else would shave your back. Adam says not to worry about it. Porsche says her therory is if they want to win $500,000. they have to get rid of Rachel & Jordan. Adam says if he earns his way into the final 2 then he will see what happens then. Porsche talks about how jury can pick on friends not game play. Porsche says she can't see taking a vet as an option to the final two. Adam says that if he wins the one part of the three part competition and she wins the other part he would definitely consider taking her because he wants someone in the end that earns it. Kalia joins them in the bathroom. Adam, Kalia and Porsche talk about random things.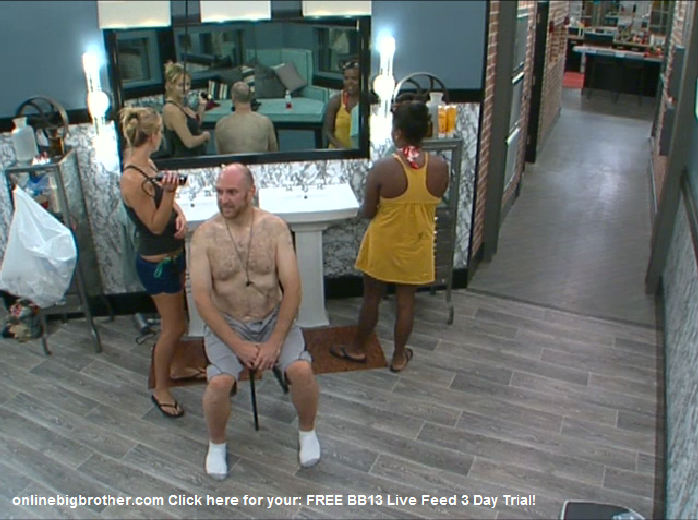 If you like this site and want to help us keep it running please consider donating, Your donations go directly to paying the server and bandwidth fees. Donate Link

Big Brother 13 Live Feed Image Gallery
Follow: @BigBspoilers and @Dawgsbigbrother on Twitter for recent crazed out spoilers. Theres also our Facebook page.
Big Brother 13 Spoilers POLL CAST your VOTE!