Get the BB13 live feeds on your Android and iOS devices. Sign-up for the 3 Day Free Trial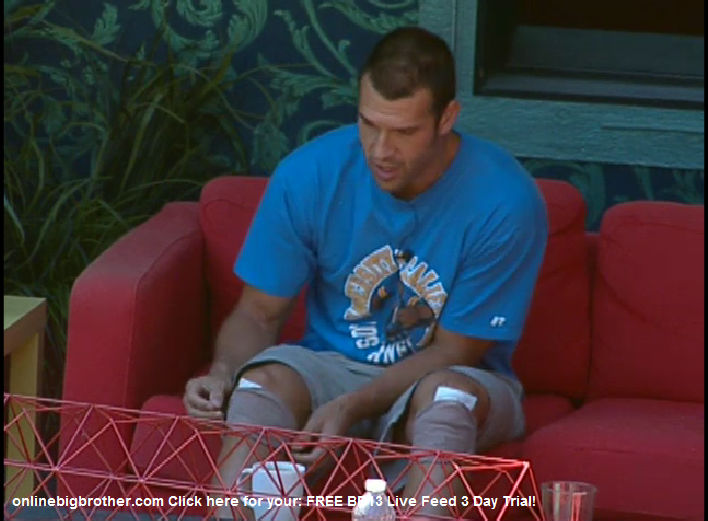 9am Shelly wakes up and goes out into the backyard. After a half hour Big Brother asks Shelly if she can you go inside for a few minutes while they fix some things outside. Shelly says okay and heads inside. At 9:35am The indoor lock down is over. 10am Big Brother wakes up the other houseguests. Brendon heads out into the backyard and talks to Shelly about the wake up songs and his banged up knees. Adam joins them. They talk about their last names, what they mean and where they came from. Shelly tells Brendon about how last night there was a lot of drama and stuff. They talk about how Kalia cries and complains about everything. Brendon tells Shelly that he and Rachel were going to let Porsche squeeze in their bed but that production wouldn't let her. Rachel joins them out in the backyard. They talk about what happened last night.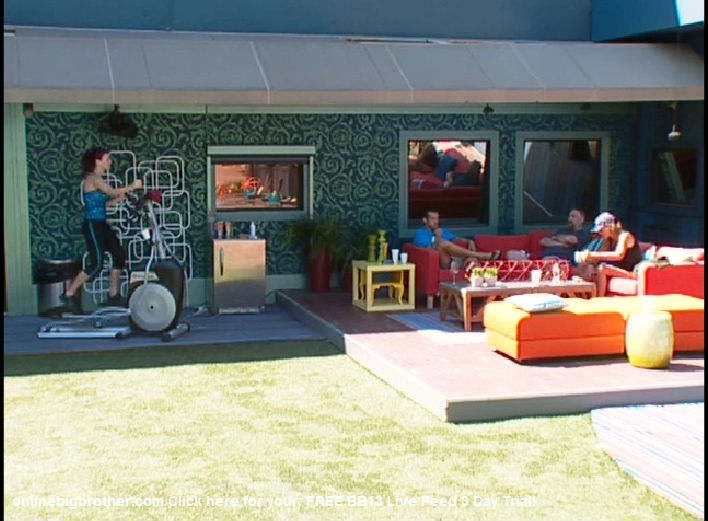 Adam starts talking to Brendon about where his head is at and that he is 100% loyal to Brendon and Rachel. Adam asks them what they are looking for. Brendon says that they are looking for people that they can trust. Brendon says that who ever goes after one of us … we will go after them next week. Rachel says that they know they can't win everything… and that they need people that will help win stuff. Brendon asks who Adam would put up if he could. Adam says that Lawon and Kalia haven't done jack shit. Adam says that he isn't here for a free ride. Adam says that he doesn't just want to go where ever the power is …he wants to side with the people he trusts. They talk about how in the beginning Adam was on the newbies side but that he is definitely not now. Brendon says that he needs Adam to tell them everything… that stuff gets around this house and if it comes back to us that you are lying to us …that would be the third time you burned us. Brendon says that Dominic has been coming to them wanting to work with them too. Brendon tells Adam that he can't tell anyone that he has the votes. Brendon says that if Adam would take out some of the floaters …it would be a huge proof of life. Rachel says that there is no reason for a floater to be in the jury house. Rachel says that picking a side makes you a player and not a super floater. Brendon tells Adam that he needs to tell them what's going on and not give false info. Brendon says that it will get back to them if he is lying. Shelly tells Adam that he can absolutely not win HOH this week …because she is going to win it …she needs a photo of her daughter.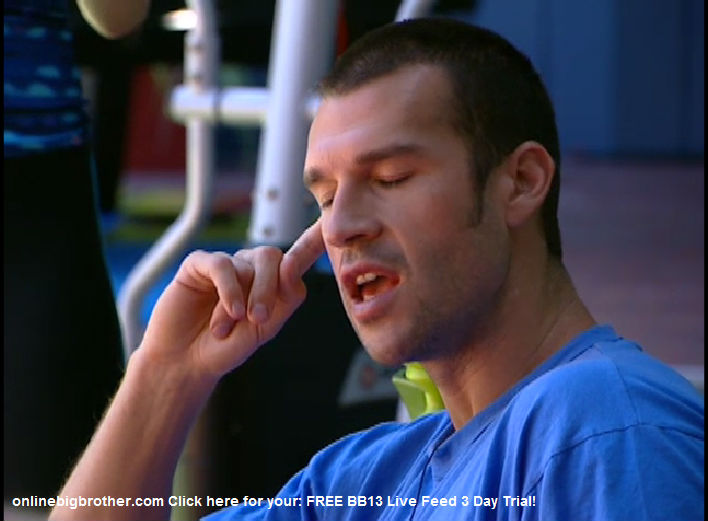 11am – 11:10amBrendon says that actions speak louder than words… so you need to show us. Brendon says that they will have his back if he has theirs. Brendon says that he wants to believe Adam so badly but that it's actions that count. Brendon talks about how Dr. Will played an entertaining game but that they need to play a logic game. Brendon says that they are having a hard time trusting him or Dominic. Brendon tells Adam that Dominic has already made a pact with them. Adam understands and says that his friends out side trust him and he trusts them with everything. Brendon talks about how if Adam burns them and they end up in the jury house he will not vote for him. Rachel and Brendon talk about their season. Brendon tells Adam that he wants him to be able to spend his 40th birthday in the big brother house. Adam tells them that they really need to go sky diving with them when they get out…
Big Brother 13 Spoilers POLL CAST your VOTE!
BB13 Live Feed Screen Captures , These are being updated every 10 minutes all 4 Cams 24/7
Follow: @BigBspoilers and @Dawgsbigbrother on Twitter for recent crazed out spoilers. Theres also our Facebook page.
If you like this site and want to help us keep it running please consider donating, Your donations go directly to paying the server and bandwidth fees. Donate Link
Share it YO!!
Tweet