Big Brother 13 Live Feeds Can be watched on your iPhone and Android Mobile devices sign up -> Watch Big Brother 13 on Your iPhone or Android Phone
5:40pm Adam and Jordan Adam points out that every time Wednesday is here RP become best friends again then after Thursday they are apart until the next week. Adam points out that it's been this way for a long time at least a couple weeks. Adam talks about how Shelly betrayed him. Jordan says Shelly betrayed everyone. Jordan understands that Shelly is a nice person she lied to them but in Shelly's mind it was all strategy.. Adam says the one thing he's pissed about Shelly is she would make such a big deal about losing comps but now she is saying she threw a bunch of them.. Jordan gets called into the DR (Diary Room), Adam starts to mess around with the fortune teller.
5:51pm Porsche and Rachel find out they are the same height..
6:40pm Porsche and Rachel Working out Porsche is complaining about her elbows cracking Rachel says hers does to..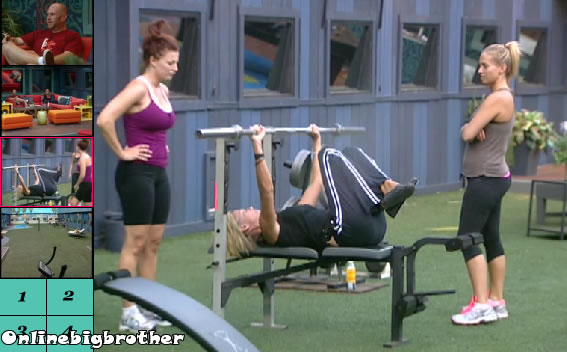 6:55pm Shelly, Jordan and Adam in backyard couch and Jordan and Porsche working out, Kalia on the hammock. They are talking about how strong Rachel. Shelly is making a big deal about it saying stuff like "She's making me nervous" and "look how much weight that is". Shelly says she wants to go try and lift the bar once. She walks over does 20 presses says there's no way she can get close to Rachel's 35. Shelly walks away saying "Your a beast rachel .. a beast" rachel: "I don't think it's really that hard"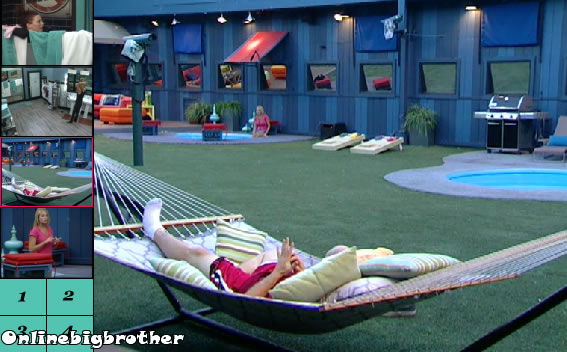 7:03pm Adam on the hammock, Rachel and Jordan on the couch everyone else inside. Rachel brings up that every time she works out everyone is all "She strong get Rachel.. Jordan is so cute and sweet she's not a threat" Jordan doesn't think so she says now that Rachel isn't so outspoken people aren't like that with her. Rachel just doesn't understand why they all think she's such a strong competitor and why people always want to get the physical players out…
7:06pm Rachel leaves Adam and Jordan start studying there season 13 time frame. both of them really know their stuff.. Jordan thinks the HOH will not be skills or question. Adam thinks it will be something that take awhile. Adam thinks it will be something like like what Brendon did last year where you had to untangle a rope and carry it with you. Adam is pretty sure Kalia will not do well at that comp compared to him and
Adam: "If I win HOH don't scream.. I know the other 2 will start screaming but I don't want you to"
Adam says the people he's been true to in this game are the ones he's backing and it will all come out in the nominations. (Adam is going to throw the HOH)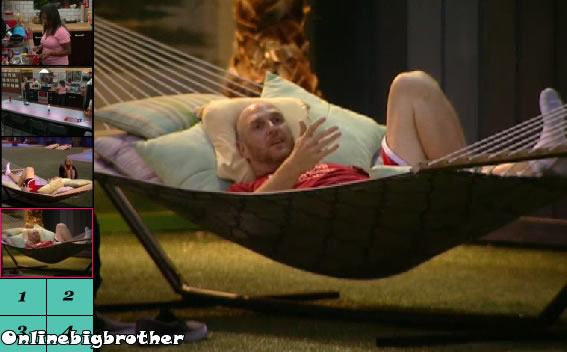 7:23pm Adam is telling Jordan that he knows KP do not consider him important. He brings up Shelly telling him that any deal with KP will not be honoured. Jordan is worried that Porsche and Rachel are getting close and she's worried that Rachel will get "fooled". Adam again warns that it's like clock work every Tuesday rolls around and PR are best friends.
Adam brings up how Dani had control of the other side and it pretty much came down to Jeff's army Vs Dani's army.
Jordan cannot understand why people were against Jeff he's so honest. Adam tries to explain that people wanted Jeff out because he was a competitor and they couldn't beat JJ in the end. Jordan thinks it's sad that Dani put that in every-one's head. (LOL see I don't get this.. Jordan is proposing they have everyone on the same team? )
Adam explains to her that he wanted Jeff out but wanted to be the one that got him out he wanted to face him "Mono A Mono" and let them compete.
7:38pm Bathroom JR Jordan brings up her conversation with Adam where he told her not to be excited if he wins HOH because KP think he's with them but when he does his nominations it'll show he's on their side. Rachel: "He's not going to let us win it" Rachel thinks it will be best if she wins HOh this week.
They move to the have-nots
Rachel I think Adam is playing everyone.. Jordan: "WHY!"
Rachel: "it's just best if I win"
Rachel is sure that Adam will mess up on the faces veto hr gets easily shaken. Rachel adds it's most important that they win HOH because they need to get Kalia out but in order to do that they need to win the POV. Rachel swears to Jordan that Adam is not with them he's floating between both sides. Rachel really pushes for them to not trust Adam and Kalia. Jordan walked into the conversation wanting to trust Adam but after a few minutes of talking to Rachel Jordan doesn't trust Adam. They start planning how they are going to act on Thursday when they win the HOH.. Rachel: "I'll be all like Ohh good job guys you really worked hard" Jordan: "Ohh and one of you are going home"
They agree that going into the final 3 with Kalia is dangerous. Rachel starts downplaying Porsche physical ability but says she's going to be good at skill. Jordan says she's just worried about the questions. They 100% agree Kalia must go.
Rachel :"we have to win the 5th HOH and we have to win the final 4 POV"
(Rachel wants Porsche in final 3 Jordan wants Adam… If Kalia doesn't win HOH or POV Kalia gone)
Share it YO!!
Tweet