Big Brother 13 Live Feed Image Gallery
7:00pm hammock Shelly and Kalia Shelly is proposing they put up Porsche and get her out instead of Rachel. Shelly's reasoning is this
a) the person evicted is coming back into the house
b) If porsche leaves and comes back she still has nobody and Kalia gains rachel
Of course Kalia doesn't think rachel will not go back on her word and take out Kalia and dani. Shelly says she needs to have rachel swear on brendons's life that if Kalia takes out Porsche this week then Dani and KAlia are safe next week. Shelly is relly pushing for Kalia to make a deal with rachel thinks it's the only way to win this game. Shelly telling Kalia that she won't win the game against dani but she will win against rachel and Shelly.
Shelly adds that Kalia will gain Jeff, Jordan, rachel, Shelly and Adam if you get rid of POrsche. The only person you piss off is Dani and Lawon. Kalia says she doesn't care about POrsche and lawon will do whatever she says. Shelly: "you're a good salesperson you can sell it to Dani. (Kalia is really buying or at least appears she is)
Shelly: "your 100% safe if you do this 100%.. I've sat out here and counted the votes this is you best shot". Shelly also adds that it will give Kalia street cred in thh house and they will stop thinking Dani controls her. Shelly says that right now the public see's Kalia as dani little puppet but if she makes this deal with rachel she will be seen as a major game player and everyone will go nuts (yes we will go nuts at your stupidity) Kalia is going to propose it to dani she really thinks its a good idea and is preparing her pitch with Shelly.
Kalia goes to talk to dani.. Shelly laughing on the coach about Kalia buying all this bullshit she just fed her..
(OMG Kalia is as dumb as everyone was saying)
7:25pm HOH Dani and Kalia
Kalia: "I'm going to tell you something and I want you to know that my ultimate goal is to have us both at the final 2"..
Kalia: "I sincerely think I found our key to the city.. I know you like and Porsche here but if I put Porsche up and she goes and rachel stays we can get rachel to swear on Brendon she won't com after us next week"
Blank look from Dani. kalia explains further, If she comes back in the game and she comes back to play we have rachel and JJ gunning for us if we put up a floater JJ will stop gunning for us.. "every single day I hear something that Porsche is sayign that isn't true.. I'm starting to worry about her"
kalia is convinced if they get rachel to swear on brendon that she's not going to gun for them then they can both be safe from Rachel and if Porsche comes back they will still have Porsche.
Dani: "i'm going to straight up with you I am not going to work with her I do not trust her I am the person that killed brendon.. she told me and you that I was her number one target.."
Kalia: "It is risky pulling her out of the game this week because she's coming back.. I had the wording confirmed in the DR"
Dani: "I can't believe you are changing this up.."
Kalia says she was talking to shelly … feeds cut…
Kalia: "Rachel doesn't have anyone.. she'll take my deal"
Dani: "She has Jeff and Jordan"
Kalia says she doesn't want Rachel to be coming back and then they have Jeff and Rachel coming after them.
dani: "why are you so scared of jeff… You said yourself that rachel is shitty at comps and Jeff is no allstar"
Kalia says she scared of Rachel coming back and they are coming after Dani, Kalia and Shelly she wants to cover her and Dani for the following week and insulate them from the effects of the twist.
Dani: "they are not coming after Shelly they are coming after you me Porsche lawon and then shelly… why do you think they are going after shelly"
Kalia: "I fell like i'm playing for you if we keep rachel in here and rachel isn't gunning for us if she accepts the deal"
Dani: "literally throughout this game you've been really flip floppy.. it feel like you really want JJ to like you in this game on a personal level it's pretty obvious"
Kalia: "I know it sounds crazy but its a way.. Rachel is going to do anything to stay in the game"
Dani : "obviously she's going to go back on her word.. why do you think she won't"
Kalia says they gain way more if they keep rachel they gain Jeff, Jordan and rachel.
Dani doesn't think it's that easy to gain JJR they play emotionally and will take out dani the second they can dani mentions that in one argument Kalia is certain rachel will win HOH and in another she's certain she wont. dani says if rachel comes back from the tiwst she won't win HOH so who cares if she's gunning for us,
Kalia says it's really hard to win this game with everyone gunning for them she doesn't want to be fighting every week with JJR after them. Dani saying for the record what Kalia is proposing is a bad idea, "Kalia what have been saying since day one you get the strongest players out first to keep them around is stupid never once has anyone played that game you should know you've watched all 12 season"
Kalia: "whose to say your'e going to keep me around"
Dani: "what you don't trust me know"
Kalia: "Yes I trust you…."
(kalia is doing a hideous job of convincing Dani, dani counters all of Kalia reasons with reality but Kalia is still hell bent on taking out Porsche this week, This will go down as the worst move in BB13 i'm loving it)
Dani: "Why didn't I make a deal with brendon last week I took them him out and made a HUGE enemy.. and now you want to keep that person in the house"
Kalia says she is just trying to figure a different plan to get them to the end, "This is a huge game move"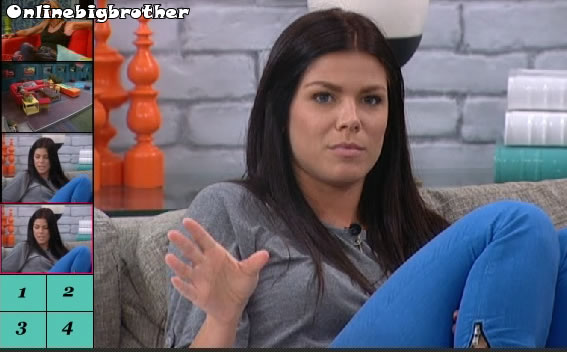 Dani: "yes this is obviously a massive flip I know you have to shuffle your deck sometimes.. But what your proposing makes no senses and if you really think about it you will see"
Kalia: "It's a big game move and it puts me in a really dope position "
Dani: "no keeping rachel is the worst idea It puts me in the worst position".
dani explains that the game doesn't work the way kalia's thinking she's thinking they can make a deal
and keep them safe but you can never walk around here without someone coming after you.
kalia: "I don't think it's good to walk into next week with someone coming back and gunning for us"
Dani: "But you said yourself that Rachel can't win anything and JJ are not coming after us you not making any sense Kalia"
Kalia mentions Shelly told her that they did the same thing in bb11 had one of the HOH's useless and that is why chima flipped out, Kalia is worried that is happening this year.
Dani: "for the record I don't see how Porsche being evicted will accomplish anything for us".
Dani: "I'm telling you this… no matter what you say if rachel stays in this game it's bad for me it's not bad for you IT'S BAD FOR ME she will take me out you just wait"
Kalia: "I cannot get out of your shadow everyone thinks I can't make my own decisions and now there is a move I can step out and do it on my own"
Dani: "If you're telling me your doign this I'm telling you I will make my move and just because you put porsche up doesn't mean porsche is going home"
Kalia: "then your saying you'll not back my plan them"
dani "No.. I'm just saying I need to protect myself"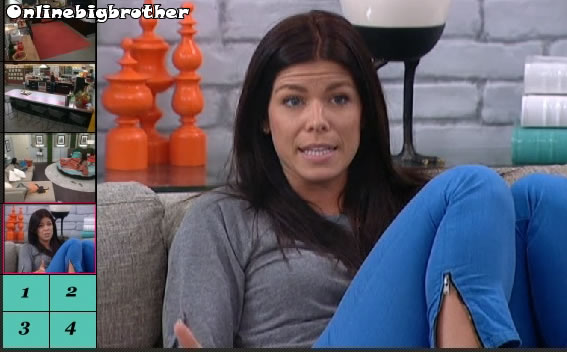 dani says they won't see eye to eye on this so they need to take a step back and think about it because right now what Kalia is saying is bad in Dani's eyes.
Kalia runs downstairs to grab Shelly and debrief her on this.
8:28 HOH Shelly and Kalia Kalia telling her that Dani isn't crazy for the deal. Shelly says that Kalia needs to start playing for herself and leave Dani, Dani has nobody else she'll come back..
This is not the official CBS Poll, go to this link to vote for a evicted houseguest to have a chance at coming back into the house


Big Brother 13 Spoilers POLL CAST your VOTE!

Big Brother 13 Live Feed Image Gallery
Follow: @BigBspoilers and @Dawgsbigbrother on Twitter for recent crazed out spoilers. Theres also our Facebook page.
Share it YO!!
Tweet