There was limited game talk this morning, some studying, counting, mostly chit chat. .. Scott told Shane he's voting Kryssie out along with "The girls". Scott, Shelby, Morgan and Whitney are all planning on Voting out Danielle and are saying they are voting out Kryssie. There was a minor hope that Neeley or Shane vote out Kryssie over MOnte. Monte has a bit of a connection with them. There's zero percent chance of it working on Neeley. They realize Kryssie and Neeley are essentially final 2. Monte and SCott seem to think Shane is a possibility. America will almost certainty be voting out Monte giving. I personally think it's unlikely to happen, Monte is going home.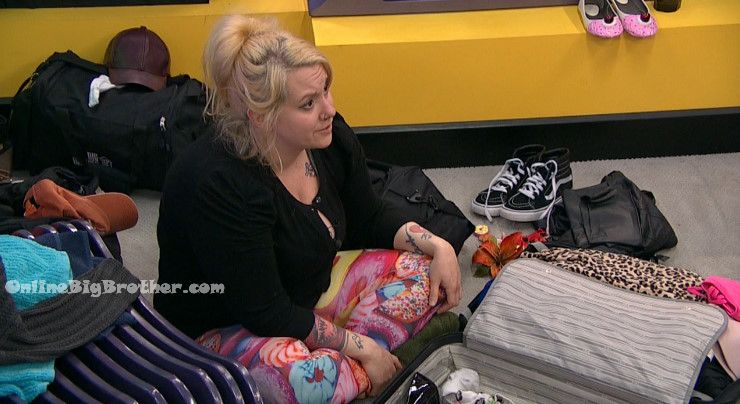 4:05pm Monte and Kryssie
Monte – odds are against me
Kryssie – I know in my heart of hearts that Danielle is safe today..
Kryssie says it comes down to Shane.
Monte says he doesn't think Shane would vote Kryssie out and risk being the only one.
Kryssie – I've been singled out 2 weeks in a row
Neeley walks in
Kryssie says she's never done anything to MOnte's side of the house and they've targeted her 2 weeks in a row, 'Like what the f*** did I do… It's hard I'm the different one"
Kryssie – "I'm a total party.. I'm everyone's buddy"
Kryssie says the Big Brother game is designed to get people to clash.
Monte says he could have lost his cool when Justin came after him or when Danielle did but he kept his cool.
Kryssie says "Everyone in this house needs to be taken with a grain of salt or addressed immediately"
Kryssie – you are intimidated with things you don't understand..
Kryssie – you don't know how to interact.. it came off like you didn't like the gay kid the weird girl.. it came off on the surface.. because you don't know how to interact with people like us that that is OK and the problem was you didn't come to anyone and say HEY"
Kryssie adds to America it came across that he wasn't trying.
Kryssie says this happens to "US" all the time.. ('us' being misfits?)
Jason now in the room
Kryssie – you're sheltered to an extent..
Kryssie explains the mistakes he's made in the game and why people may not like him outside the show. Danielle comes in during this conversation. Kryssie goes on about if she goes home today he better play the game differently. Adds that she's seen him changing already.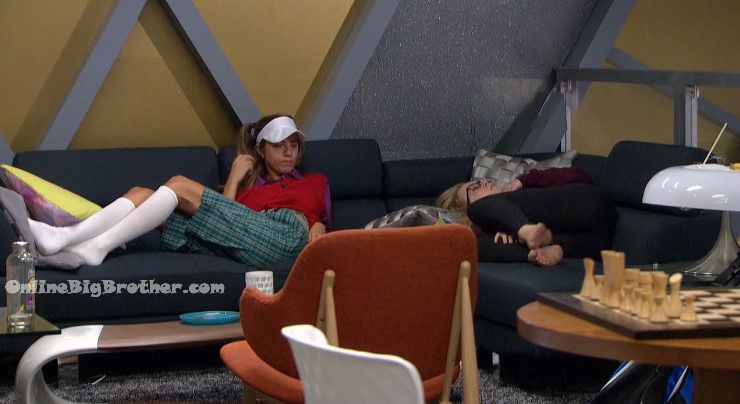 4:36pm Shelby and Alex
Saying if Monte goes home it's his own damn fault. They mention how Scott is still playing his own game even though he came within centimeters of going home and they saved him.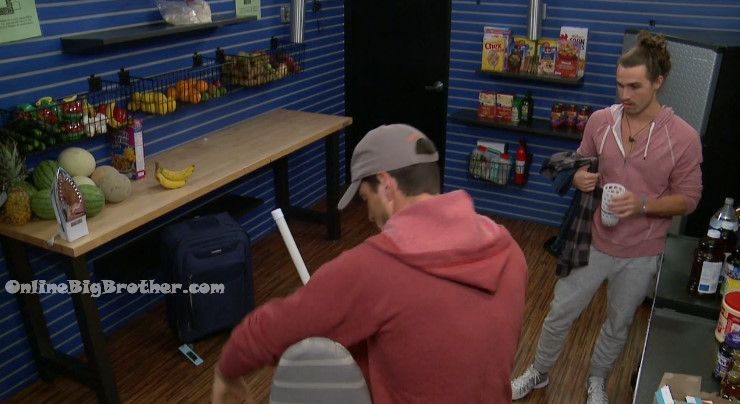 5:29pm Monte and Shane Storage room
MOnte is certain he has America's vote.
Monte – whatever you choose no hard feelings…
Monte – I'm asking you to and if you can't I understand.. cause it is a risk
Shane- I got you, all risks have rewards…
5:42pm Shane and Monte HAve nots
Monte says he tried really hard to keep him off the block but Alex wouldn't listen.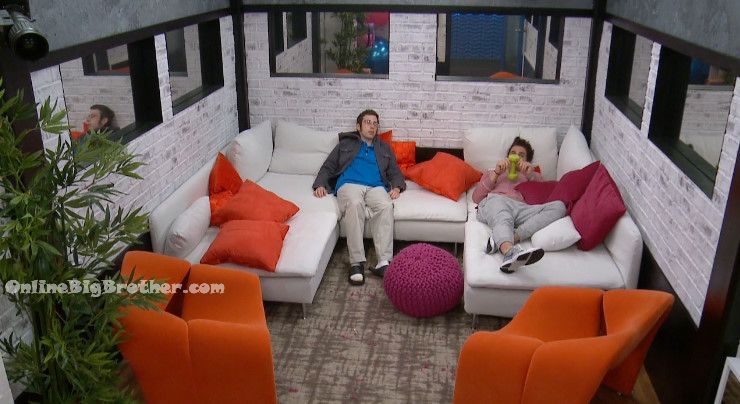 5:45pm Shane and Scott
Scott – If you want to hide your vote you can blame it on America..
Shane – did Alex promise you
Scott – she promised me safety for this week
Shane – Monte came to me earlier to make sure everything was smooth.
Scott – getting rid of Kryssie is best for my game and honestly it's best for yours as well
Shane – i'm still worried about Danielle.. I don't want them to vote Danielle out
Scott – I need to get Kryssie the f*** outta here.. I already have so many people coming after me I need Kryssie out..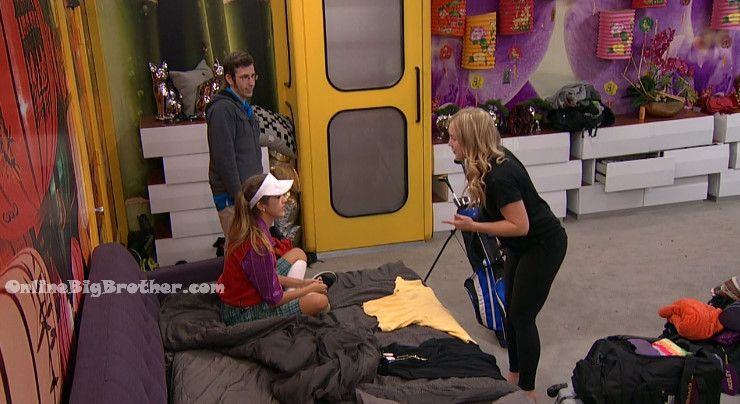 6:14pm Talking about Jason trying to get them to slip up but they didn't fall for it. They're still all good with voting Danielle out.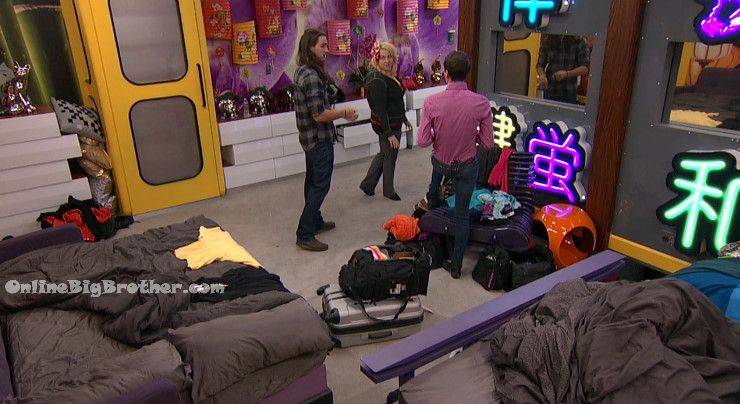 6:20pm Jason, Shane and Kryssie
Trying to figure out why everyone is saying they are voting out Kryssie.
Shane – he's banking on everyone to vote you (Kryssie)
Kryssie – everyone needs to vote him out (Monte)
Shane – Yeah I know
Shane is going to talk to Scott 30mins before eviction, "I can flip him I know.. I'll be like Dude"
6:56pm Scott, Shane and MOnte
Talking about all the down time they had during the week before the show started. Scott read through the entire game of thrones series. Monte says they took his bible away. they all agree that is odd because Cornbread had his.
Big Brother calls them out.
Monte – we're playing you up as the villain you can't have that.
7:00pm The eviction episode begins on the feeds..
CBS All Access Live Feeds! Test them out 1 Week for FREE!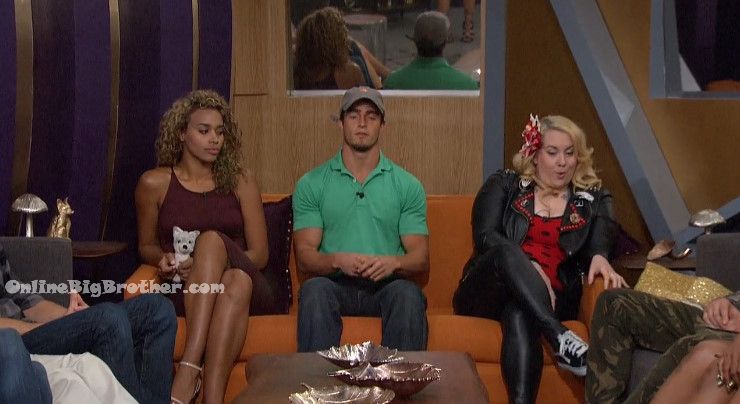 Shane Votes to evict Monte
Morgan votes to evict Danielle
Justin votes to evict Monte
Shelby votes to evict Danielle
Jason votes to evict Monte
Whitney votes to evict Danielle
Neeley votes to evict Monte
Scott votes to evict Danielle
America votes to evict Monte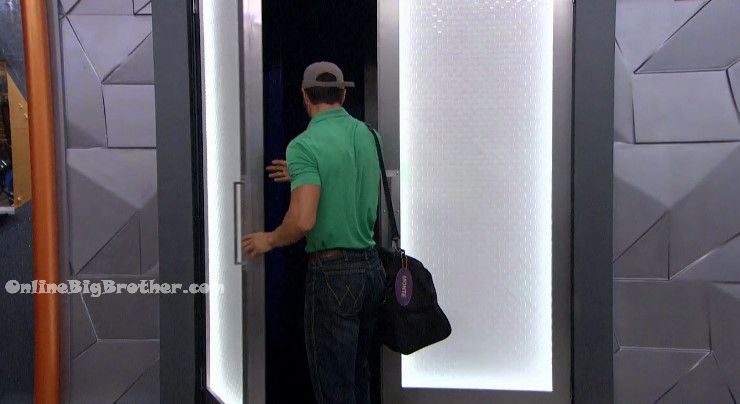 Monte is evicted from the Big Brother House..