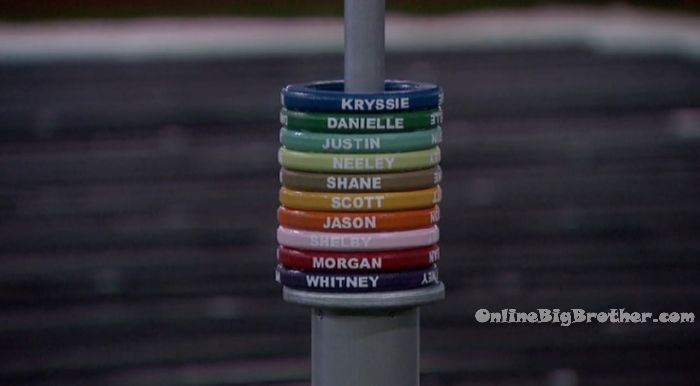 9pm
The head of Household competition called the "BB Barcode" begins. As the outgoing HOH, Alex reads the rules of the competition. Ahead of you is the BB barcode, each with a unique number. The goal of the competition is to be the first house guest to identify which piece is the longest. The game will be played in rounds, each 15 minute round will begin when the horn sounds. Once the horn sounds you may inspect the barcode and at any time give an answer. When you're ready to give your answer place your ring on the answer post and declare the number of the piece you believe is the longest. Answers will only be accepted in the order of you've placed your rings on the post so wait for your turn before answering out loud. Ultimately the first person to place their ring on the answer post with the correct number of the longest piece will become the next head of household.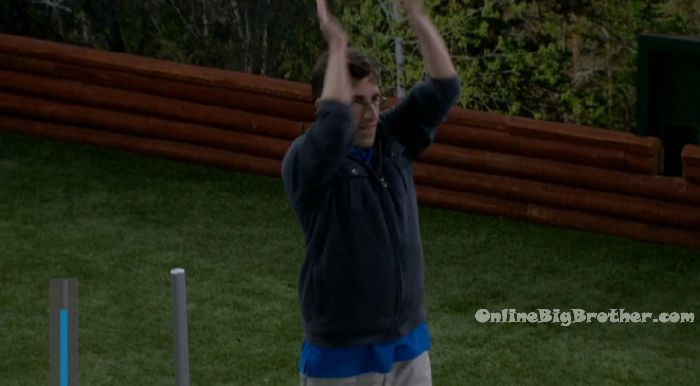 The house guests guess their answer and each get it wrong. After 45 minutes Scott guesses his answer and says 72 and wins. Alex and Morgan both run over and jump on Scott congratulating him.
HOH Winner: Scott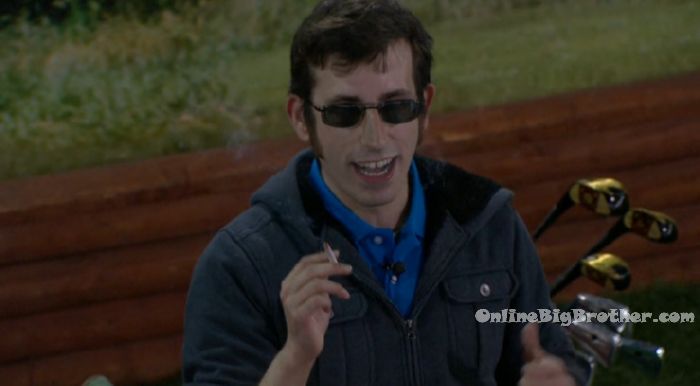 9:50pm London bedroom – Danielle tells Shane – All the girls don't like me. They're going to tell him (Scott) to get me out. Shane – just win the veto. Danielle – once again we have to compete in every competition. Shane – Johnny Mac did it. Danielle – hopefully America puts up someone from their side and we have the votes.


10pm Lounge room – Jason, Danielle, Neeley, Kryssie and Justin. Jason – we weren't complacent before and we're not going to be complacent now. When people get complacent, that's when they f**k up. It comes down to who America puts up. They put up Monte and voted him out … which show either they really didn't like Monte or that nobody f**ks with us. So lets just hope they still f**ks with us. Kryssie – I hope we get a care package. I hope it goes to us. Jason – if its the slop pass give it to Morgan, not us. I will take slop all season. Neeley – I've got you (Kryssie), we've all got you. If I hear anyone say anything ignorant, its going to be on and poppin'! Kryssie – if I go out because of the kid from Bangor, ME, I am going to lose it. The only reason I hate that town is because my mother married some a$$hole from there and that guy is responsible for the death of my grandmother. I am going to do my best to not make this personal but this is going to destroy me. Danielle – when you're in a house with people that want to take you down all you can do is rise to the occasion. The only reason they're f**king with Scott is because they need his vote. America has been faithful to us so far and we just need to trust them. If America sees that we're solid they're going to keep f**king with us. They see their true colours and they see our true colours but the difference is them and us is that our true colours are real… like we're good people, we're loyal to the people that we f**k with. There is no point in talking to him (Scott). He is going to do whatever they (plastics) want him to do. Jason – every time you take out the head it grows a new one.
10pm In the bedroom – Scott, Morgan, Alex, Shelby and Whitney. The congratulate Scott. Scott – Y'all know you are good obviously. Alex – I'm so happy for you. I literally almost kissed you. I didn't but I was like Ahhhh! Shelby – I wanted it to be me but I'm so glad its you! Scott – At first I knew what my nominations would be but now I'm not too sure. I'm not going to waste it on Kryssie because she's such a weak competitor. I'm not going to waste that sh*t on her. Obviously with America's nom we have to kicka$$ in veto. Shelby – slop (who America votes to be havenots) might give us an idea. They all tell him how proud they are of him. Shelby – the most redemption HOH ever. Morgan – Monte I told you so!! Scott – Shane told me they were trying to get me out. Alex – we have your back. Shelby – prepare for a lot of people coming begging to you. Whitney – we knew Monte was going to go but we wouldn't sacrifice you and your vote.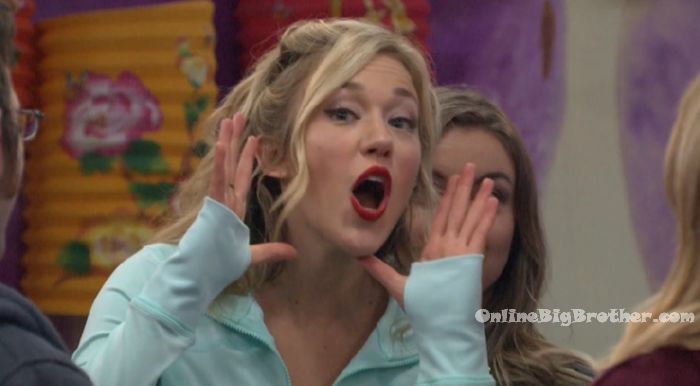 10:15pm Storage room – Morgan, Shelby and Alex. Morgan is crying saying she is HANGRY! (And because she has to be a havenot alone now for the next couple days) Alex – being a havenot is meant to break you down. Shelby – at least someone we're good with is HOH. Morgan agrees. Alex – all we can be is be ourselves and keep fighting against really petty people. Morgan – I feel like Monte is misjudged. Alex – he had a rough week but that's the way the game goes. They wonder who Scott will put up. Shelby – he said that Kryssie isn't the target but she is sh*tting herself… so he should pretend like she is so she keeps sh*tting herself.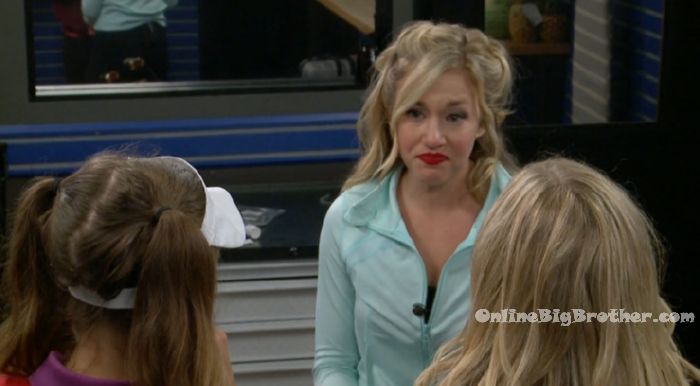 10:25pm Havenot room – Shane and Scott talk. Scott – Monte leaving and Cornbread leaving has left a bad taste in my mouth. Shane – I just know the girls are going to be up your a$$ this whole week. Scott – obviously I am going to listen to them but I will listen to you too if you have anything to offer still. I don't want it to be Cornbread, Monte, You, then me. Shane – its becoming a girls game. Scott – it is. I have bigger targets. There are no shortage of targets this week. Shane – I just know its going to be hell to talk to you. (Because the girls are always going to be around him.) Shane leaves. Justin joins Scott. Scott tells him – I know who had my back last week and I know who didn't. I know that you and Jason are good. Justin – its all good.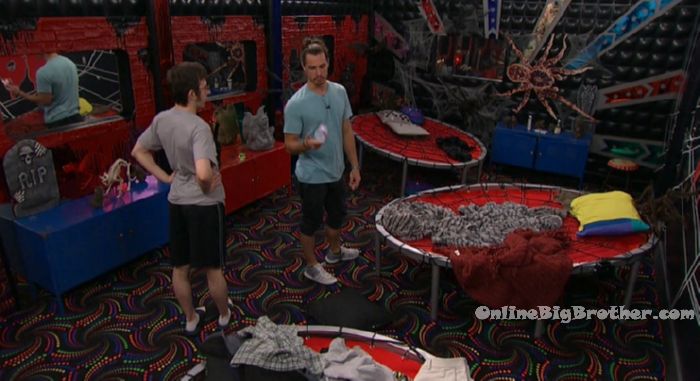 11:05pm – 11:30pm The plastics (Alex, Morgan, Whitney and Shelby) and Scott are talking. Scott – I'm thinking maybe just the some ones you (Alex) did (Nominating Shane & Danielle) Morgan – there's a good chance that Justin would be America's nom. Shelby – if it was one of us he (Justin) would probably vote out Shane. He wouldn't vote out one of us. They're going to air that episode where he flashed her. Scott – if he (Justin) could potentially be America's nom that could screw us if I put him up. Alex – we stand behind you whatever you want to do. Scott – when Shane approached me to vote out Monte he offered me just a one week safety deal. Scott – its all coming out in the nomination speech. I don't want to put up Kryssie at all. We don't need to cut her at this point. I have good reasons to put up both of them (Shane and Danielle). Just how Shane turned on his own ally.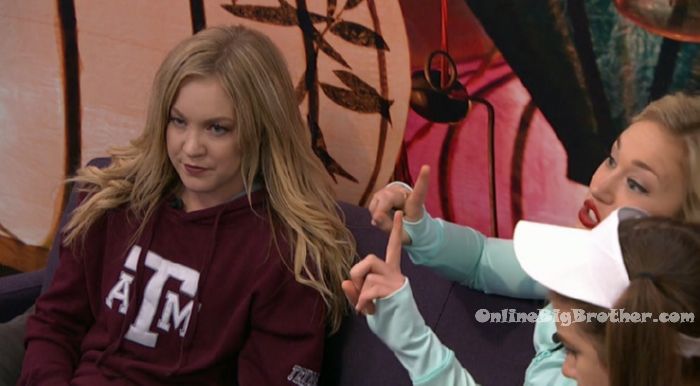 12:10am Bedroom – Scott, Morgan and Shelby are sitting around chatting about random things like what kind of food Scott will get with his HOH.
12:25am Kitchen – Jason and Scott. Justin – I'm interested in seeing who America puts up. If they put up Shelby .. its a wrap! Jason – if they put up Morgan .. its a wrap. I really don't think they would put up Whitney. Big Brother calls Scott to the diary room. Jason – I wonder if he will get his HOH room tonight!? Justin – I really don't think they would put me up. Jason – you say some crazy stories so I wouldn't be surprised if you were up there once.
The house guests are all sitting around chatting about random things waiting for Scott to get his HOH room.
1:05am – 1:15am Scott comes out of the diary room and asks who wants to see my HOH room!? They all head up to the HOH room and check out Scott's HOH. There's a photo with Scott with a pony tail. Scott – I only rocked that for like 6 months. Scott reads his HOH letter. Scott – I'm not going to call everyone up here individually .. if you want to talk .. then feel free to come up here and talk.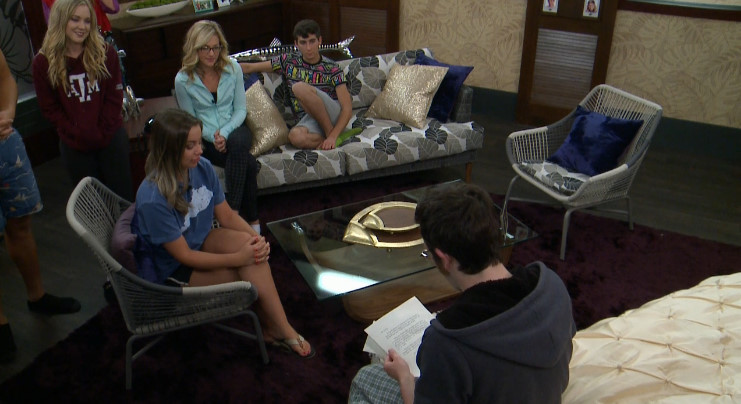 1:25am – 1:45am HOH room – Shane and Scott are talking. Scott – I am in a tough position. Obviously I couldn't vote out Monte like you wanted me to. Shane – the reason why I wanted Monte out is because he two faced me. That's why I voted him out. I'll tell you this.. when you have me .. you have two of us (Him and Danielle). If we're safe this week and we win the veto we will be willing to do whatever you want with it. Like you wouldn't have to put up a replacement nom if we win …like what happened to Monte and Alex. Scott – I still need to talk to Jason, Justin, Neeley and even Kryssie. I called her out last week so there's obviously bad blood there. Shane – whoever you put up just please don't put up me or Danielle because we would have your back. Scott – more often than not America's nom will probably go home. My noms probably won't matter at all. Scott – I'm going to play the week to my benefit and see where it takes me. Shane leaves.