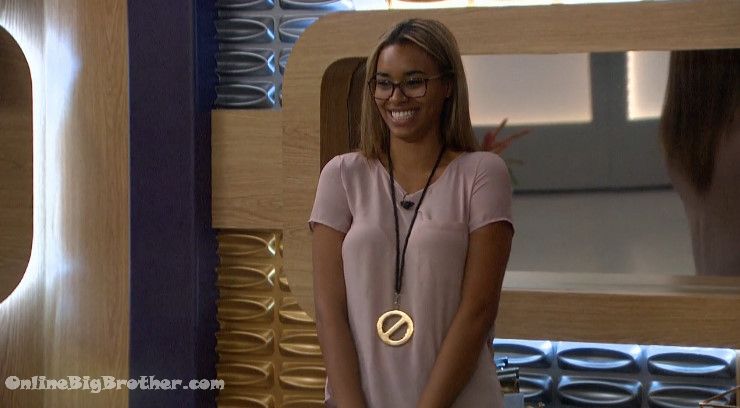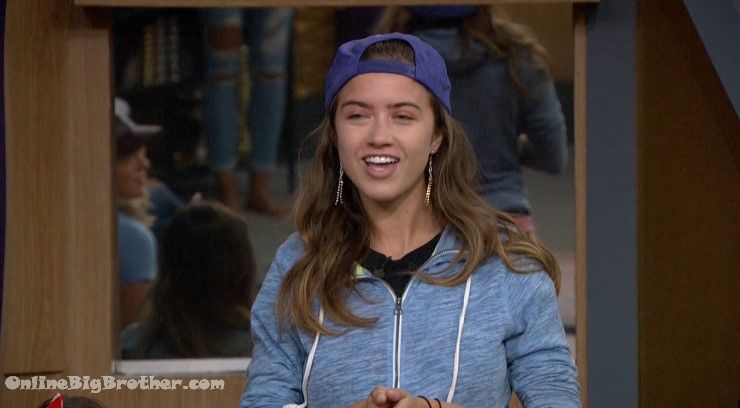 Shelby – Hey Danielle.. great job in the competition I would love if you used the veto on me but you are the one that put me here so i'm not expecting it.. Great job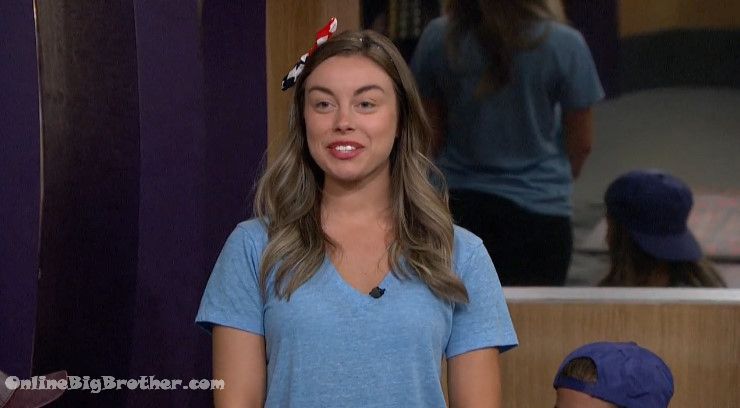 Whitney – If you were to use the veto on me I would be so appreciative.. do whats best for your game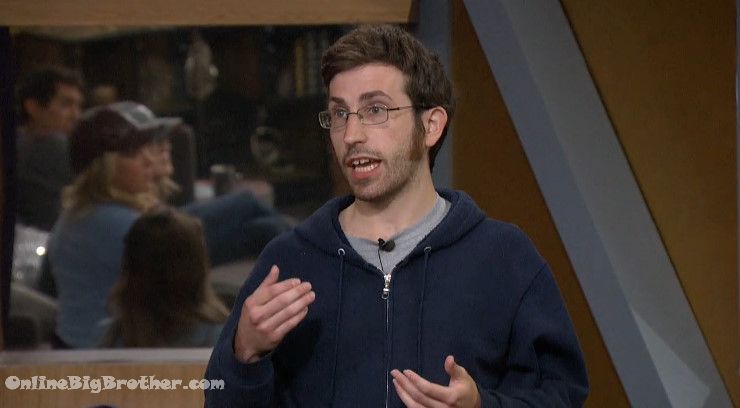 Scott – Danielle if you used the POV on me I would appreciate it and if you save me I would owe you a life debt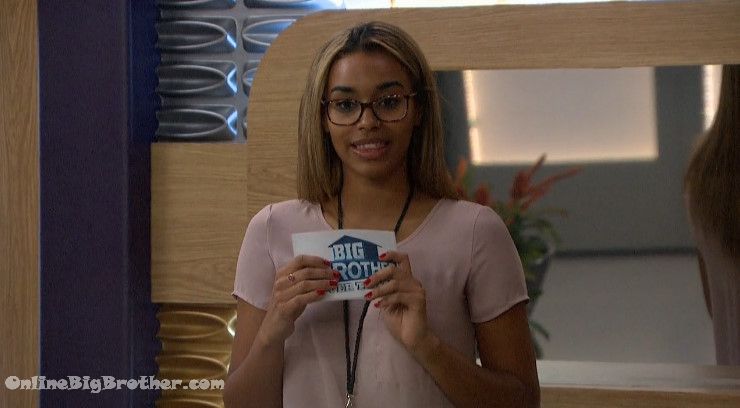 Danielle says this week she's felt like she's in Defense mode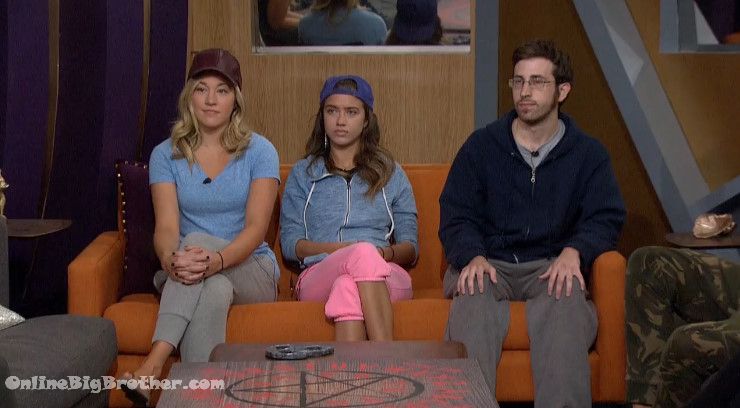 Danielle used the Veto on Whitney pulled her off the block and nominating Morgan in her place.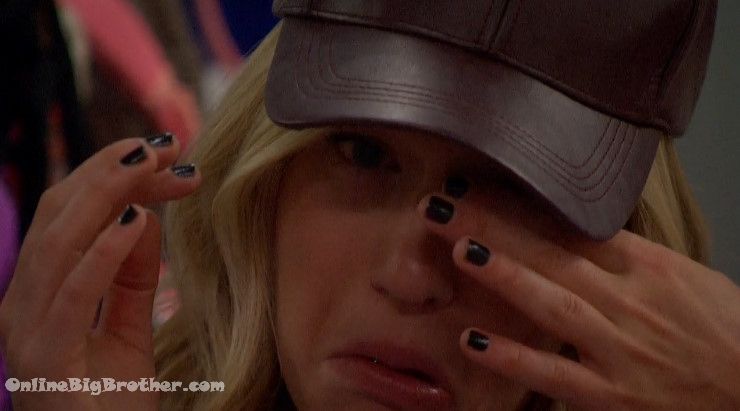 1:16pm Morgan, Shelby and Alex
Morgan crying.. they tell her Scott is going home Whitney will vote him out. Morgan doesn't trust Whitney at all anymore..
Alex – Whitney has flipped agaisnt us.. we can't trust her
Morgan – dude hell no … hell no
Morgan feels she's in danger this week.
Whitney comes in says she's surprised. Whitney thinks that someone was pressuring Danielle to put Whitney up at the start.
Alex – it doesn't make sense she got extra blood on her hands.
Whitney points out that Danielle was always saying to her whoever is America's nom she is pulling down.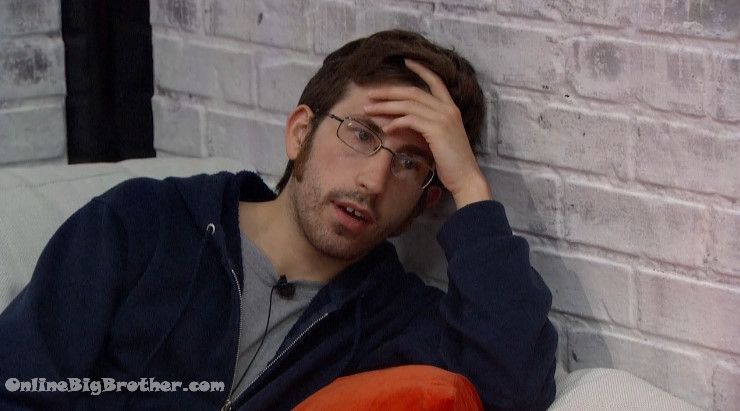 1:22pm Alex and Scott
Figuring out what happened. Alex says Whitney won't look at her. Scott thinks Whitney will vote him out over the girls. Tells her to give him a heads up if he's going.
Shelby comes in
Alex – I feel like Whitney is not with us anymore.
Shelby – I knew she would be the first to flip the whole time
Alex says Whitney was lying to all their faces in the bathroom just now.
Shelby says Kryssie was correct calling Whitney a floater.
SCott – if you want to keep me around consider cancelling Whitney's voice.. Whitney and America will vote to get rid of me
Shelby – I'm on the block so I can't take any chances
SCott – that's fine.
Scott tells them to keep themselves safe if he goes home no big deal he made it to Halloween.
Alex – Danielle was already on the outs..
Scott – On Friday I talked to Danielle and she said she would use the veto on me..
Scott – they do want to eliminate out care packages.. Morgan is their target.
Whitney comes in..
Alex – well Danielle got what she wanted this week
Whitney – what do you think she wanted
Alex – out side gone..
Alex – I just hope if I go home you 4 girls stick together.. If I go home you all made it one step further..
Whitney – was Morgan upset
Alex – yeah she's upset.. I haven't seen her cry in here before.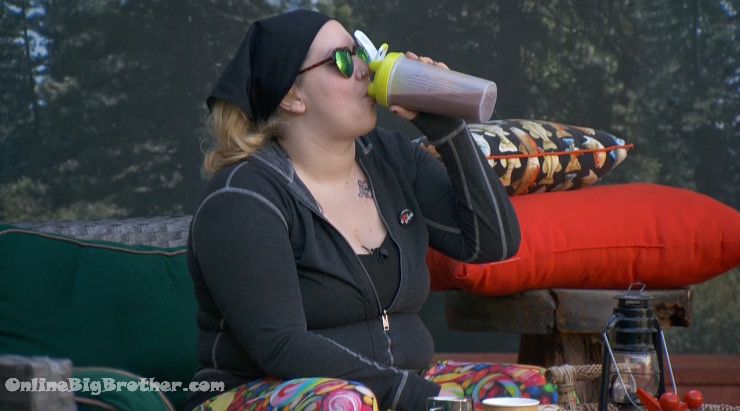 1:32pm Another Week of Kryssie HURRAY!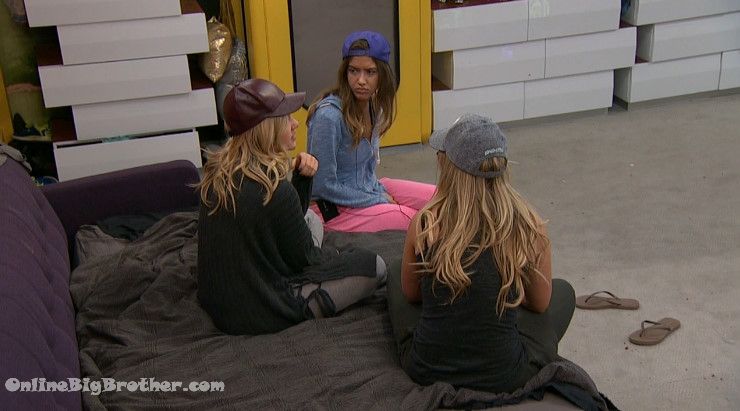 1:42pm Tokyo room
Alex – she Basically sold us out to save herself..
Alex – I'm surprised she didn't put me up
Shelby joins them.
Alex say they can't be mad at Whitney, "The other side has turned her against me"
They agree to start filtering the information they give Whitney.
Alex – she has broken the alliance
Morgan – I agree
Alex says it was so obvious Whitney lying to them.
Shelby – we don't even have any f****g numbers if we win HOH
Alex – it'll be a battle but we don't give up
They agree it's really awkward around Whitney now
Morgan – I know she threw me under the bus
Alex says she's never made a final 2 deal with Scott and he's made it sound like she has. She's voting Scott out this week.
Whitney joins them tells Morgan she has nothing to worry about.
Morgan says she's surprised she's up.. "I was caught off guard"
Whitney – I did not expect to go up so I totally understand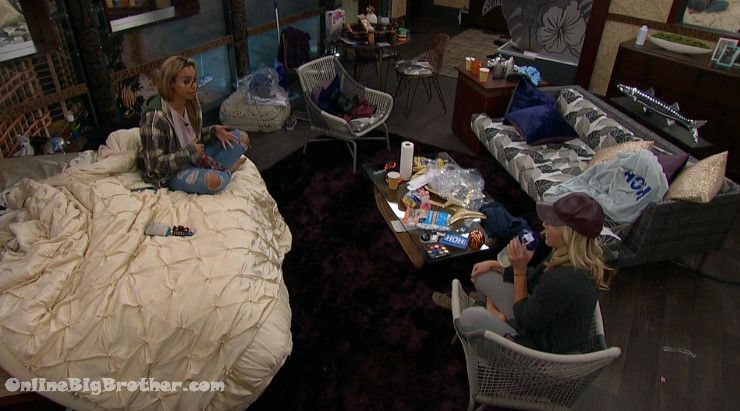 2:05pm Danielle and Morgan
Danielle tells her she's not the target. Says Scott was handed to her on a silver platter. She didn't want to risk Whitney going home.
Danielle – for me it's more secure voting wise if it's Whitney and Alex voting… and America voting
Danielle says Alex is more likely to turn on Whitney than Morgan. Danielle wants to make sure SCott goes.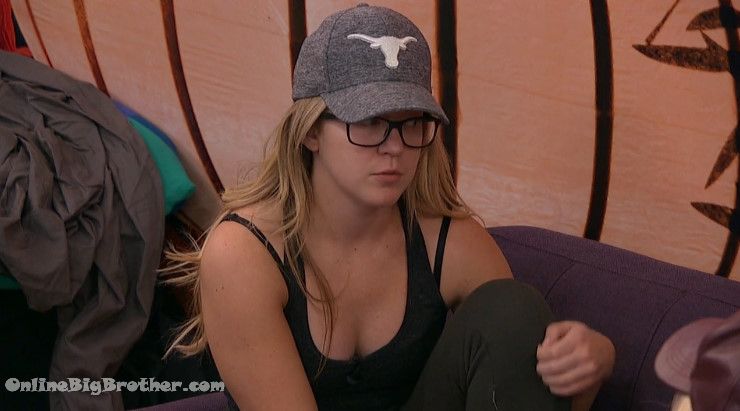 2:16pm Alex and Shelby
They think Whitney offered Danielle the Care package. Alex suspect Whitney told them their alliance name.
Alex – I can't be mad at her we would have voted her out if Danielle saved Scott..
Shelby says Whitney must feel good "I'm floating to finale"
Alex – she is
Shelby – we're not acting happy enough that Scott is going home
Alex says Whitney knows that they know she's flipped.
Morgan joins them.. "I still Believe Whitney made them a deal 100%"
Morgan says Scott is the target.
Shelby says Danielle told Scott they were working together because they were both at the bottom of their alliance.
Morgan – she put me up because she thinks you (Alex) and Whitney are votes against Scott..
They agree Whitney must have said something to Danielle about Alex to make Danielle think Alex is closer to Morgan and Shelby than Whitney.
Alex says 3 days ago Danielle was all about getting rid of a girl that doesn't have a care package.
Alex – Whitney probably told her (Danielle) we would vote her out .. Like Whitney planted the seed into Danielle's mind probably
Alex – Whitney does not have confidence in us
Alex – I can't fault her She made the best move for herself This is a game I can respect it .. it's just a little tricky for us
Alex – the other side of the house gives me a giant headache
They are worried Whitney will put them up if she wins HOH.
Morgan – once we left she has Justin and Kryssie
Shelby says she can't trust Scott he reveals truths to them after the fact..
Scott joins them, "Whats cracking"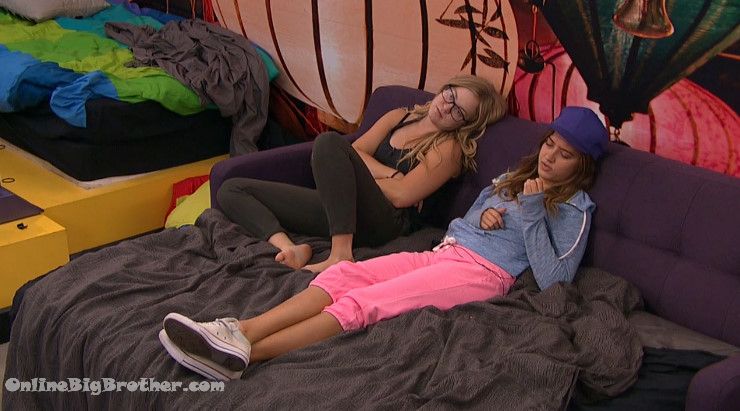 3:39pm Tokyo Shelby and Alex.
Complaining about how Production lets Justin get away with things they aren't allowed. Like Singing and napping. They want Justin out over Jason because Jason they can work with. Alex knows Danielle wants Justin out. They think maybe Danielle will work with them to accomplish that.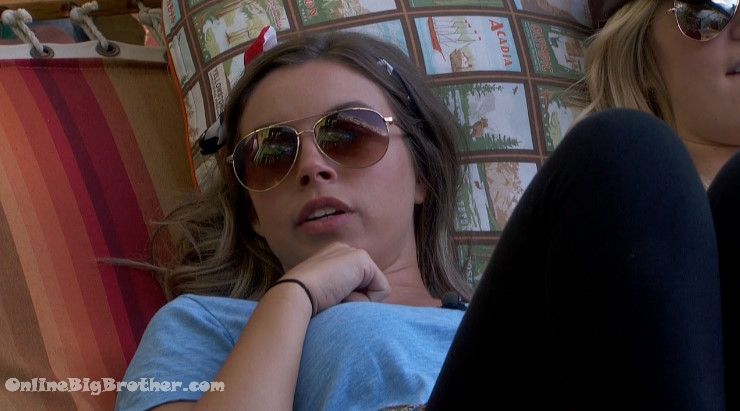 3:40pm Whitney tell Morgan her deal with Danielle is to Vote Scott out 100%.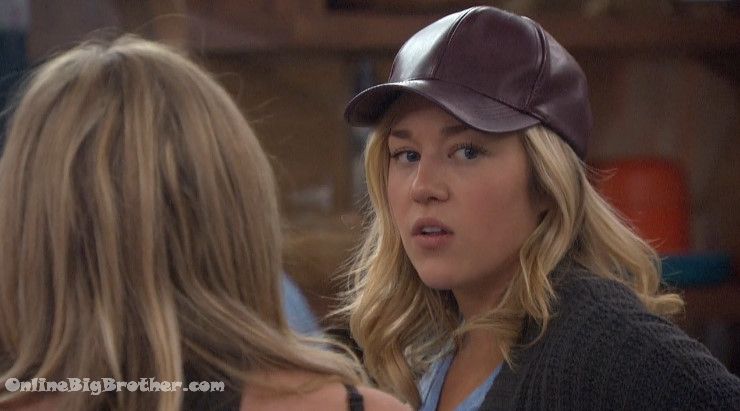 4:38pm Kitchen Morgan and Alex
Morgan says she talked to Whitney and brought up the care package saying that maybe they kept Whitney off the block was because they wanted her care package. Morgan adds that Whitney had nothing to say to that. Morgan is convinced Whitney made a deal with Danielle.
Morgan – she wants us to stick together
Alex – I'm going to make peace
Morgan – I'm going to keep acting like everything is cool..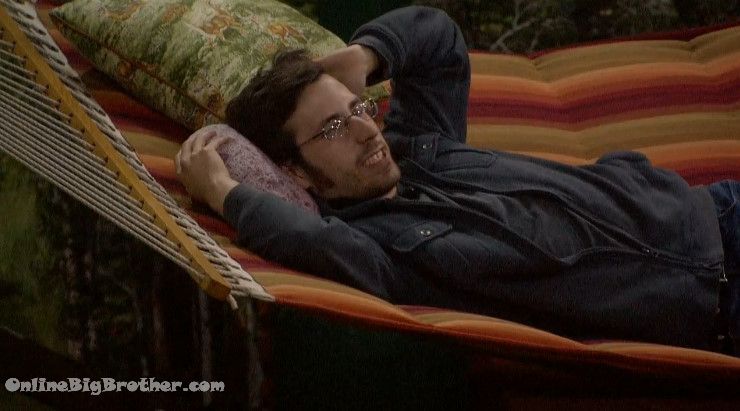 6:00pm Jason and Scott
Scott admits he over played in the beginning. He got lucky and stayed but now his time might be up.
Scott – the fact I made it this far is 1/2 a Miracle in itself..
Jason – everyone is a winner that makes this on here..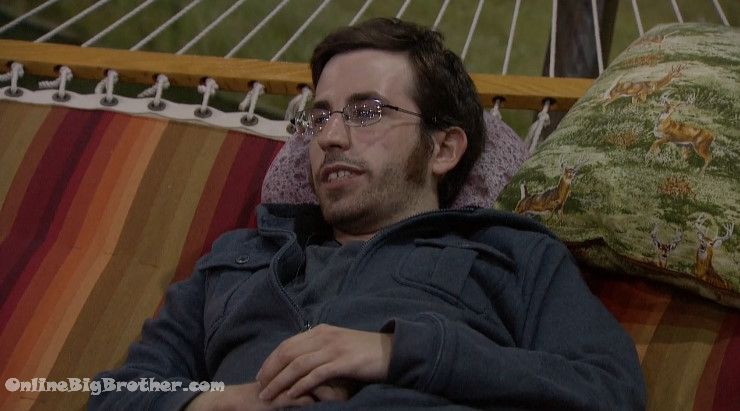 6:43pm Alex and Scott Hammock
Scott hopes his mistake doesn't jeopardize Alex and Shelby's game
Scott – you are not disloyal to vote me out.. I almost want you to it's the right thing for your game Alex it really is.. this is what you need to do to get further..
Scott – my last hurrah is to convince Whitney Jason is out to get her
Alex – if you can do that it will be really helpful.. At this point I don't know if she will believe me
Scott is going to bring up the deal that Jason sold him if Jason was America's nom, "Jason is the reason you went up on the block.. JAson and Danielle both Approached me about voting you (Whtiney) out"
Alex – thank you
Scott – thank you for being a friend
Shelby joins them .
Alex points out how Scott and Monte are handling themselves compared to Shane and Neeley and their freak outs. Stark contrast of characters.
Morgan joins them..
Scott – next week 4 on 4… the next HOH is 4 on 3 y'all have 4
Scott says he'll be watching them Kill it.
they joke that Scott's votes will cancel out Shane.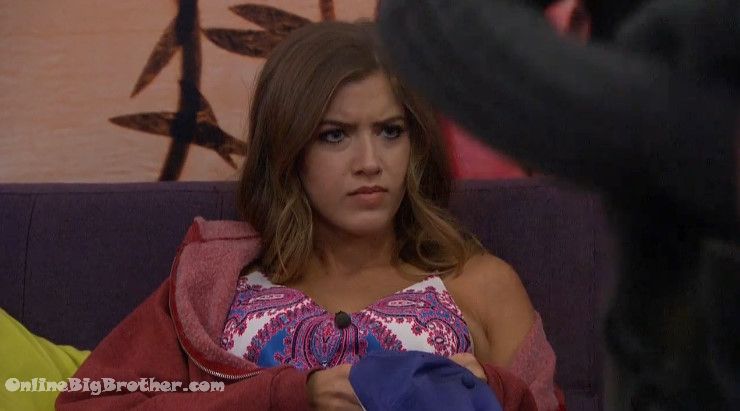 6:58pm Shelby, MOrgan and Alex
Alex reminding them not to blame Whitney she had to save herself. They feel that if they win HOH Whitney will float to them.
Morgan mentions if Whitney wins the care package and goes to the other side she'll be pissed.
Alex says Scott knows Whitney flipped. They should keep acting like they don't know what's going on.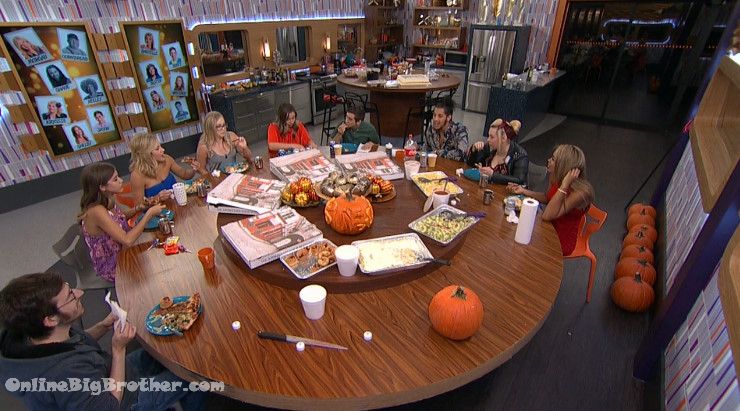 7:12pm Another party…. have nots get to eat again.
7:34pm Live DR's
Whitney says she's sticking with the 4 girls and smashing Scott's balls.
Whitney – My biggest threat is Alex.. it's complicated..
Whitney says she doesn't trust Alex.
Whitney – Alex and Scott were the reason for me being nominated
Whitney says she trusts Justin the most.
8:25pm More DR's
[polldaddy poll=9567977]