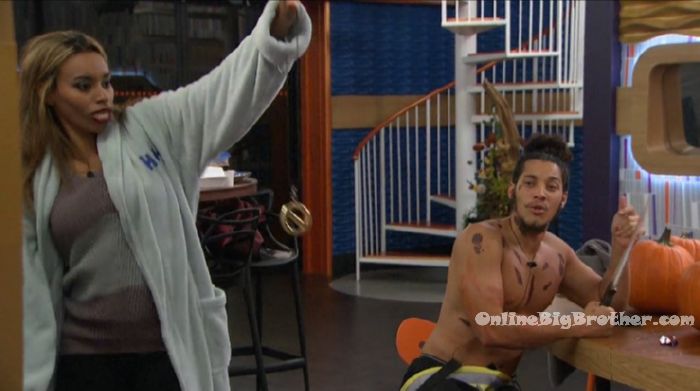 12am Danielle, Justin, Jason and Kryssie are in the kitchen hanging out. Justin is singing. They join the others in the bedroom. They're all haging out talking about random things.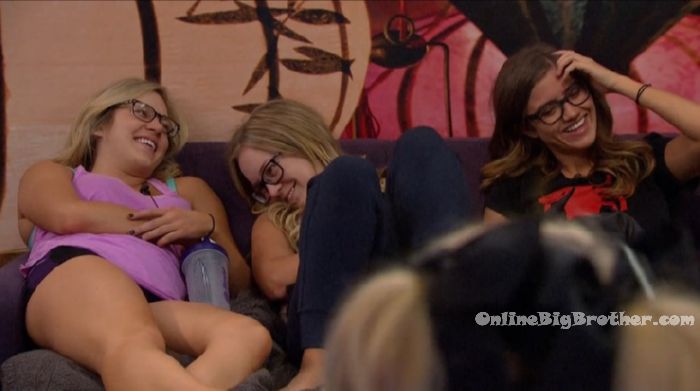 Watch the BBOTT Live Feeds FREE for 1 WEEK!
Click here for your: FREE Trial!

12:35am Bathroom. Alex and Shelby. Alex – I started having panics when we were in the room woth Morgan and Whitney. I didn't know what was going to happen. It was almost to the point where I didn't want to step in and say anything so that people think we're lying or playing both sides. Its at the point where Danielle, you do what you're going to do and we'll make a decision from it. Shelby – I'm like you go talk to Danielle. I think she is going to use it on Scott or not use it at all. Alex – I was trying to talk to Whitney earlier.. and I don't know if she is upset but she isn't making eye contact with me and not really communicating with me. She is acting distant. Shelby – She must be freaking out …but even if she has some plan .. I have to be in the plan. She isn't saying anything to me. Alex – she isn't talking to us about stuff. My gut is telling me something is off. Shelby – it doesn't matter .. take away 3 votes. Alex – I know, I'm struggling a bit because technically Scott is better for me. Shelby – he is. There's a part of me that wants to keep the all girls alliance. Alex – my heart is telling me all girls alliance. Y'all are my favourite people. And my gut is telling me that Scott is probably better for you and Shelby because he is more invested in you and Shelby whereas Whitney is more invested in Justin. She proved that today. Shelby – my heart wants to keep Whitney, my head wants to keep Scott but its all going to depend on Danielle. She will probably use it Scott so we won't even need to have to convince Morgan to vote out Whitney. That was just weird that Scott just assumed Morgan would chose him over Whitney. Alex – Scott just doesn't think. Alex – keeping Scott is better because he will always be a bigger target than us. Shelby – I've had doubts about her (Whitney) for a while. Shelby – Scott isn't trustworthy but after this he will have to have more loyalty to me after I use the care package to save him. Shelby – I don't want to be the one to tell her (Whitney. That she is going home.)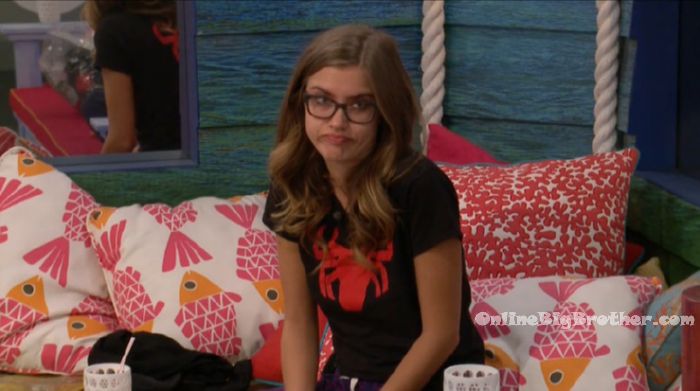 12:55am – 1:10am Scott is talking to the cameras in the lounge room. God America, we have to win HOH .. we have to win HOH so badly. Scott heads outside. I'm pretty sure Danielle is going to take me off the block which is huge. Its an incredible move on her part to keep me and Alex safe. She says she trusts me the most out of the people on my side and honestly I am starting to think she is the person I can trust most on her side. Which is really messed up but when Alex nominates her and her showmance I successfully take out her showmance and she doesn't come after us… like that is a huge leap of faith on her part and honestly I have to respect that. As of right now it looks like she is going to take me off the block with the veto she won today leaving the nominees to be Shelby and Whitney. I've been doing a lot of thinking. There are a couple of reasons to keep Whitney around namely the fact that she is still eligible to receive a care package. And b the fact that Whitney is a marginally better competitor than Shelby. The reasons to keep Shelby are that Shelby, myself and Alex have been working together since week 1. I think Shelby would actually consider a final 3 with me and Alex. They have been my best friends so for personal reasons it seems better to keep Shelby over Whitney. Not to mention if Shelby sticks around and Jason and Justin win HOH they would want to take her out before me or Alex. Justin does not like Shelby at all. If we keep Whitney and Justin wins HOH he would probably gun after me and Alex. So there is a lot more strategic logic keeping Shelby around. It would be the darkest timeline if Whitney teamed up with Justin and Kryssie for a final 3. Me and Alex would be screwed. Not that I think Whitney would do that because she is a loyalty member. There is a lot more strategic value in keeping Shelby around. Obviously I will listen to Alex and if she tells me to jump, I will ask how high. Unfortunately, it looks like Whitney is going to go home. Me and Alex are pretty in tune strategically. Scott heads back in to socialize.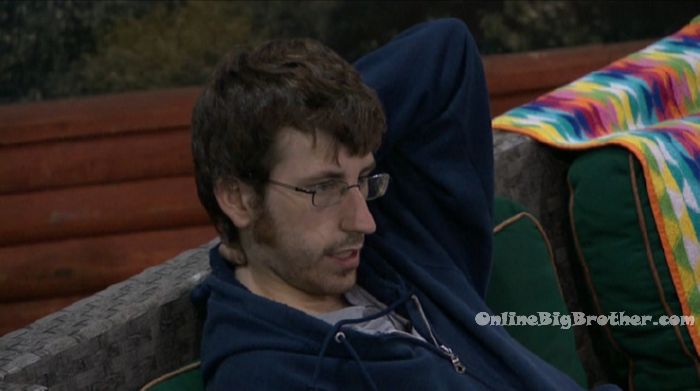 1:35am – 3:30am Everyone but Whitney, Danielle, Jason, Justin and Kryssie head to bed. They chat about random things and then get ready for bed. Danielle asks Jason if he will sleep with her tonight because she is scared. Jason laughs and says he will. Danielle the ouiji board just freaked me out. Jason – Scott was like Danielle is such a good strategist, I wish I was talking to her sooner. I was like yeah dumba$$! You're a dumba$$. He's such an idiot. Danielle – yeah Scott how did you not see I was a better strategist than Shane. Shane had good ideas, but I always fined tuned Shanes ideas.
Watch the BBOTT Live Feeds FREE for 1 WEEK!
Click here for your: FREE Trial!