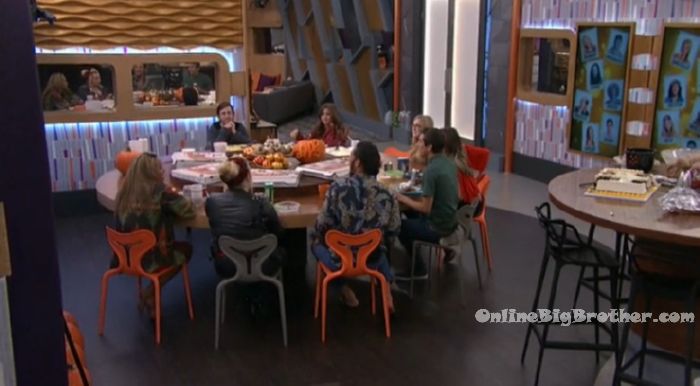 9pm The house guest are sitting around the kitchen table talking and laughing.
9:25pm Backyard – Scott is alone and talking to the live feeders. Thankful I made it to Halloween. Thank you America for not letting me go out on Neeley's bullsh*t speech. Most of which was untrue because I created the 4 guys alliance and I'm the one that turned on the alliance ..OK?! Welcome to big brother. I'm sure Monte is the only person that's been evicted that would accept a friend request from me .. which is sad but whatever. Its fine. No hard feelings. Play your game. I've made a lot of mistakes in this game and I've hurt the people that I'm closest to as well. Sorry Alex. Sorry Shelby. If I was smarter, if I had listened to you. If I hadn't been so selfish and tried to keep myself good with everyone in the house.. if I had just picked a side sooner… none of this would have happened. Now I only have one play left. I'm on my death bed but I'm not done yet. I have to make sure Whitney is solid with the girls. She has to be. Everything I did, I thought I had a good reason to do it. I've made a lot of mistakes in this game. I should have seen the red flags sooner .. but its hard. Jason's been playing a really good game. He's ruthless but I'm proud of the kid. But for my friends that I want to see succeed in this game… he (Jason) has got to go. Maybe I should have listed to Jason and Justin and gotten rid of Danielle. I know America you probably have your groups that you want to move forward. I hope you support Alex. And I hope you give Morgan the next care package. Shelby – what if he completely blows up our game in his speech. Well played Whitney, Justin, Danielle. You got what you wanted, you got the group to fracture. I thought I knew Jason's game. I thought he was trustworthy and loyal. I give him mad props for how he is playing this game. Scott heads inside.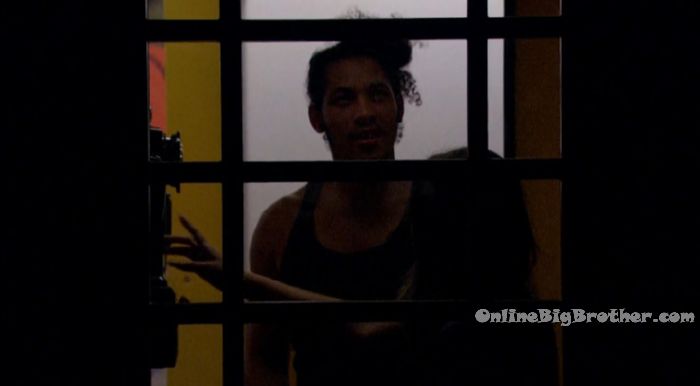 9:45pm – 10pm Bedroom – Shelby, Morgan, Alex, Whitney. Shelby – I feel so bad for Scott right now. Morgan – me too. Whitney – what's he doing? Shelby – walking around in the backyard. Whitney – I know, I feel terrible. I feel down when he gets like this. Alex – that's the game. They laugh about the possibility of being the last girls standing. Alex – the care package is definitely going to go to one of y'all two. Shelby – depends on who wins HOH. Morgan – and if its co-HOH. Whitney – if one of us wins HOH, it might go to Jason. Whitney – what if it goes to Danielle!? Morgan and Shelby head into the London bedroom. Shelby climbs on Morgan's shoulders and puts the witch hat on.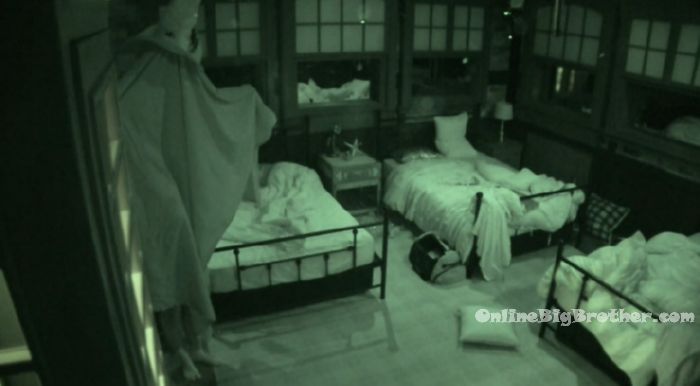 Watch the BBOTT Live Feeds FREE for 1 WEEK!
Click here for your: FREE Trial!
The Ball Smashers scare Justin @bigbspoilers #BBOTThttps://t.co/RlJcbemliP pic.twitter.com/72FYdZgJVk

— Dawg (@DawgsBigBrother) November 2, 2016
11pm – 11:30pm Lounge room – Ball Smashers. Alex – Justin and Jason are the strategic people to get out. Kryssie and Danielle are the personal people to get out. We have to go for the strategic. Morgan – once Justin goes, Whitney has to come back to us. Shelby – it doesn't leave her with many options. They talk about how they think they could convince Danielle to vote out Justin. Morgan – she (Witney) is not a good liar. You can immediately tell. Either she doesn't make eye contact or she will awkwardly pause.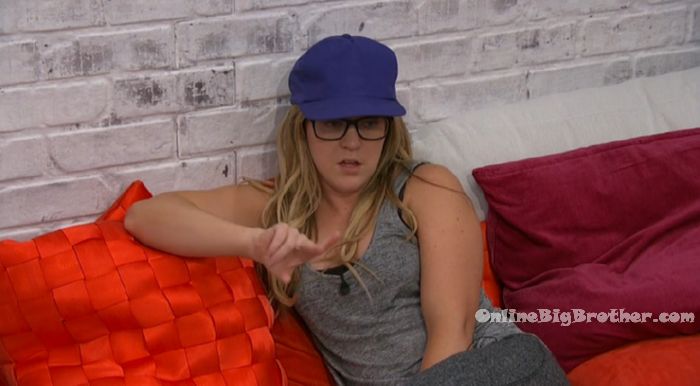 12:40am London Bedroom – Scott and Alex. Scott – I'm counting on you keeping the girls together… and the only way to do that is for you to evict me. Alex – I know. Now I wish.. If we had known things had shifted last night maybe we could have shifted it back. Scott – if we can get Whitney back, this is going to be better for the group. If we show her the light and get her back you will have two shots at care packages instead of just one. So if I do go this could be better for your game. it could be better for Shelby's game. It could be better for Morgan's game. If I go home instead of Whitney. You best believe Whitney has a care package coming to her… probably sooner than later. We need to show her the light and the love to get her back on track. It needs to be the whole group to show her the light and love. Alex – I know .. Jason is playing a dirty game. Scott and Alex go to sleep.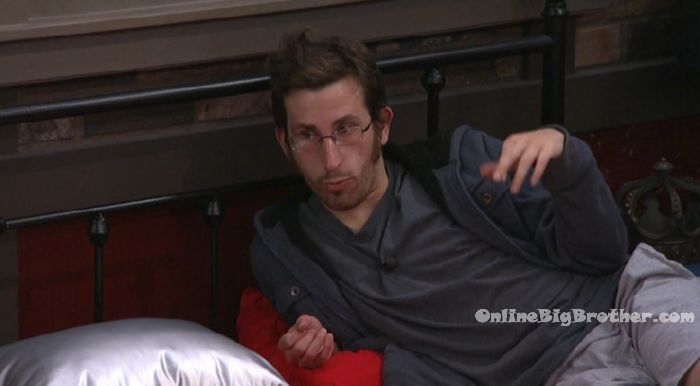 Morgan and Shelby try to sleep in the other bedroom but can't sleep because the others are yelling and screaming in the other room. Shelby asks them if they can't keep it down. Justin says no. Shelby says well I'm taking your bed then. Shelby and Morgan go into the London room to sleep.
Watch the BBOTT Live Feeds FREE for 1 WEEK!
Click here for your: FREE Trial!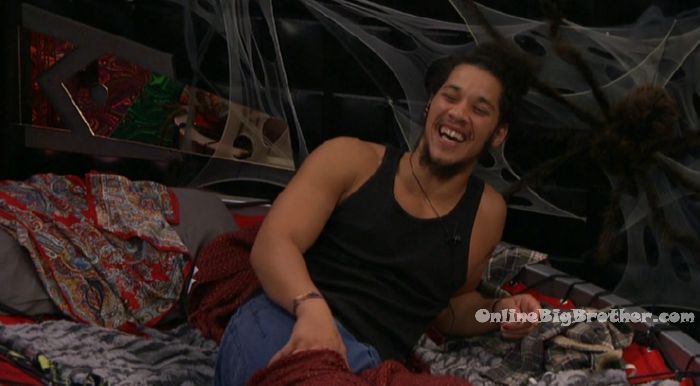 1:10am – 2:45am Justin, Whitney, Kryssie and Jason are talking in the Havenot room. Justin – we just have to keep winning. Jason – Its at that point where we do need to keep winning. You know next week if we can't get Alex out and we put her straight up and she wins the veto we can always send Shelby out. I'm not afraid of her.. here's what you do .. he's the king and she's the queen. You get rid of the king first and then that queen is sitting there with no where to go. Kryssie – I think the other way around. Its like chess, the queen is the most powerful and can move any which way and the king is all but useless. Whitney – that's right on. Jason – once he's (Scott) gone she will have nothing but bishops on her side. kryssie asks Whitney – do you think she (Alex) will try and take you out. Whitney – possibly. Kryssie – I think they have bigger fish to fry. They're so focused on Jason and Justin.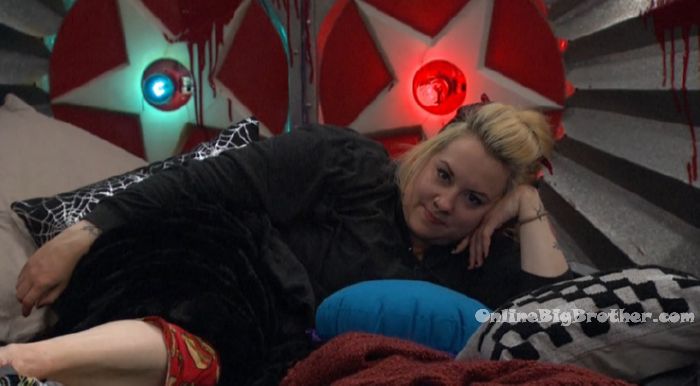 3:15am All the house guests are sleeping..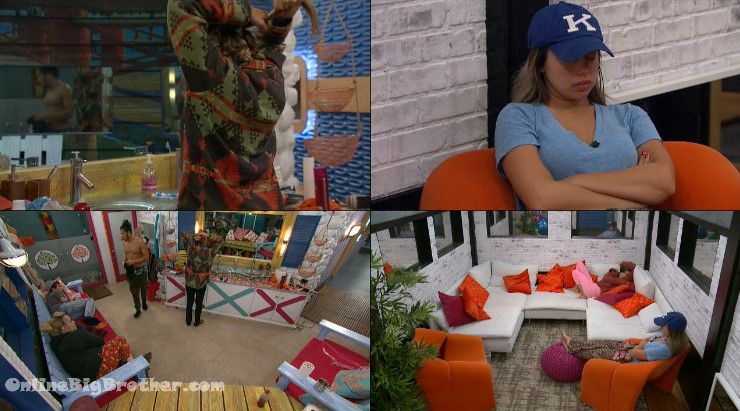 Nov 2nd 3:28pm Chit chat..
Justin has a giant scare on his chest from a skateboarding accident. "I probably should have gone to the doctors but I didn't"
Whitney says she's nervous about the competition.
Scott said his goodbyes to the ball smashers.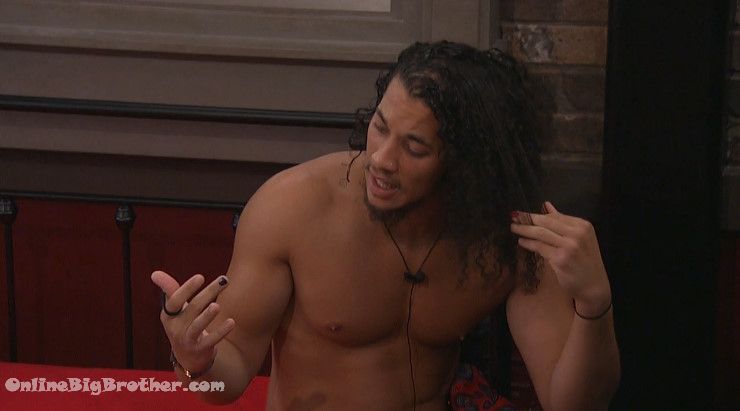 3:30pm Scott and Justin
Justin asks Scott to talk to Alex for him. Says he's still wanting to work with her.
Scott says she's very approachable. Goes on to say Alex is losing someone she's close to and has a lot of people after her Alex will be looking for people to talk to .
Scott – it's tough there's only 3 votes this week
Justin – do yo think it's double eviction soon
Scott – I'm not good with numbers.. I thought so when they said final 2 but final 3 I don't think so
SCott – I'm going home tonight it's all good..
[polldaddy poll=9567977]