POV Holder:
Liz
POV Competition
Aug 15th
POV Used
No
POV Ceremony
Aug 10th
HOH
Liz
Next HOH
Aug 20th
Original Nominations:
Johnny Mac and Becky
After POV Nominations:
Johnny Mac and Becky
Have Nots
Vanessa, Johnny Mac, Steve
Sleeping _______ ?
4:50pm Steve and Vanessa
Vanessa – Jackie took it so well, she smiled and walked out it was crazy
Steve – ya, yes it was
Vanessa – that's how I want to be
Steve says even though it's day 62 he's still having these moments, I'm still in awe that I've walked into this house.. I never should have been put here and because of some freak accident here I am, it's so crazy.
5:13pm Jmac and Steve backyard
Jmac says they have to take out Vanessa next week they have to make sure the goblins stay in the house. hopefully the person coming back wins HOH and goes after the other side.
Jmac says they're in a position where they have to win to stay in the game.
Steve says this week was revenge week. Austin/twins and Vanessa are close and Becky went after Vanessa.
Steve – I'm glad you have the votes.
Jmac says he's got no problem making a deal with Vanessa for next week and if he wins the HOH he'll still take her out, "She's done me wrong"
Steve asks if Becky comes back in who is she going after
Jmac says Becky will got after Austin and the twins before Vanessa.
Steve – jackie
Jmac- Austin and the twins
Steve – Shelli
Jmac – that's the wild card she'll hook back with Vanessa.. She's the worst case scenario
Steve- really I thought you were closest with Shelli
Steve asks him who he thinks is coming after them
Jmac- no one now but if we don't play our cards right next week we're the targets
Jmac says the competitions for the Jury will be either a crapshoot or endurance. If it's endurance Vanessa won't come back
Jmac says they if they put up Vanessa and Meg, Austin and the twins might take out Meg
Steve- they trashed her (Vanessa) pretty hard last night.. you were there
Jmac – that was last night.. they might think about game
Steve – than who should the pawn be
Jmac suggests they use each other as the pawn or Austin/twin
If they put Austin/twin up they will secure the votes to get out Vanessa.
if they put up James or Meg, Austin and the twins will take out the goblin
Steve – do you really think Austwins would keep Vanessa over Meg
Jmac – they might.. Meg is going to work with who comes back
Steve asks him what he thinks if the goblins form 3 again
Jmac – that's fine, they'll go after Austwins
Steve says they might want to keep Vanessa around because she's such a HUGE target "I feel Vanessa will be such a good target for the person that comes back "
Jmac doesn't agree says it's all about numbers people are going to keep her around "THe longer she's here the bigger we are as targets"
Steve – ahh because she's on her own
Steve asks what he would do if he won HOH
Jmac – "Vanessa and a twin up, or Vaneesa and You"
Steve – are you really going to nominate me
Jmac – I don't want to, we can think of something better. there's no way in hell they will get rid of you
Steve – Why
Jmac- you did them a solid getting rid of Jackie
Jmac is worried the goblins will come after them over the Austwins
Jmac says there was a divide with the goblins, Becky and Jackie wanted to take out Vanessa the other two wanted to get rid of SHelli,
"Becky took all the heat and James and Meg didn't care"
Steve – so the goblins are kaput
Jmac – we can let them know we know that
Jmac is confident if Jackie, Becky comes back they will work with them.
Steve – your fear of Vanessa has nothing to do with lies
Jmac- at the time it did now it's numbers .. there's no fear it's strategy
Steve – your reason to get her out is very different than a couple weeks ago
Steve – that would be an awesome move getting out Vanessa
Jmac – we have to win it first.
Steve says he wasn't sold to get Vanessa out next week but now "You're making a lot of sense"
Jmac – As long as there's a house of groups of three we're OK
Jmac says if they had gotten out Vanessa during the double then the twins would be going after Jackie "We would be sitting nice"
Steve – we need to play nice with Austwins and not say a word to them until Thursday
Jmac says Austin is a lot smarter than they think so he's probably thought of this already
Steve – Austin is blindly loyal to the twins, Liz means more to him than the game.. which is funny she doesn't even like him she's not dating him outside the game
Jmac – ya
6:10pm Pool..
6:21pm Backyard
Vanessa, Becky, Steve and Jmac
Becky is talking about how friendly of a week they are having. Steve points out how uncommon that is for a final 9
Vanessa – does it get better
Steve says it will get worse than near the end it will get better. (Meaning the disagreements will increase until around final 5-4)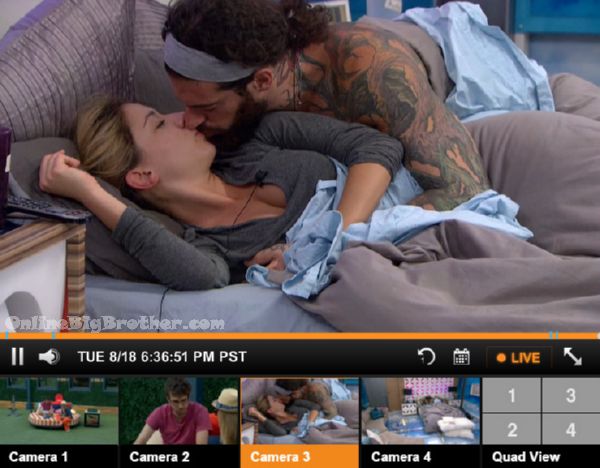 6:37pm HOH Austin and Liz
Liz – We can't cuddle all day
Austin – Ya, We gotta save some for tonight
They start studying. Wondering what the competition will be like for the returning houseguest.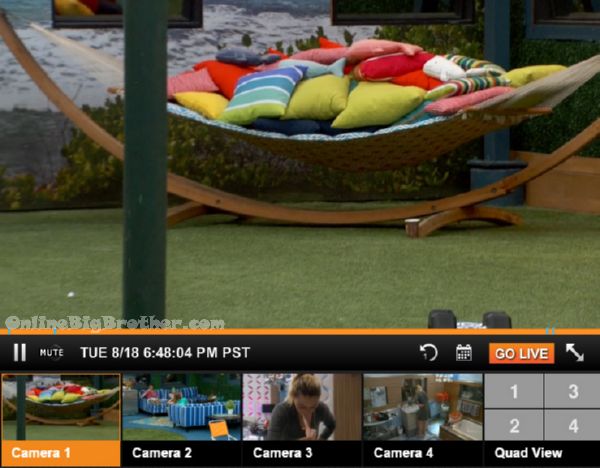 6:48pm Another pillow pile James being crushed inside (Earlier today James piled a bunch of pillows and blanket onto Meg.. She said they were too heavy to move off her)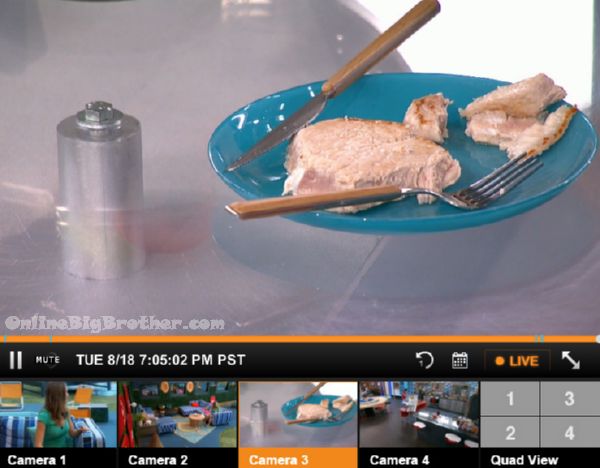 7:05pm I wouldn't eat that pork chop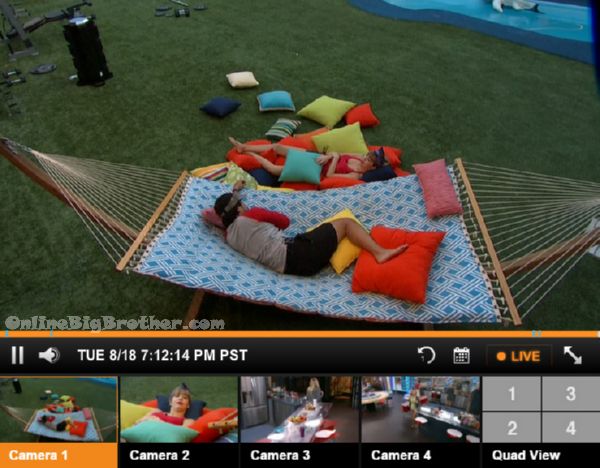 7:11pm Meg and James
Meg says she noticed Johnnymac, Steve and Vanessa talking in the backyard and when James came out they broke up
James says its was "classic BB" when he walked out they were all like "Ohh I'm going to go do this.. "
James- she's working on them
Meg – I think… Johnnymac is playing us all a little be more than we think, that's my gut feeling
James says he's got the same feeling
ALLIANCES:
"Goblins/Gremlins" = James and Meg
"The Generals" = anyone allied with Becky
"SOS" (Students of Sound) = Steve and Vanessa
Rockstars = Steve and Jmac
AUS-Twins = Austin, Julia and Liz
"Austin's Angels" = Austin, Liz, Julia, Vanessa
"Brass Tacks" = Gobins and Austwins
The new "Brass Tacks" = Aus-Twins, Meg, James + Vanessa
"Freaks and Geeks" "The Scamper Squad" = Aus-Twins, Vanessa, Steve
"The new Freeks and Geeks minus Vanessa" = Austin, Liz, Julia, Steve, Johnny Mac
[polldaddy poll=9025485]