10:14pm Vanessa shows the chocolate that hit Grandma.
Vanessa shows the pot ball that caused James to go into a fit of rage and toss the chocolate at her
Meg says the caretaker (James) next to her at night and slips chocolates in her bed.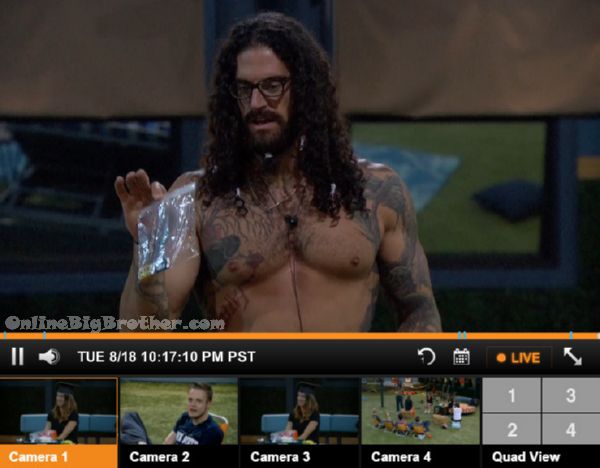 10:17pm Austin – lets get down to brass tacks
Austin exhibit A two pieces of chocolate
Austin asks her how many times was she hit
Meg – one time
Austin – ONE TIME, 5 before a pelt becomes a welt
Becky points out those are milk chocolate and the chocolates Vanessa was saying were dark chocolate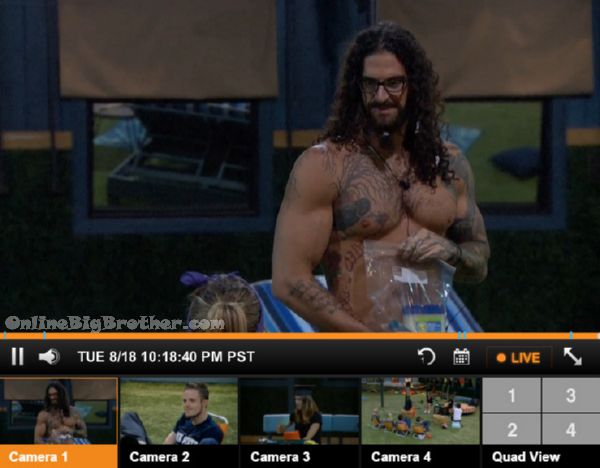 Austin pulls out Exhibit C a condom and Vaseline
Austin says she this is proof that Grandma was sleeping with the dentist. "The same medical examiner that's going to lie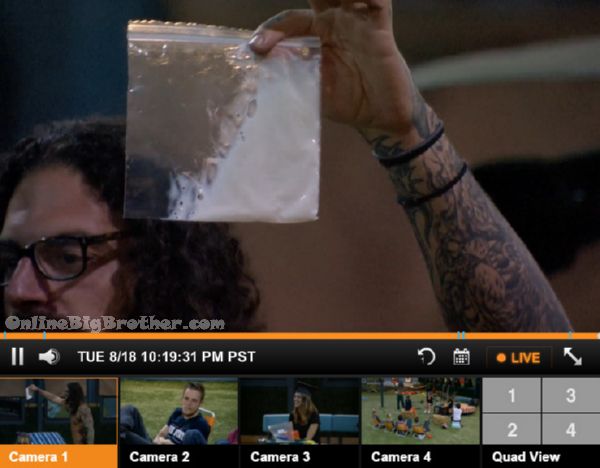 Relax it's Tresemme Ohh la la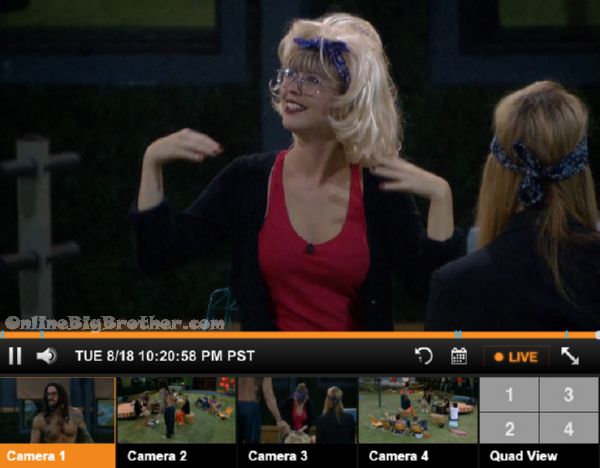 Austin pulls out a wig.. says the tresemme and the wig were seen at the scene of crime.
Austin – If the wig don't fit you must acquit
Meg puts on the wig. LOL it fits
Vanessa- it fits
10:21pm Austin pulls out some Irish Springs shavings.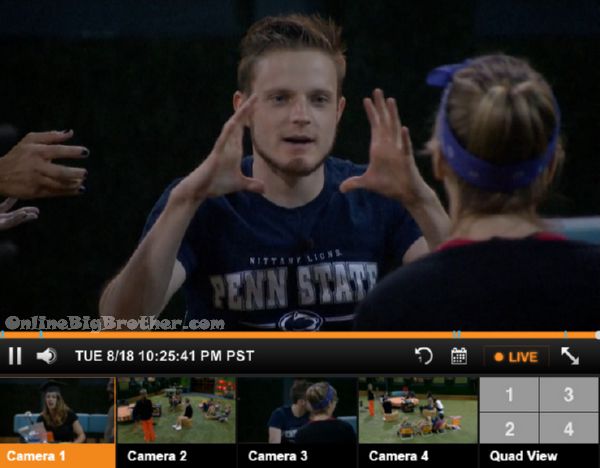 Vanessa calls up the medical examiner
Jmac says Grandma has "Maley Syndrome"
"Basically it means Grandma's a ditz"
Jmac – the DNA on the Chocolate matches Grandma's DNA
Jmac – this could cause Some permanent damage
Austin cross examines "You are under oath"
Austin – In your opinion could she imagine all this
Jmac – she's not suffering dementia she's just aloof
Austin asks if he was sleeping with Grandma
Jamc admits to (LOL)
Austin – Have you cleaned Grandma with this bar of soap
Jamc – I'm not her caretaker, no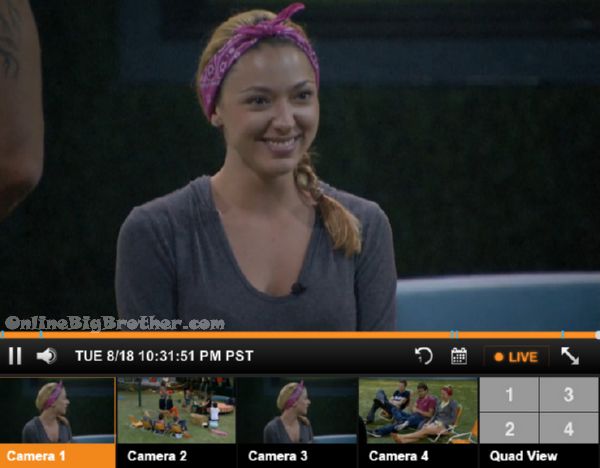 Austin and Vanessa questions liz the neighbor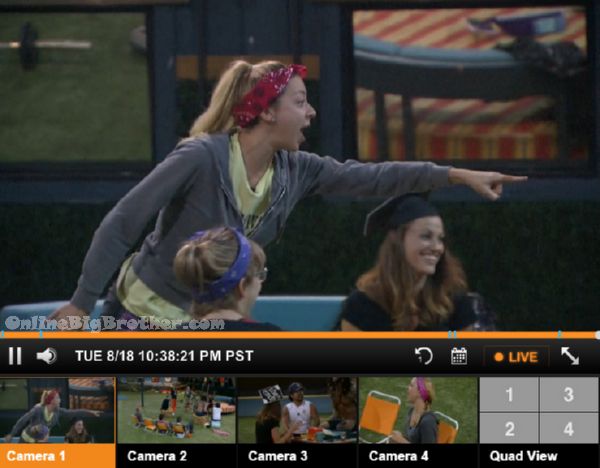 Austin calls Julia his daughter
Austin pulls out the Vaseline asks her where she's seen it before
Julia – I saw that purposely planted in Grandmas room by the care taker
Julia starts to "cry" says she knows who pelted grandma with the chocolate.. Gets up and points at Austin
Julia- It was my father
The jury find the caretaker guilty of all charges but have reduced the sentence to 10 minutes of jail time and each houseguest get to throw one candy.
Austin and James run..
Austin – Why me I didn't get convicted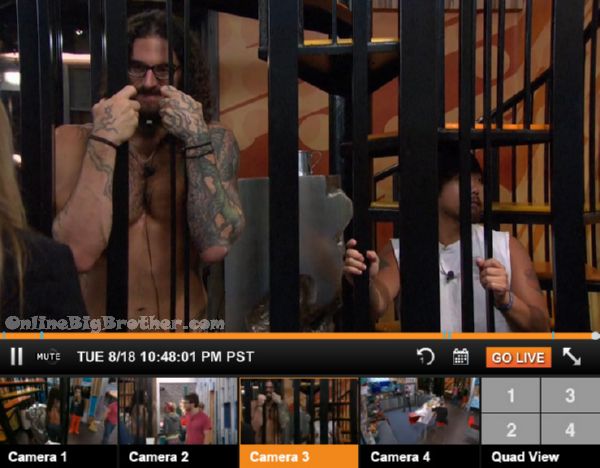 They get tossed behind bars (THe HOH steps)
While behind bars people throw chocolate at them until Big Brother tells them to stop. Steve grabs the bar of Irish springs and throws it on the ground breaking it. Austin and James trapped behind bars are forced to witness. It breaks their heart. (See image below)
11:07pm Hot Tub Chit chat
James- Becky you were a pretty fair Judge you should go into Law
Becky – Ya, from retail to law
Jmac talks about being able to prescribe narcotics and Xanax. Says he never prescribes more than 15 vicodin for any procedure he does because they don't need any more than that.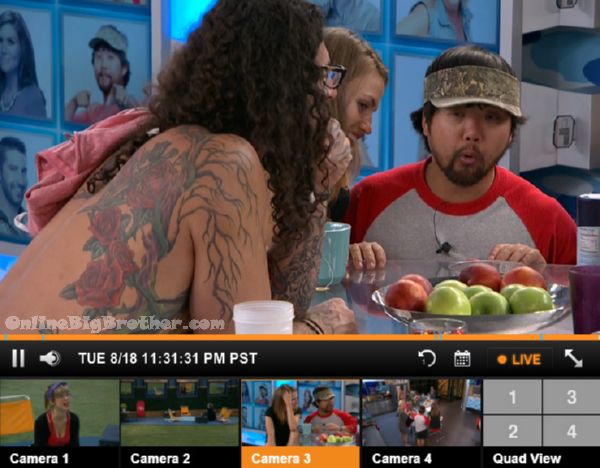 11:21pm Kitchen Steve says Jackie was very classy "She gave me a hug walking out the door" He goes on about how he made a mistake on Double eviction.
11:31pm Everyone telling Steve his raw pork chops are not good. (I've been noticing this all week.. It's really gross. check out the picture on page 1)
James – there's bacteria in that meat..
Austin – I can't believe you're eating that
Steve – I've been eating them like that all week
11:38pm HOH Julia, Liz and Austin
Julia and Liz are pissed at Becky. Julia is worried Vanessa, Steve and Jmac are forming up a 3 person group.
Austin really trusts Steve now he told Steve whatever Vanessa propses he should say yes to makes her feel safe.
Julia thinks Jmac will try and take one of them out. Austin doesn't think so says Jmac is after
They start studying. Tomorrow at 5:30am the backyard gets closed.
11:40 being sneaky
Sneaky Steve #BB17 @DawgsBigBrother pic.twitter.com/mE5p6Bp7YK

— OnlineBigBrother.com (@bigbspoilers) August 19, 2015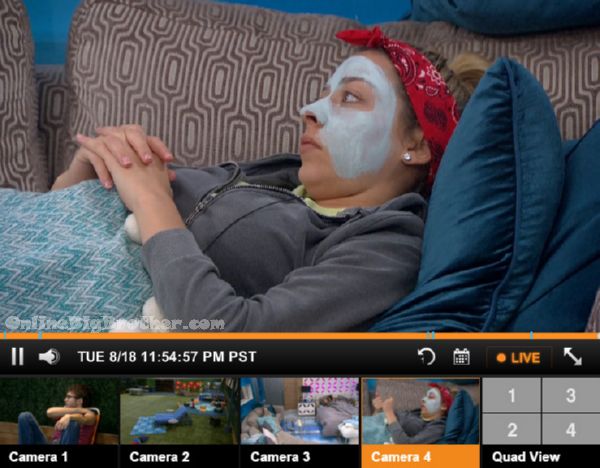 11:52pm HOH Austwins
Talking about Becky not asking any of them for their vote.
Austin says Becky thinks she's safe this week.
They mention Becky's hurt foot. Austin says she probably banged her toe up on purpose.
Liz – Vanessa looks like a inmate in those orange pants.
Liz is telling them they shouldn't blind side Becky
Julia mentions if anyone she should be mad at it's Meg and James. They were never with Becky but Meg and james were.
Austin says they don't have to tell Becky straight up just tell her that things are flip flopping in the house.
Austin – we're only two votes
Julia – we want to go with the house
Julia – Jmac has been acting cool
Austin – trust me he's not getting close to Vanessa, Steve is a good guy he proved himself during the double eviction.
Liz says they need to talk to Steve.
Austin – Steve scampers till 5am we'll talk to him
12:02Am Meg joins them..
They bring up the backyard being closed at 5.
Meg says the HOH is endurance, it's the log and James will win it.
ALLIANCES:
"Goblins/Gremlins" = James and Meg
"The Generals" = anyone allied with Becky
"SOS" (Students of Sound) = Steve and Vanessa
Rockstars = Steve and Jmac
AUS-Twins = Austin, Julia and Liz
"Austin's Angels" = Austin, Liz, Julia, Vanessa
"Brass Tacks" = Gobins and Austwins
The new "Brass Tacks" = Aus-Twins, Meg, James + Vanessa
"Freaks and Geeks" "The Scamper Squad" = Aus-Twins, Vanessa, Steve
"The new Freeks and Geeks minus Vanessa" = Austin, Liz, Julia, Steve, Johnny Mac
[polldaddy poll=9025485]
Share it YO!
Tweet