POV Holder:
?
Next POV
April 20th
POV Used
?
POV Ceremony
April 22nd
HOH Winner:
Emmett
Next HOH:
April 25th
Original Nominations:
?
Current Nominations:
?
Last Evicted Houseguest
Peter
Have Nots
No Have Nots this Week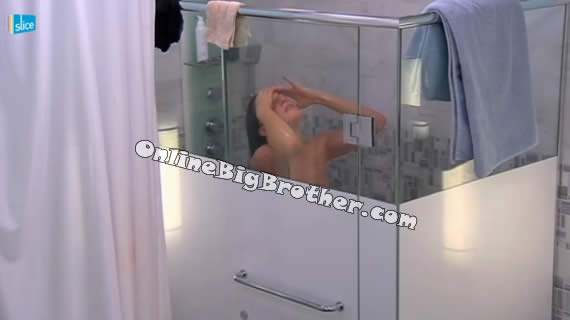 7:35pm Jillian Showering very close to a nip slip..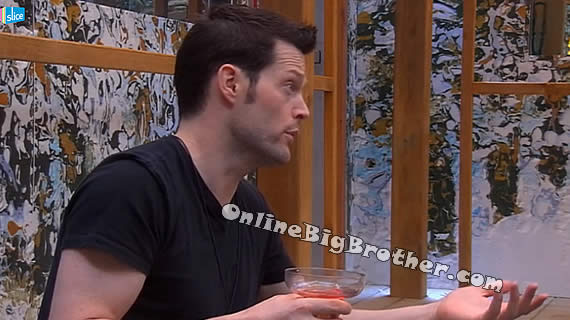 7:35pm Andrew and Gary chit chatting.. Andrew fills Gary in on everything he's missed the last 2 weeks.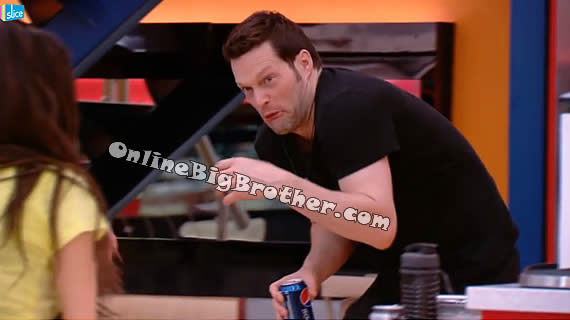 7:51pm Kitchen stooges
Andrew telling Talla not to worry it's 7 days of Gary in the house, "Unless something happens".
Andrew wants to know if he can have Emmett's drink because he's not going to drink it. Andrew asks Big Brother.. (Of course no reply)
They are planning out what they will eat for dinner.. Andrew says he'll make his salad. Talla heads up to the HOH to talk to the milkmance to find out what they are eating.
Andrew heads into the storage room to grab the ingredients for his salad.
Andrew pulls out a giant cucumber: "We'll there's a cucumber you can jam inside of something"
Andrew heads back into the kitchen, Talla gives him sh1t for not checking the the kitchen fridge before pulling everything out of the storage room. She pulls out a giant cucumber from the kitchen fridge. They start to have a "sword" fight with the cucumbers.
(Stooge banter at it's best)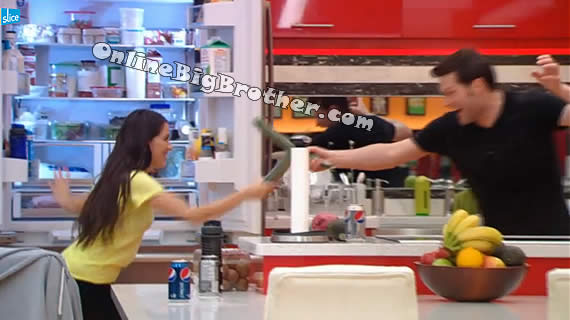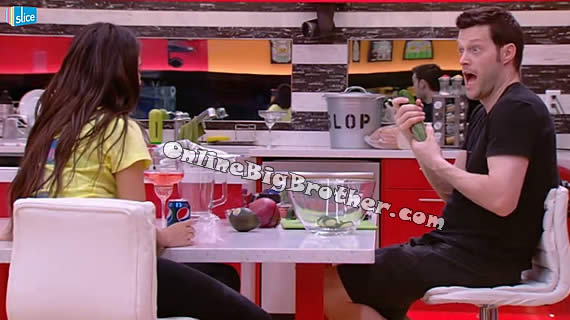 8:11pm Kitchen Stooges + Gary Gary tells them that Big Brother will give them more alcohol if he asks, "I have powers"
#BBCAN a glimpse of Gary's finale outfit twitter.com/bigbspoilers/s…

— OnlineBigBrother.com (@bigbspoilers) April 20, 2013
8:20pm Gary has a single cigarette that he got from AJ. Talla goes completely berserk.. they run into the hot tub room.. Talla: "It feels good.. it feels really good… I don't want this to end.. i'll smoke it to the filter.. Thank you.. Thank you I will never forget that you gave me a cigarette after 11 days"
Talla and Gary both thank AJ for the cigarette. Talla says that one of her side goals was to quit smoking on Big Brother. Gary says his plan was to originally bring smokes to smoke casually with people and have conversations. Gary: "we've both gone without of our bad vices being on this show"
8:41pm Kitchen stooges
Talla brings up Alec and the crying he did when he was nominated and going home.
Talla: "crocodile tears.. whats that"
Andrew: "They're fake.. he still didn't want to go home.. it's a ploy"
Andrew: "This is the one thing I hate about them being HOH.. I love it but they are always up there"
Talla: "tonight is definitely a hot tub night.. TALLA TINI.. I got us off slop tini top"
Andrew: "It was a task.. I'm busy now"
Emmett and Jillian finally comes out of the HOH.. they really don't talk much (They've been napping )
Emmett tells Andrew in private "I want to choke Talla.. she can't stop talking.. Talla CHILL my ears are going to bleed"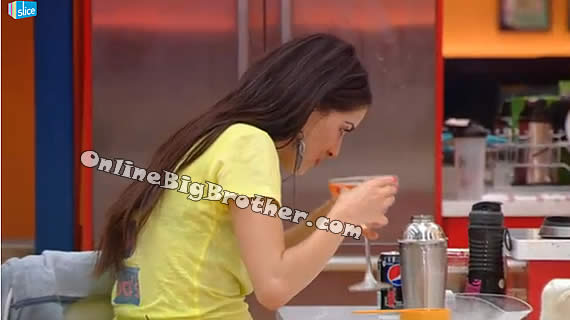 8:53pm Stooges getting liquored up (Sounds like a good idea to me)
Talla: "I'm having way too much fun at this moment.. Where is everyone"
Andrew: "Plotting against us"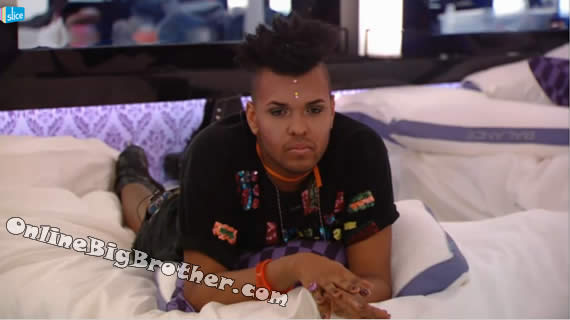 8:56pm Bedroom Emmett and Talla Emmett tells her that nominations are tomorrow and she is fine. HE says they cannot plan anything until after the POV is played.
Talla leaves and Gary comes in to talk to Ememtt. Asks him if Andrew will be pissed if he gets nominated.. Gary doesn't know what to expect he hasn't seen these people on the block.
Emmett: "I dunno lets jsut see what happens"
Gary wonders if Emmett is coming to the "party" tonight, "Will you be drunk ?"
Emmett: "POV is tomorrow man.. I'm not going to be hung over for that"
Emmett explains to him that things have changed in the house they don't have much time to prepare for Nominations and the power of veto.
Gary keeps saying that it's a good thing that Andrew is leaving because everyone is in the Jury house is respecting his game.
Gary adds that AJ has really been campaigning for Andrew.. Gary: "I was like whatever I'm voting for Emmett to win"
Emmett: "Were you surprised to see Alec"
Gary: "I was so surprised I thought it was going to be Talla.. you can only jump so many times.. I thought it was going to be Peter and Emmett final 2"
Emmett: "Alec got weird man.. "
Gary: "Everyone in the jury house hates Alec"
Emmett goes on about how Alec and Peter were threatening Jill.
Gary says that Alec is going around saying "Can you believe Jillian got us out.. it's starting to seem that Jillian is the one that is getting everyone out"
Gary: "Talla is mad that I am back because now it's the Gary show not the talla show"
9:32pm Bedroom Emmett and Gary
Gary says that when he was evicted Arisa asked him what he thought and he went "Team Emmett 100% Team Emmett for the win". Gary really rubs this in with his Emmett game conversations. Gary also pushes that Andrew is well liked in the Jury house.
Gary: "Honestly I think Talla's ego is going to get huge"
Emmett: "She's the type of person that the longer she's in here the more popular she'll get"
Gary says that Talla is going to be spending her entire life being someone else, "It's really going to be draining"
Emmett is saying in the final 3 he might be able to talk Jillian down. Gary: "you can't talk that b1tch down.. she's not a dumb b1tch mother f***er.. if you can talk her down you look like the f***ing man.. but i doubt you can f***ing talk her down"
Emmett adds if if plays Jillian in the physical he'll beat her for sure so in the end it'll be GAry and Emmett and they can both throw it.
Gary: "If you can get into that Pu$$y you better f**ing rub it with f***ing chocolate milk tonight. don't underestimate her Emmett"
Emmett: 'No i'm not"
Gary: "Smart B1tch.. not no dumb b1tch"
Emmett: "She listens to me if I say Jill drop she'll drop"
Gary: "Are you serious you got her like that"
Emmett: "Ya"

(Talla dancing in the HOH room video coming )