POV Holder:
Andrew
Next POV
April 6th
POV Used
No
POV Ceremony
April 1st
HOH Winner:
ANDREW
Next HOH:
April 4th
Original Nominations:
Gary & Topaz
Current Nominations:
Gary & Topaz
Last Evicted Houseguest
Aj
Have Nots
Gary, Peter, Topaz, Emmett (used Slop Pass)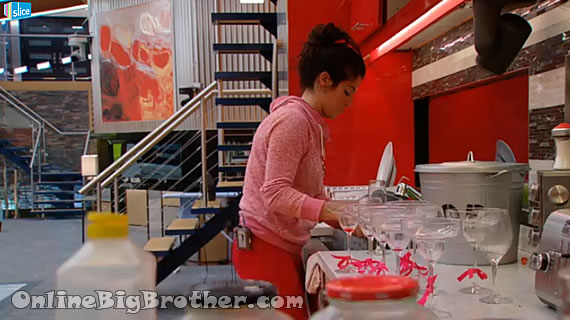 11:34pm Kitchen Topaz and Jillian
Topaz has sobered up.. Jillian is doing Dishes comments about how Messy the kitchen in. Beside her you see a bunch of dirty drink glasses.. Topaz heads into the bedroom to fold her laundry.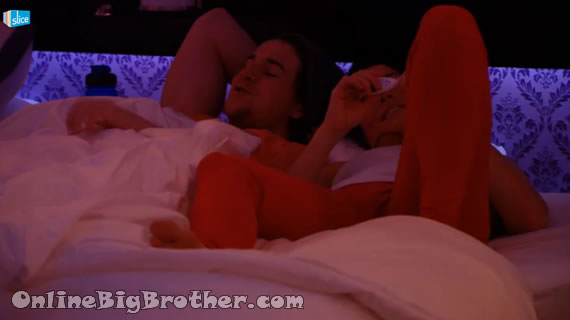 11:38pm Bedroom Topaz and Alec
Alec: "You have fun tonight"
Topaz: "Ya.. it was nice to get some alcohol.. Always nice to get Alcohol"
Alec: "Why do you think we wouldn't get booze.. too often"
Topaz thinks it's because sometimes they get too crazy. Alec agrees adds that he thinks production wants footage
Alec: "I haven't been hung over this entire time.. in my real life I'm hungover at least every other week" Alec is thinking that he might stop drinking when he gets out of the house.
Alec goes on about how expensive is it to go out to drink alcohol. Topaz asks why he doesn't pre drink. Alec explains he pre-drinks when he goes to the club.
Alec asks her if she is going to do a vacation with the other people houseguests after the show is over. Topaz will but thinks it'll be really hard for them to plan something like that for 15 people.
Topaz wants them to do a trip to Cuba, Alec thinks they should stay in Canada so they can milk their last 2 minutes of fame. Topaz: "Yeah we can do it in Canada.. but we have to make sure it's in the summer.. so we can suntan"
Alec: "Isn't that what we're thinking.. "
Topaz thinks trying to plan something like that this summer might be tough for people to schedule so soon, "I think a good 10 will make it"
Alec is certain that all the Jury members will go.
They both agree that AJ will be a lot of fun on a tripe. Topaz thinks Danielle would be fun to go out, "I think she is a wild party girl". Alec says that Danielle was a nice girl if you got through all her bullshit. Topaz brings up that Gary and Danielle were close.. Alec says he likes Gary would love to see him again.
Topaz says she liked everyone left in the house and she even liked Tom.
Alec: "I didn't see a single redeeming quality in him"
Topaz: "He was funny:
Alec: "Ya he was funny at times.. I'll give him that"
Topaz: "He definitely had his a$$hole moments.."
Alec thinks Tom's personality just didn't mesh well with him.
Emmett and Jillian join the trip conversation.
Topaz: "We don't have a place in Canada that is warm"
Alec: "WHAT you've never been in Vancouver"
Emmett thinks Mexico is a better pick than Cuba. Alec still thinks keeping it Canada is a must. (I agree keep it in Canada)
Alec can't believe everyone thinks they would get along with the other houseguests. Jillian says she does not like everyone in the house. Topaz: "Oh.. JILLIAN…. VILLIAN"
Alec agrees with Jillian says he wouldn't want to hang out with Liza.
Emmett says he'll bring all his buddies so if he gets sick of the Big Brother Canada players he can go hangout with his bros. Jillian says she would go alone.
Alec says everyone will hate him because he's been trashing everyone but AJ.
Jillian: "I've been trashing people to.. "
Alec: "I think they are saying the same things about me as well.. "
Topaz doesn't think people will hold grudges, "Depends what you were sayin"
All of them agree the players left in the house are cool it's the ones they've excited that they have problems with. Emmett thinks Liza would be cool outside of the house but in the house she was horrible. Alec and Jillian agree. (Topaz stays quiet)
Alec: "The personalities that don't mesh with me is Suzette, Tom and Danielle "
Jillian tells them she had 7 dresses packed and they (Production) told her she would only need 3 or 4. Emmett jokes that they didn't except Jillian to last long.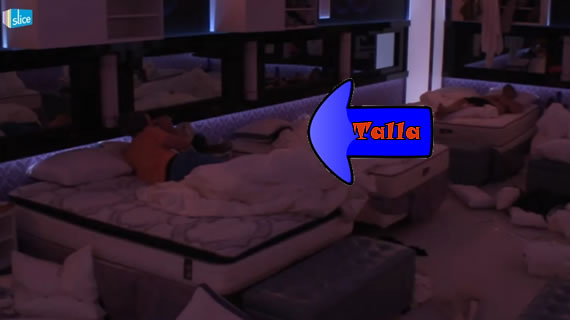 12:14AM Topaz says Talla peed in her clothes.. Alec and Jillian both say that Talla never peed her pants.
sounds like everyone left awake is planning on going to bed soon.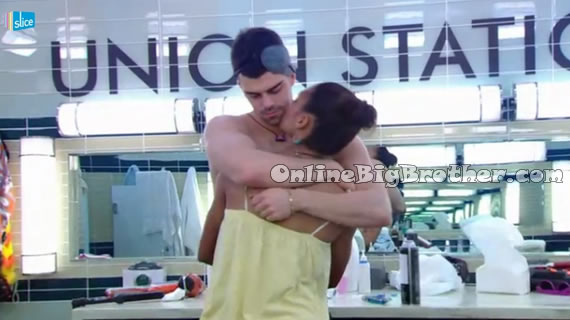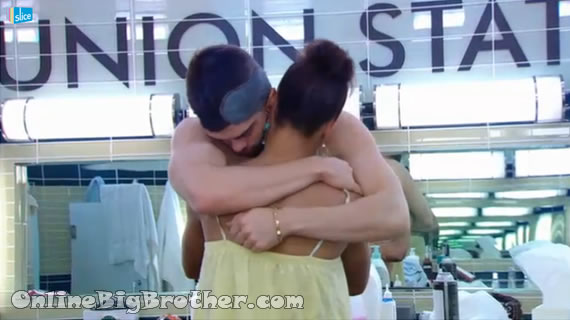 12:21AM Bathroom Topaz and Alec hug and kiss. Topaz: 'I have to wash my face" Alec: "Wash that sexy Face"

(Video Uploading)
12:35AM All cams on sleeping players..
[polldaddy poll=7007427]
Stay connected and interact with other Big Brother Fans on our Facebook page.
And Follow: @BigBspoilers and @Dawgsbigbrother on Twitter for the most up to date spoilers.