POV Holder:
Andrew
Next POV
April 6th
POV Used
No
POV Ceremony
April 1st
HOH Winner:
ANDREW
Next HOH:
April 4th
Original Nominations:
Gary & Topaz
Current Nominations:
Gary & Topaz
Last Evicted Houseguest
Aj
Have Nots
Gary, Peter, Topaz, Emmett (used Slop Pass)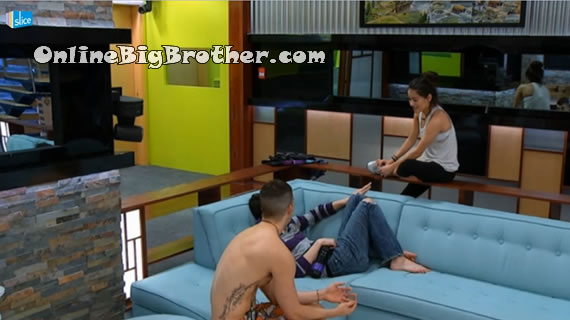 12:30pm Living Room Peter, Talla and Alec
Peter tells Talla as a show of trust he will not put her up as a pawn in return he would like her to trust them.
Talla: "OK what is going on"
Peter: "Nothing.. I feel that you haven't had a really strong alliance in the game at this point.. and I feel like like,.. Talla interrupts says she has a close alliance with Talla..
Peter: "I want you to know we are looking out for you"
Talla: "You guys have obviously done some thinking about me"
Alec: "Thats all you need to know for now.. you go take your shower.. I'll talk to you later tonight."
Cut to the HOH room where Andrew is watching them talk..
(Andrew better start putting some work in on Talla.. been awhile since the stooges had a meeting)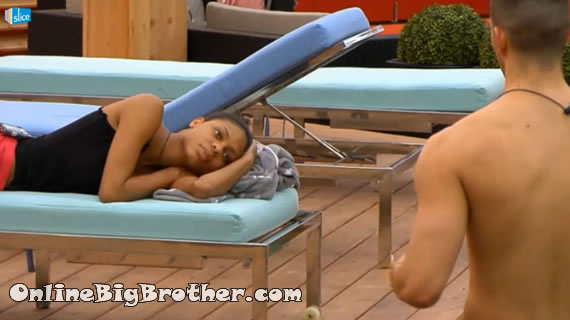 12:35pm Backyard Alec and Topaz
Alec: "I think Emmett, Jillian and Andrew are too F*** tight.. if I can get some revenge to Andrew on this I would be pretty happy.. So there's like kinda a plot for when you stay.. don't tell Gary you are going to stay"
Alec: "If me and Peter win our target is going to be Andrew.. I didn't want that 2 weeks ago but things have changed"
Topaz: "I have stuff to talk to you.. ummm ya i got a bunch of information to. ya umm Emmett and Jillian did make a final 3 deal with Andrew. "
Topaz: "Gary threw me under the bus to Emmett.. so Emmett and Jillian are not going after Andrew they want me out and Peter and Andrew up"
Alec: "WAit they want Gary here?"
Topaz: "Ya they want me to go and Gary to put Alec and Peter up"
Alec: "I think Emmett is just telling Gary that"
They stop talking I think someone is near..
Topaz: "umm.. ever since Emmett's mother wrote about Gary he's trusted him"
Alec:"Doesn't matter Gary is gone.. I'm 80% sure.. It's me Peter and Talla that control the votes.. we have to make sure you are safe next week. I've been up their (HOH) and all they say is Topaz next week"
Topaz: "ya I know.. I mean.. I have more to say but.. I feel paranoid"
Topaz: "Talla came to me a couple days ago and told me … " (they stop talking again.. )
1:00AM HOH PIctures.. The prince of Darkness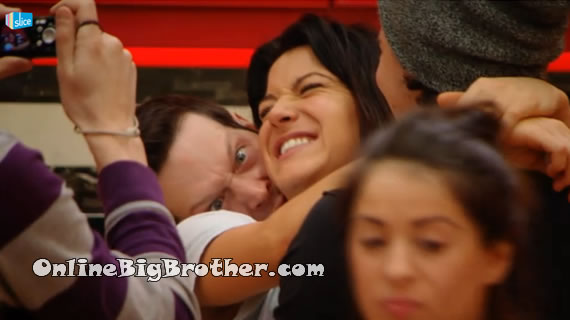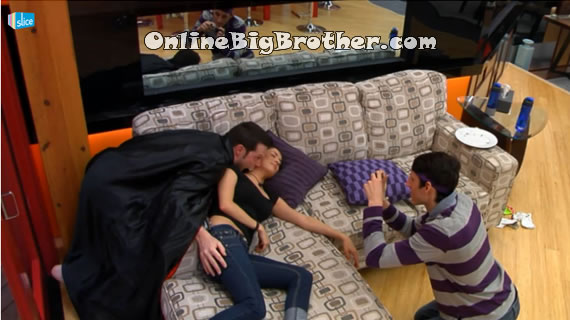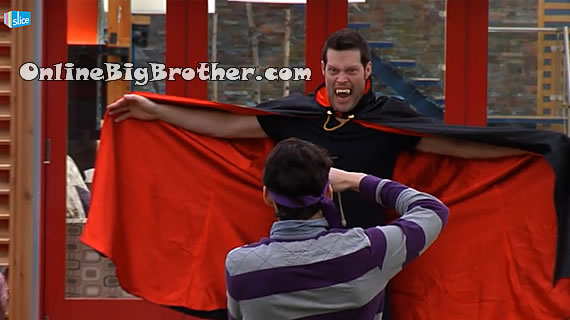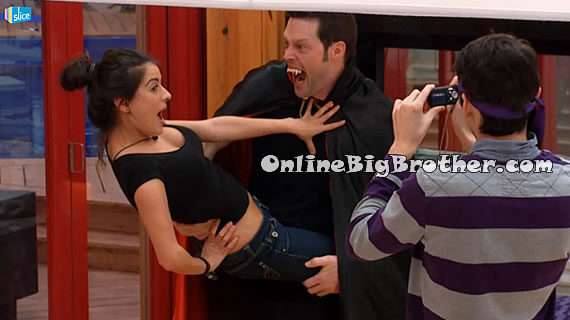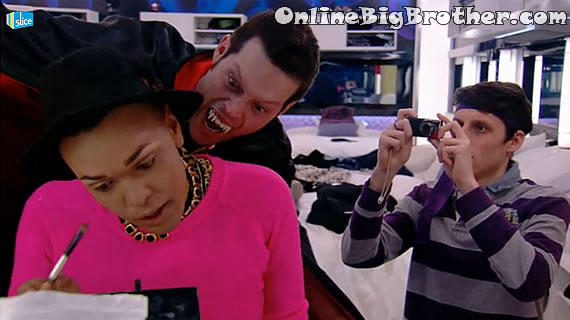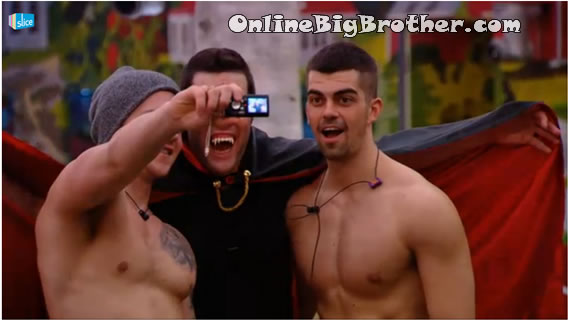 1:22PM BAckyard Emmett and Alec
Alec thinks Gary is spreading sh!t in the house. He told Topaz that Emmett will be putting up Alec and Peter not next week but the following week. Emmett: "No we have a deal.. you me and Peter" Alec tells him that his final 4 is Jillian, Peter, and Emmett. He doesn't have anything against Andrew he likes him and still wants Andrew in the final 5.
Alec says if Topaz does win HOH they need her to get Talla up as a pawn with Andrew and they can send Talla home.
Andrew joins them.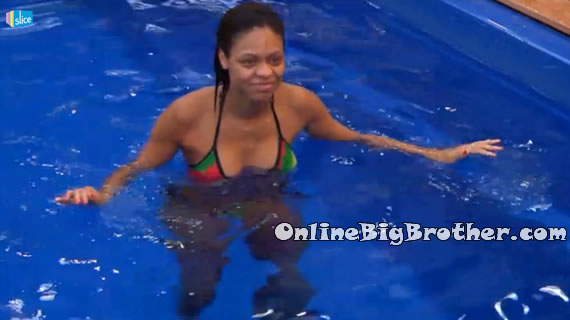 2:00PM Talla teaching Topaz how to swim
2:01pm Alec and Peter working out.
Alec says if he wins HOH he'll put up Andrew and Jillian and if Andrew vetoes himself he'll put up Emmett.. (Ohh Sh1t)
Peter: "Tell him it's just a game"
Peter says they will talk to Topaz separately and position themselves for next week.
2:05pm Havnots Emmett and Jillian
Jillian saying that Talla is going to be on their team because she thinks they are stronger players and they will get her farther in the game.
Cam flips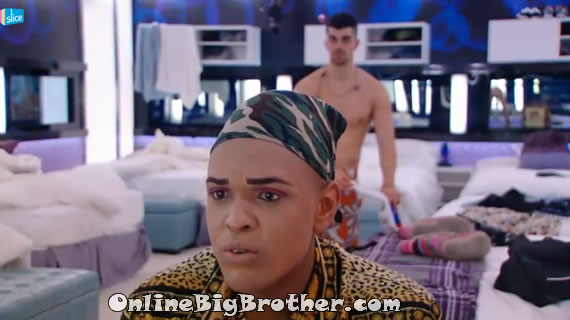 2:06pm Alec and Gary bedroom (Gary has been putting on makeup since he woke up)
Alec says he's hearing all sorts of stuff like Gary is scrambling, "Nobody knows who your
Gary: 'Are you fu*** kidding me.. I'm in your alliance.. the target is Emmett"
Alec: "My target is Andrew.. I don't trust him a lick"
Gary: "I thought we want Andrew in the house to take out Emmett"
Gary says he thinks Topaz is going home and he's just trying to figure out what is going one before he chooses a target.
Gary: "You already f*** up .. " (Jillian walks in)
Gary: 'Don't crack on my now bro… to me nothing has changed.. I need you"
Alec wants Jillian and Emmett nominated and once POV is played Andrew is the replacement nominee. Gary proposes Jillian and Andrew with the goal to backdoor Emmett.
Gary wants to know who is spreading sh1t about him. Alec says it's a group thing
Gary: 'I trust you wholeheartedly but I don't trust Peter.. I will trust him through you"
Alec leaves Peter comes in.. Gary tells him not to believe all the sh!t he doesn't want to put up Peter and Alec he wants to take out Emmett. Gary: "We have to stay strong 3G"
Gary: "You're not a target and Alec not a target EVER.. I have never talked game to Emmett and Jillian"
Gary doesn't trust Talla calls her a jumper, Gary wants to take out Jillian, Emmett or Andrew.
(Video Uploading)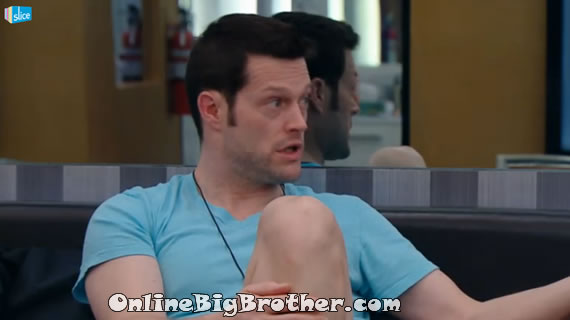 2:24pm HOH Andrew and Jillian
They are talking about how Topaz and Alec are still together. Jillian saw them kiss and confronted Alec about it alec told her they did kiss and "It was weird"
Andrew is certain Alec and Peter know that Andrew, Jillian and Emmett are working together.
Andrew runs through a scenario if Peter wins HOH he'll put Andrew and Topaz up and if the veto is played Emmett will go up.
(Andrew really wants Alec gone.. the same goes for with Alec he wants Andrew gone)
(Video Uploading.. It's long)
Stay connected and interact with other Big Brother Fans on our Facebook page.
And Follow: @BigBspoilers and @Dawgsbigbrother on twitter
[polldaddy poll=7007427]